Travel guide for Visiting Albania, the gem of Europe.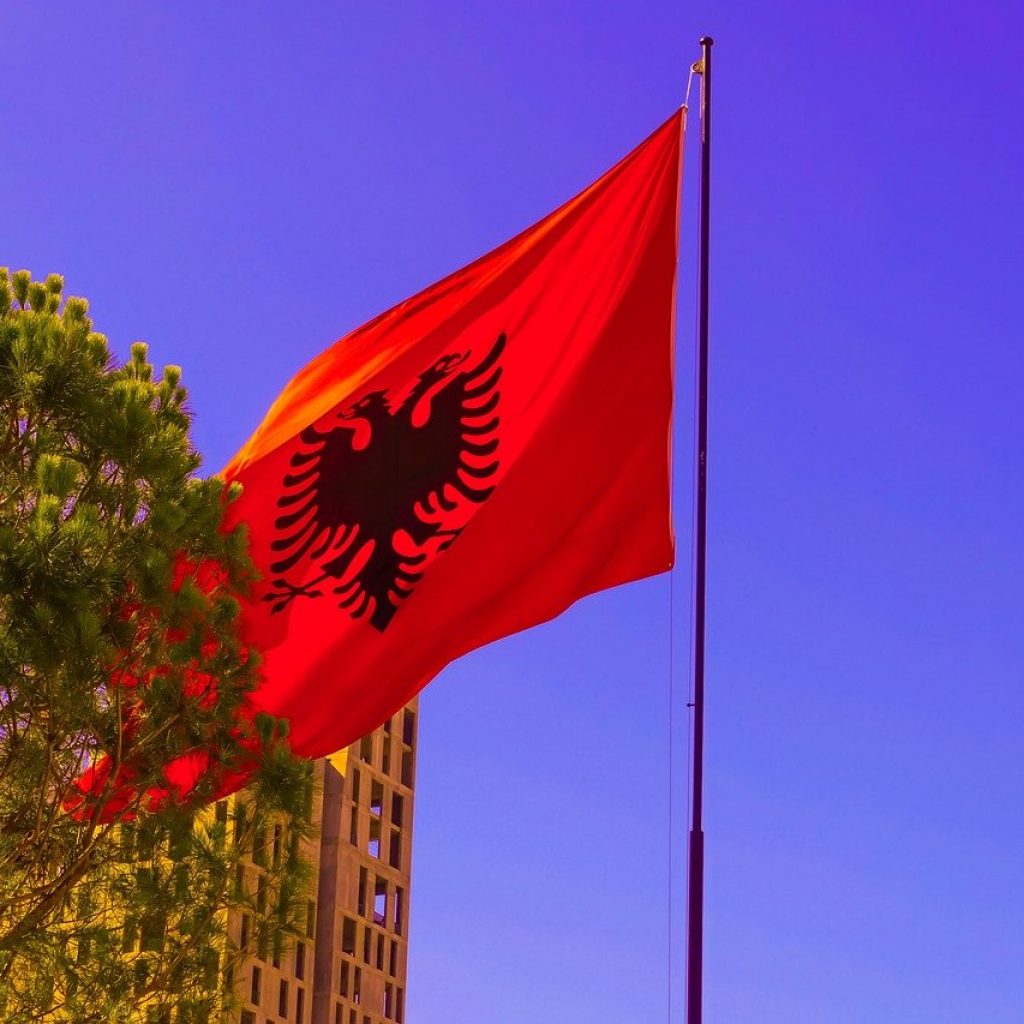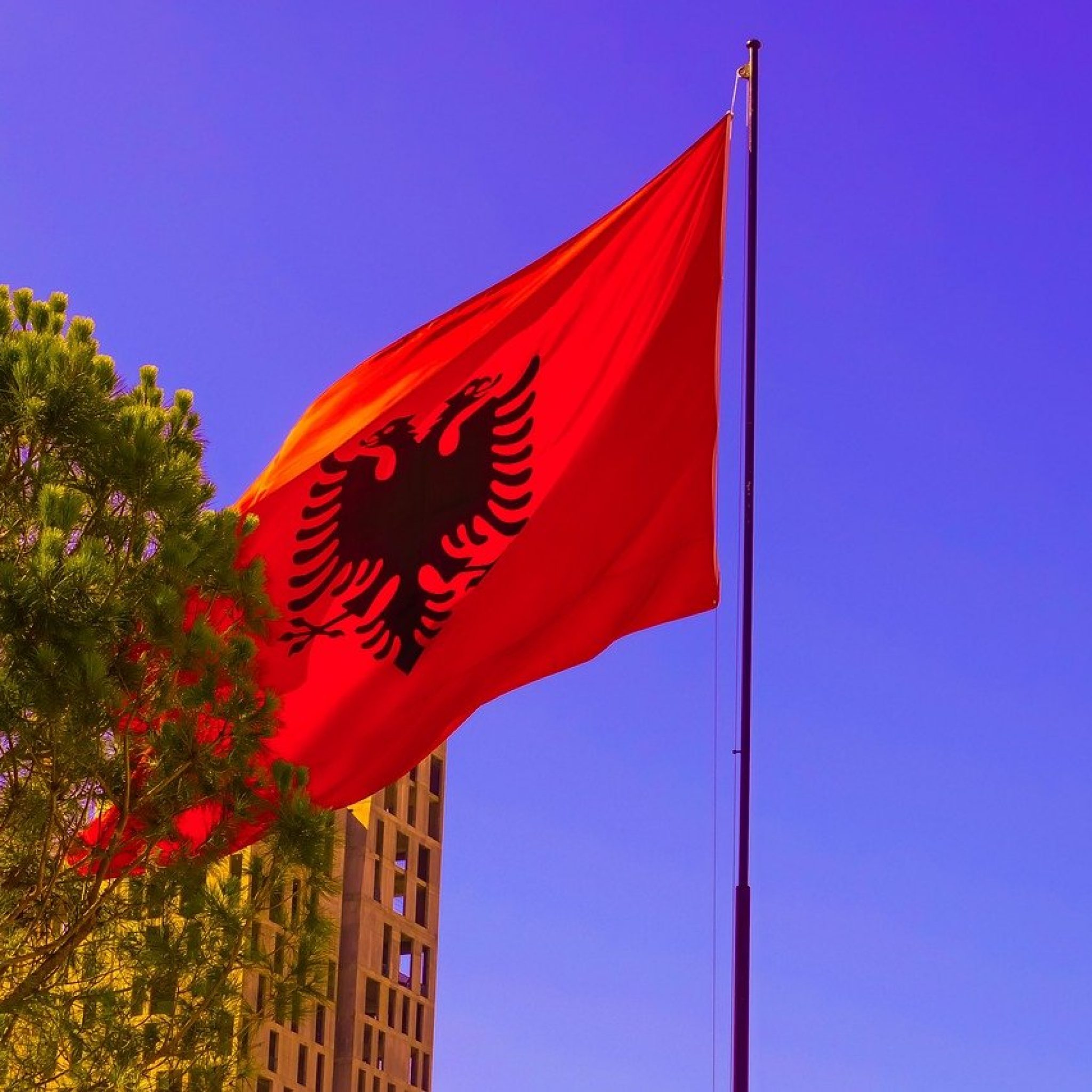 Albania lies on the southeastern peninsula of the Balkans. It is a country that is unique from other Balkan countries because its language doesn't derive from another language. It is unique and only spoken in Albania and Kosovo. Albania is a mountainous country with a coastline of 380 km. Nestled on the shore of the Adriatic and the Ionian Sea, this country is small and as pretty as a postcard.
This article is a guide for visiting Albania because our country is more than the communist past and its historical events. It is the pristine, pure and extremely beautiful beaches, it is the mountainous rippling landscape, it is the roman ruins, the ottoman bazaars, the books that were influenced by this country, the help of Edit Durham, the sword of Scanderbeg, the castle of Gjirokastra and the 1001 windows of Berat.
 It is the smell of coffee when you walk through the streets of Tirana, and the smell of freshly baked burek and kernacka when you visit Korca. It is the national park of Shebenik that many do not know of yet, it is the beauty of Ohrid and the taste of Koran fish dish, it is the summer day of Elbasan, and the bicycle rides of Shkodra, it is the pride of Vlora, the national park of Llogara, the beaches of the Ionian Sea and the rippling mountains of Valbona.
Albania is The lock-in tower of Theth, the roses of Permet, the baths of Benja, and the Beauty of Kolonja, it is the Flamingos of Karavasta, and the national park of Butrint. Albania is the people of the country, the valle culture, and weddings that are celebrated like the Oscars, it is the hospitality and the generosity of everyone. Albania is its culture and traditions, and the way it loves everyone.
 Albania is many things that you have not yet discovered. It is a country that is thriving finally after many decades of isolation. It is the most amazing corner of Europe that you have never thought of visiting.
Read this travel guide for visiting Albania to learn more about this amazing country in the heart of Balkans.
Where to go in Albania
Albania is a country that as mentioned above on this travel guide for visiting Albania that has a lot to offer. There are many places to go in Albania where you can discover and explore things that are new to you.
Visit Berat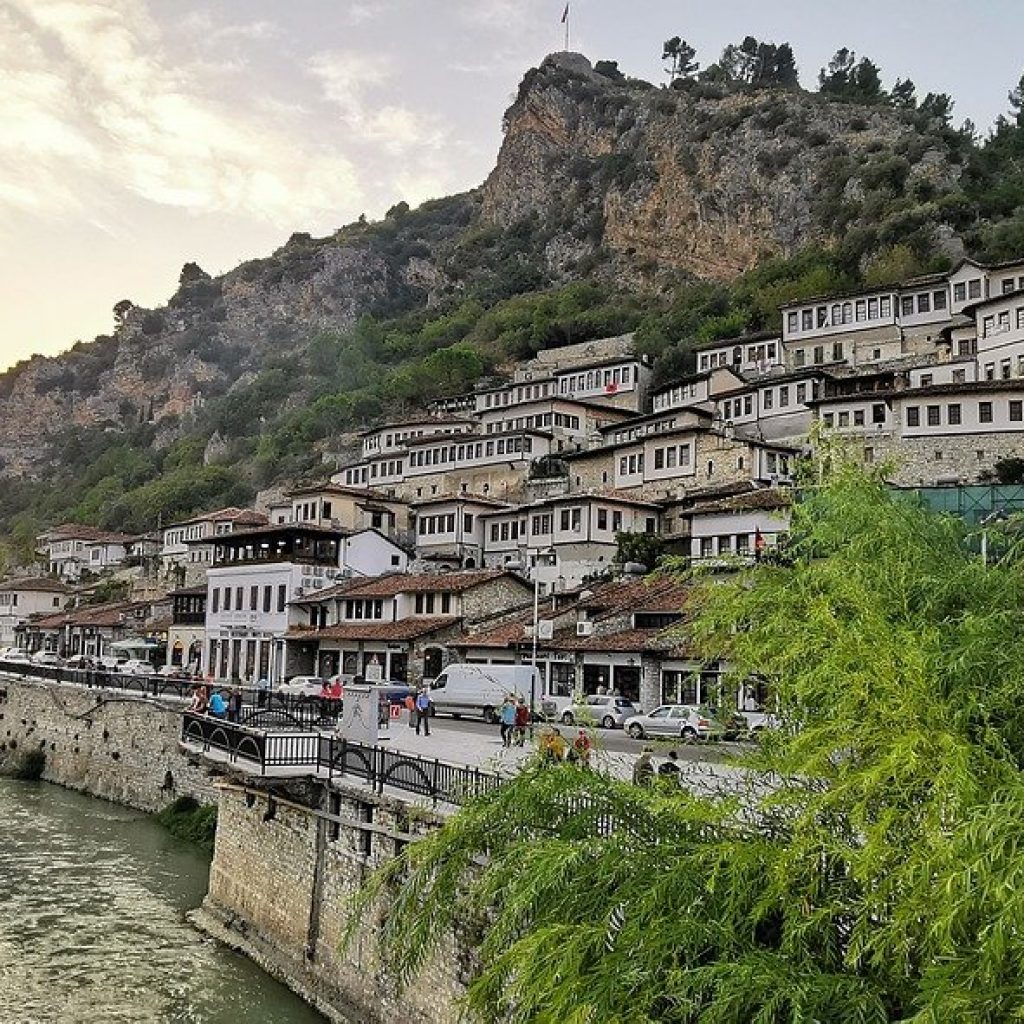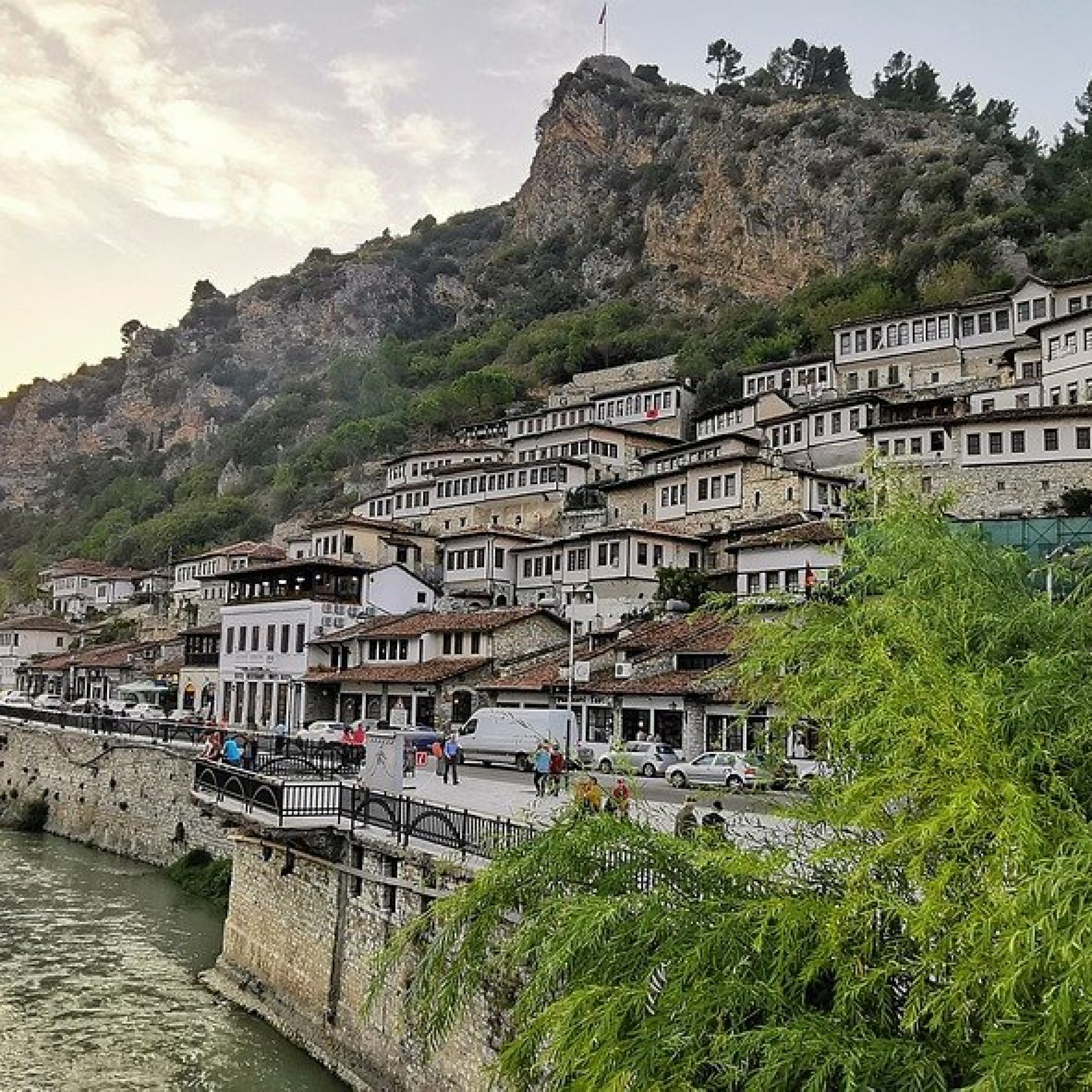 A little town with a lot of tales and legends to tell. Berat a 2.5-hour drive from Tirana by bus. It consists of a beautiful castle located in the old town. As you walk the cobblestone streets of Berat, you breathe the fresh air of Pine trees and imagine stories that exist only in one's mind.
Walking Berat, brings in your mind walking the streets of a royal city in the winter when they are not roaming with noise because Berat is quiet. Once you reach the castle the most noticeable thing is that there inside of the walls, in the small stone houses are living people. It is the only inhabited castle in Albania. As you walk the streets, you reach the fig trees which offer you a summerish refreshment during the hot days, but in the winter, there are no leaves and it looks simple and quiet.
Walking around the top of the castle you will notice the Saint Triad Church which is a feast for the eye. The red-bricks offer a picturesque view that looks like a picture. There are more things you can visit in Berat click the travel guide for visiting Albania below.
Visit Tirana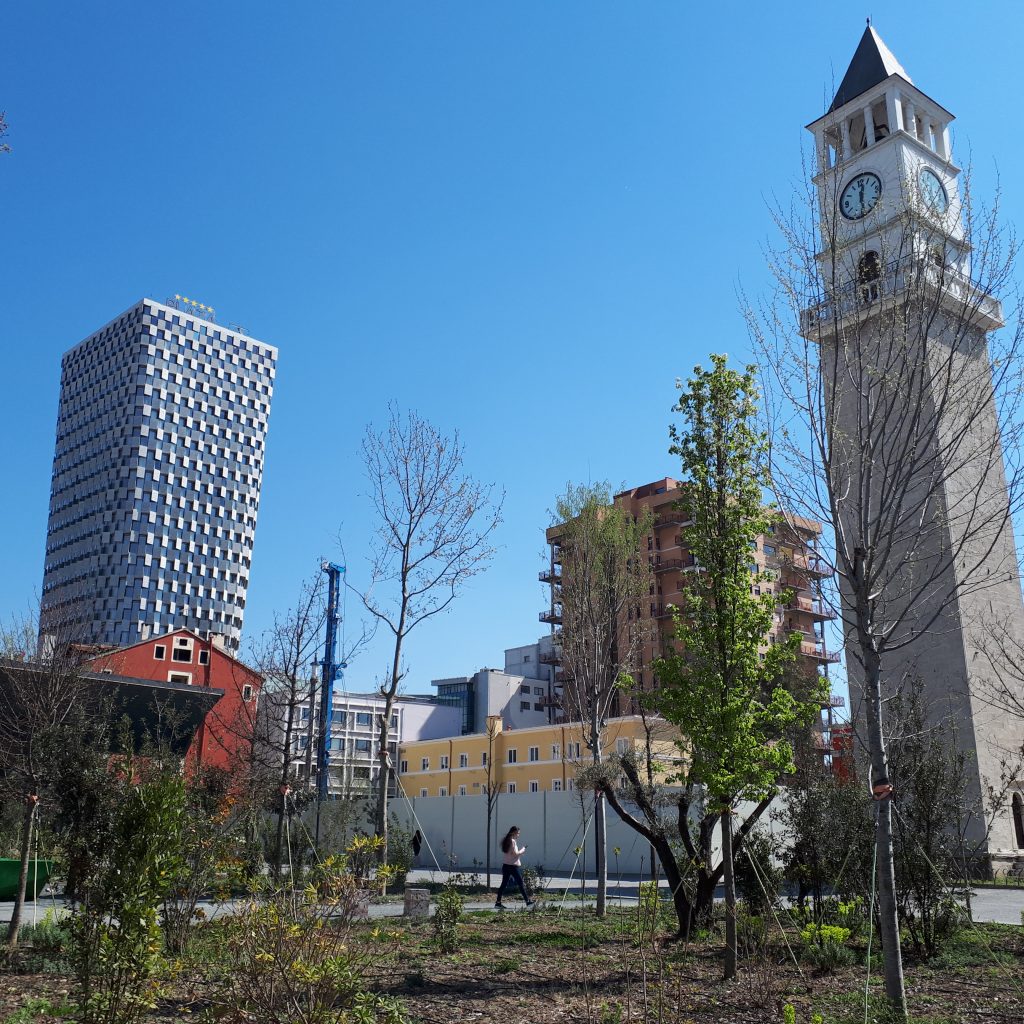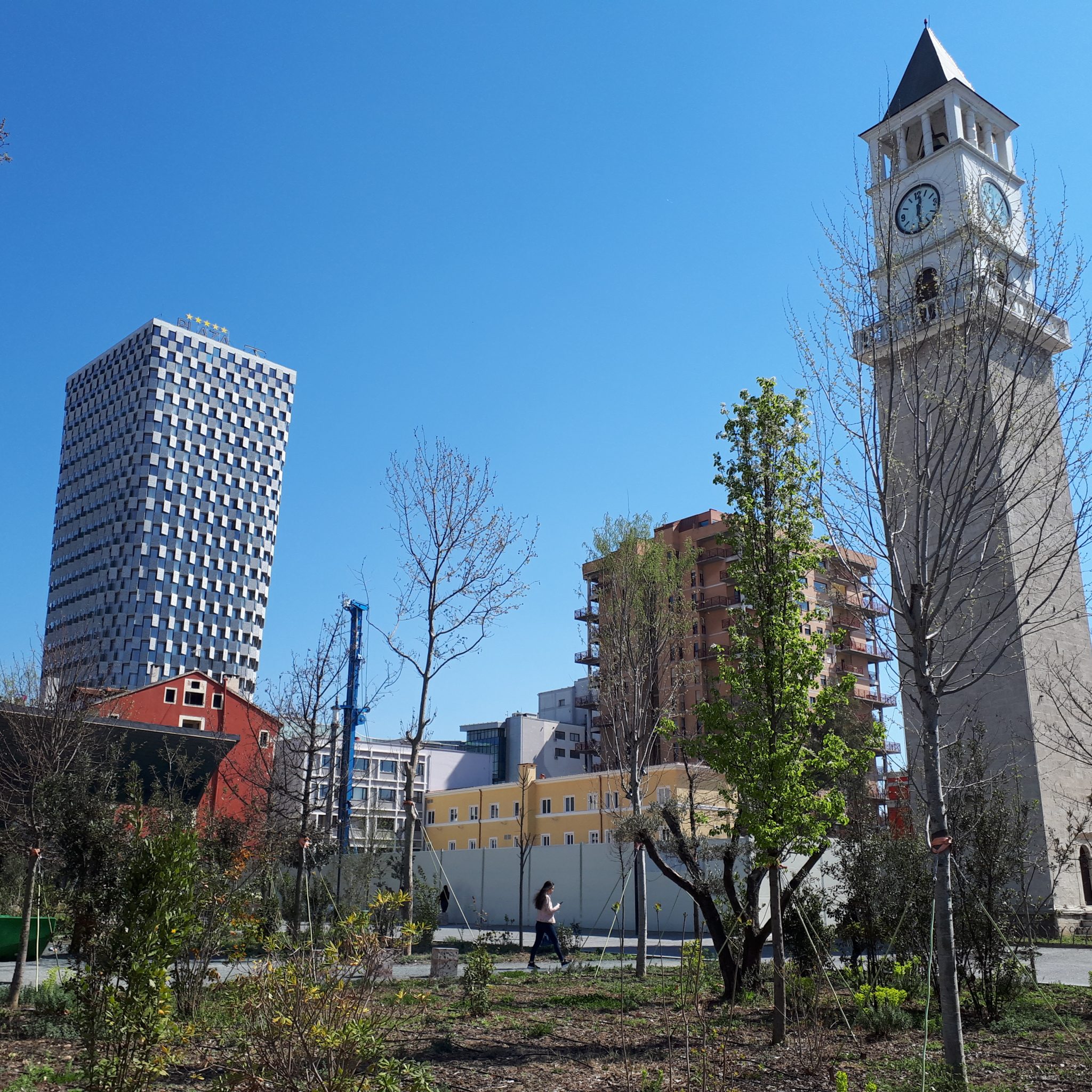 Tirana, the capital that the mayor of Albania once made a song about. Tirana, forever in our hearts he said, and truly, Tirana is a loving beautiful city. Welcoming everyone, with the noise of a dynamic city that lives through its people. Tirana, nestled on the foot of Mount Dajt, with the Scanderbeg Statue that sits in its heart, is beautiful as it can get.
 A museum here, a statue there, a Bunk'art here, another there, a shopping mall here, another there, so many bars here and so many bars there.
Walking the streets of Tirana is a treat, you see people sitting in the sun in the summer or close to the fire in the winter, chitchatting with their small coffee cups in front of them, and smiling is one of the greatest experiences you will have in Albania. I can say that, because as an Albanian born and raised here, this is what makes me happy, the happiness people transmit through their positive energies.
Read more about what to see in Tirana in this travel guide for visiting Albania.
Visit Kruja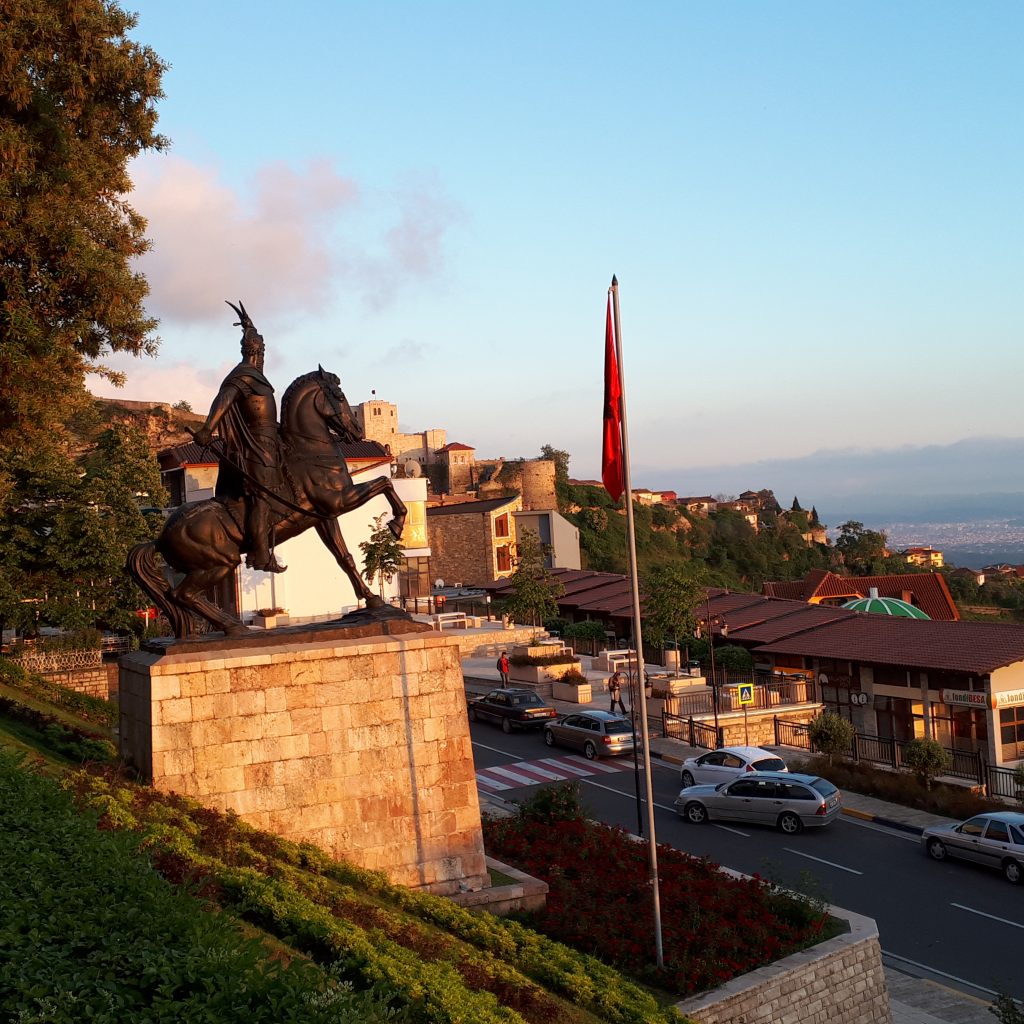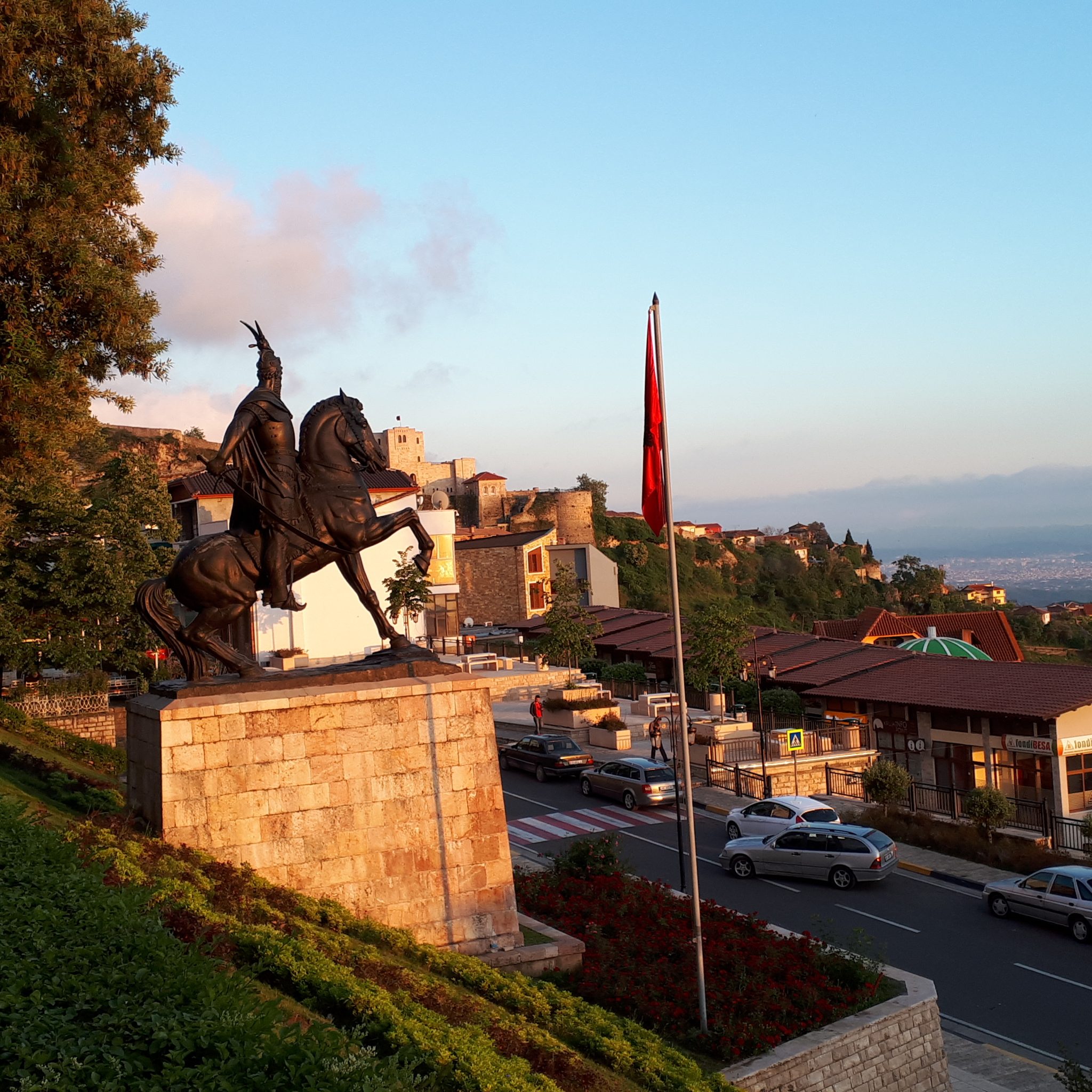 A heroic place, a place where heroes fight and win. Kruja, a beautiful city that made people write songs and poems about it. The place that inspired the famous Albanian Writer to write his book the Siege. Kruja, once a very important city in the Balkans and in the war against the Ottoman Turks, nowadays is a tourist center.
As you enter the city, a road paved by pine trees that follow you tells you the direction towards the old city. What welcomes you in the old city is the old bazaar with cobblestone streets that go two different ways. The streets are jammed tight with narrow shops that sell handicrafts and souvenirs.
The people smiling and welcoming you inside to show you what is important and what would suit you is heartwarming. Meanwhile, the castle sits on the opposite side of the shops and stands proudly on the hill overlooking the cities, and probably have a connection to another castle of Albania. Kruja withstood three major sieges, and Scanderbeg won 24 victories out of 25. However, what remains from the castle is one tower and some ruins. However, that won't stop you from witnessing the life of such a hero at the Scanderbeg Museum that is built in front of the original castle.
Gjirokastra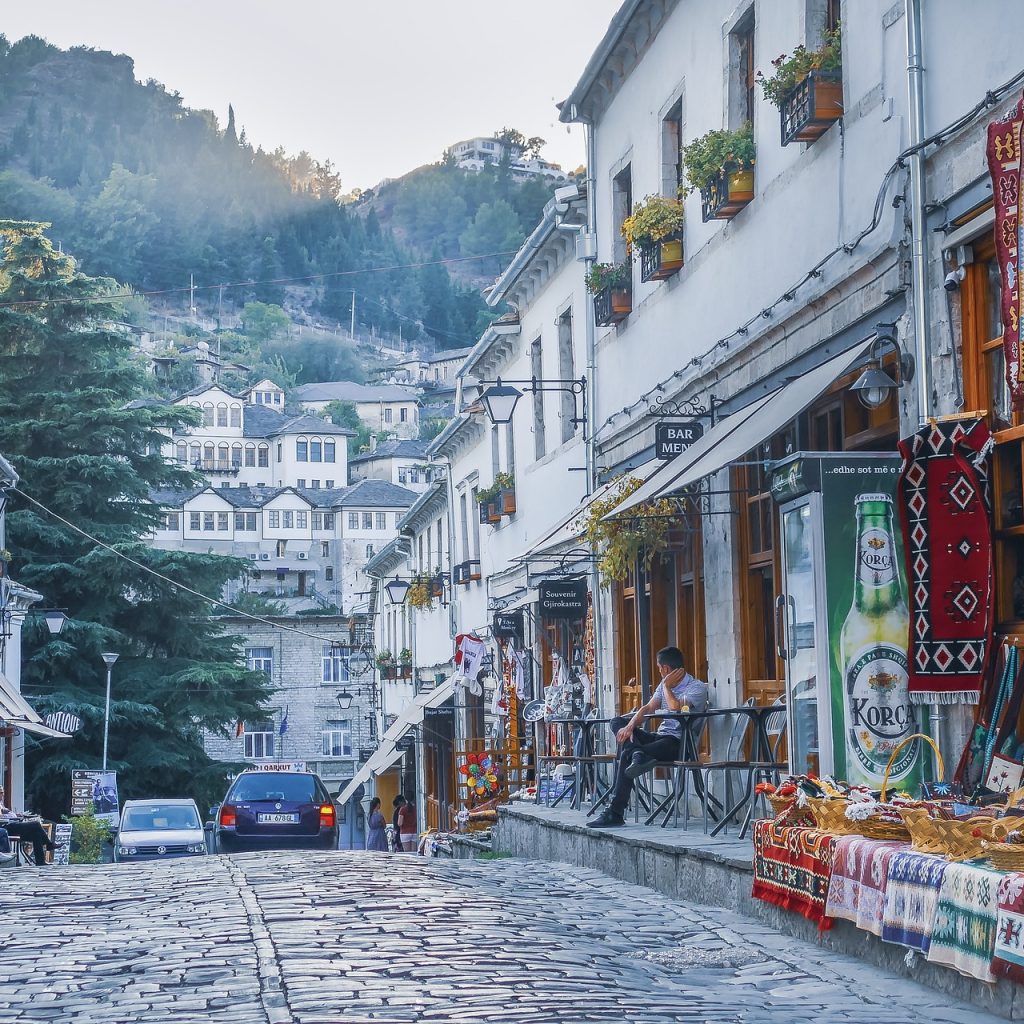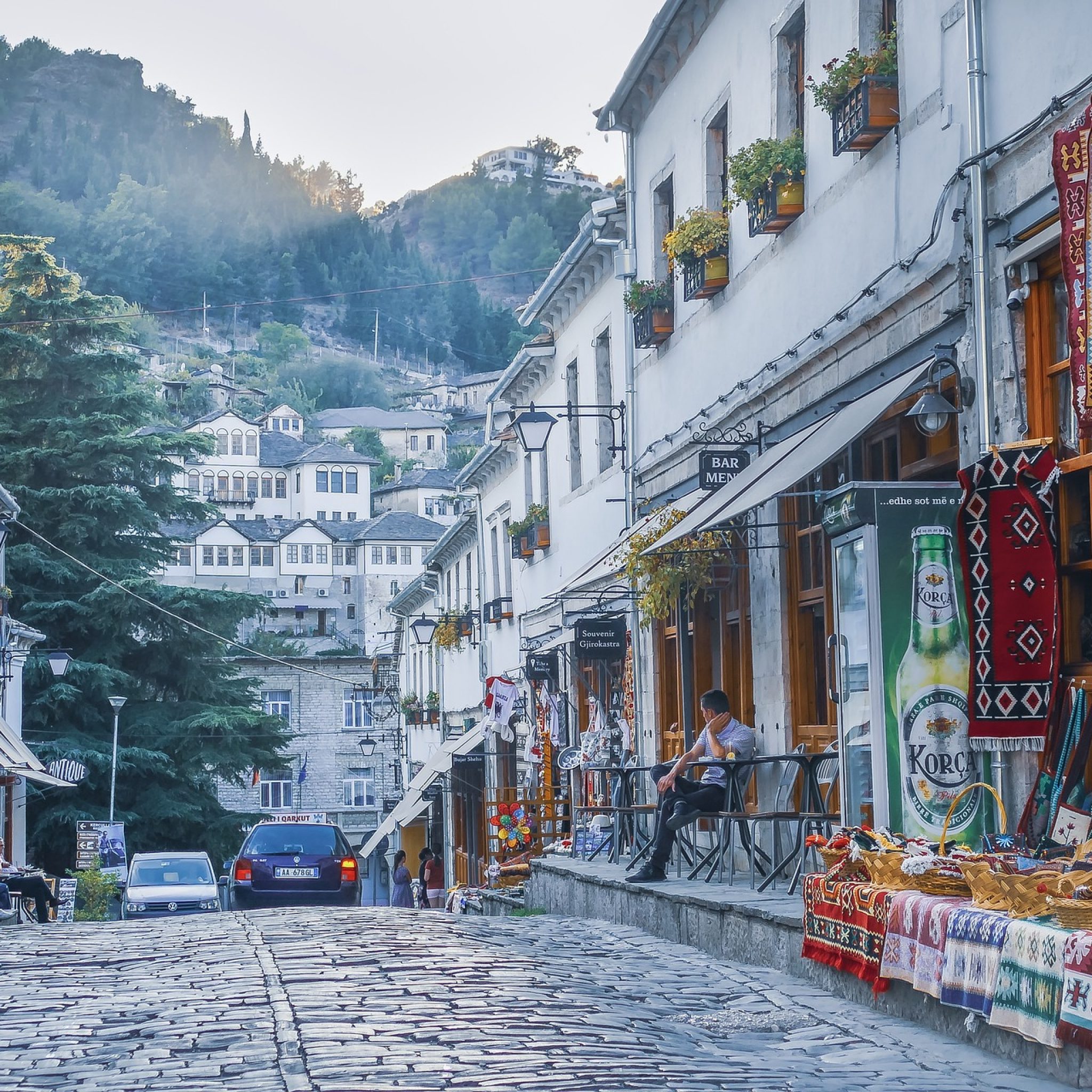 Gjirokastra is another historical city that went by the name the stone city. The stone city of Gjirokastra in this travel guide for visiting Albania plays an important role. Because the city itself is a beautiful one, with an old bazaar that leads toward the castle of Argyro.
This is one of the castles that I admire in Albania, as it overlooks the Drina Valley and the whole city. The view from the top is outstanding, straight out of a postcard. The sunsets are magical from there. However, this castle once had a bazaar and a place for traditional meetings and celebrations. Which even nowadays, there are important dates that are still celebrated there.
Meanwhile, the city itself has some historical houses which are a gem to see.
Find out more about Gjirokastra in this travel guide for visiting Albania.
Shkodra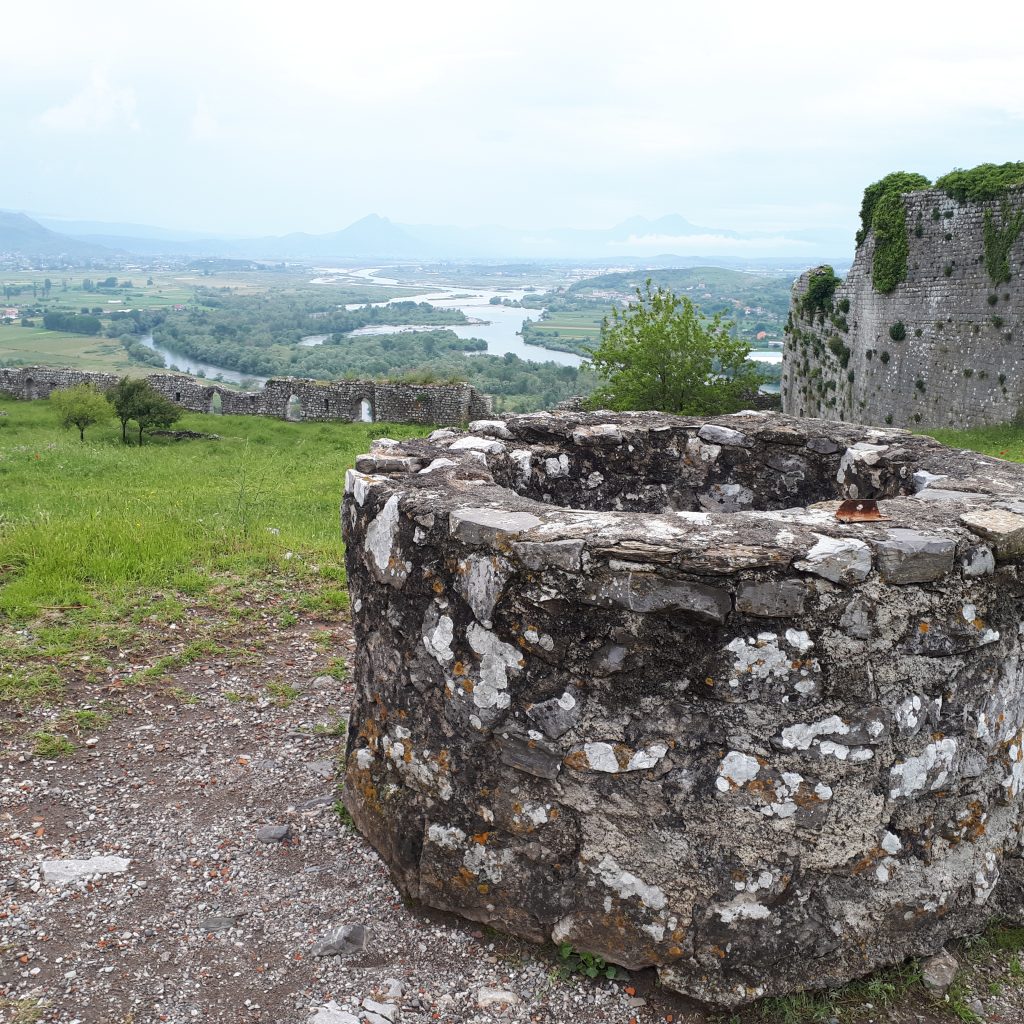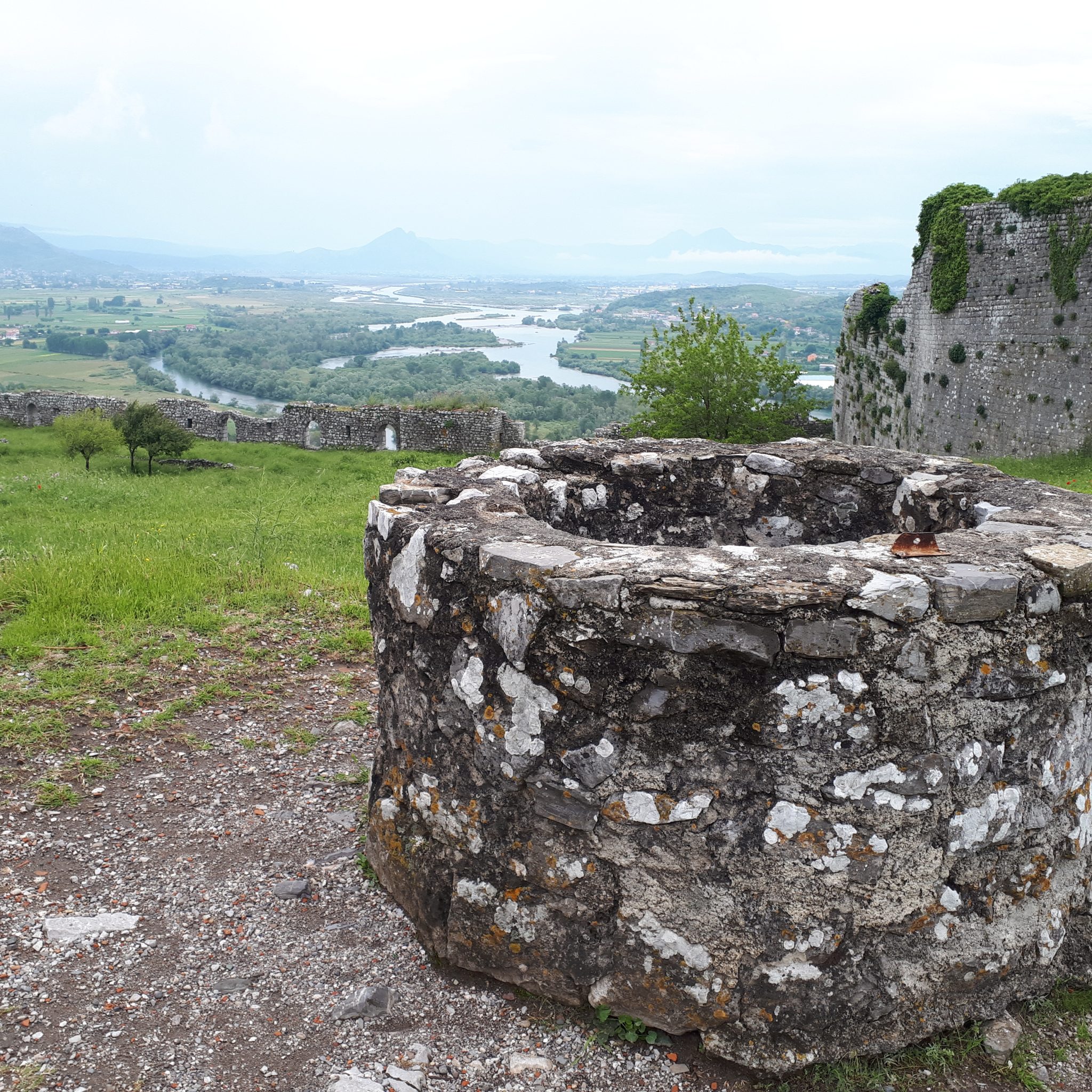 Another city, another, direction, another bicycle. The city of Shkoder in this travel guide for visiting Albania is very important. It is the city of Albanian culture, where people celebrate life in each moment they can. Shkodra has an amazing castle with a sad legend that is worth a visit. Meanwhile, walking through the picturesque pedonale/promenade, passing through coffee shops, beautiful buildings and colorful places are delights.
Meanwhile, Shkodra has a lot to offer, what I find interesting about this city is the Venice Mask Factory. Yes, you read that right, this is where the famous masks of Venice are made. Interesting right?
Read more here about Shkodra in this travel guide for visiting Albania.
Find more places to visit in Albania.
A Travel Guide for Visiting Albania and its mountains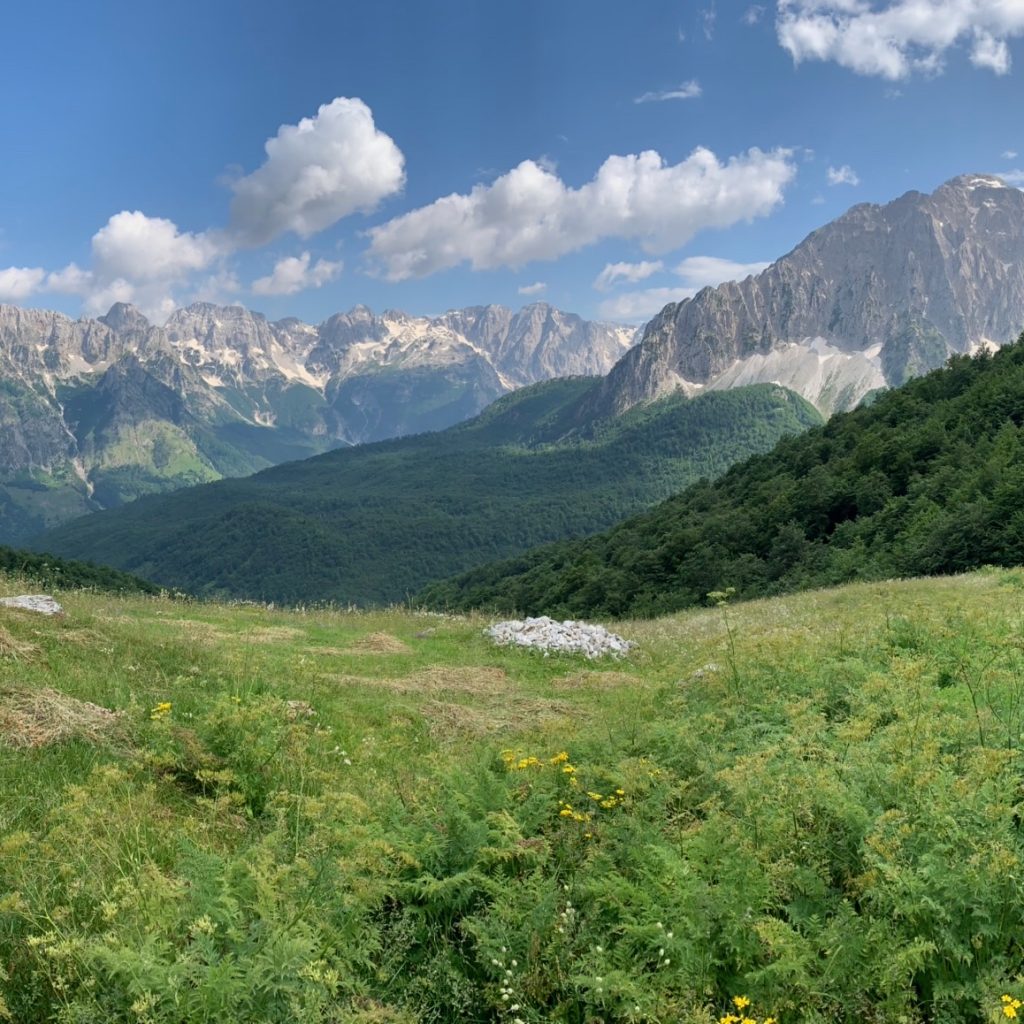 Albania is covered 70% by mountains, and that is obvious. Rugged and rippling landscapes are everywhere, in each city, in each town, in each village you will pass by, you will see mountains. Even the famous Alps pass through our country and that's not an accident they exist in our country. Because our country has amazing landscapes.
Theth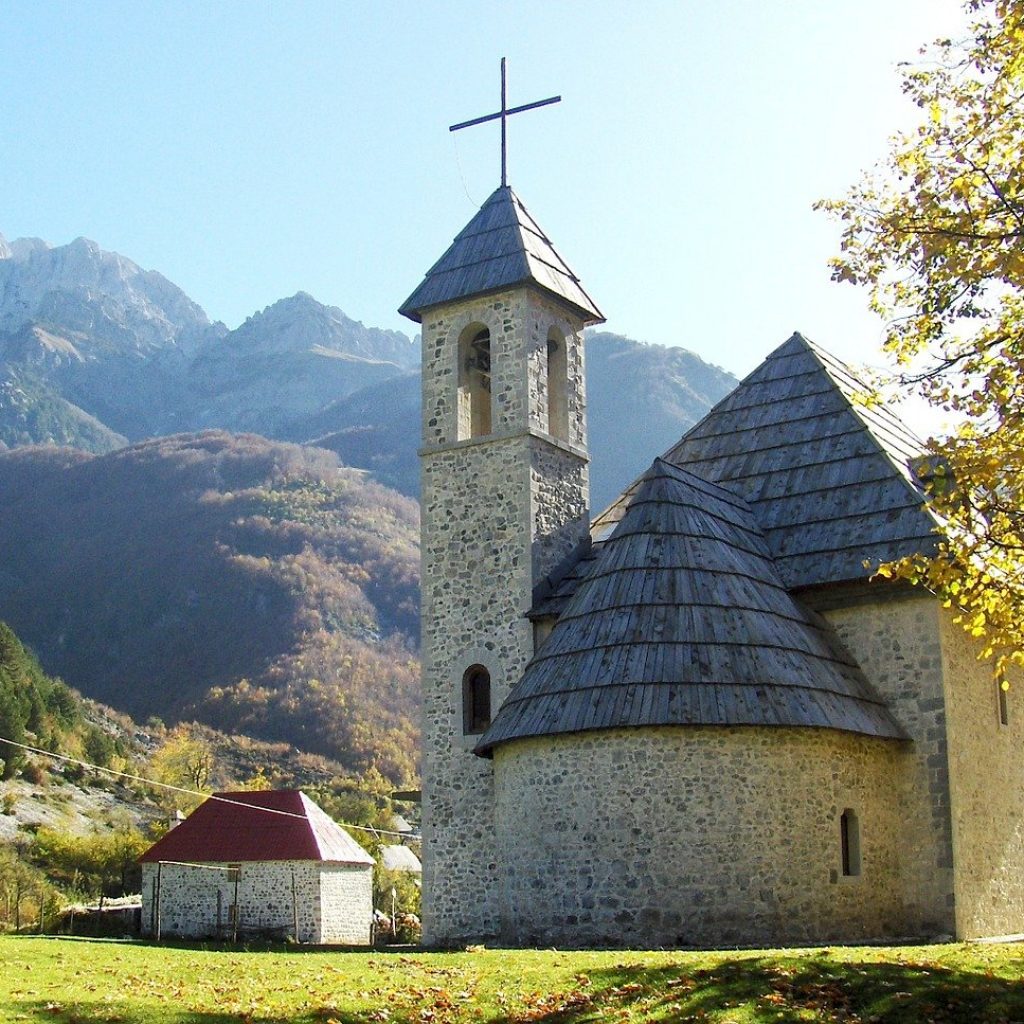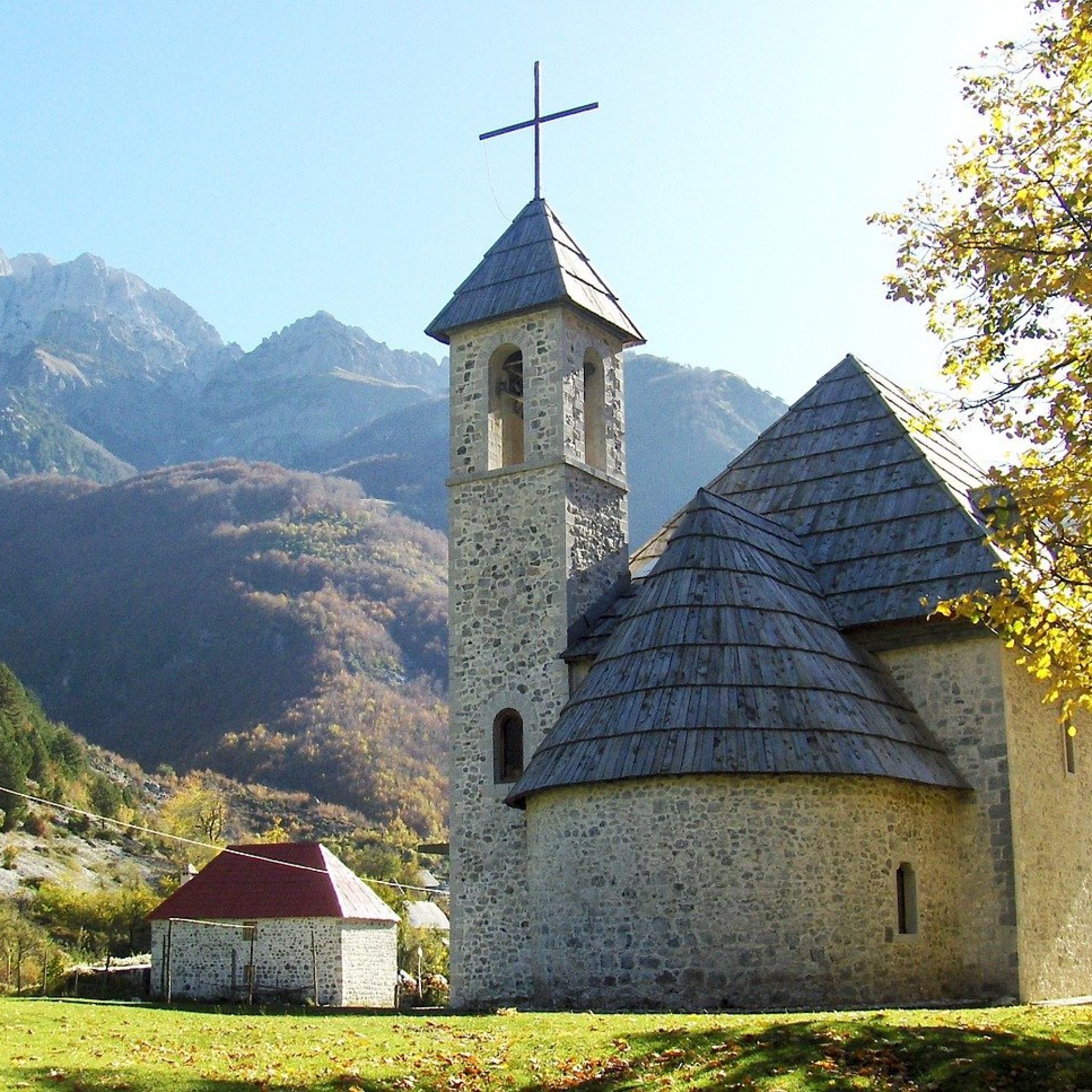 Theth is a wonderful mountainous village that deserves to be on the list of the most beautiful mountain landscapes in the world. Because it is a natural wonder. With great views, natural monuments, and a freezing cold waterfall. But also Theth is a village that has a history, the lock-in tower that you will see in Theth has a not-so-good connotation. This tower was used in times of blood feuds, to hide the ones whose family members dishonored or violated someone else.
Valbona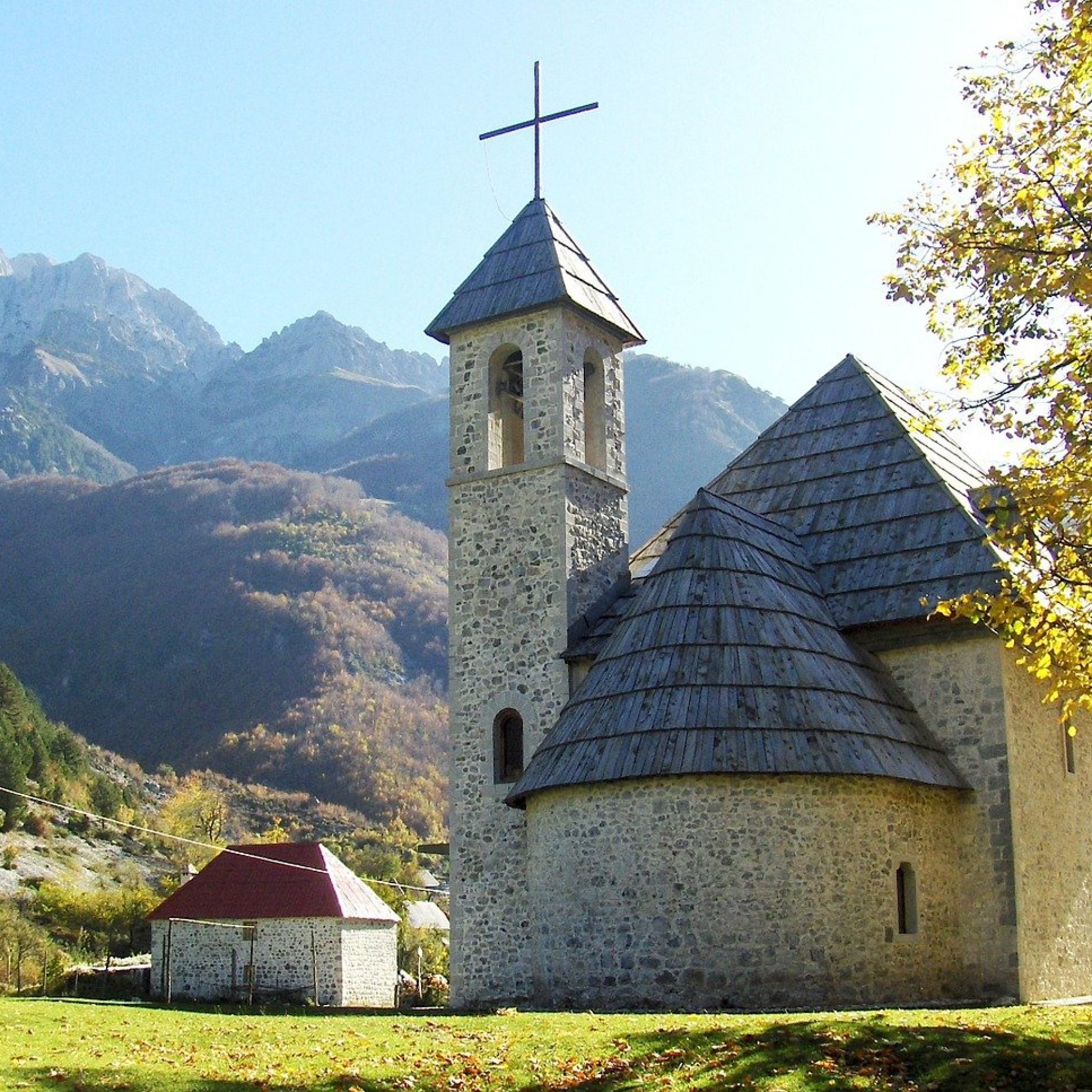 Another mountainous attraction is the village of Valbona. Surrounded by high glorious and magnificent looking mountains Valbona is a must-visit in Albania. With great hiking spots and great trails that offer outstanding landscapes, Valbona is a place that can be visited all year round, but careful in the winter when there is too much snow you might get stuck in this village.
Book a tour in the Albanian National Parks.
A travel guide for visiting Albania and its beaches
Albania's rocky coastline, with traditional villages, huddled in isolated bays and golden beaches, lapped by blue waters, was a big discovery when travelers first started exploring the country a decade ago. Since then Europe's virgin beaches have changed almost beyond recognition, but there's still plenty of reason to come here and explore this great coastline where the Adriatic and the Ionian sea meets.
Ksamil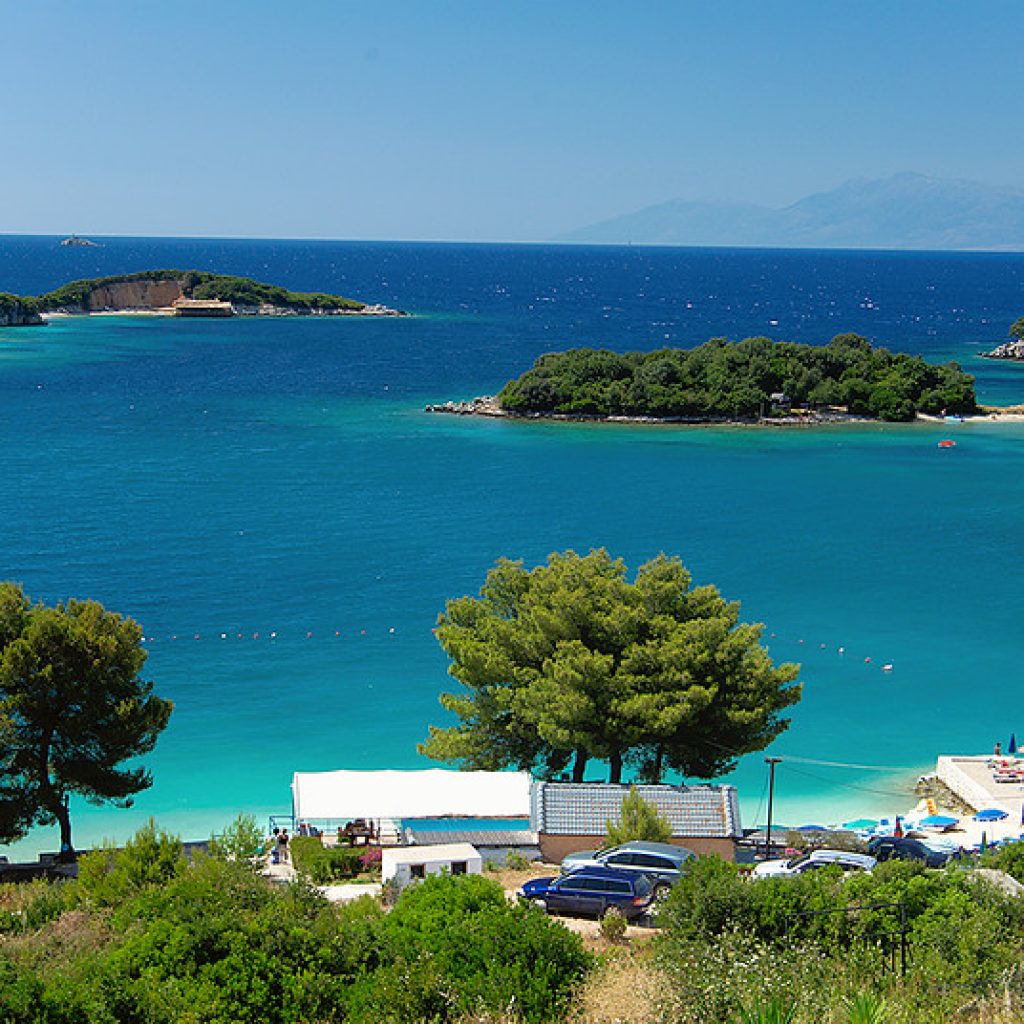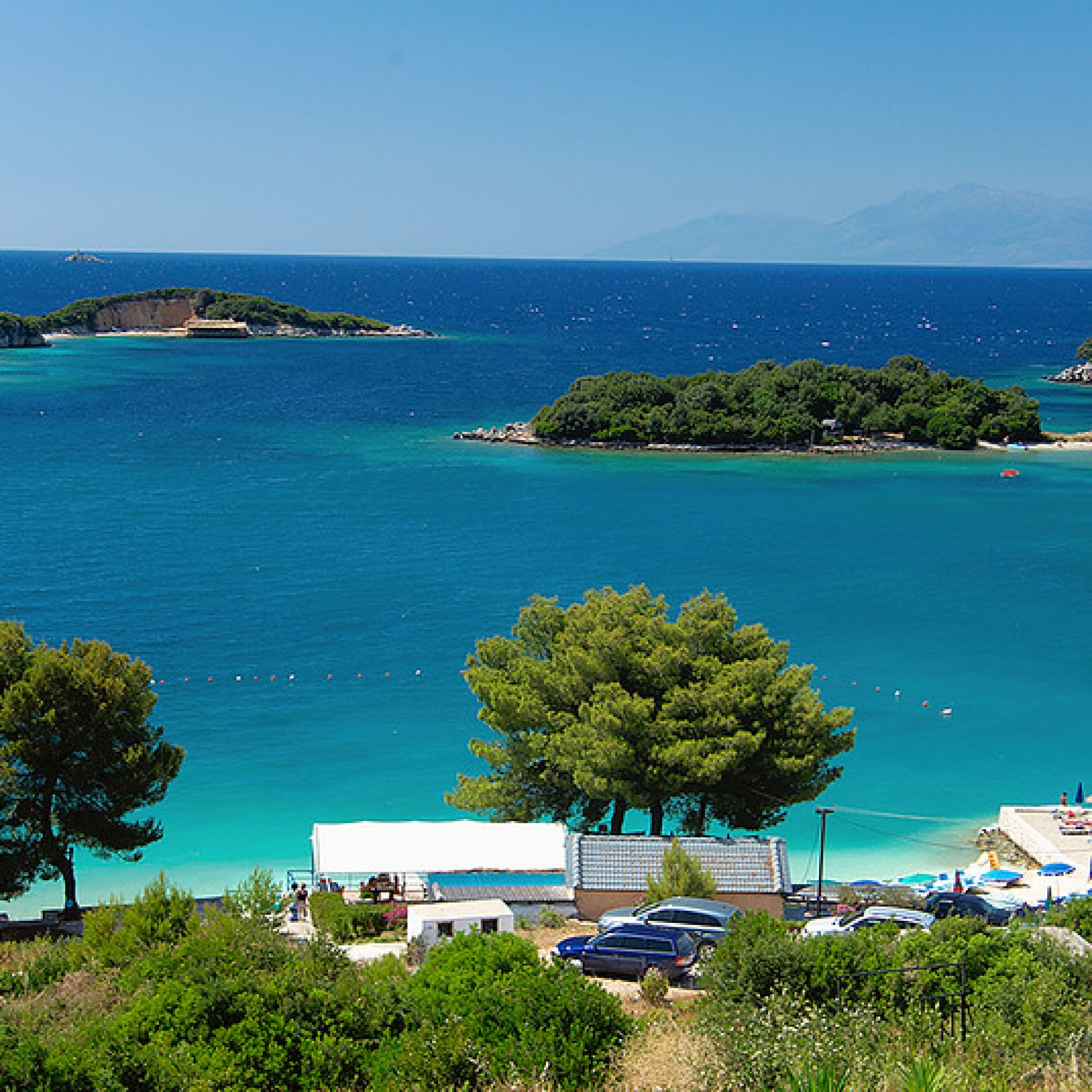 In this travel guide for visiting Albania, we should mention Ksamil, which is a pearl hidden nearby the beautiful city of Saranda. It has an abundance of crystal clear water, both sandy and rocky beaches, and many nearby attractions. These attractions include the Blue Eye and the ancient city of Butrint nestled within the UNESCO heritage Butrint National Park. In addition, there are and many rare species of wildlife native to this area.
Krorez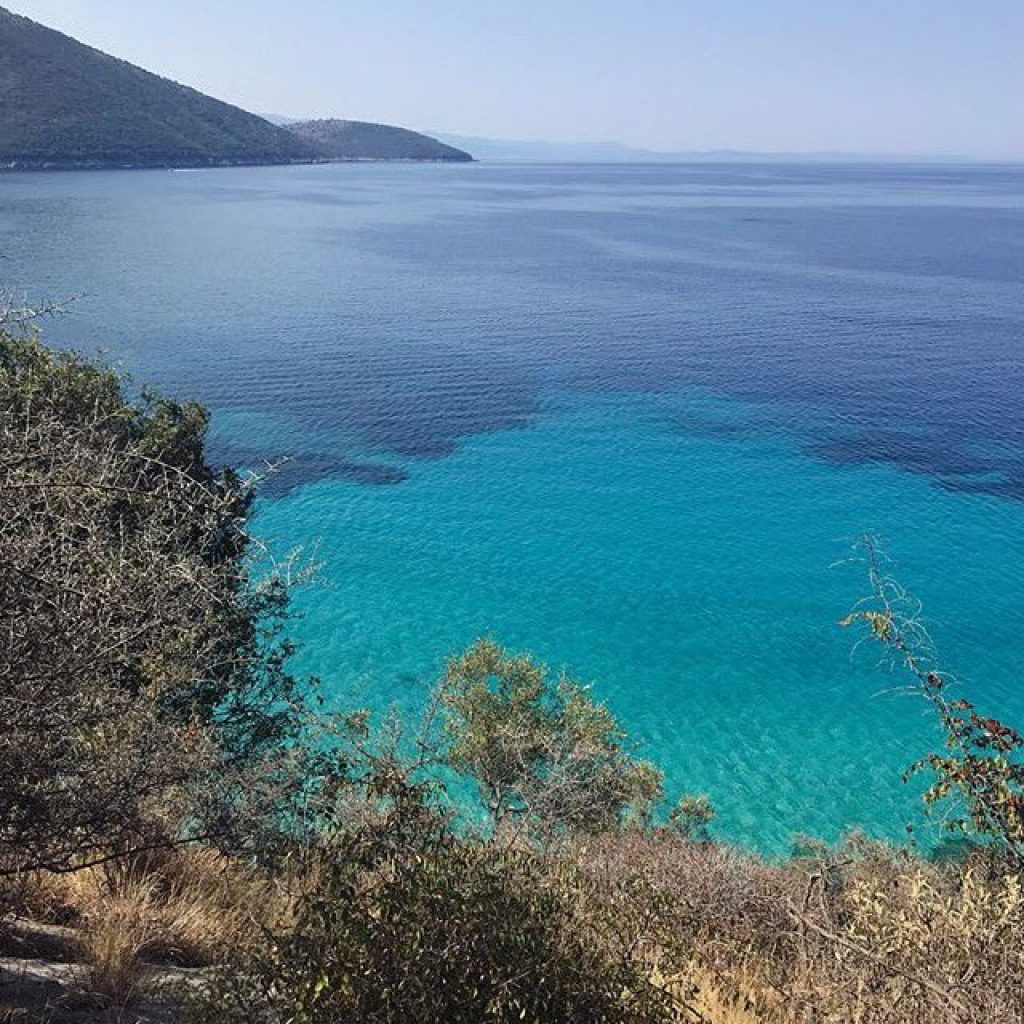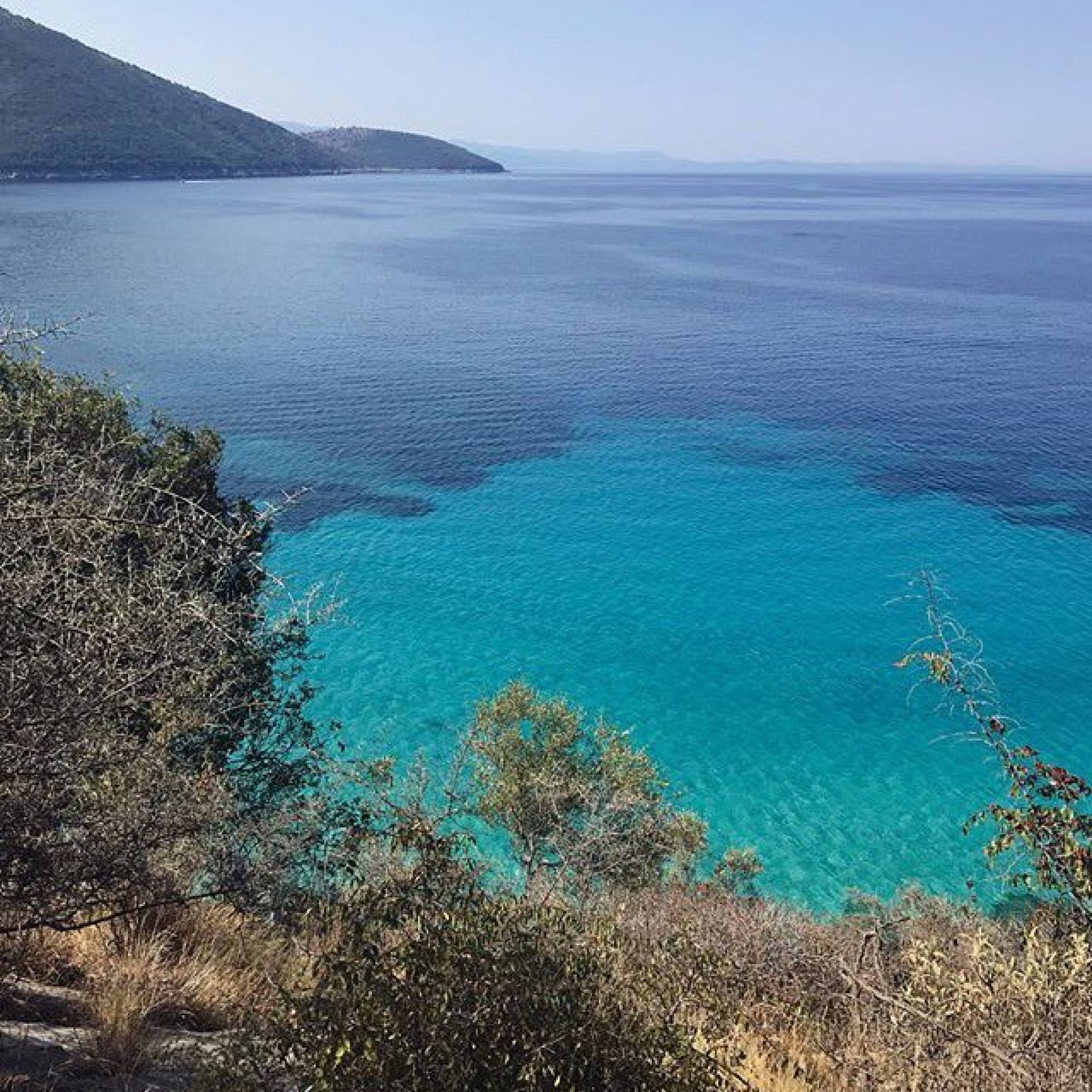 Krorez Bay is located near the city of Saranda, facing Corfu Island. World-best tour operators and leisure real estate experts have proclaimed it one of the most beautiful bays in the Mediterranean and absolutely the pearl of the virgin beaches in Albania. Many visitors have been impressed by the original beauty, the virgin nature, the peacefulness of the area, and also by the crystal clear seawater. Krorëz is divided into two beaches with a lot of rocks in between. In one part you can see two small bars, where you can buy any drink.
Rana e hedhun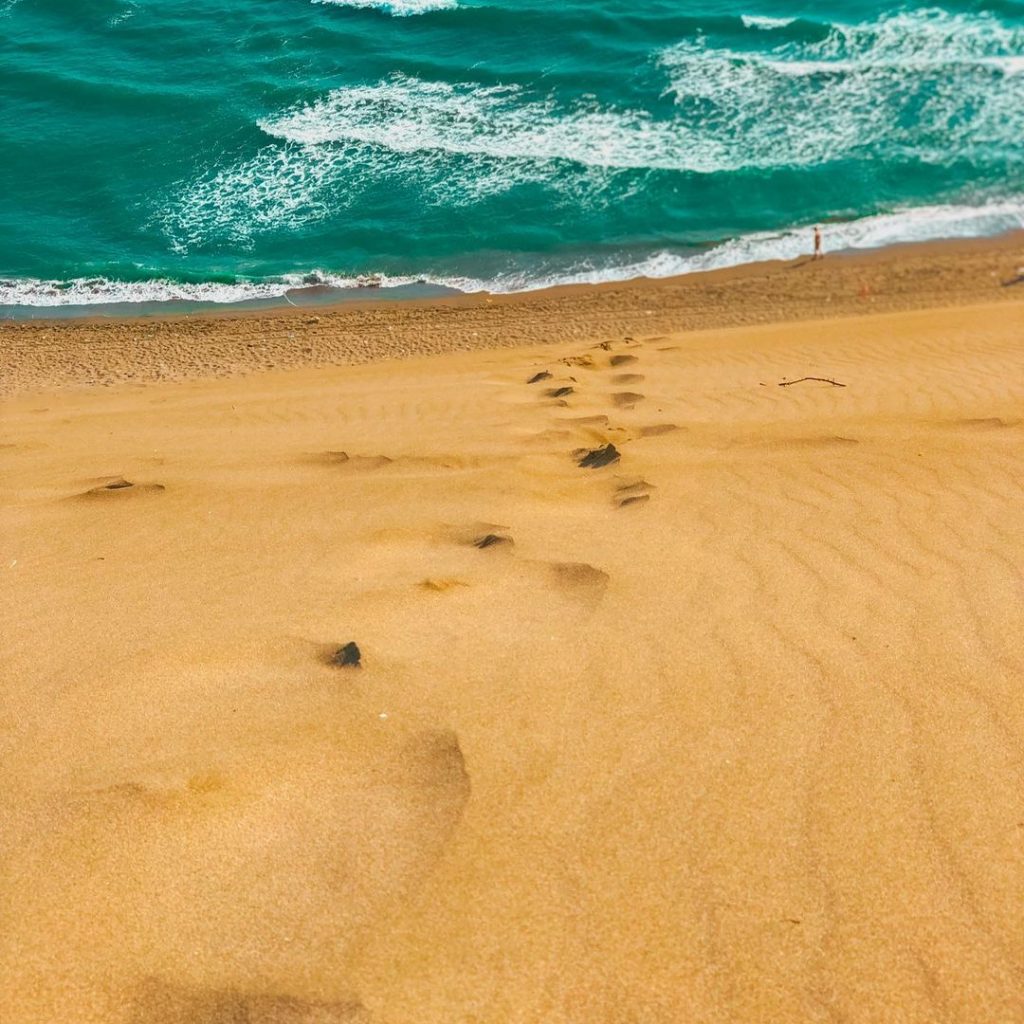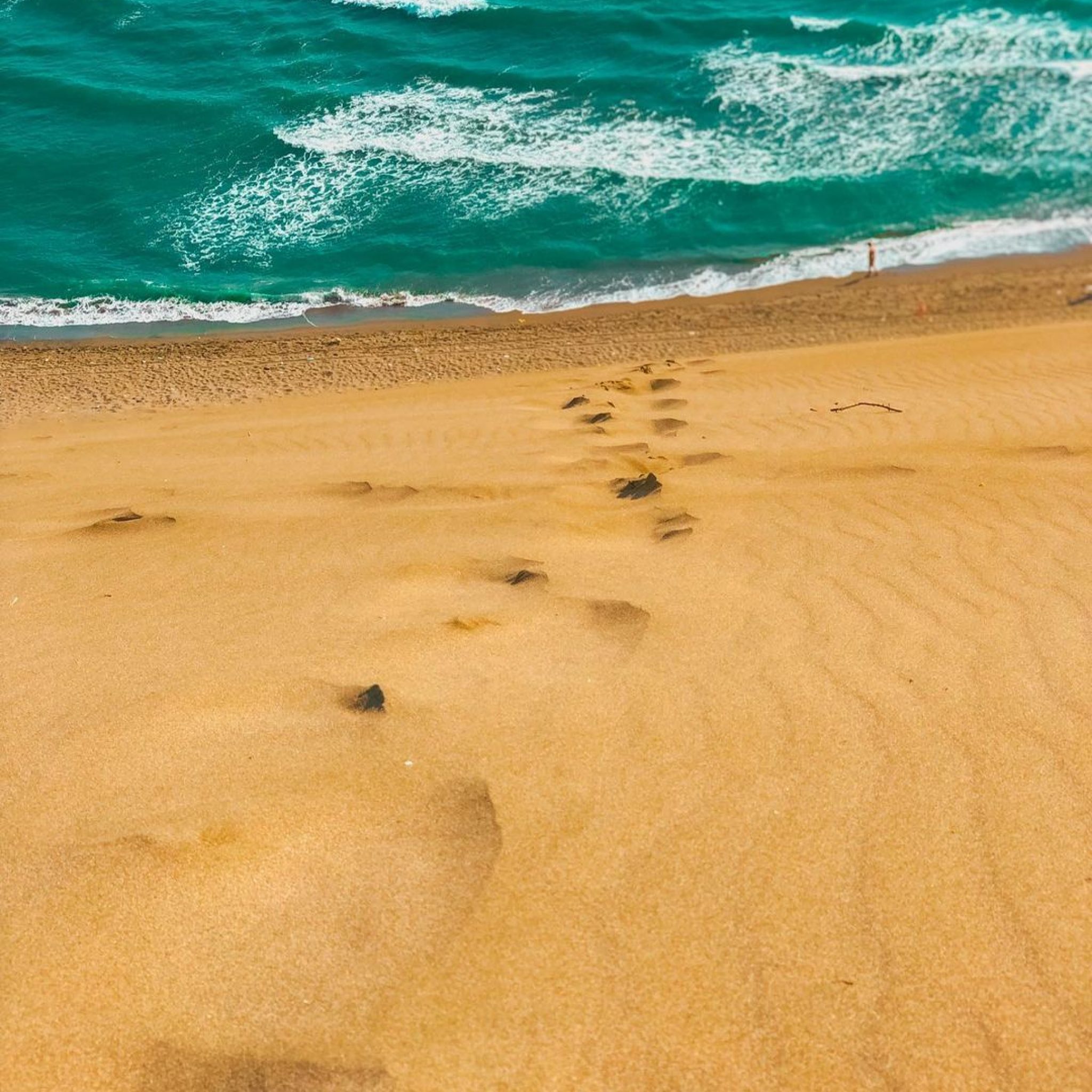 The slope of the Mountain of Rrenc descends onto the beach, where a few yards of sand elegantly melts into the sea. The dark color of the sand contrasts wonderfully with the sea's deep color of blue, giving the entire beach a very special appearance. It is quite difficult to imagine the cause of the type of sand structure found here.
At times, it appears as if the sand has descended from the mountain while, in other moments, it seems that the sea has a more active role in shaping it. Either way, it is at once a simple and magnificent sight! The pine trees surrounding the beach make it a perfect spot for camping or picnics but also for intermittently enjoying the rays of the generous Albanian sun.
Gjipe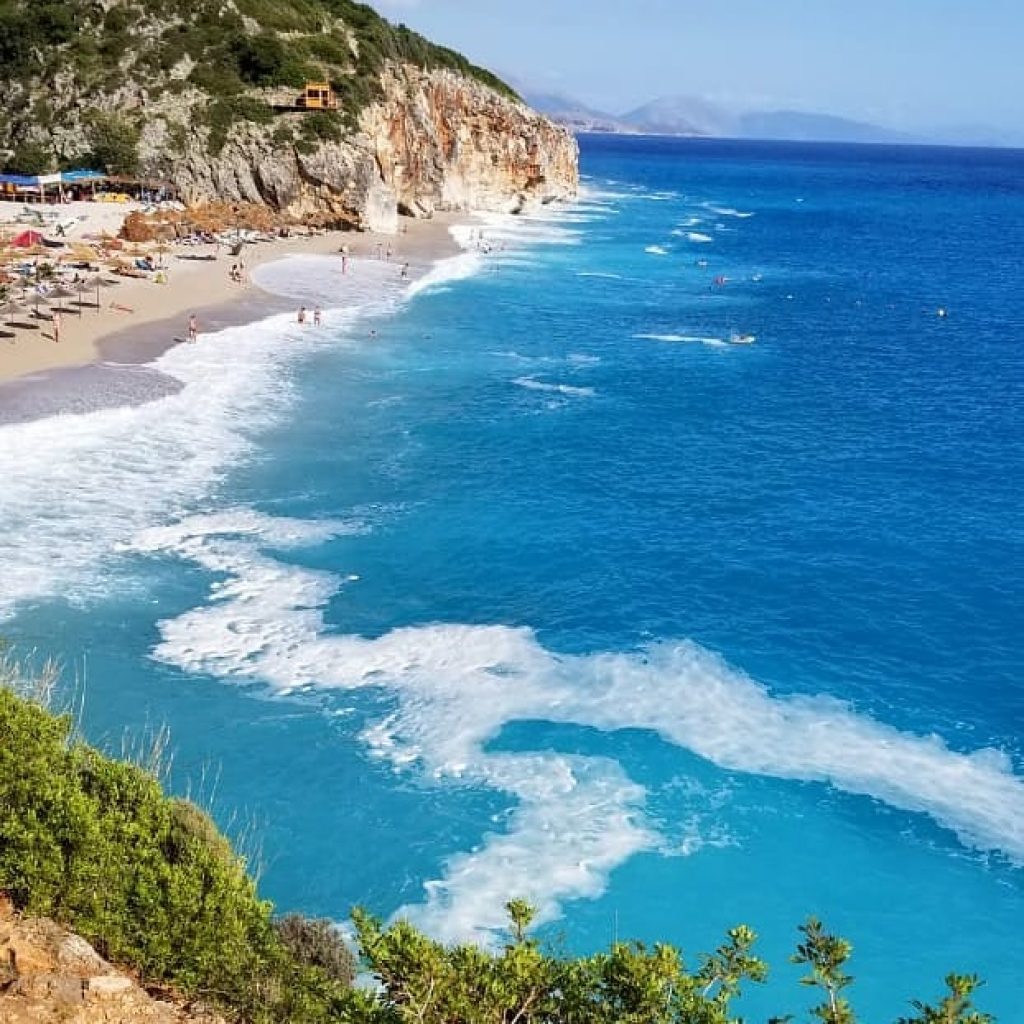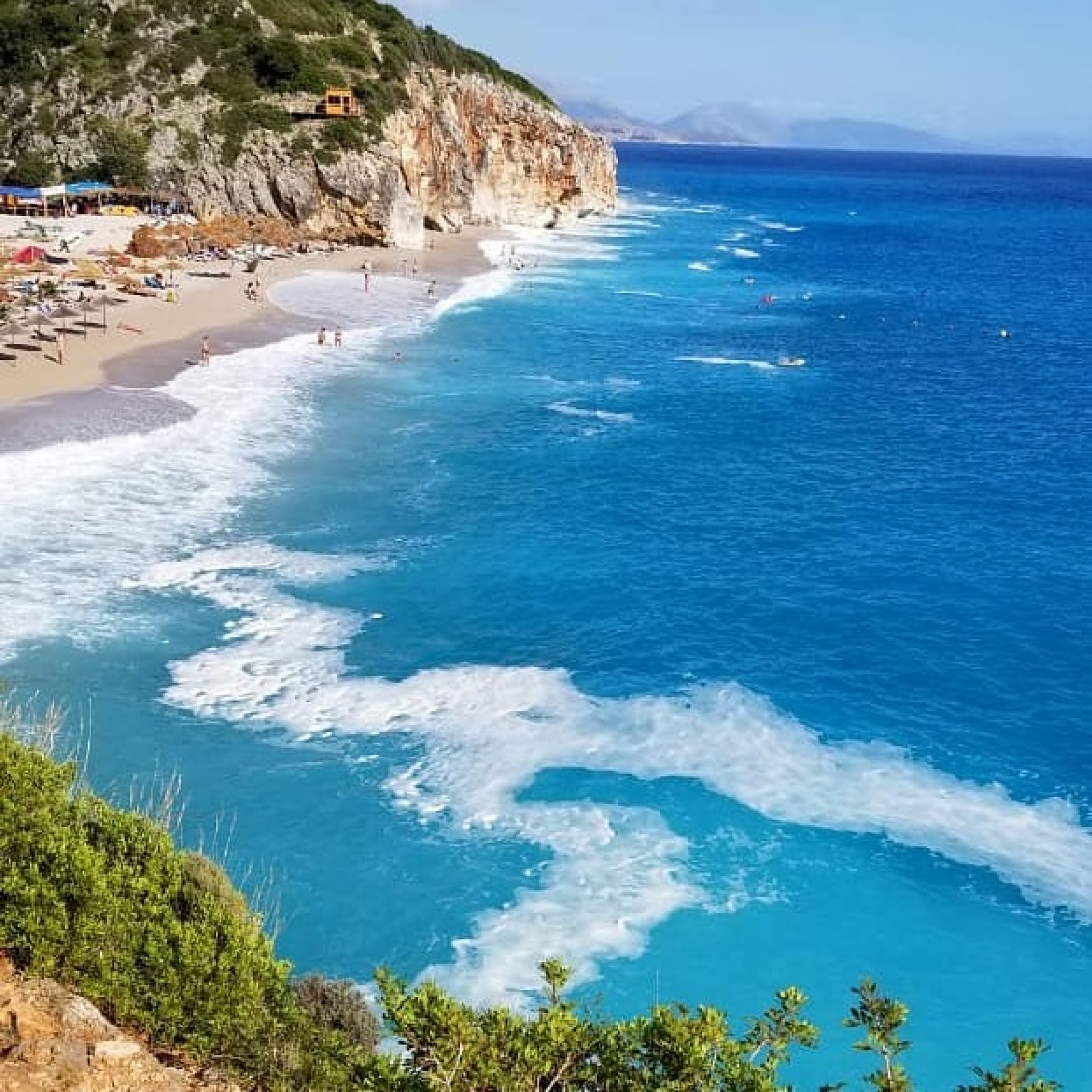 Gjipe in Albania has nice and clean sand, tiny caves, and a great coastline. You can get there through the sea or the road built lately in the Monastery of St. Theodore. High cliffs of a canyon surround Gjipe beach. The canyon is not so deep but is overgrown with bushes and some rocks cover it but as you walk, it becomes deeper and narrower. It's quiet, only birds sing, a murmuring brook and cicadas, and you, of course. Even if you are planning to go for a "nice walk" to the beach, take ropes, cord and webbing.
Livadhi Beach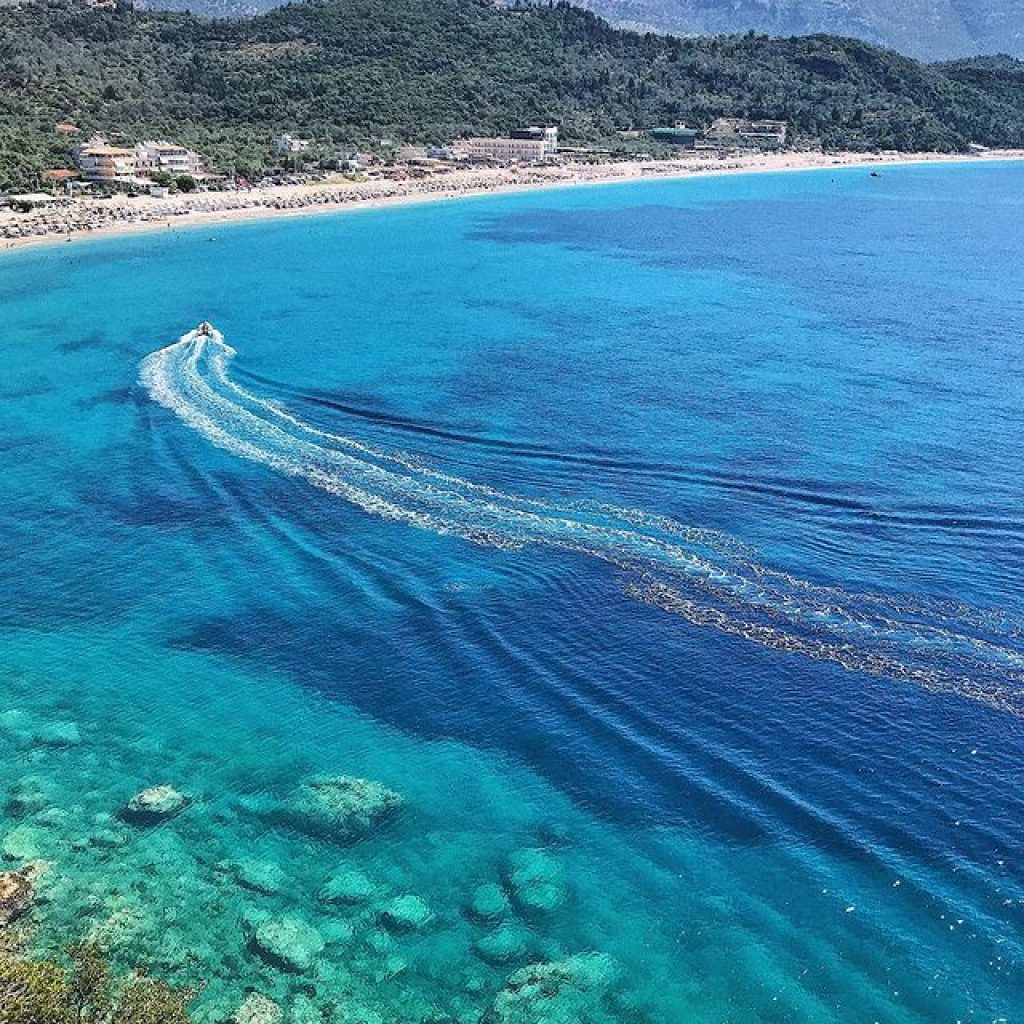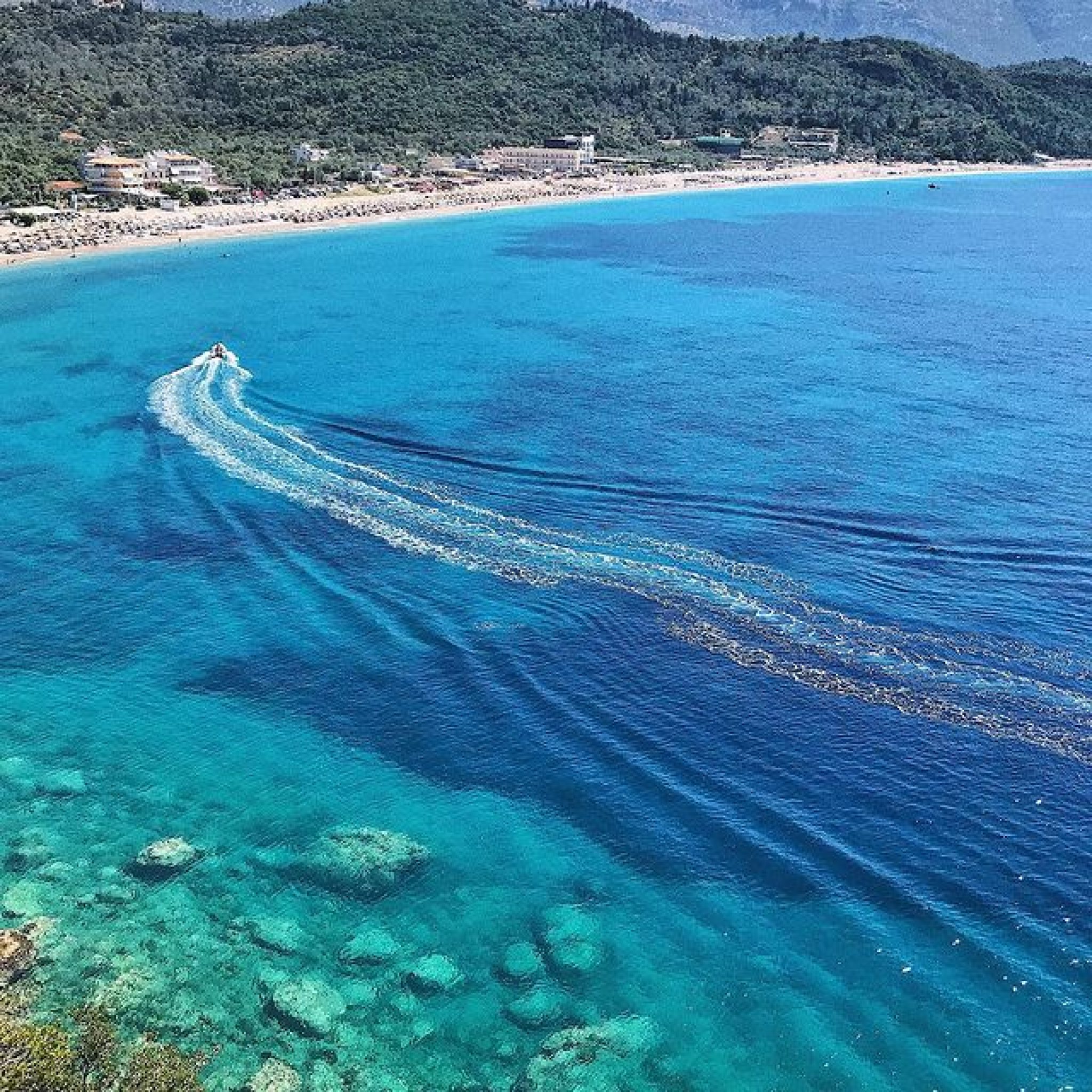 Livadhi Beach is the longest beach in Himara and is located just north of the town. The beach is famous for its deep blue waters, coarse sand, and surrounding countryside. A large area surrounding the beach is filled with countless olive and orange trees. The coastline is around 1.2 km long, while the sandy beach itself is 60 meters long. This peaceful beach is mostly visited by campers and families.
Jale Beach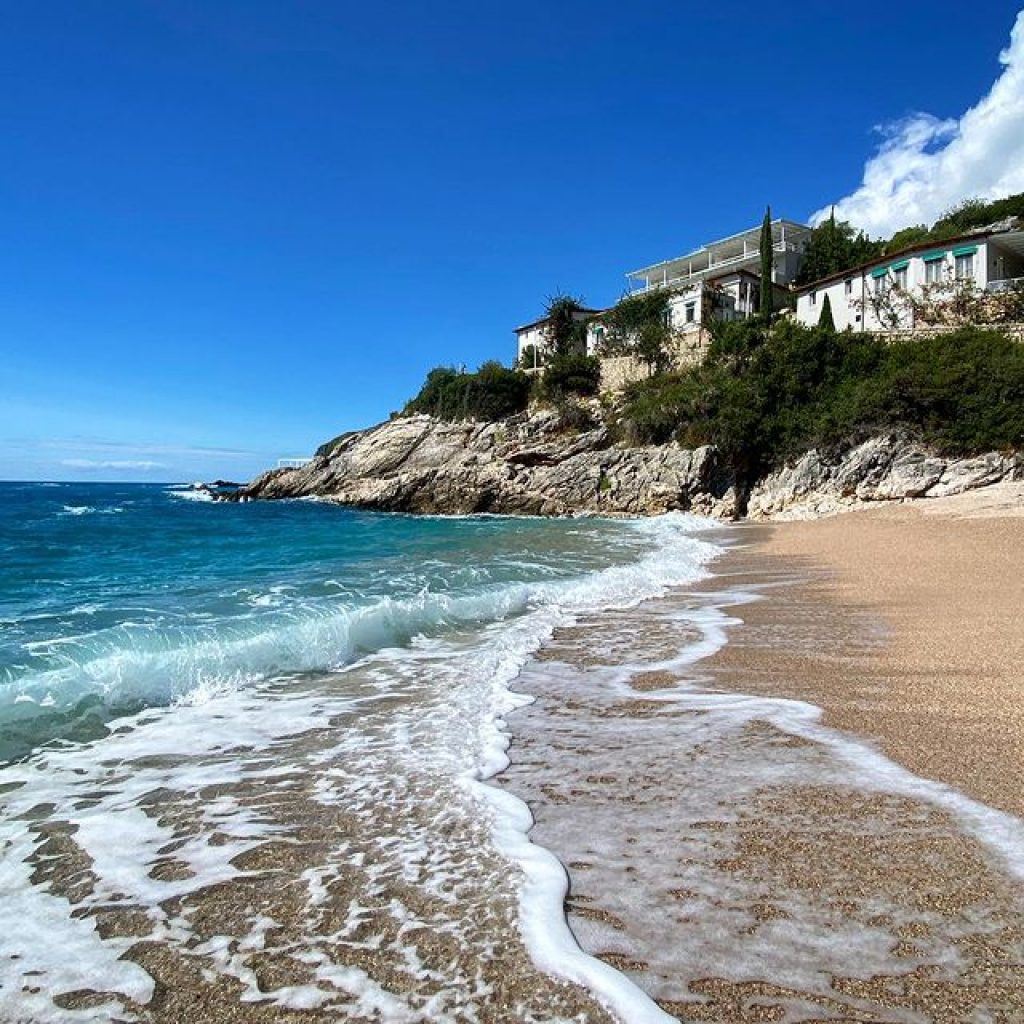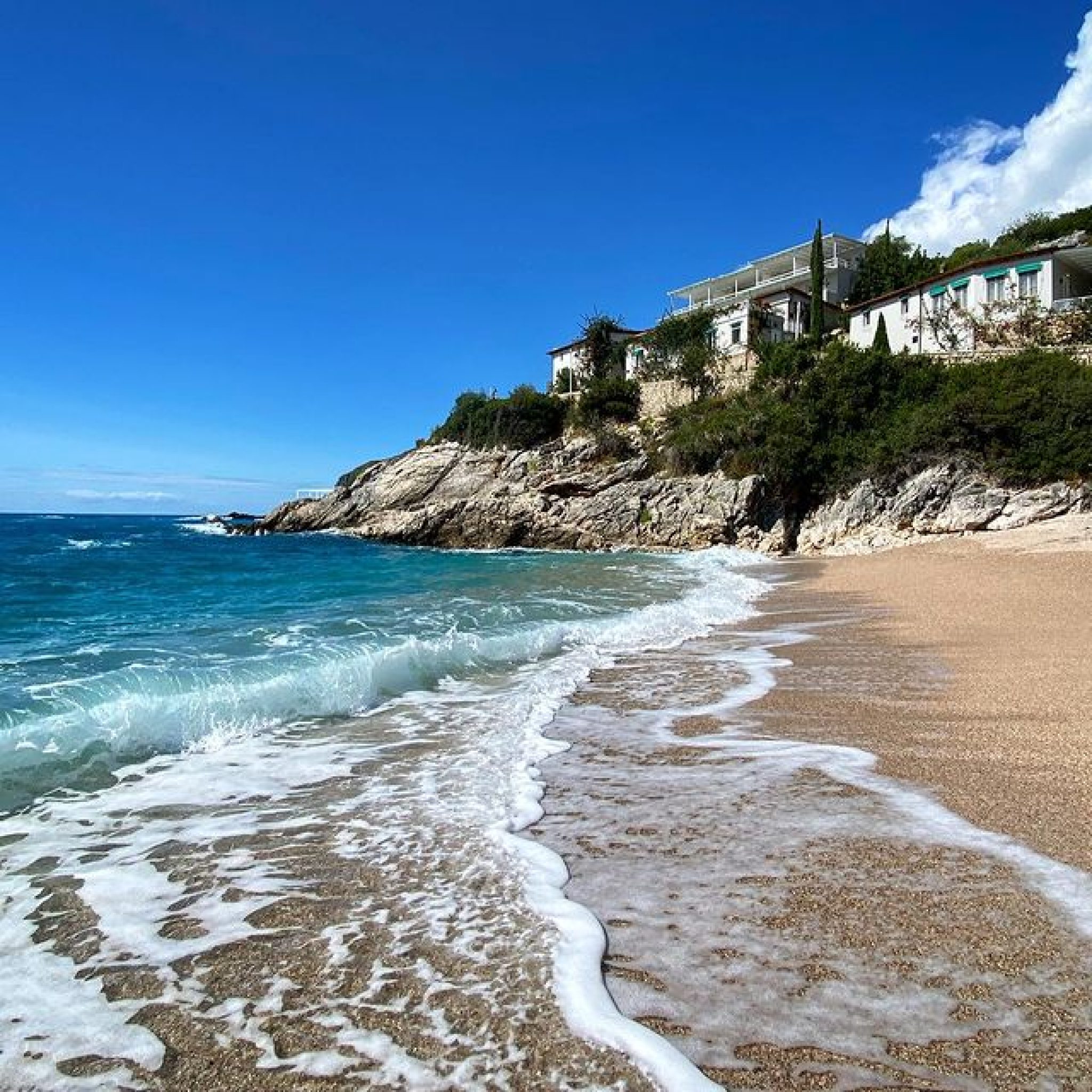 Jale Beach is one of the most beautiful beaches along the Albanian Riviera. If you have never been to Jale, don't miss the chance to explore it this summer. A five km road starting in Vuno Village on the right side of the Vlora-Saranda national road takes you to Jale Beach.
It runs among centennial olive trees and down to a small bay on the coast of the Ionian Sea. The sea in this area is in its cleanest and most stunning form. Along the beach, you can find several bars, restaurants, and even pubs. The blue water, the half-moon-shaped bay, the surrounding olive groves, and beautiful sunsets are the key traits of Jale Beach.
Dhermi Beach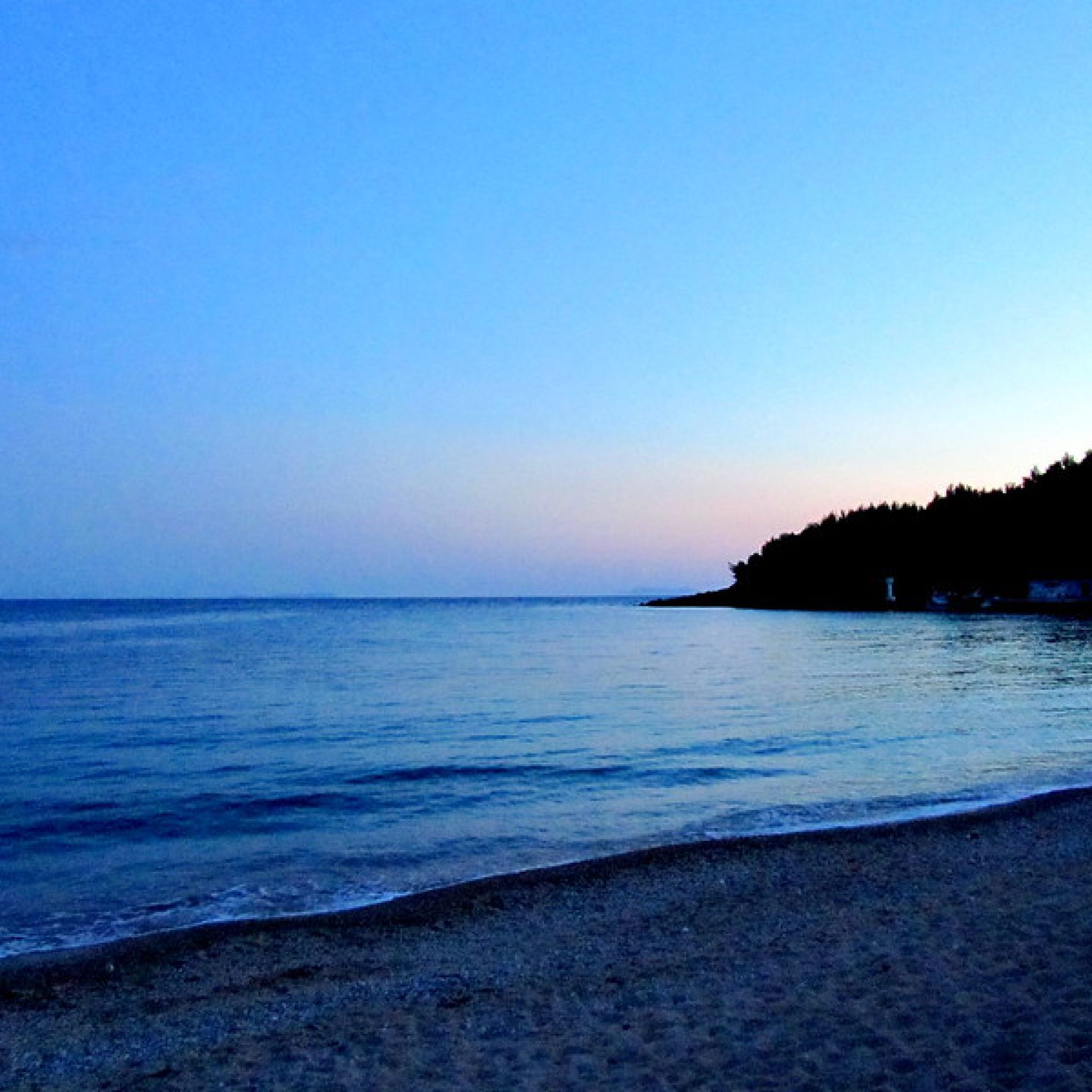 Dhermi beach is one of the most famous along the Albanian Riviera. Most of the beach is a dazzling strip of white rock several kilometers long. Deep blue water laps this pristine shore. The beach is very quiet, but during the summer months it gets quite busy. That said, the beach is long enough for those who want to find a quiet spot away from the crowds even in mid-August. For explorers, there are lots of coves and smaller bays further along the beach, including the famous Drymades Beach.
Lalez Bay Durres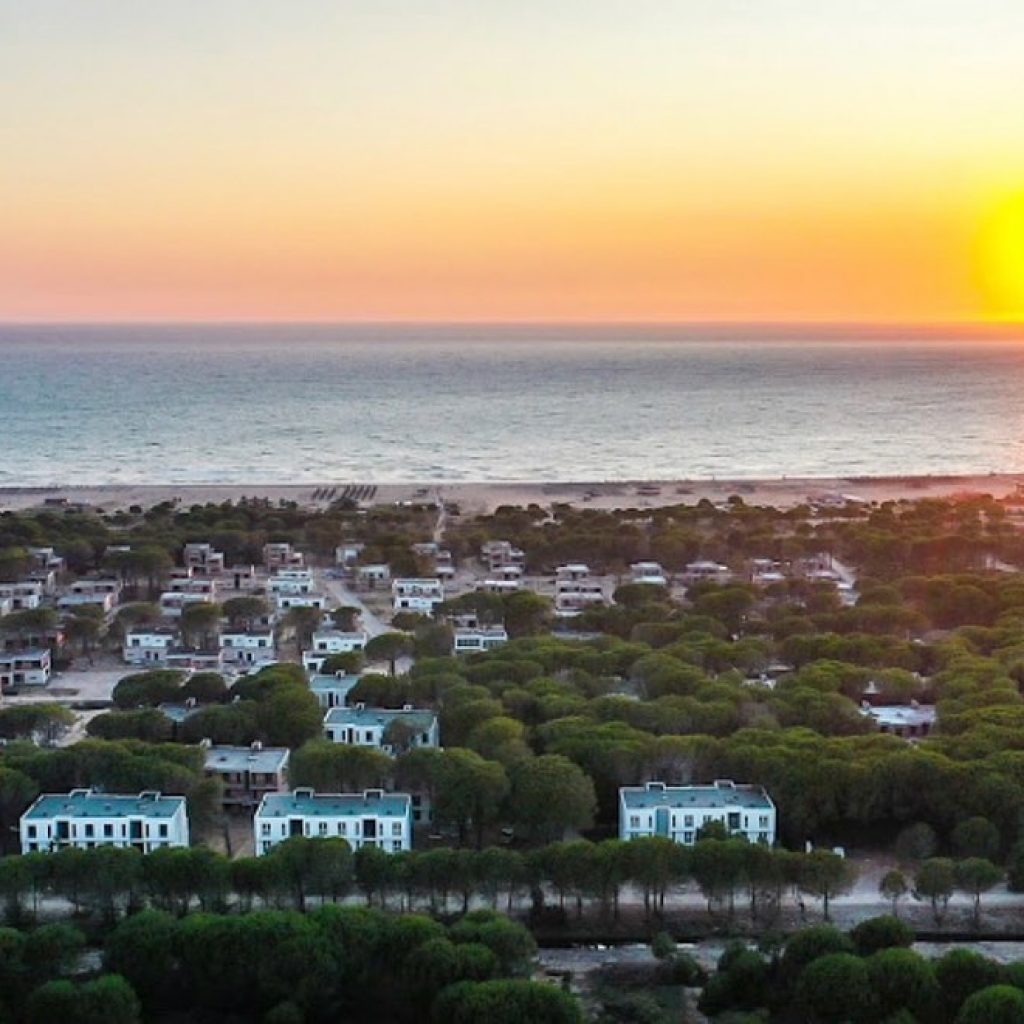 Gjiri i Lalzit is one of the best beaches in Durres. The views from there are breathtaking. Moreover, it is a pure and sandy beach with a long coastline and it is located under pine trees that offer serenity.
When to Visit Albania
A travel guide for visiting Albania includes the right time to visit Albania. We recommend you visit Albania in the summer when the weather is warm and you can visit the beaches and the mountains. Temperatures in the summer in the southern part might go as high as 40 and in the north, they might go to 30. Albania doesn't get fully touristy during the summer so it's best to visit.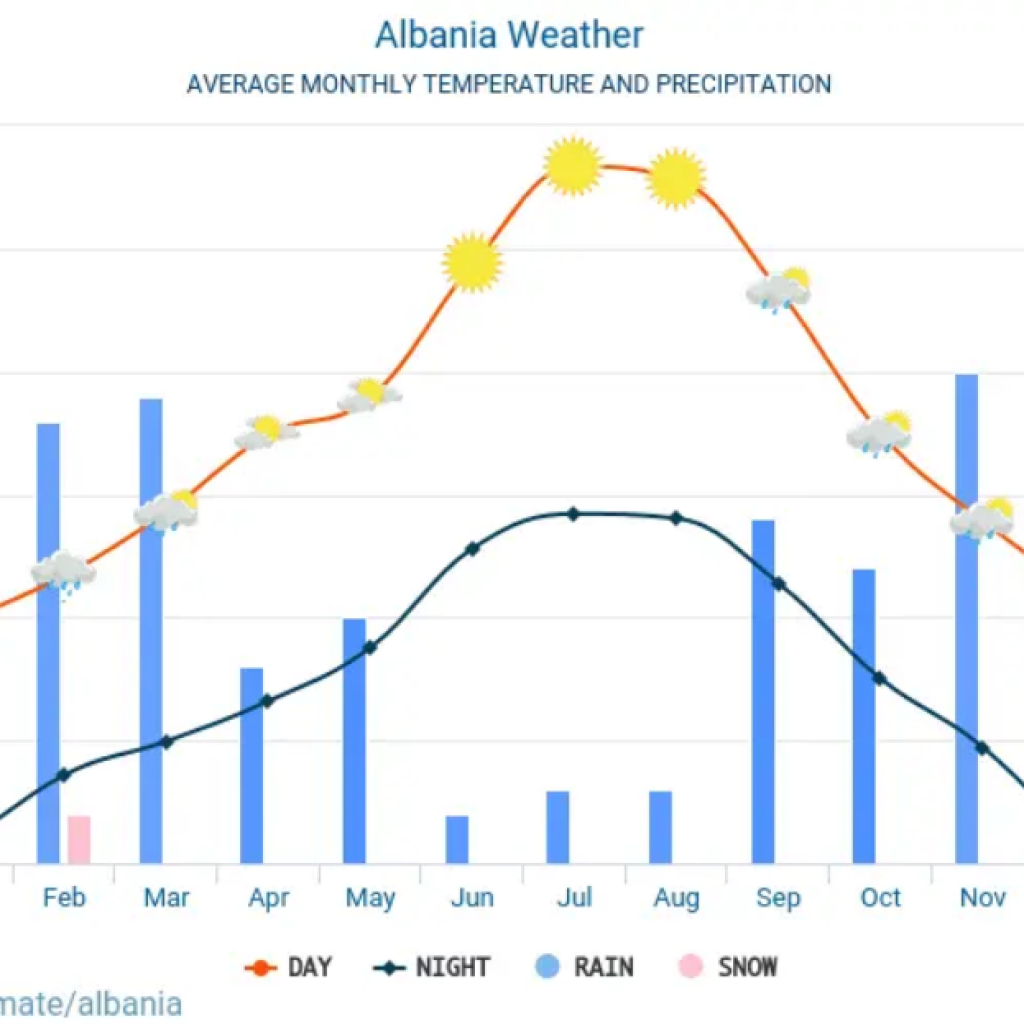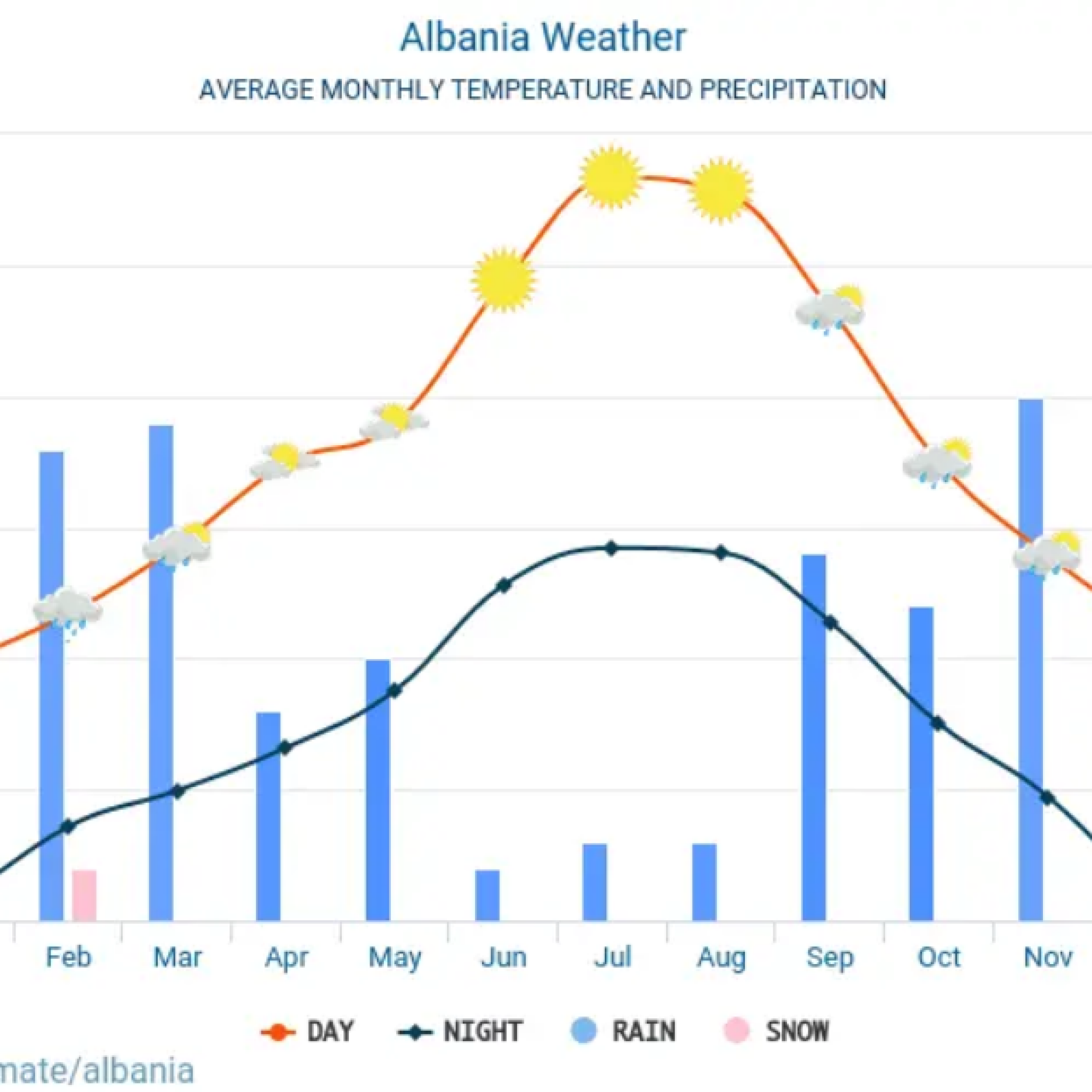 Is Albania safe?
Last but not least we should mention one of the most important facts about Albania.
This is the most frequently asked question about Albania. First of all, YES Albania is safe, and that is not only said by me but by many people who have backpacked or traveled around Albania. Albania is as safe as in any other European country. Albania has a police station where you can report what happened to you even though probably NOTHING will happen to you. There is not as much pickpocketing in Albania as you might experience in other European countries.
And that, because Albanians LOVE tourists. Whoever visits an Albanian home is treated like a king, they are offered the best food and drinks and hospitality. Albanians are very hospitable people and that can be seen everywhere. You will feel welcome in this country as much or more than on your own.
People will go beyond their boundaries to help a tourist in need. Even though around the world people know Albania as a dangerous place, that stereotype comes from the communist years as the country was isolated. Nowadays the country has complete freedom even though it's still developing and is not yet part of the EU.
Travel Guide for Visiting Albania and Travel Advice for Visiting Albania
Maybe as a tourist, you want to know how expensive is Albania. Albania is an emerging destination and a relatively cheap country. In this article, we will present to you the prices of the essential thing to live.
Rent and hotels
Check this link for a cheap accommodation in Albania: Accomodation
Let's start with the price of rent if you want to stay for a long time and the prices of the hotels if you are coming for a short-term visit. In Albania, you can stay in a hotel, hostel, guesthouse or you can rent a house. The monthly rent for 85 m2 (900 Sqft) furnished accommodation in an expensive area is 63,336 Lek. The monthly rent for 85 m2 (900 Sqft) furnished accommodation in the normal area is 35,807 Lek.
Some other things you might need are internet, laundry detergent, or cleaning help. If you would like to have internet 8 Mbps (1 month), it costs 1,533 Lek. Laundry detergent (3 l. ~ 100 oz.) might cost 669 Lek and the hourly rate for cleaning help is 471 Lek.
Now check the table below in this travel guide for visiting Albania to see how expensive is Albania for a tourist to stay in a hotel or hostel in Albania.
| | | | | |
| --- | --- | --- | --- | --- |
| Average hotel price in Albania is: | 47 USD | 36 GBP | 42 EURO | 314 CNY |
| Hostels prices in Albania are around: | 15 USD | 11 GBP | 13 EURO | 98 CNY |
| Price of 1-star hotel in Albania is around: | 32 USD | 25 GBP | 29 EURO | 219 CNY |
| Price of 2-star hotel in Albania is around: | 39 USD | 30 GBP | 35 EURO | 264 CNY |
| Price of 3-star hotel in Albania is around: | 44 USD | 34 GBP | 39 EURO | 293 CNY |
| Price of 4-star hotel in Albania is around: | 61 USD | 47 GBP | 54 EURO | 407 CNY |
| Price of 5-star hotel in Albania is around: | 83 USD | 64 GBP | 74 EURO | 556 CNY |
Food & Drink Prices
If you indulge in the national pastime of drinking coffee in a cafe several times a day, that's not going to set you back much. Espresso is typically 0.88 USD or 0.79 EUR and it's only slightly more for an Americano or cappuccino. The dinner for three is 1950 lek if it includes fish, vegetables, rice, and three large beers. That's 15 EUR. If the diner includes meatballs, dill yogurt dip, salad, and bread it costs €2 per person including two beers. If you would order a sandwich at a local kebab place, it might be around €1.50.
Find some traditional foods in this link: Albanian Traditional Food
Here are some examples of other food prices to help you understand how expensive is Albania:
| | | |
| --- | --- | --- |
| Meal in a cheap restaurant | 5.40 USD (4.10-7.20) | 4.90 EUR (3.60-6.50) |
| Meal for 2 People, Mid-range Restaurant, Three-course | 23 USD (18-27) | 20 EUR (16-24) |
| McMeal at McDonalds (or Equivalent Combo Meal) | 4.50 USD (3.20-5.40) | 4.00 EUR (2.80-4.90) |
| Domestic Beer (0.5 liter draught) | 1.40 USD (0.91-1.80) | 1.20 EUR (0.81-1.60) |
| Imported Beer (0.33 liter bottle) | 1.70 USD (1.10-2.70) | 1.50 EUR (1.00-2.40) |
| Coke/Pepsi (0.33 liter bottle) | 1.10 USD (0.63-1.40) | 1.00 EUR (0.57-1.20) |
| Water (0.33 liter bottle) | 0.55 USD (0.45-0.81) | 0.49 EUR (0.41-0.73) |
| Cappuccino (regular) | 1.30 USD (0.91-1.40) | 1.10 EUR (0.81-1.20) |
| Espresso Coffee | 0.88 USD (0.63-0.95) | 0.79 EUR (0.57-0.85) |
| Cheeseburger (fastfood) | 1.30 USD (0.95-1.60) | 1.20 EUR (0.85-1.50) |
Travel Guide for Visiting Albania and important information
Opening hours and holidays
Few shops and restaurants in Albania have set working hours. Restaurants are open from 9 am to 9 pm.
Museums are usually closed on Mondays.
Most shops and all banks and post offices are closed on public holidays: January 1 and 2, January 6, March 14, March 22, May 1, October 19, November 28 and 29, and December 25, well as at Easter, both Catholic and Orthodox. Also Eid, National Holidays, and other national celebrations.
Post offices are generally open Monday to Friday from 9 am to 20.00 pm.
Tourist Information offices
There are some tourist information places around in each city. They can supply maps and book accommodation. However the hotel or hostel you will be staying will give you a better information.
Emergency Numbers
| Emergency service | Number |
| --- | --- |
| Road police | 126 |
| Ambulance | 127 |
| Fire brigade | 128 |
| Police | 112 |
| General emergency | 112 |
| Emergency at sea | 125 |
Where you can get tested for COVID19 or other diseases
— American Hospital Laboratory (Tel: +355 4 222 5640)
— Biocheck Diagnostic (Tel: +355 4 242 7025)
— Genius Lab (Cell: +355 69 303 3026)
— German Hospital International (Cell: +355 67 200 4282)
— Intermedica (Tel: +355 4 220 0600)
— Noval Diagnostic (Cell: +355 68 804 2045)
— SALUS Lab (Cell: +355 68 205 3180)
Also the National Hospital will give you help.
If you have any other inquiries about this travel guide for visiting Albania do not hesitate to contact us.