The beautiful Island of Ksamil Albania
Ksamil Albania the hidden corner of Europe, and the jewel on top of the Albanian Crown of best places to visit once in your lifetime.
Ksamil is made of three exquisite islands, with a perfect location on the Ionian Sea. Each Island is reachable by a small paddle boat or canoe. And if you are fit enough you might reach the two first islands swimming.
White sand beaches, tropical breeze, and turquoise waters, what more to ask before choosing a place to visit during the heat of the summer? Moreover, Ksamil Albania has just declared itself a hot topic for visitors.
Once in Ksamil, you will enjoy everything it has to offer. Great food, beautiful hotels with sea views, and amazing beaches. Everybody falls in love with that place and we guarantee you will too if you visit it. Ksamil is a must-see in Albania.
This is the perfect destination for you who long for a Mediterranean climate and adventure.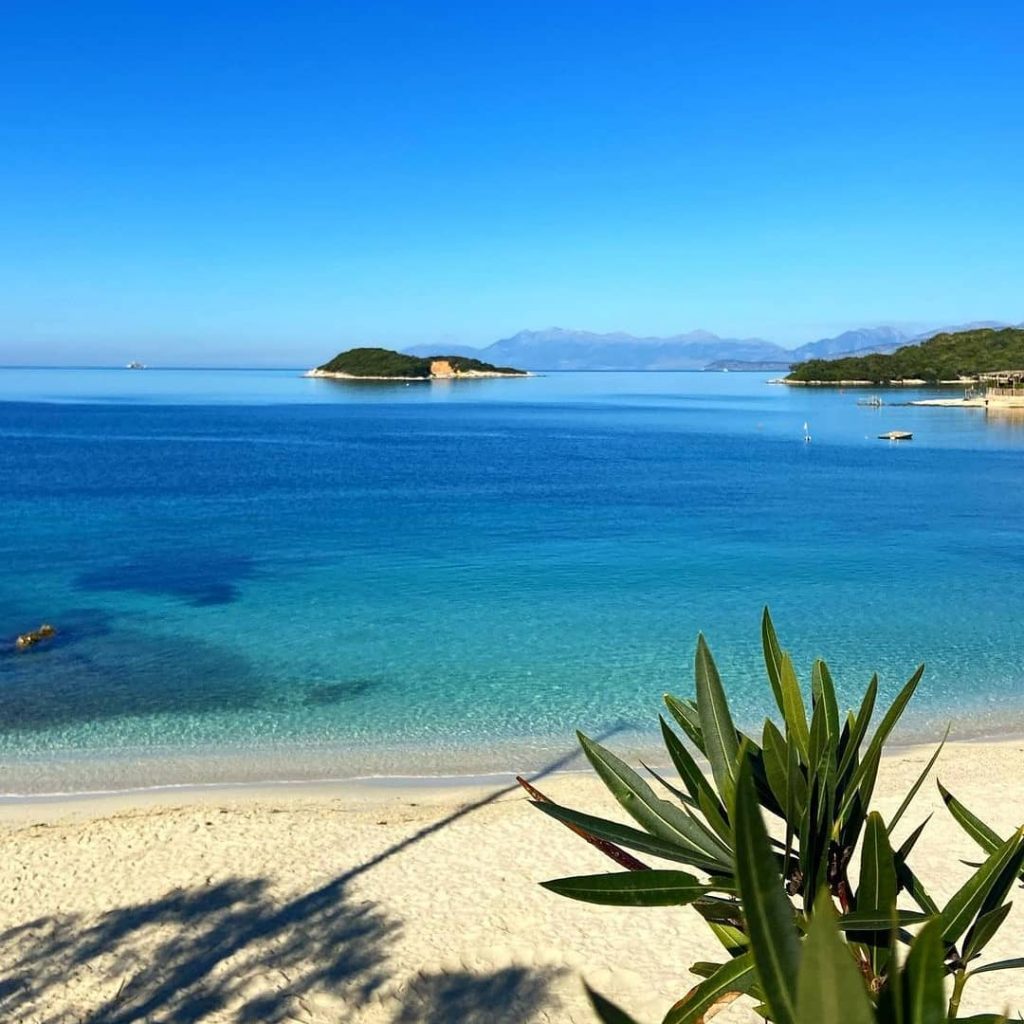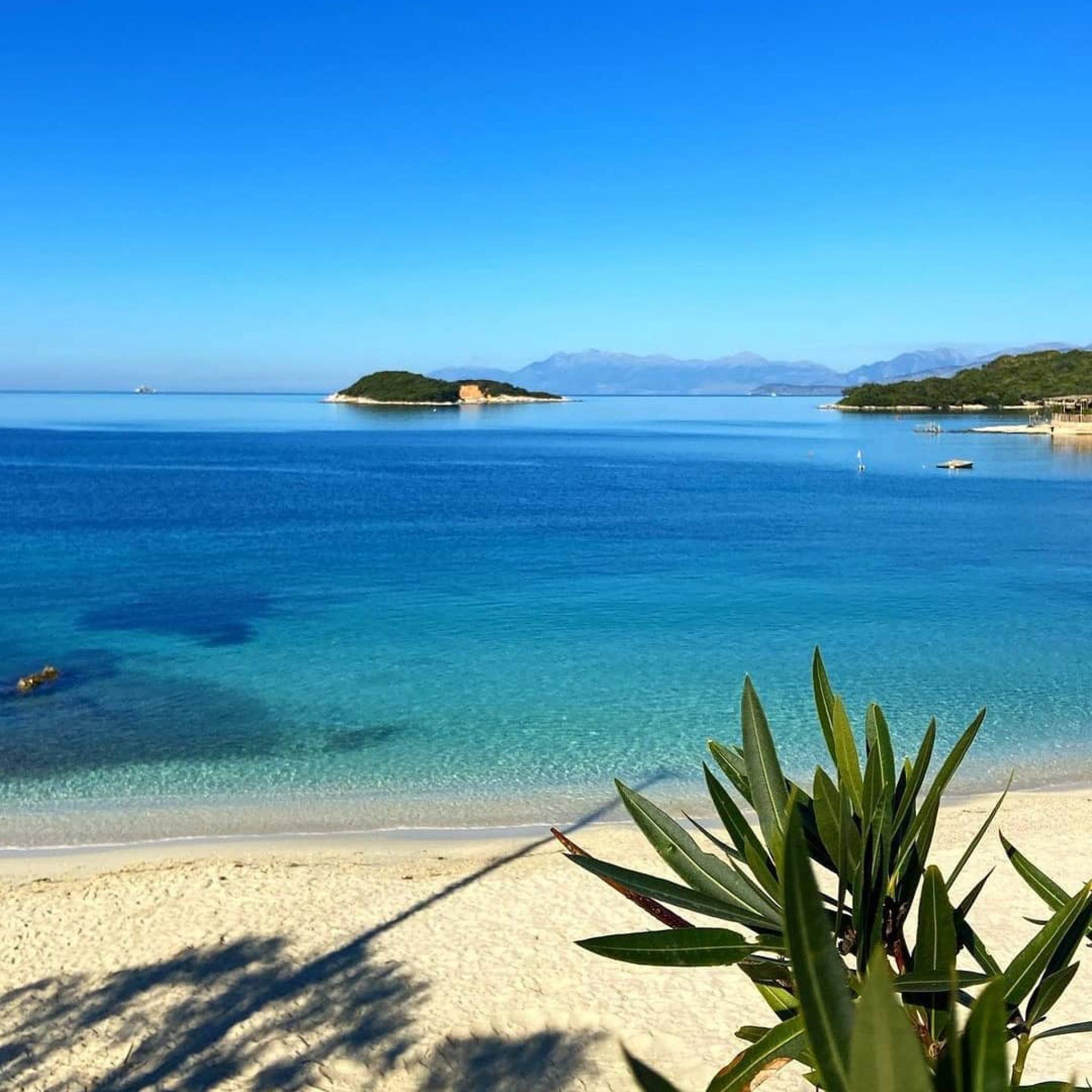 How to Get to Ksamil Albania.
To get to Ksamil Beach, you'll probably be starting in the port city of Saranda.
From there, it's a simple 30-minute bus or 10-minute taxi ride.
There are many bus stops scattered around the city.
We recommend going to the one at the intersection o Rruga Mitat Hoxha and Rruga Jonianet to be sure you get a seat.
Buses typically run every 1-2 hours. A bus ticket will cost less than $1.
A taxi will cost you around $5-10 each way, but is much quicker.
If you're not already in Saranda, we will list a few of the most popular ways to get to Ksamil Albania.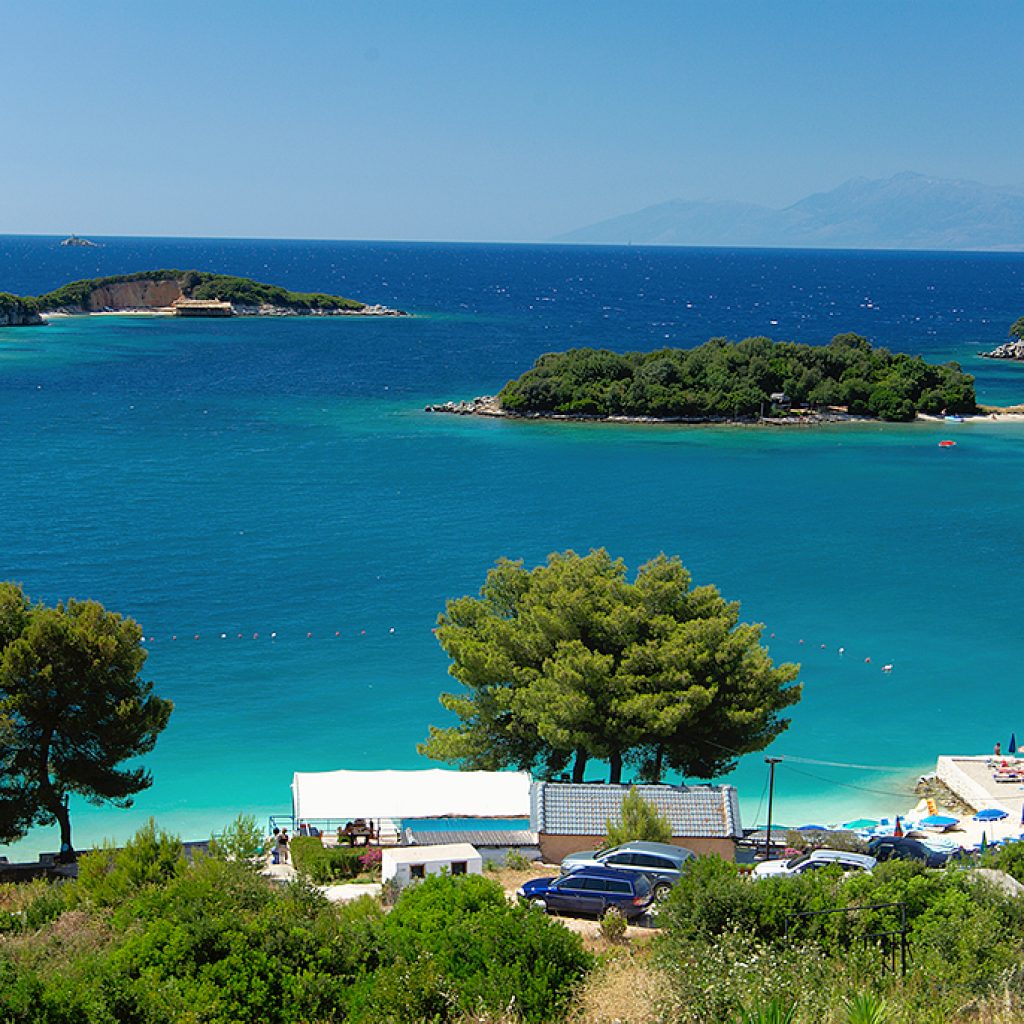 How to get to Ksamil Albania if you are not in Albania?
The nearest Airport to get to Ksamil is that of Corfu, so you book a ticket to Corfu and then book a boat to reach Saranda which takes about 30 min and you will be in less than 1 hour in Ksamil.
However, a new airport seems to be ready soon in the near future in Vlora, which means there will be no need for a boat to go to Corfu.
You can also fly to Tirana and rent a car to drive to the southern Albanian Riviera.
Also, if you are on a cruise ship check the itinerary if it stops in Albania as Ksamil is just a drive away from Saranda.
Getting to Saranda (Ksamil Albania) from Corfu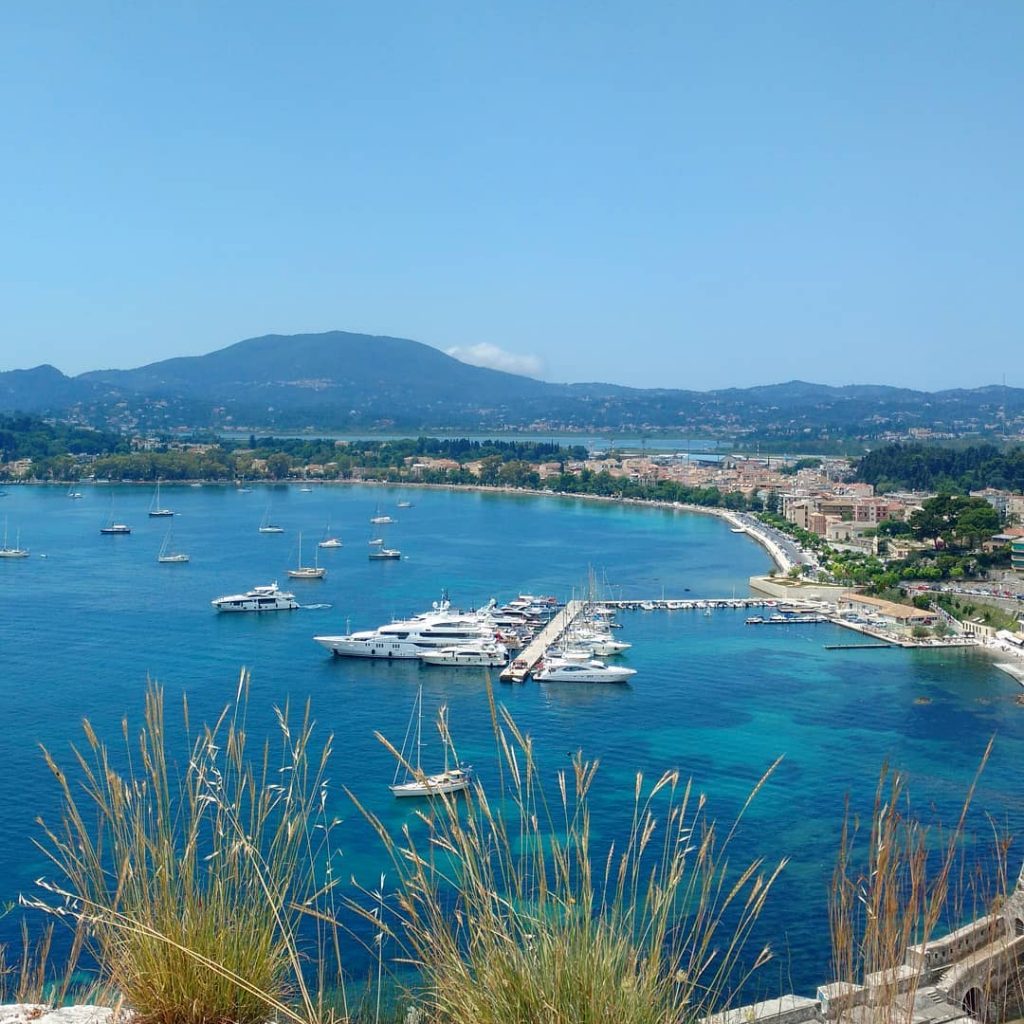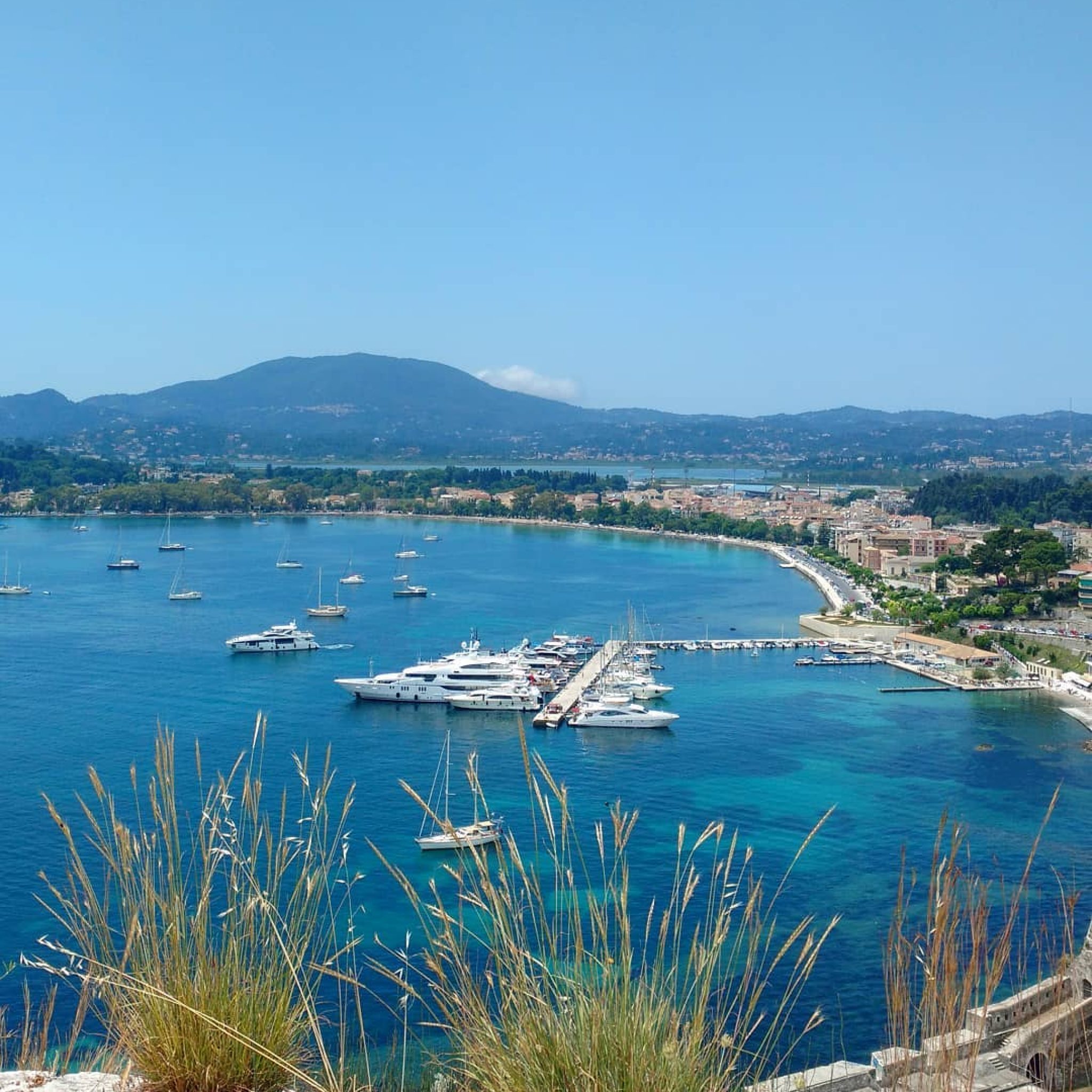 If you want to make your way to Albania from Greece, go through Corfu.
Simply go to the main port in Corfu Town and catch a ferry.
The scenic ride takes around 1-1.5 hour. It will cost you around $25-30 USD during peak season.
Crossing the border in Saranda is very easy and usually only takes a few minutes.
The border agents speak English well and you will have no problems getting into Albania given that you are eligible for a visa on arrival.
If you have a Schengen visa for Greece, you will automatically be granted entry into Albania.
Getting to Saranda from Tirana or elsewhere in Albania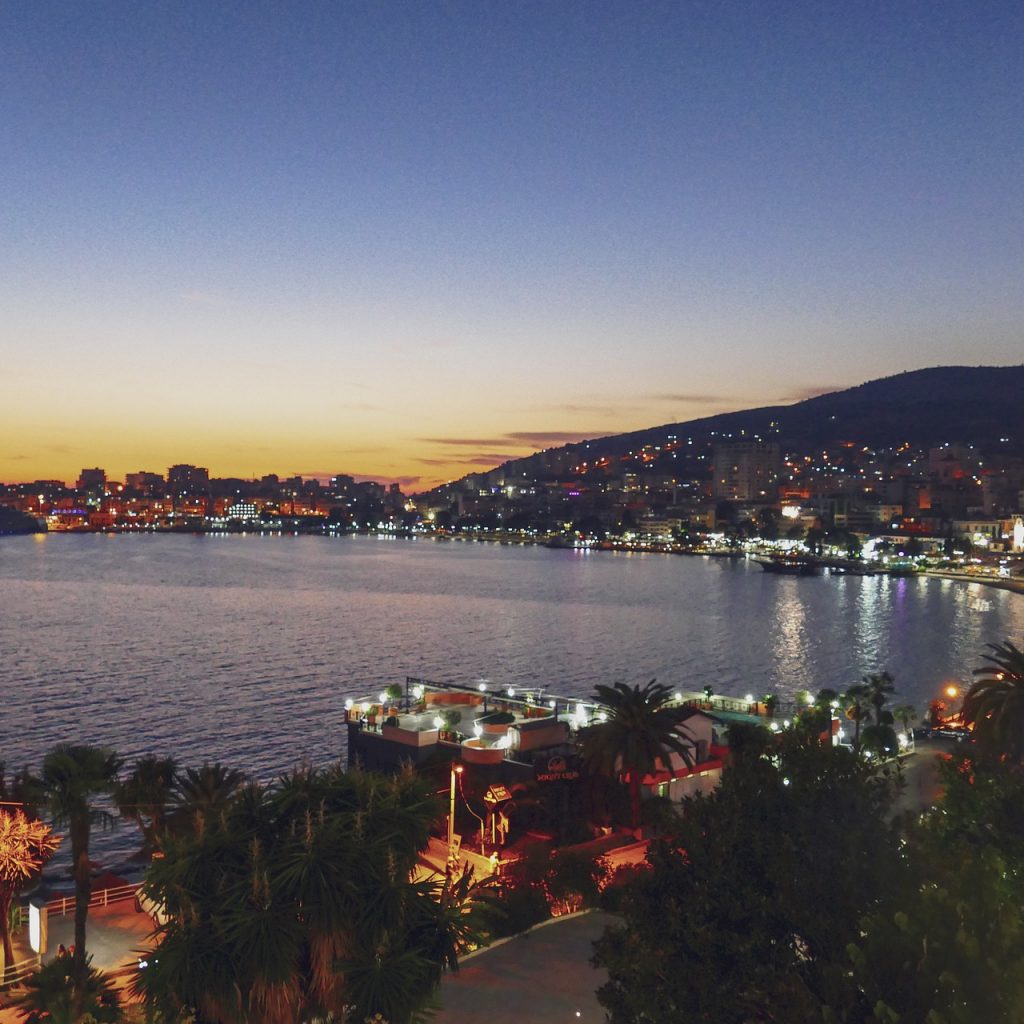 Saranda is about 6-8 hours away by bus or furgon (minibus) from Tirana. Buses leave a few times a day from the Southern Bus Terminal near "Dogana".
It's also quite easy to get to Saranda from any point on the Albanian Riviera (Durres, Vlora, Dhermi, or Himara).
Himara is about 2 hours away from Saranda; Dhermi – 2.5; Vlora – 3.5 or 4; Durres – 5.
These are all rough estimates and will depend on different factors like traffic.
Things to Do near Ksamil

Albania
Saranda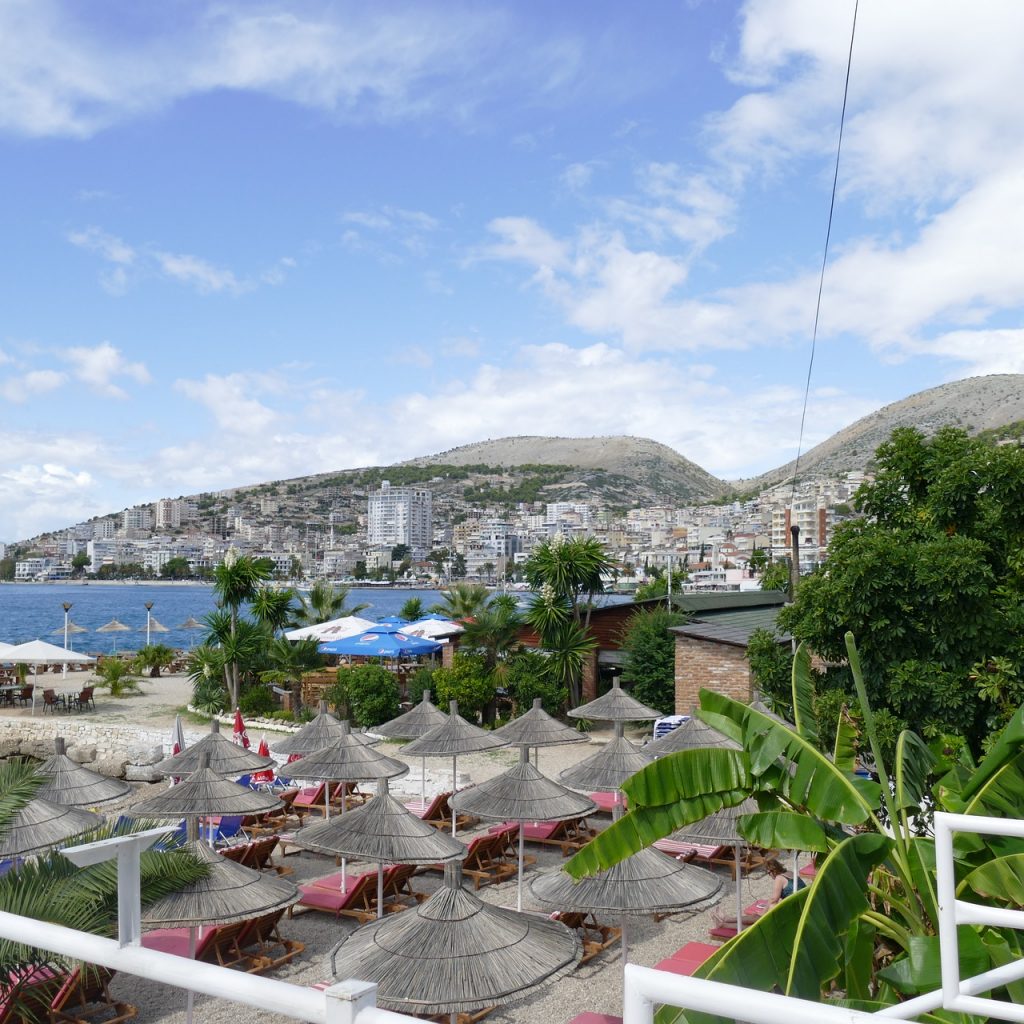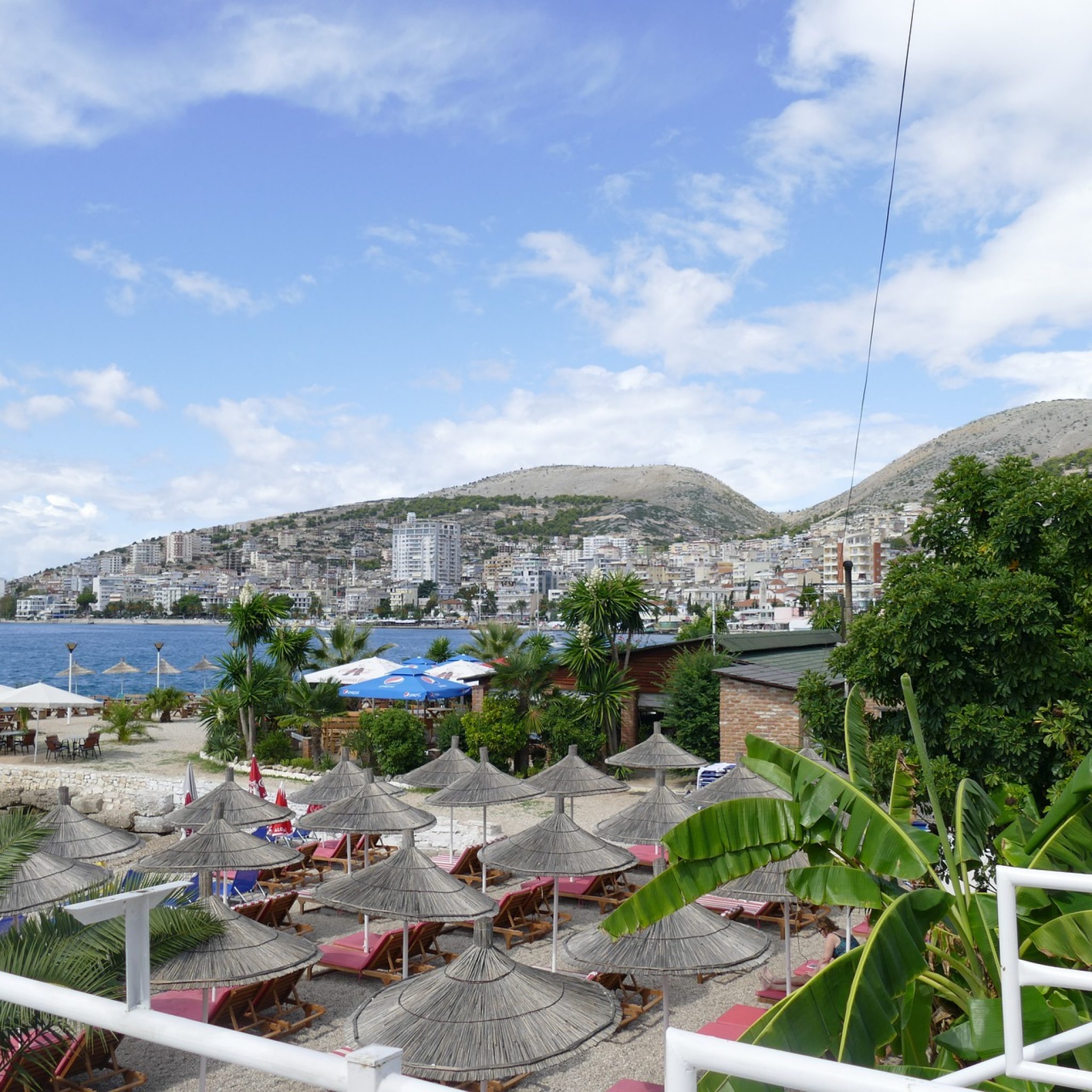 Saranda is the largest city in southern Albania.
It is not a typical tourist destination like Ksamil, but here you get the chance to experience daily life and Albanian culture.
Along the boardwalk, you will find a couple of cozy restaurants and bars that serve good drinks. But also nearby is located the Lekursi Castle which is a great thing to see while in Saranda. The views from Lekursi Castle are outstanding.
Syri i Kalter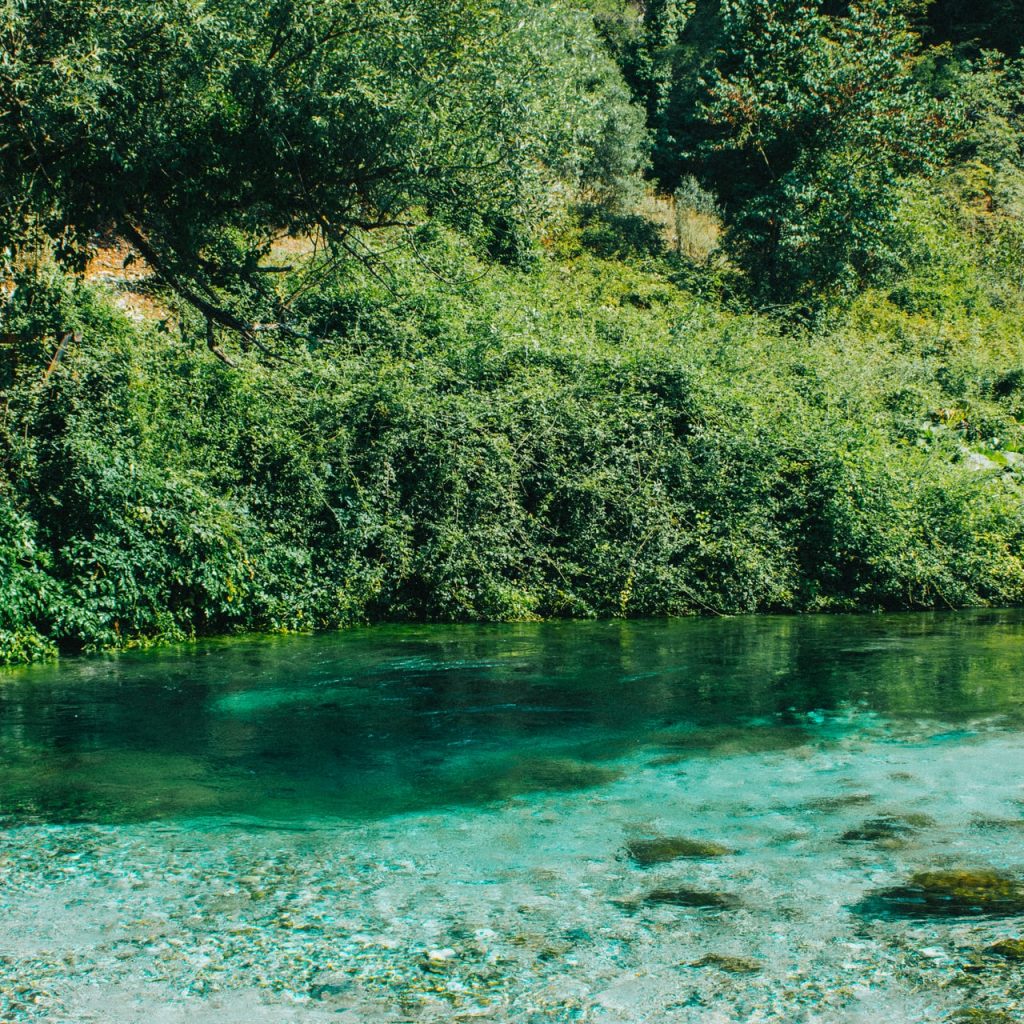 The Blue Eye is a beautiful natural phenomenon which is about 50 minutes drive from Ksamil.
Syri i Kalter, with its crystal clear water, is also known as the blue eye. This is because of a part of the lake where bubbles rise from an underwater spring, creating a dark blue color.
This contrast makes it look like an eye, and hence the name "the blue eye."
The easiest way to get here is by car, but there are also guided tours.
However, by car, you can also visit other attractions in the same day such as Butrint or Gjirokaster.
Butrint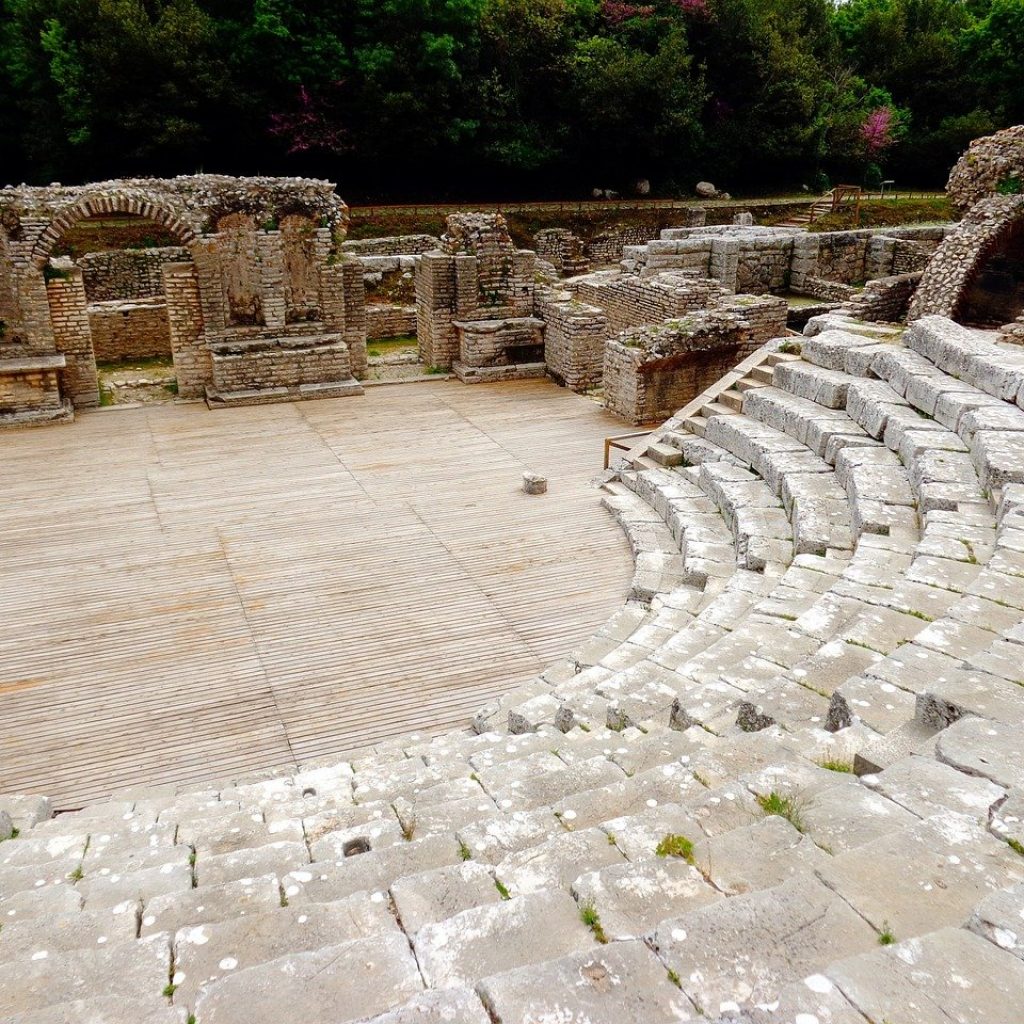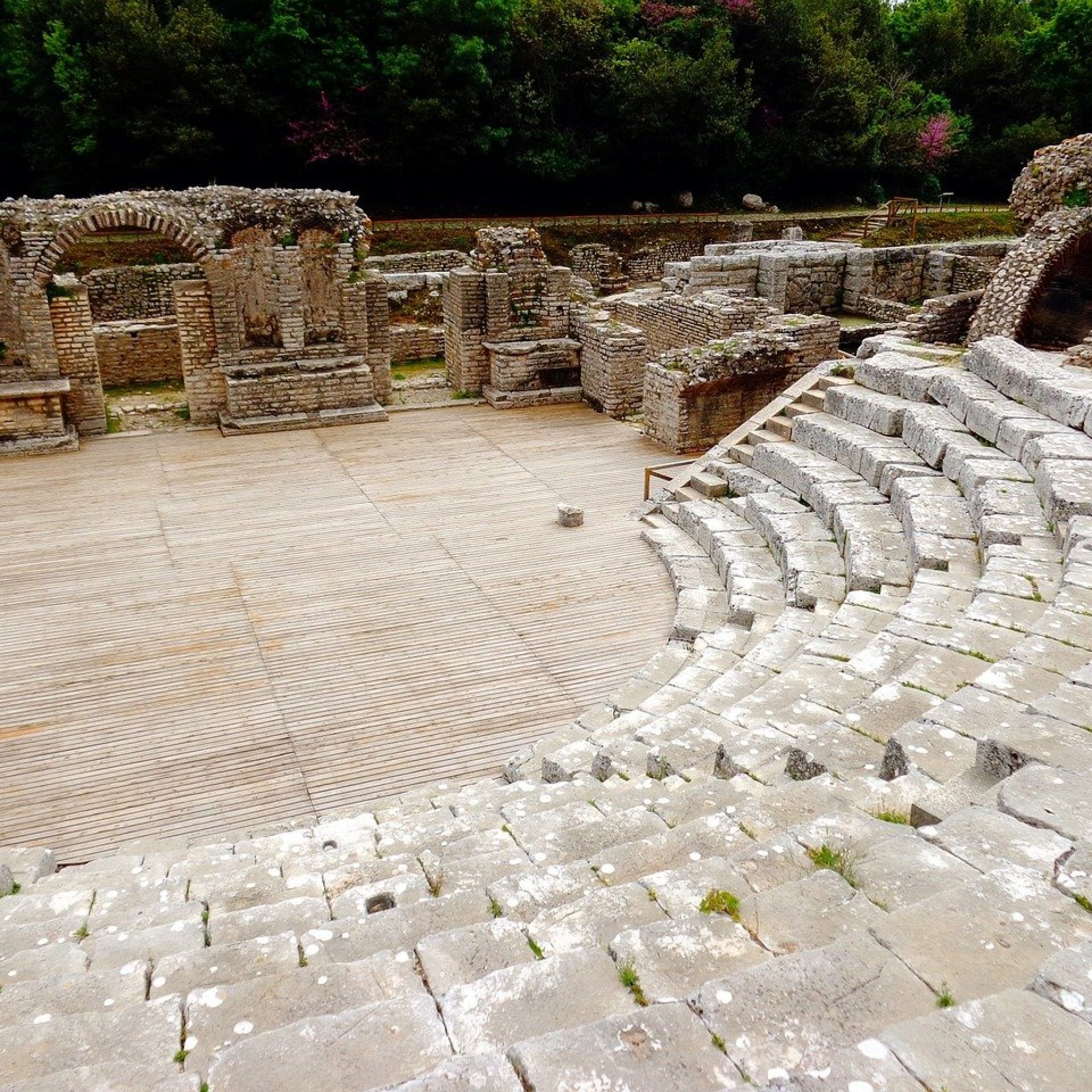 Butrint National Park houses the well-preserved ruins of an ancient city.
These ruins are included on UNESCO's list of World Heritage Sites. Here, find an old amphitheater, monastery, watchtowers and a fort.
Butrint is about 20 minutes away from Ksamil by bus. Stroll along the olive groves if you still have energy afterwards.
Gjirokaster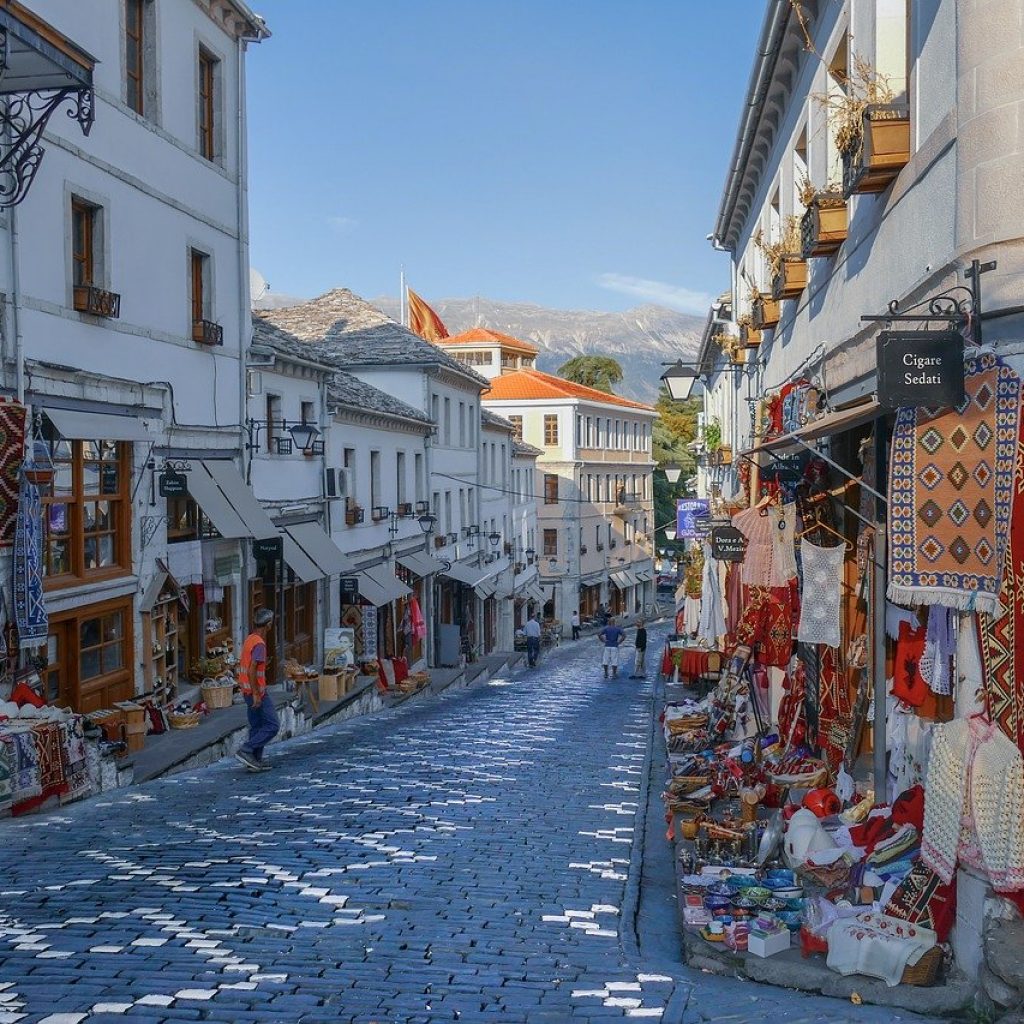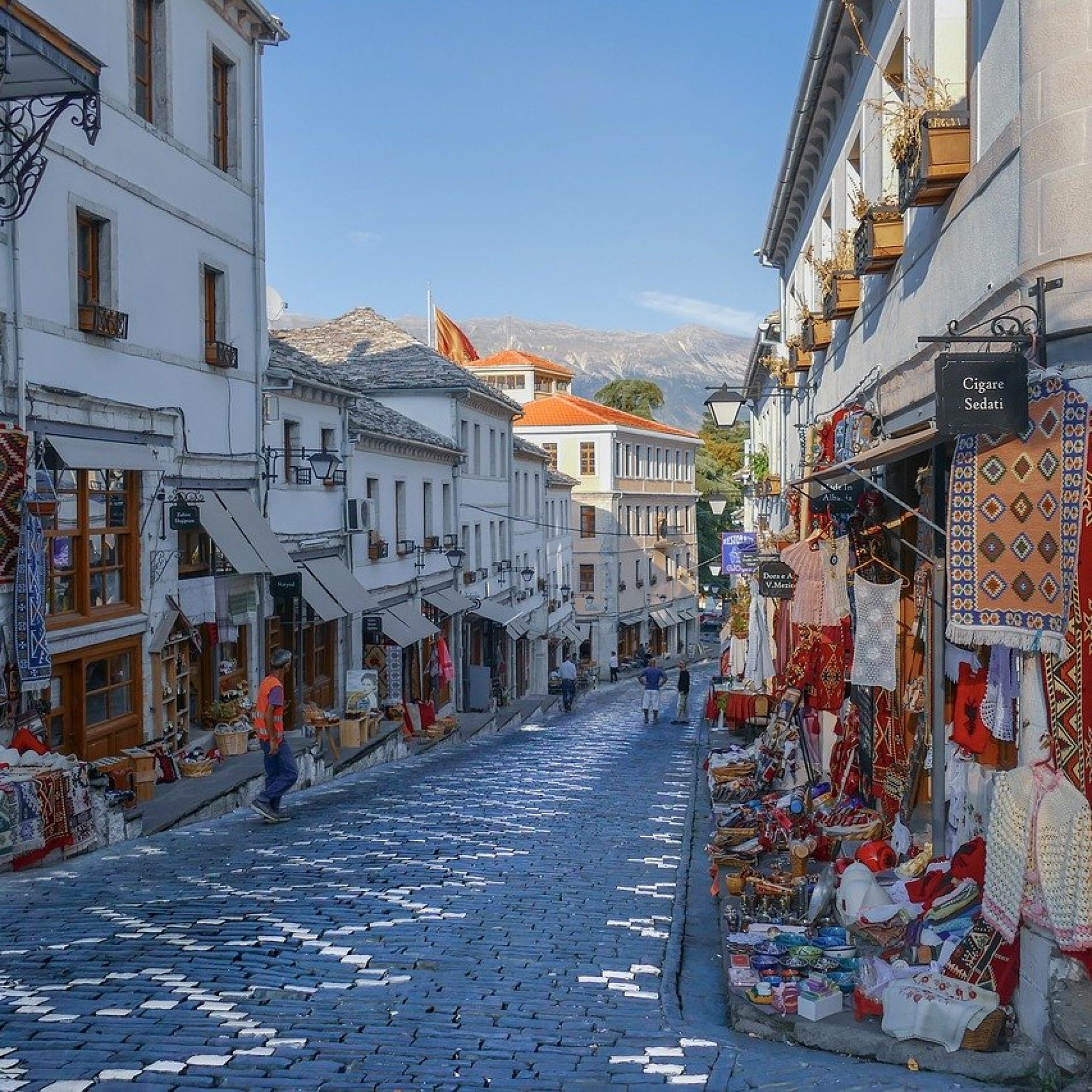 Approximately 2 hours by car from Ksamil lies the historic town of Gjirokaster.
This city is also well on UNESCO's list of World Heritage sites. The main reason for this is the old fort perched on top of the town.
The traditional stone houses serve to bolster this claim. Gjirokaster is a nice day trip where you can stroll around the ancient alleys and learn more about the Albanian culture and history.
Stopover Gjirokastër Castle This castle has a rich history. In recent history, it's served as a prison, first by the King of the Albanians, Zog I, then by the Nazis, and finally by the communist regime. Since 1971, it has served as a military museum. Visiting this place and viewing the dozens of war tanks, along with the United States Air Force plane that the Communists captured is free. If you would like to see artillery and memorabilia from the times of the Communist resistance against Nazi occupation, you have to pay an extra 100 or 200 ALL.
The easiest way to get here is by car, but there are also daily mini-busses from Saranda.
Restaurants in Ksamil Albania
FOURTH ISLAND
https://www.instagram.com/fourth_island/
This restaurant's one of the best in Ksamil, with a great variety of food. From Albanian to Greek and Italian Cuisine it offers extraordinary tastes. And the staff is extra smiley, so if you have no place for desert consider yourself complete with that kindness you are going to get.
Address: Rruga 3 Valltaret, Ksamil, Saranda 9706 Albania
Contact: +355 67 206 3810
LEGISI
https://www.instagram.com/p/BVcbBhWFAR-/
A restaurant overlooking the islands with a balcony right by the beach, here you can enjoy some of the sweetest moments.
You can taste the best selection of local ingredients, seafood, vegetables and pizza. It offers friendly service.
Make sure you try the fish dishes – especially pizza with seafood. Bookings for private events are always available.
Address: In front of islands
Contact:+35593340625
The Mussel House Restaurant
The Mussel House restaurant is located by the fresh-water lake, where mussels are farmed. The food is great, fresh and delicious. The service is one of the best and very informative. The bungalows are cozy and comfortable. It is overall a great spot.
Address: Ruga Sarande-Butrint, km.10, Qafa e Hartes, Ksamil, Saranda 9706 Albania
Contact: +355 69 441 2617
https://www.facebook.com/musselhouse.al
ARTURI in Ksamil
A restaurant overlooking the sea with a terrace right by the beach. It offers fresh seafood cooking and homemade pizza.
In addition, enjoy hospitality and friendly service.
Address: At the entrance of Ksamil
Contacts :+355692543932
Email: [email protected]
Deti Jon
https://www.instagram.com/p/BYdNaCgnh9n/
This restaurant located in the center of Ksamil. This is the perfect setting for private celebrations and events.
Mediterranean cuisine is made with locally sourced, seasonal ingredients. Bookings for private events are always available.
Address: First center of Ksamil Albania.
Contacts: +355692767955
ABIORI
Restaurant & Pizza Abiori serves breakfast, lunch and dinner near to the beach.
Enjoy mediterranean cuisine with a full view of the islands. Here you can taste delicious pizza with seafood.
Bookings for celebrations are always available.
Address: In front of islands
Contacts: +355699754558
Email: [email protected]
PULBARDHA
https://www.instagram.com/p/BlA_hi1nHXr/
Pulbardha Restaurant brings you the flavors of the Mediterranean. Here you can taste fresh seafood and seasonal dishes made with local ingredients.
Its location is spectacular as well. Find it overlooking the sea with a perfect view to the white-stone beach.
Address: At the entrance of Ksamil, on the right side
Contacts: +355692886141
Ksamil, Albania has so much to offer, get ready for more articles from us about Ksamil and what you can do there!