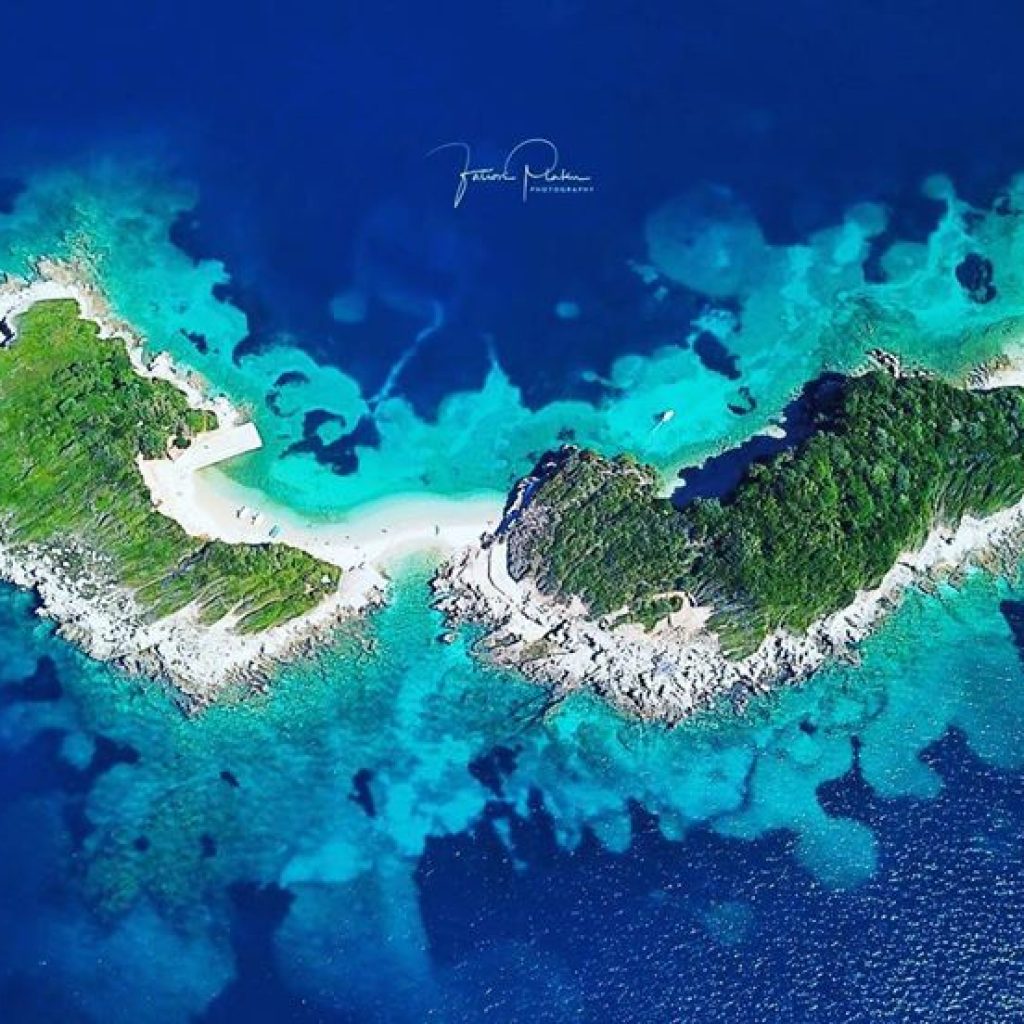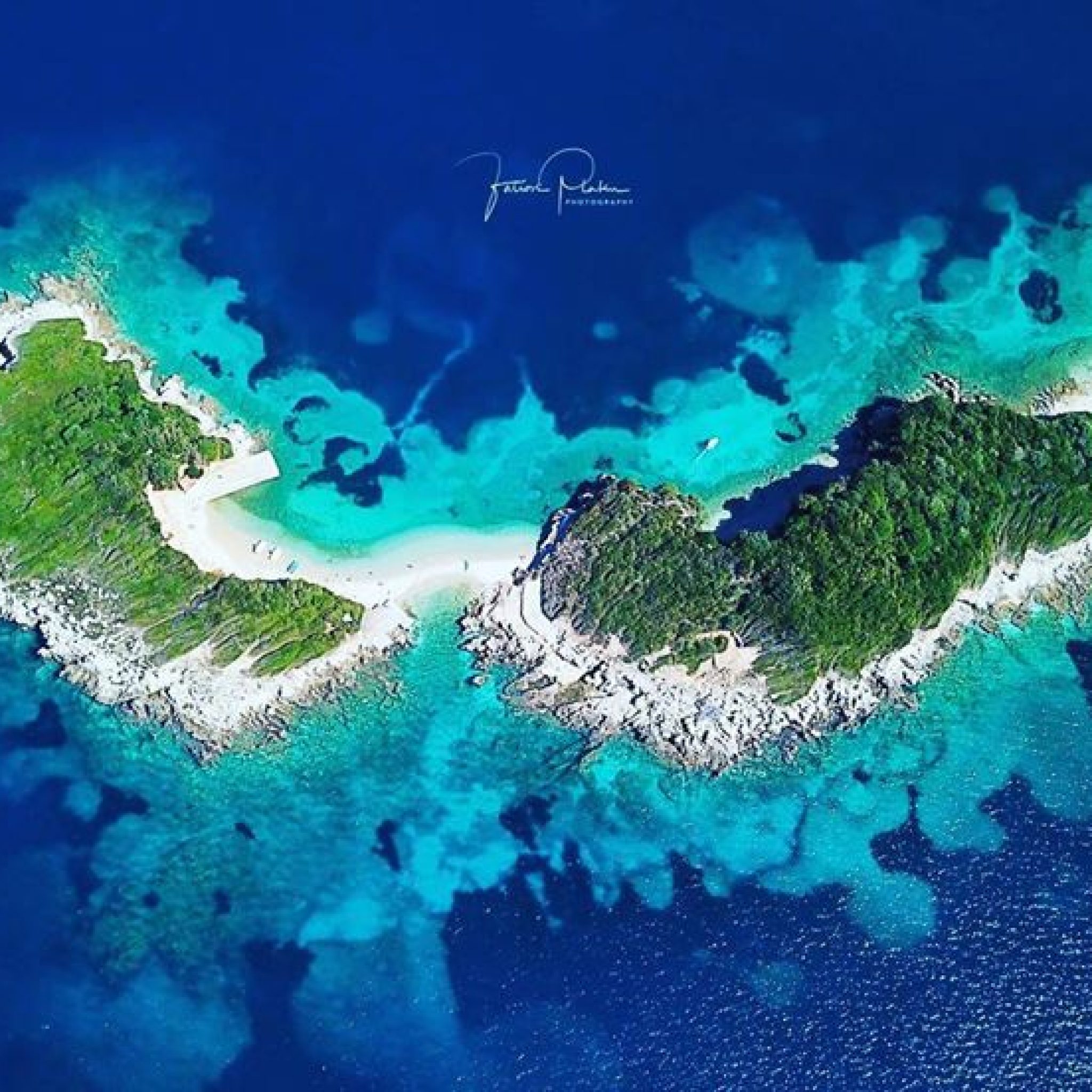 Albania's rocky coastline, with traditional villages huddled in isolated bays and golden beaches, lapped by blue waters, was a big discovery when travelers first started exploring the country a decade ago. Since then Europe's virgin beaches have changed almost beyond recognition, but there's still plenty of reason to come here and explore this great coastline where the Adriatic and the Ionian sea meets. In this article, you can read about the virgin beaches in Albania so keep scrolling down.
Grama Bay, Karaburun Peninsula, Vlore, Albania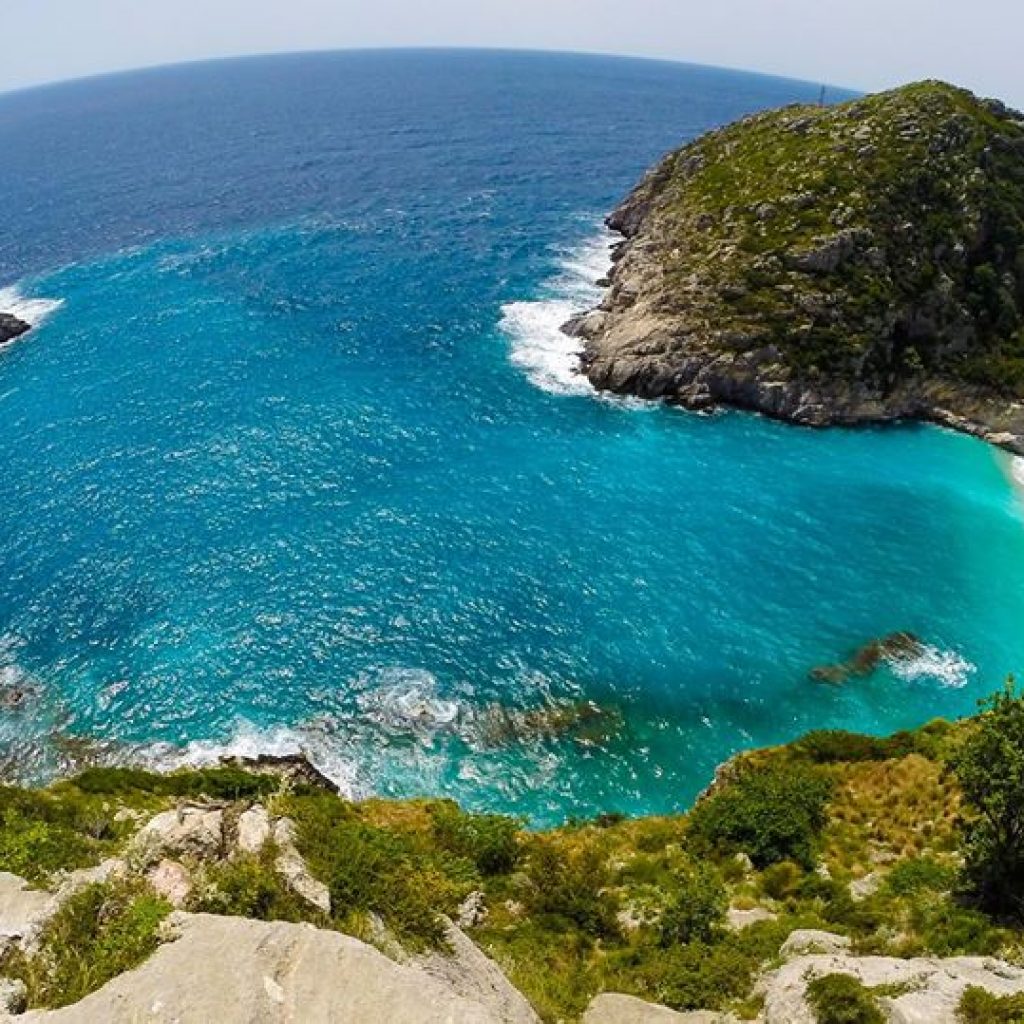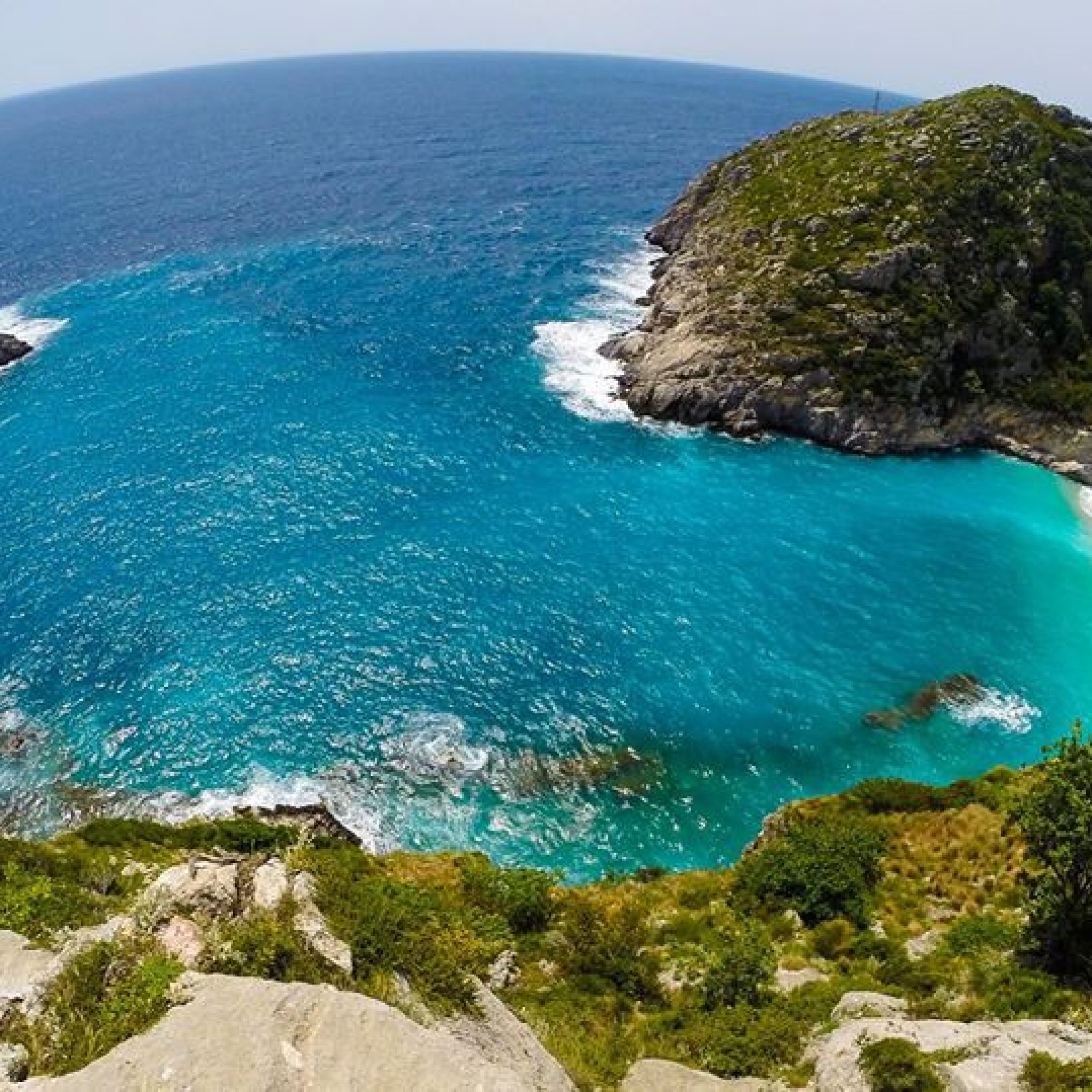 Grama Bay is located in South Albania, Ionian Sea. Its beauty beats any imagination limits. In the north of Palas, in the cape of the same name and in the small bay, on the cliffs of the shore, there are more than 1500 epigrams in Greek.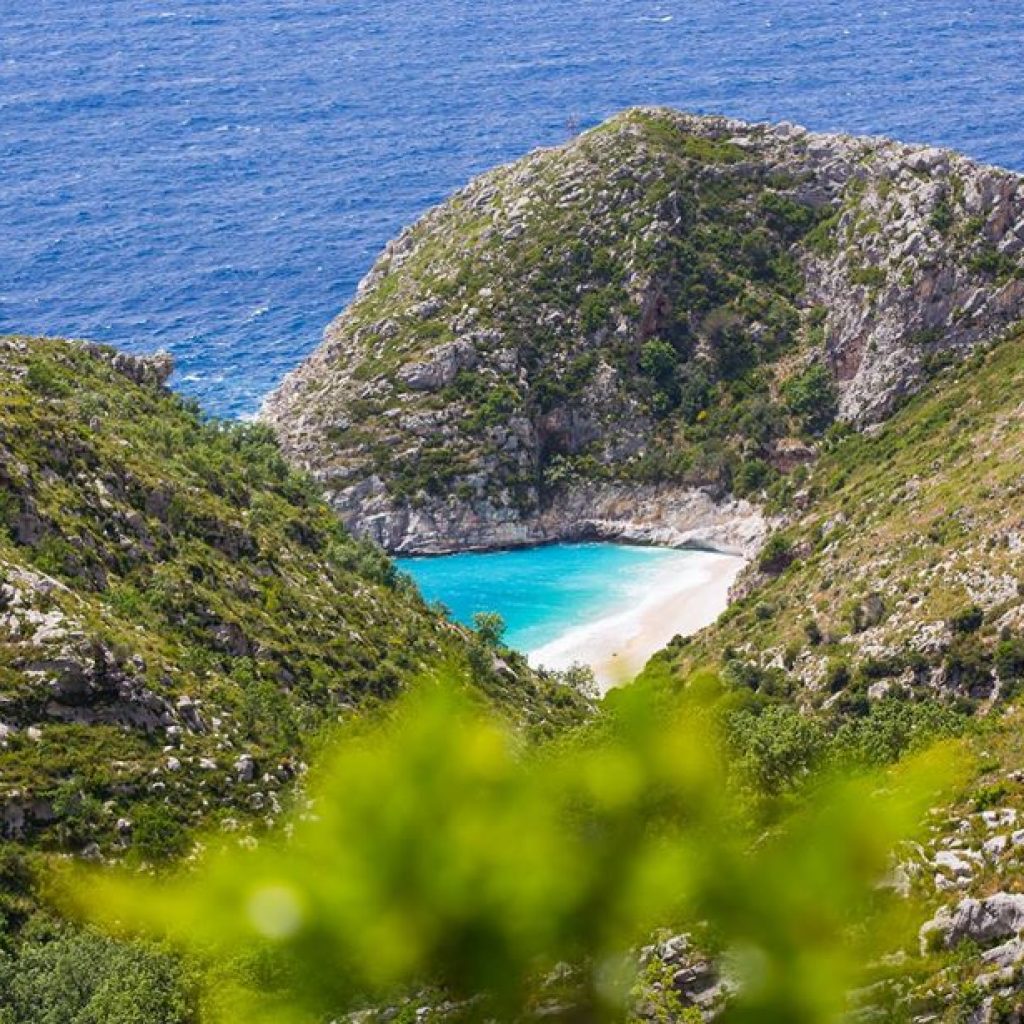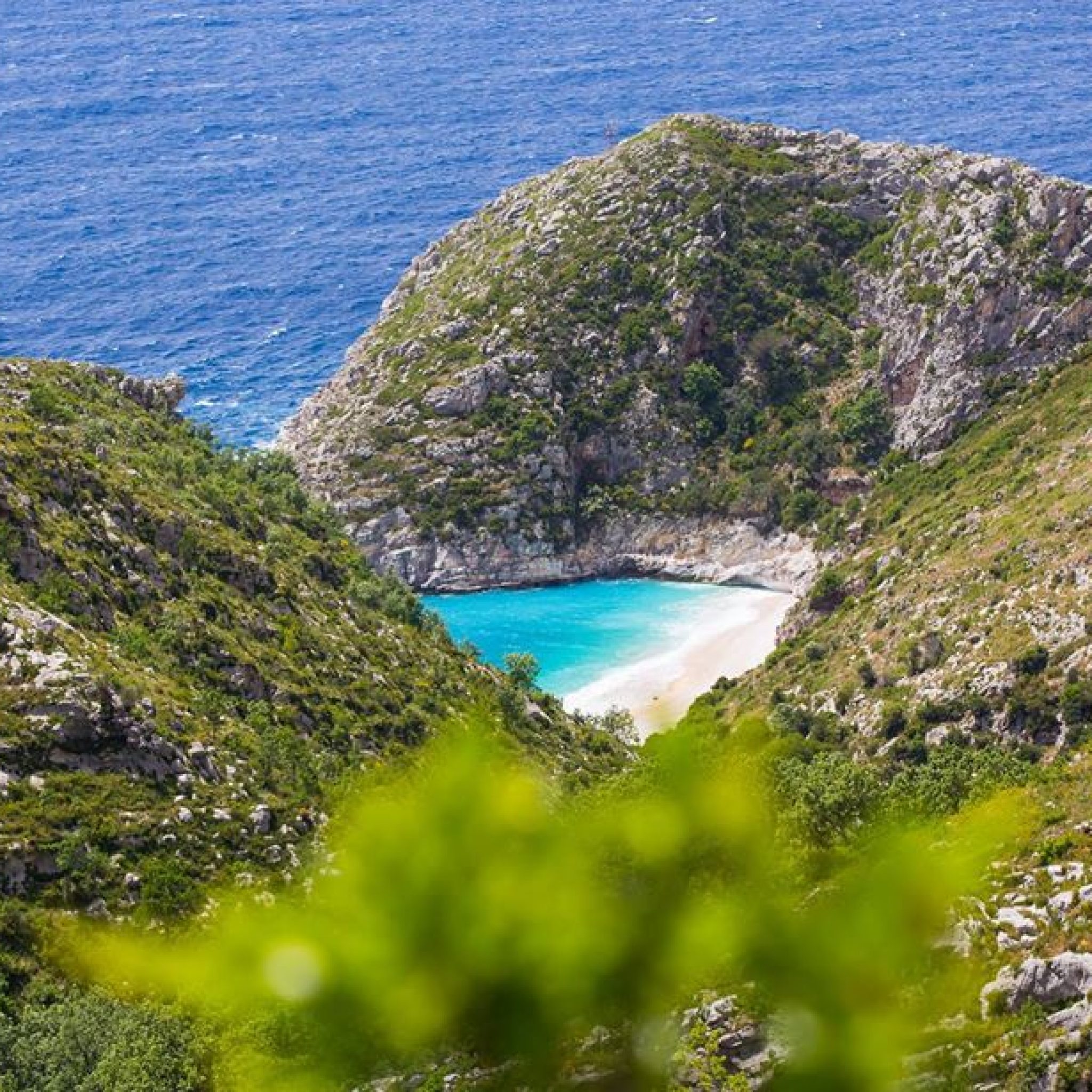 Grama Bay is one of the top miracles of the Albanian coast. Like many other hidden and virgin beaches in Albania, Grama is the ideal place for those who are looking for a private spot. This must-visit site can be reached either by foot or boat. It takes seven-hour to walk from Llogara to Grama Bay. The beach is safe for camping. You will see the beach at its best in the late afternoons and in the early mornings. But, it is not recommended when the wind is strong. Also, campers must take food, water, and other supplies because the area is isolated.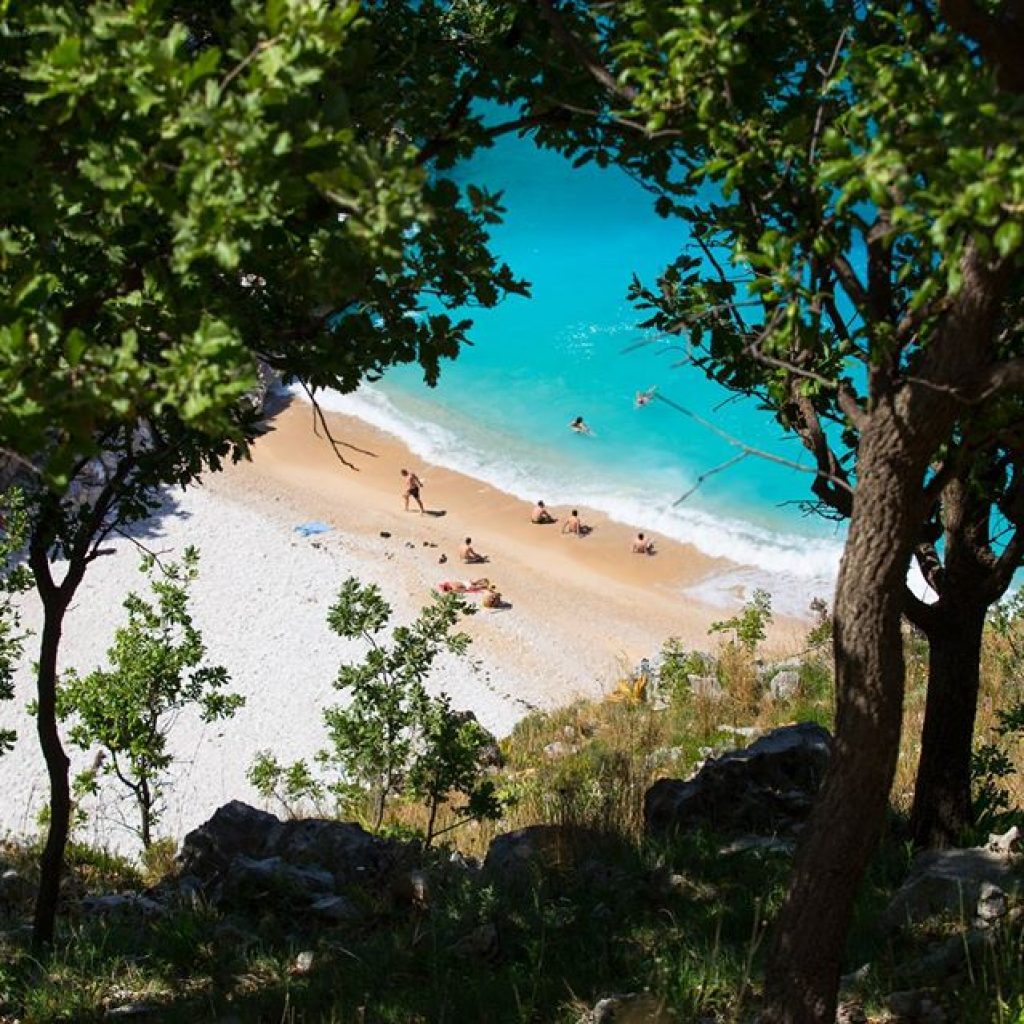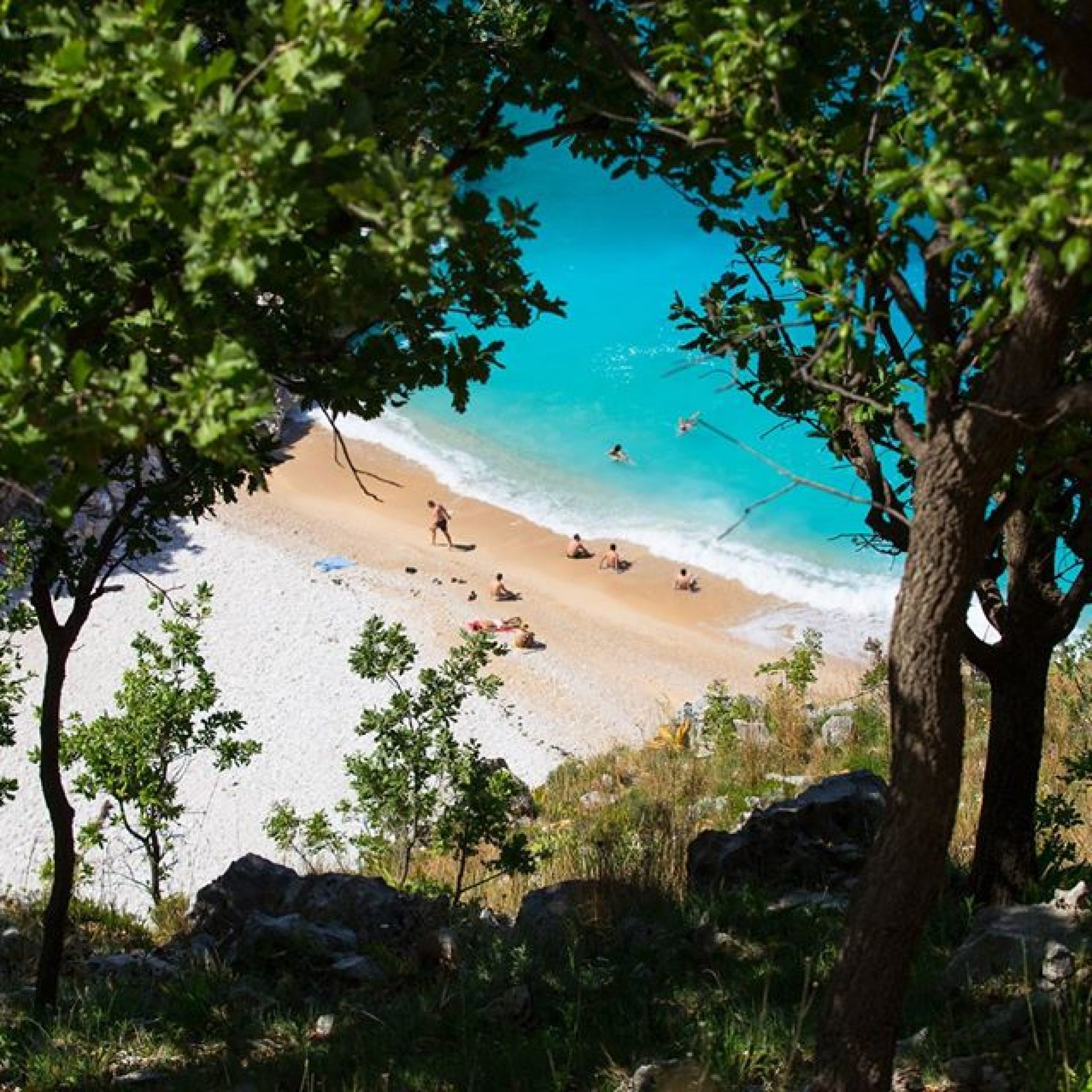 How to get there
You can ask a certified hiking guide to take you to this virgin beach or a certified boat guide. Also, you can share a taxi boat with local passengers. Out of season (July, August), the ride is pricey.
You can find GPS tracks on Wikiloc for hiking paths. The easiest hiking trail is the one from Palasa to Grama or a longer and more difficult trail is the one that starts from the center of Llogara National Park. You can go there by walking only if you ask a person from the village "Dukat i ri" to lead you.
Check this video of Grama bay.
Saint Andrew Bay, Karaburun Peninsula, Vlore, Albania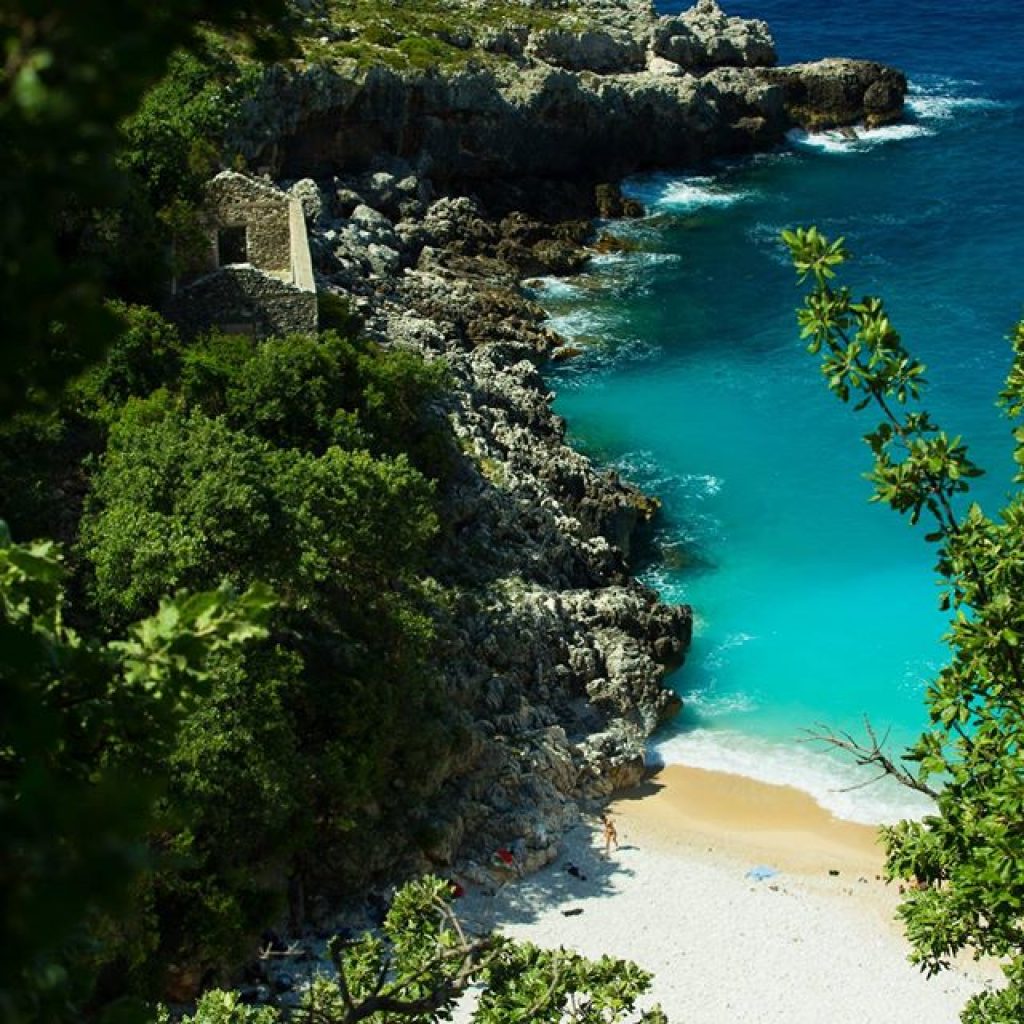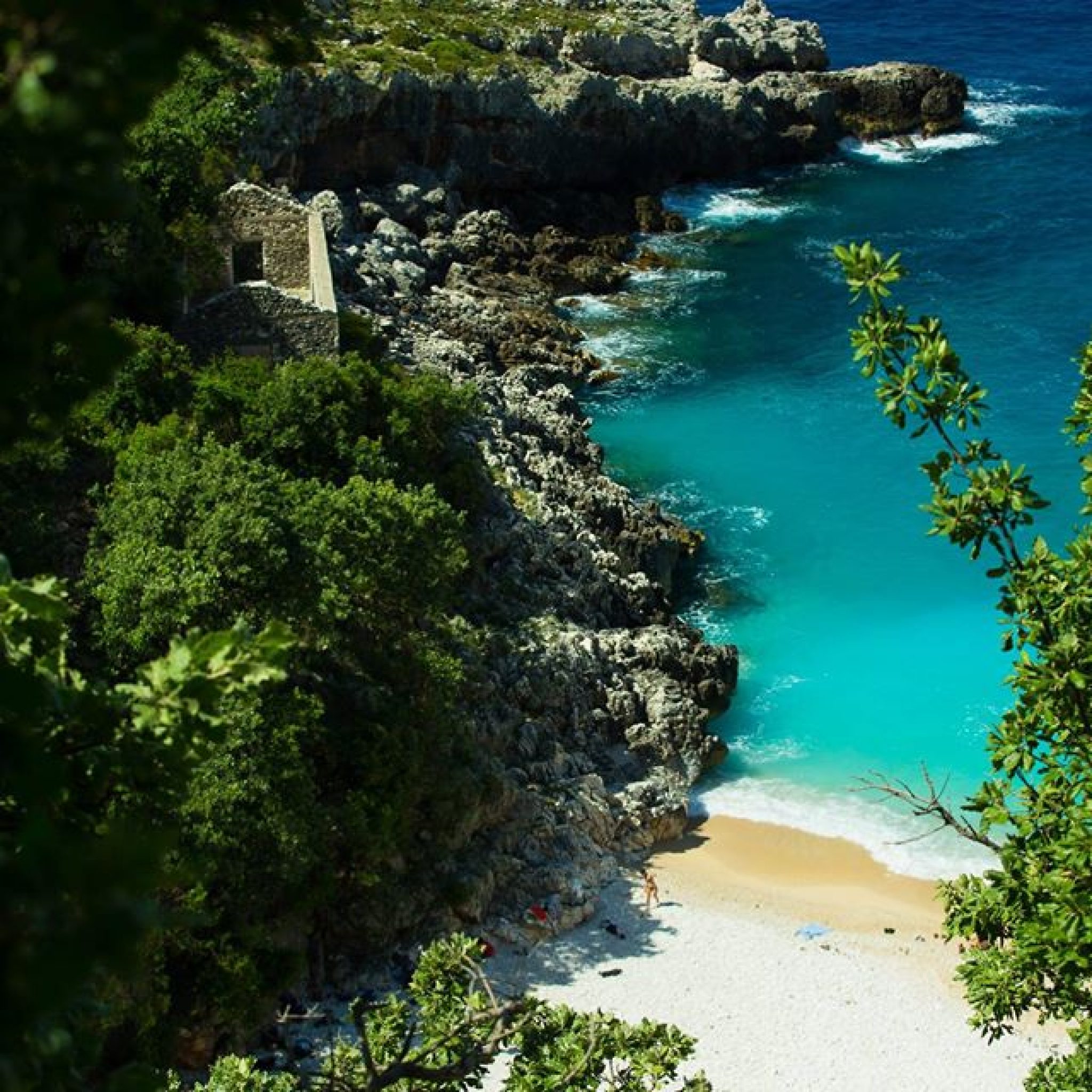 St. Andrew's Bay is a small but intense bay! It is perfectly isolated by the steep cliffs, which not only highlights the deep cobalt colors of the crystal waters but makes this area perfectly quiet and private. If I would pick a place along the Riviera that will make me feel like a real adventurer, it's this virgin beach!
This Bay is exceptionally astounding with its fantastic sand and its water. The water is clean and has excellent shading. Here you will have the chance to appreciate the sun and the wind. Check the video for more.
Brisani (Bear) Bay, Karaburun Peninsula, Vlore, Albania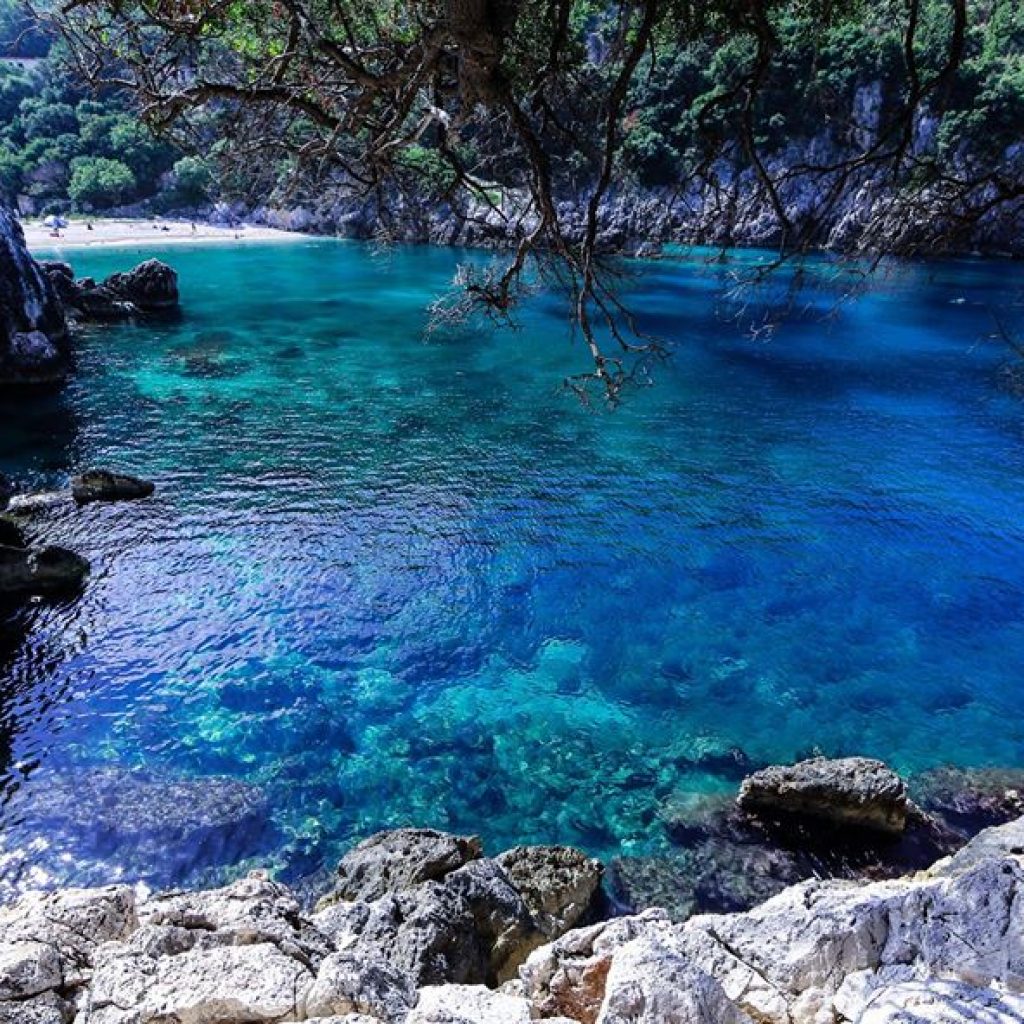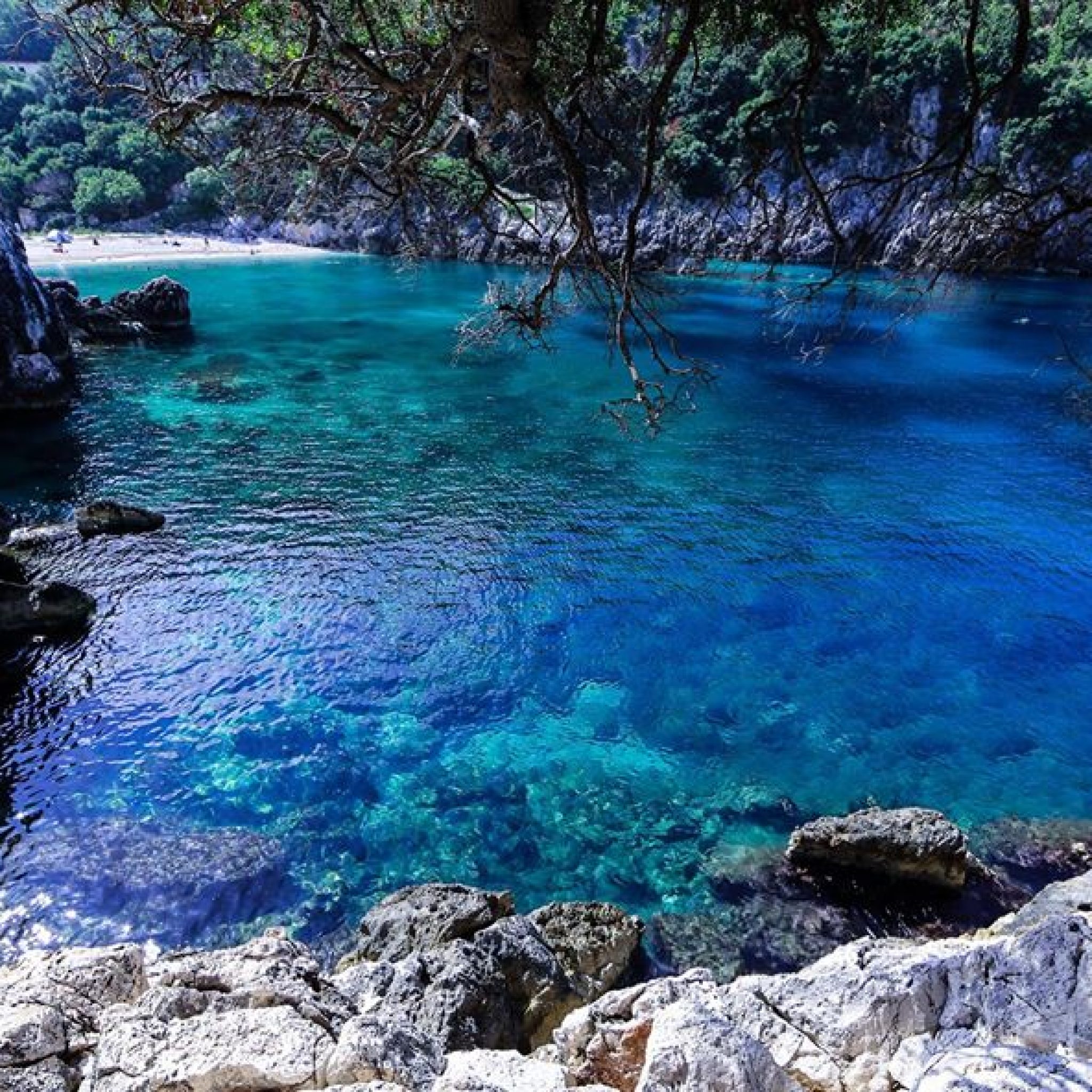 Among the many virgin beaches in Albania, this one is clearly worth adding to your list of destinations. Perfectly exclusive, this amazingly secluded area is perfect for camping and some amazing time on the beach surrounded by the sea and the beauty of nature.
Brisani Bay to Duk Gjoni Cave is the latest marked path that avid hikers and fans of outdoor activities can explore in the Managed Nature Reserve of Karaburun Peninsula.
Check this video.
Kakome beach, Sarande, Albania
Kakome is located between Lukova and Saranda, next to Krorez Beach. It is owned by Riviera Kakome Company. Kakome is one of the quietest beaches on the coast. It can be reached by car, but it is more impressive by boat. The beach has a stretch of 1 kilometer of sand, with a little port in the middle of it. The bay used to be home to an army base and entrance might be limited during some periods. It has fine white sand and rocks. The contrast of the blue sea and the surrounding greenery make it a true paradise.
Here the coastline is protected by 800 meters high hills, covered with Mediterranean vegetation, two long stretches of sandy beach, although only one is easily accessible by road. In some places the road is unpaved, especially the road heading to the village of Nivice.
There are no cafes or restaurants here and that's why you must be prepared if you choose to visit this beach. Take a lot of water with you.
Directions
To visit this beach, follow the national road that leads from Saranda to the village of Nivice. After a couple of kilometers you'll notice a sign pointing to your left "Kakome Bay". Take that road and it will take you to the beautiful bay of Kakome.
You can follow the path on Google Maps here.
Dafina Bay, Karaburun Peninsula, Vlore, Albania
With a permanent population of zero and the fact that it's only accessible by hiking or boat, you can guess why this place is so special in comparison to other bustling beaches in Albania.
A truly unique beach rests within this impressive cave! This one is excellent for hot summer days when you like to swim in freshwaters, away from the extreme heat of the summer sun. The waters are as crystal clear as they can be and the surrounding landscape is amazing. To get an idea of what the cave looks like, check out the snorkelers in this video.
Skaloma Beget Bay, Karaburun Peninsula, Vlore, Albania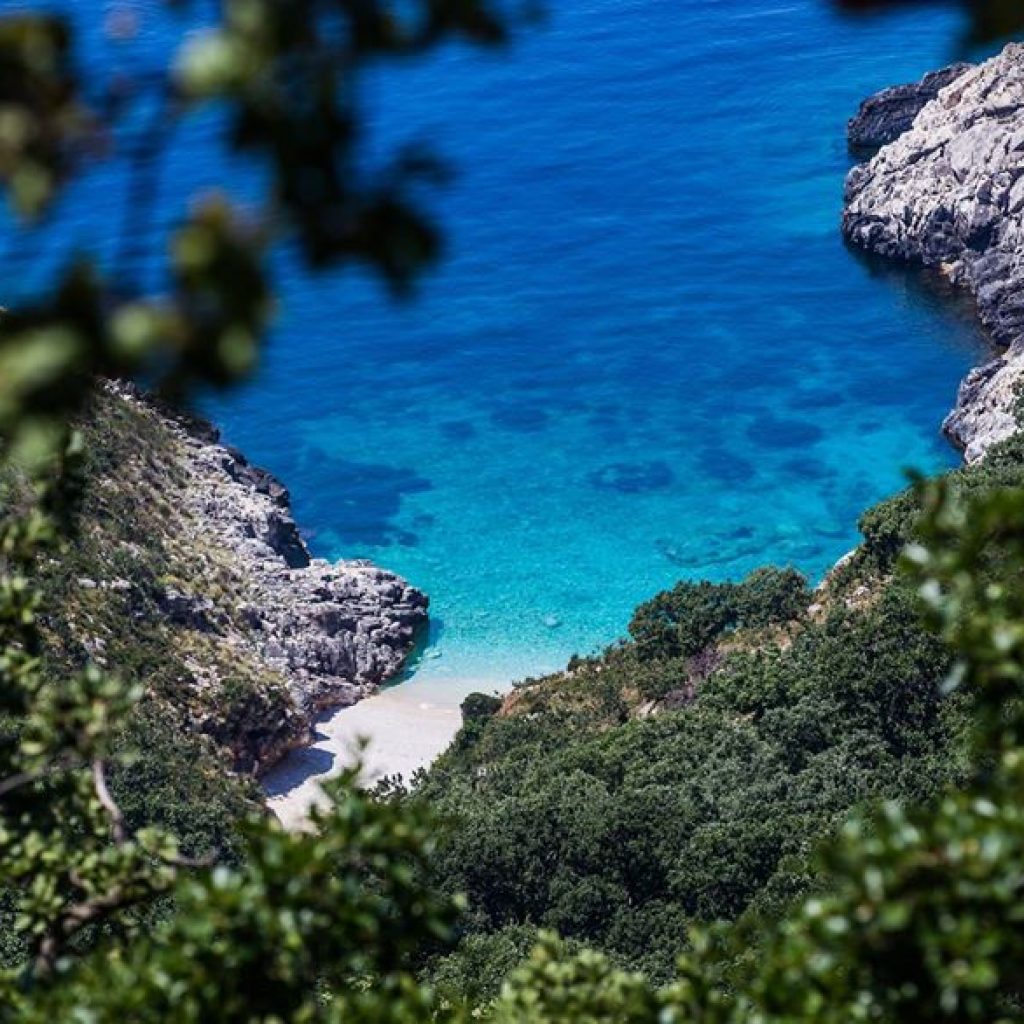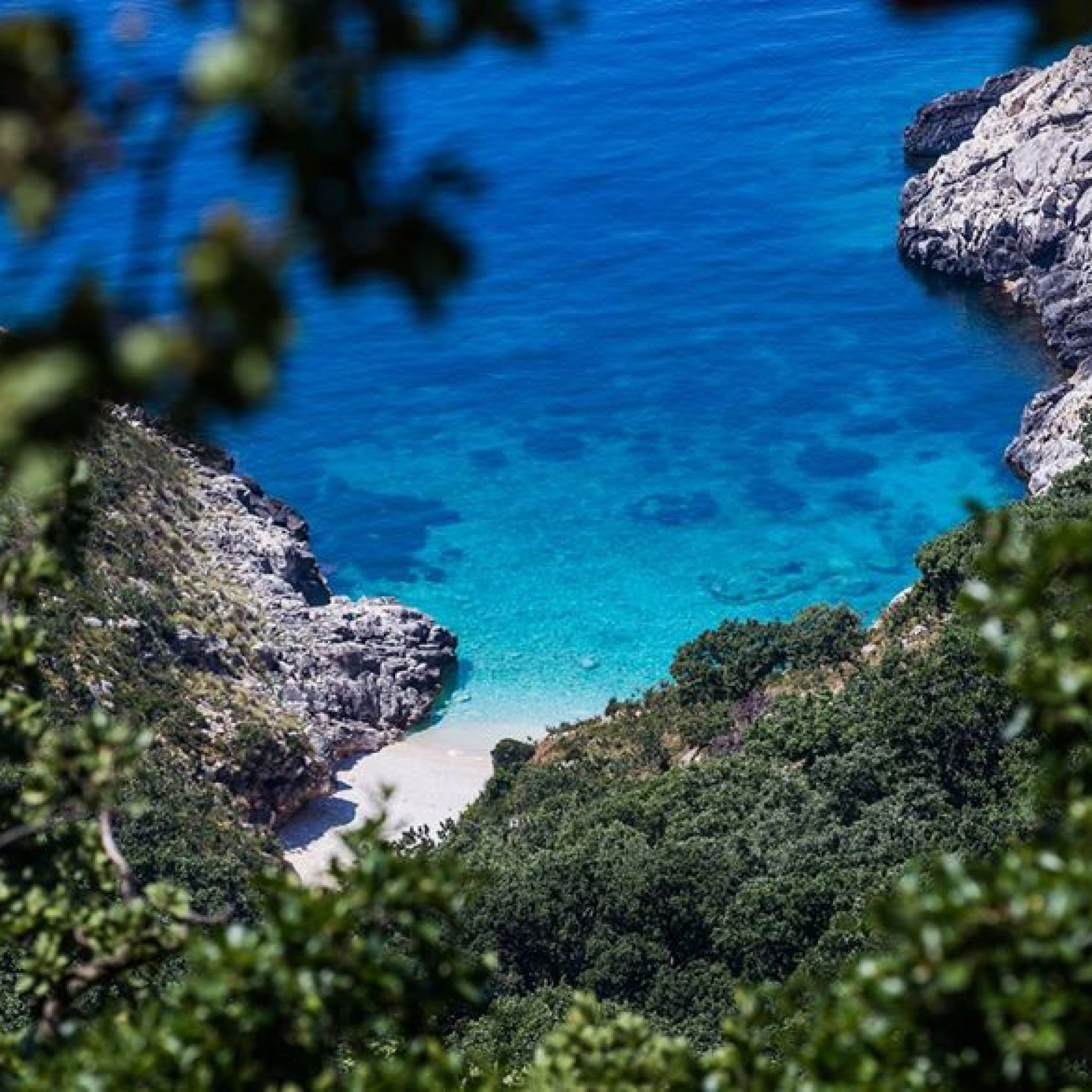 The rocky Skaloma Beget Bay is located inside the Karaburun Peninsula. It is known for its coral reef system and white-sandy virgin beaches. The landmass surrounding the bay is defined as hilly and rocky.
Island of Mali Grad, National Park of Prespa Lake, Korce, Albania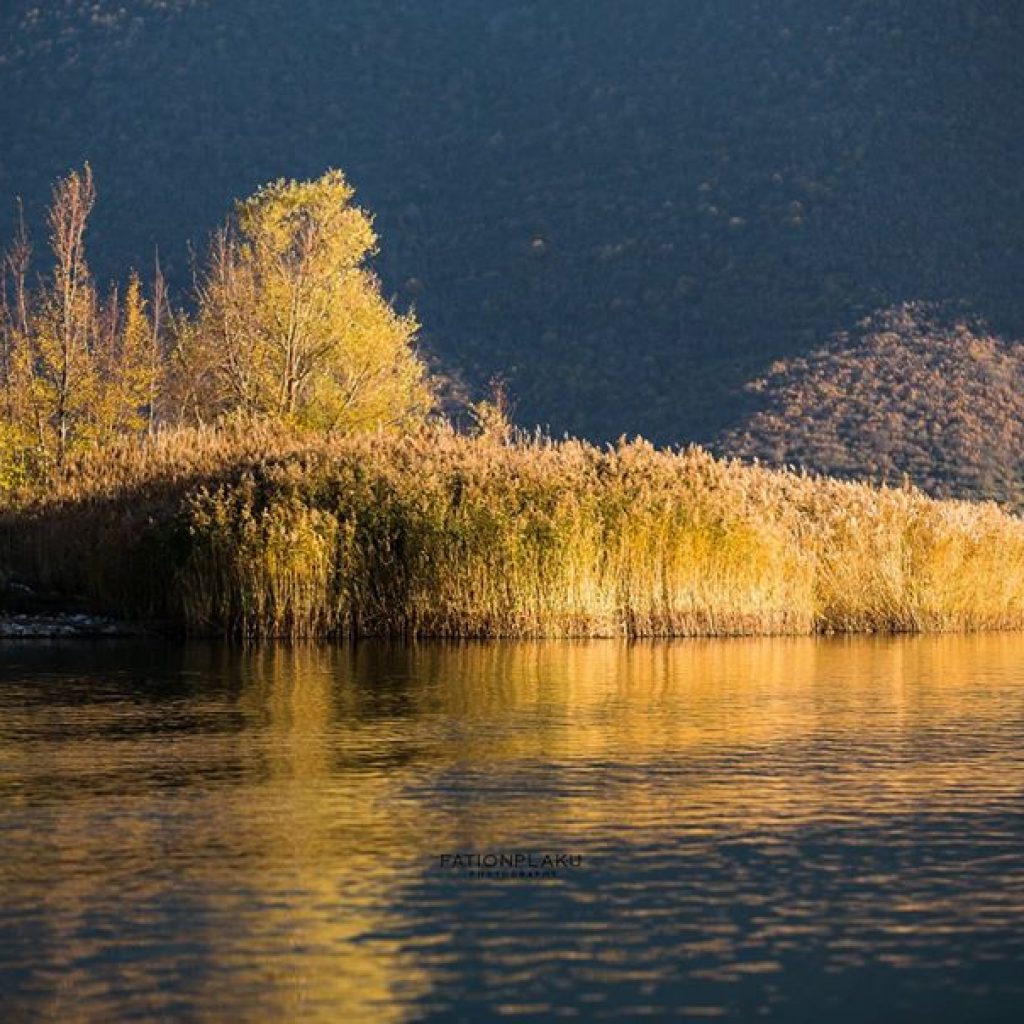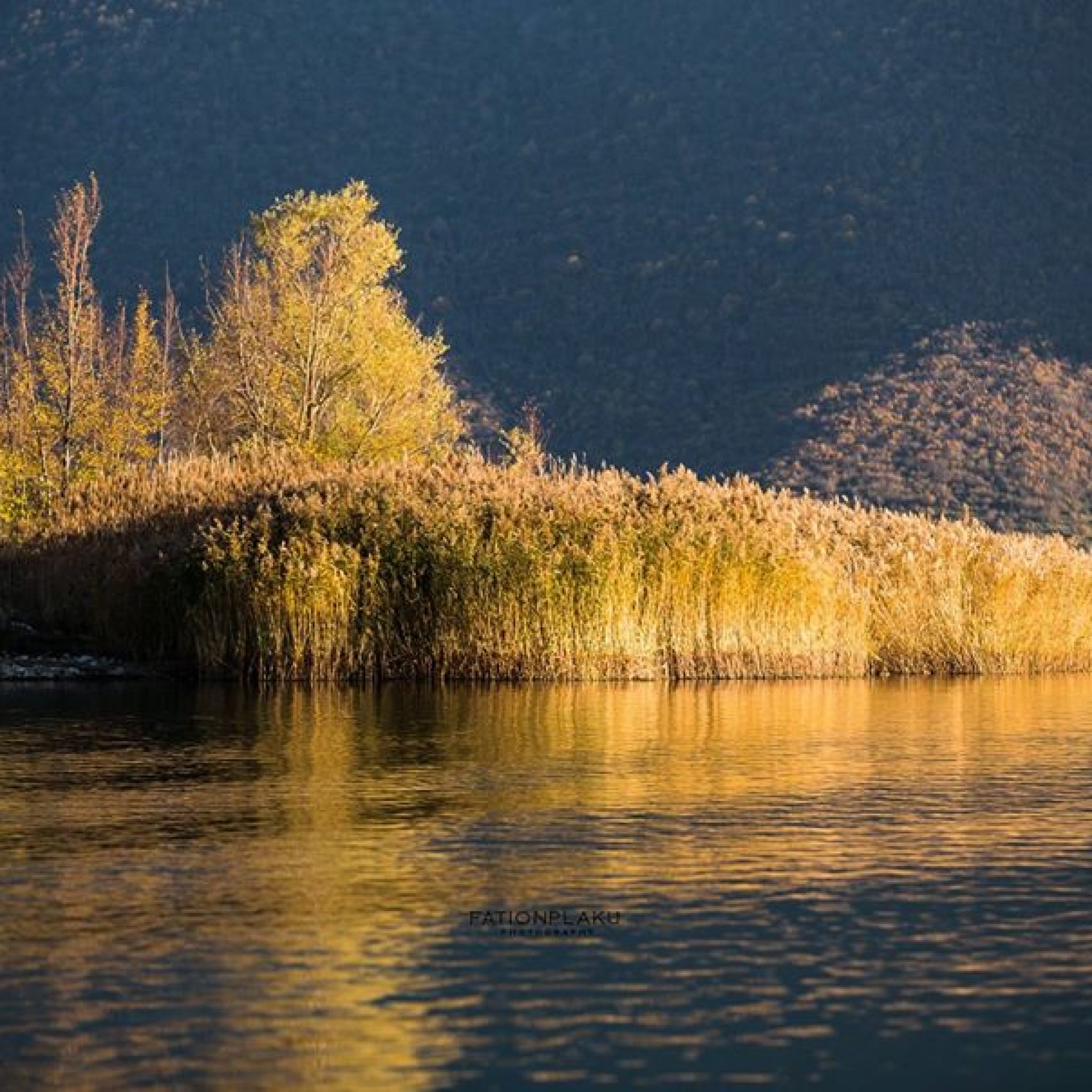 The island of Mali Grad is located in the Lake of Prespa e Madhe. It is defined as a giant paradise in the middle of the lake.
On its western shore is located the Cave Church, which for its special and unfamiliar form is called a holy place. Inside the church, you can find lovely murals, created in three different periods of time. It has many inscriptions and the family portrait of Kesar Novak, a local nobleman.
The island is about 800 meters long and about 200 meters wide. It is surrounded by very steep slopes, except for its western part. On this island there are natural herbaceous vegetation and very few shrubs, caves and karst holes. Local residents go there on boats for religious services.
It can be visited by following the Korca – Zvezde – Liqenas route. To embark on the island they use fishermen's boats or tourist ones. Boating on the Lake is a nice activity for the guests.
The tiny island of Mali Grad tells a story of art, religion and the geological evolution of the Lake Great Prespa. It's also a fabulous place to watch some of Prespa's famous fauna in undisturbed tranquility, and you can see one of the most important birds of Prespa – the Dalmatian pelican.
So whether you're a scientist or interested in a bit of everything, Mali Grad is the ideal combination of nature and culture.
Tongo Island, Stillo Cape, Albania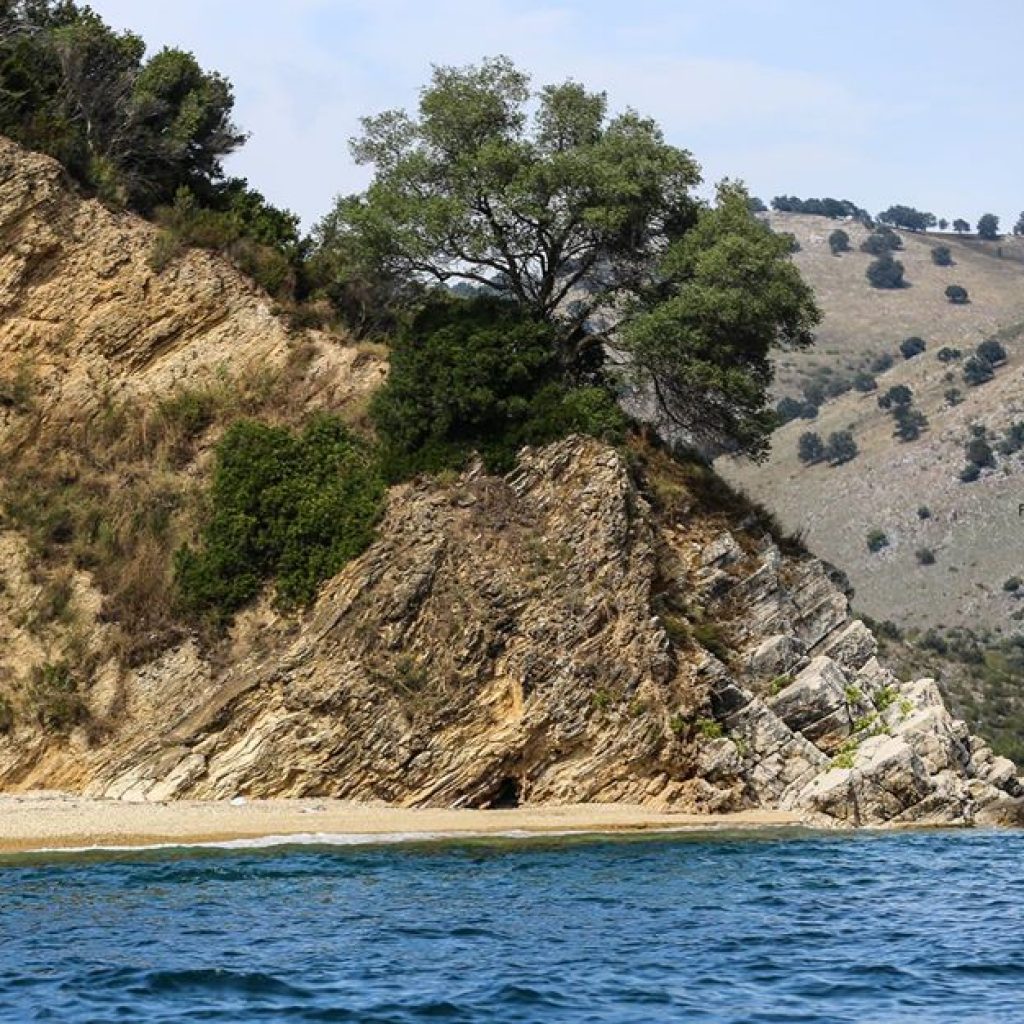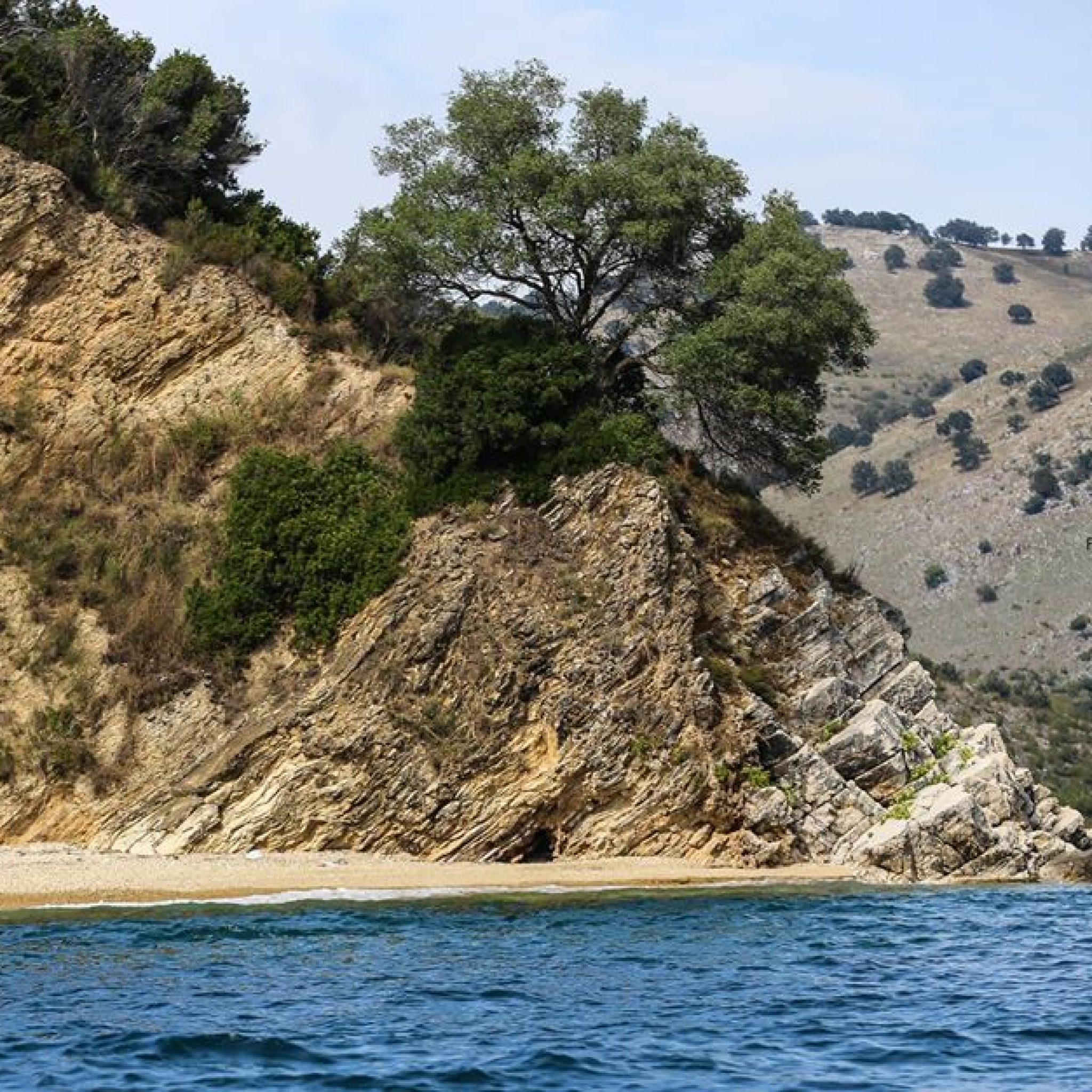 Tongo Island (Albanian: Ishulli i Tongos) is an island in the Ionian Sea in southern Albania. It is a rugged island, and its waters are rich in aquatic life. The island is situated about 300 meters off the Greek coast. It has an area of 2.5 hectares.
Stillo Island, Albania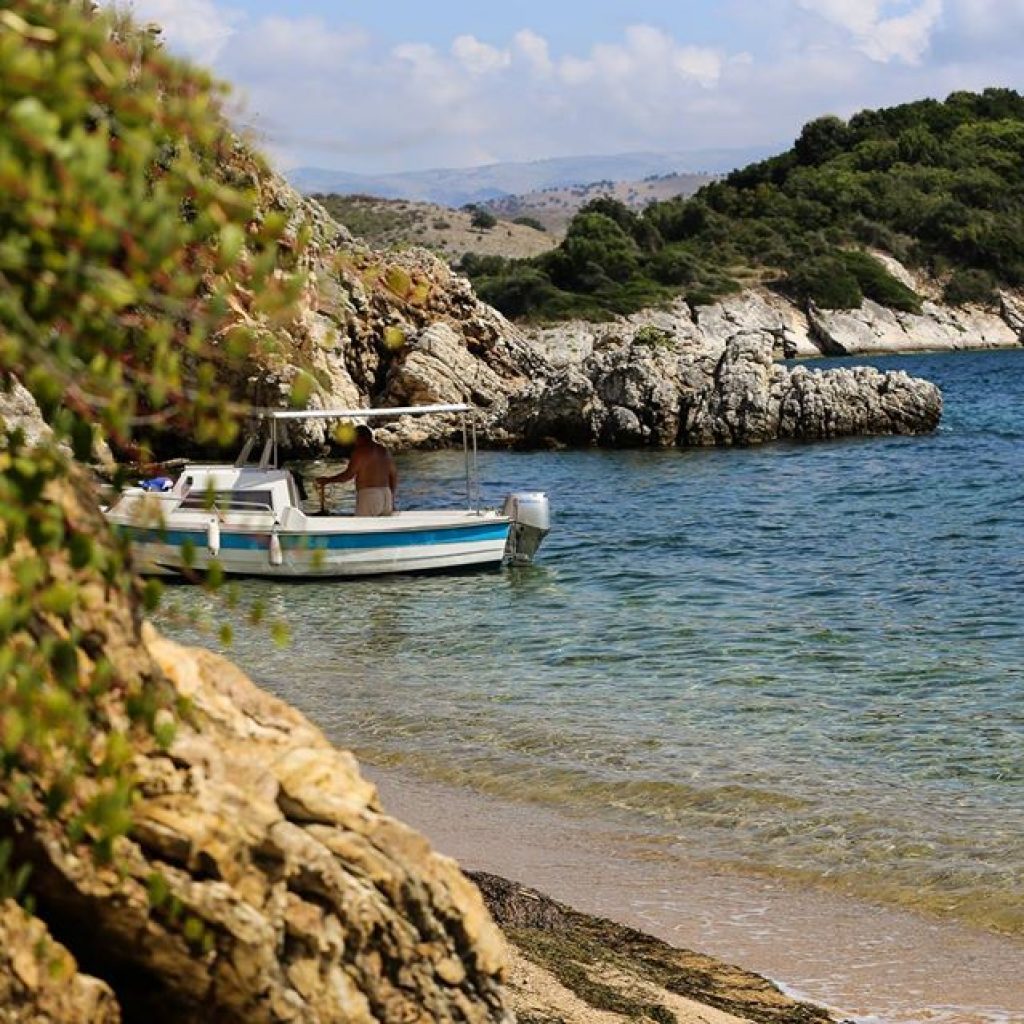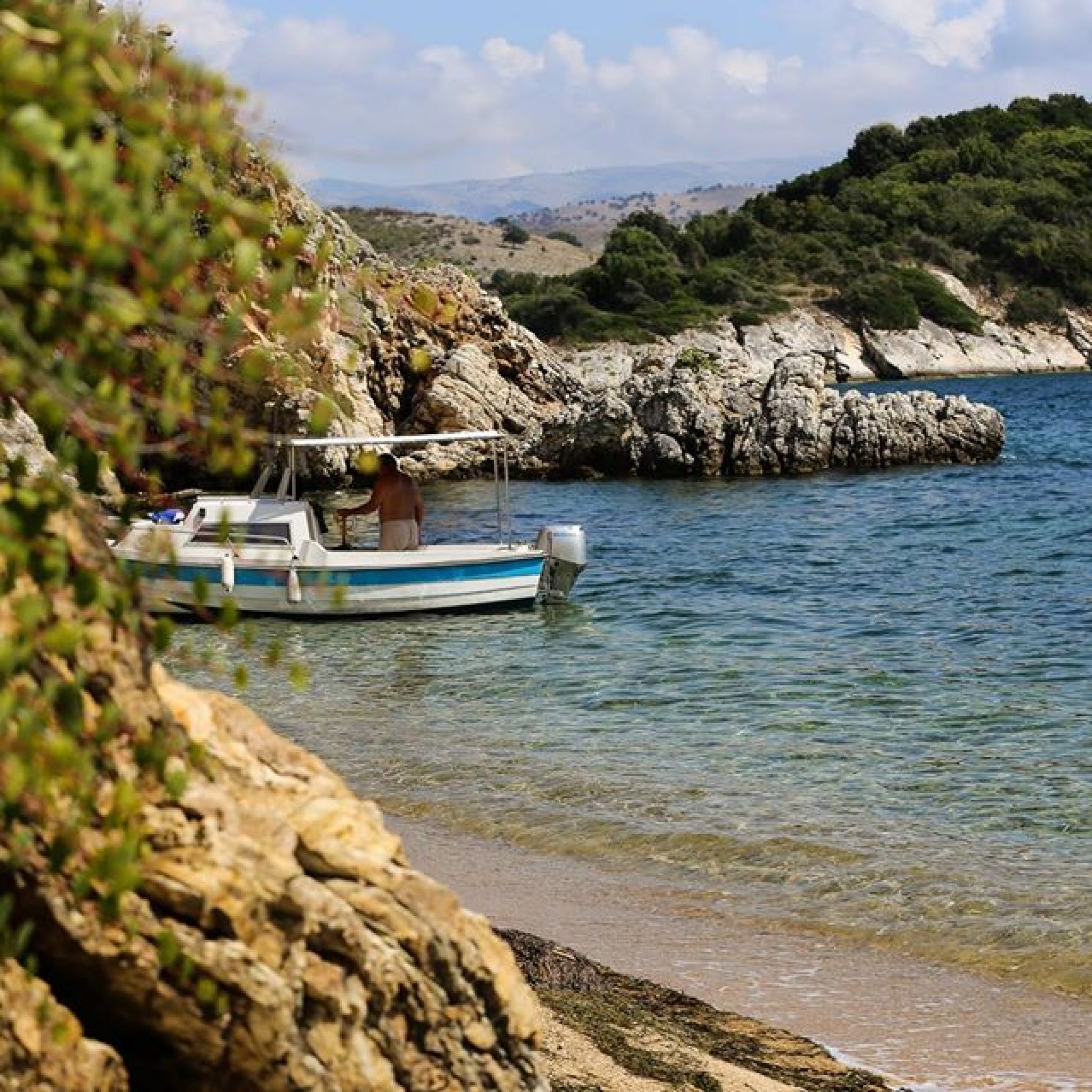 Stillo Island or Stil Island is a small island in the southernmost tip coastline of Vlorë County, (located in the Ionian Sea, 200 meters off the coast of Cape Stillo) Albania. Stillio's coastlines are the furthest south in terms of Albanian coastlines. Although, it is not the most southern point of Albania. The island and the cape were military zones until 1992 and entrance was forbidden. The island is rocky and sparsely vegetated. It has an area of half a hectare, with an estimated length of 80 meters and a diameter of 100 meters.
Krorez Bay, Sarande, Albania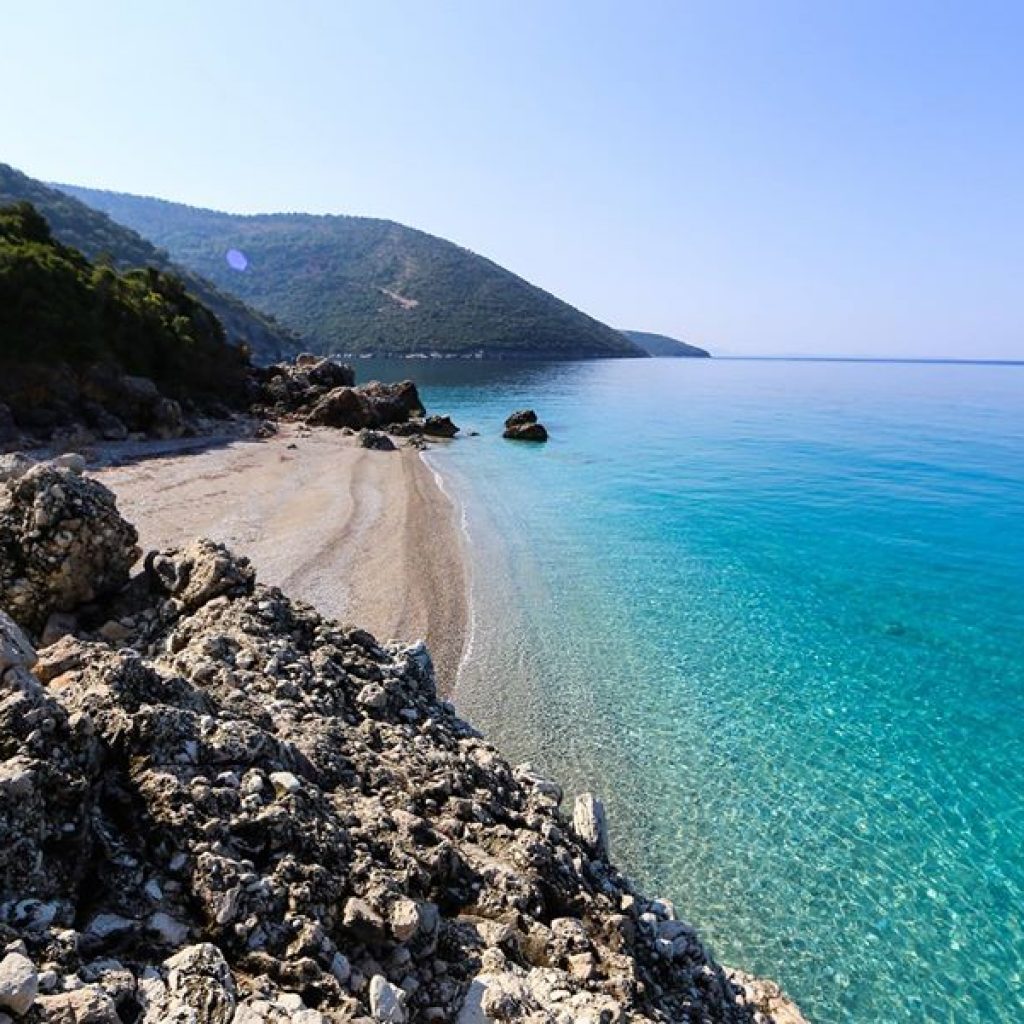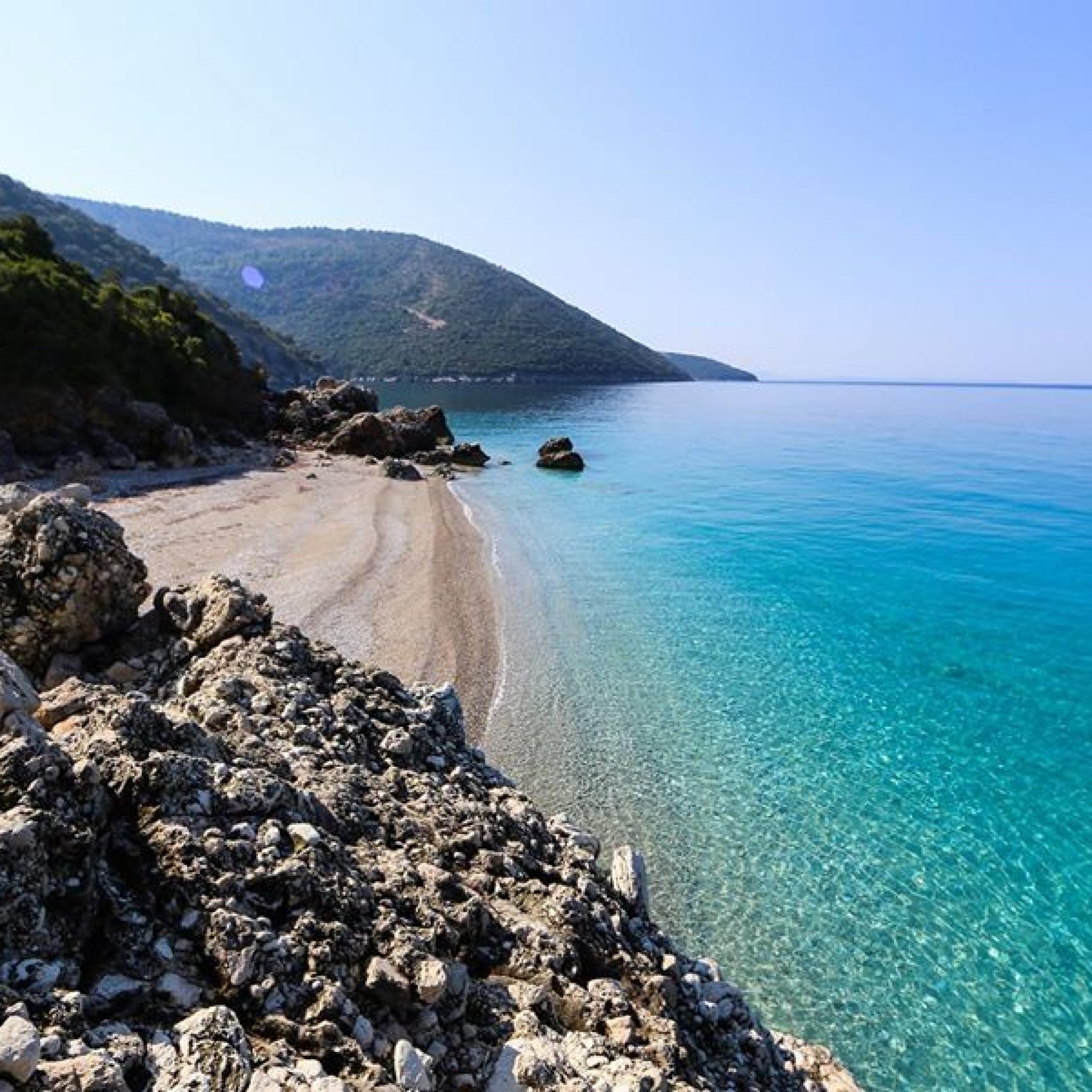 Krorez Bay is located near the city of Saranda, facing the Corfu Island. World-best tour operators and leisure real estate experts have proclaimed it one of the most beautiful bays in the Mediterranean and absolutely the pearl of the virgin beaches in Albania. Many visitors have been impressed by the original beauty, the virgin nature, the peacefulness of the area and also by the crystal clear seawater. Krorëz is divided into two beaches with a lot of rocks in between. In one part you can see two small bars, where you can buy any drink.
Quotes of leading leisure real estate experts in evaluating Krorez
Beauty
Exclusivity (the impression of being unique in the world)
A wild and virgin beach: the one that gives us the chance to project and construct an incomparable ex-nihilo village
An archeological area in the vicinity of Butrint and a city dating back to the XIII century (Gjirokastra)
A transparent sea
Two enclosed beaches in the middle of nature:
Number 1, in the heart of the village,
Number 2, next to the village, easily accessible
290 sunny days a year
A wonderful temperature (rarely higher than 30 Celsius degrees)
Krorëz, is the best virgin beach in Albania. There you can enjoy the cleanest and the clearest water of any time. It is located in the south of Albania, between the city of Himara and Saranda.
How to get there
Going there is not as easy as reaching the other virgin beaches in Albania. There are two ways to get there. The first one is by boat from Saranda or from Kakome beach, which is very near to Krorëz beach. Kakome is located 13 km from Saranda. If you are in Saranda, you need to take the road to Himara. After about 13 km, you will see a sign, then you need to turn left. You should to follow the road which leads you to Kakome beach. From Kakome beach there are a lot of cheap boats throughout the day.
Another way is to walk from Lukovë beach, which is located 22 km to the north of Saranda. There you can find some stores to buy food or drinks. From Lukovë beach you need to follow the trail within the coastline which is around 5 km. It is an easy hike, but I wouldn't recommend it when the temperatures are high.
There isn't any hotel or Guesthouse near this beach, so, you need to camp there and you will enjoy it for sure.
Rana e Hedhun, Shengjin, Albania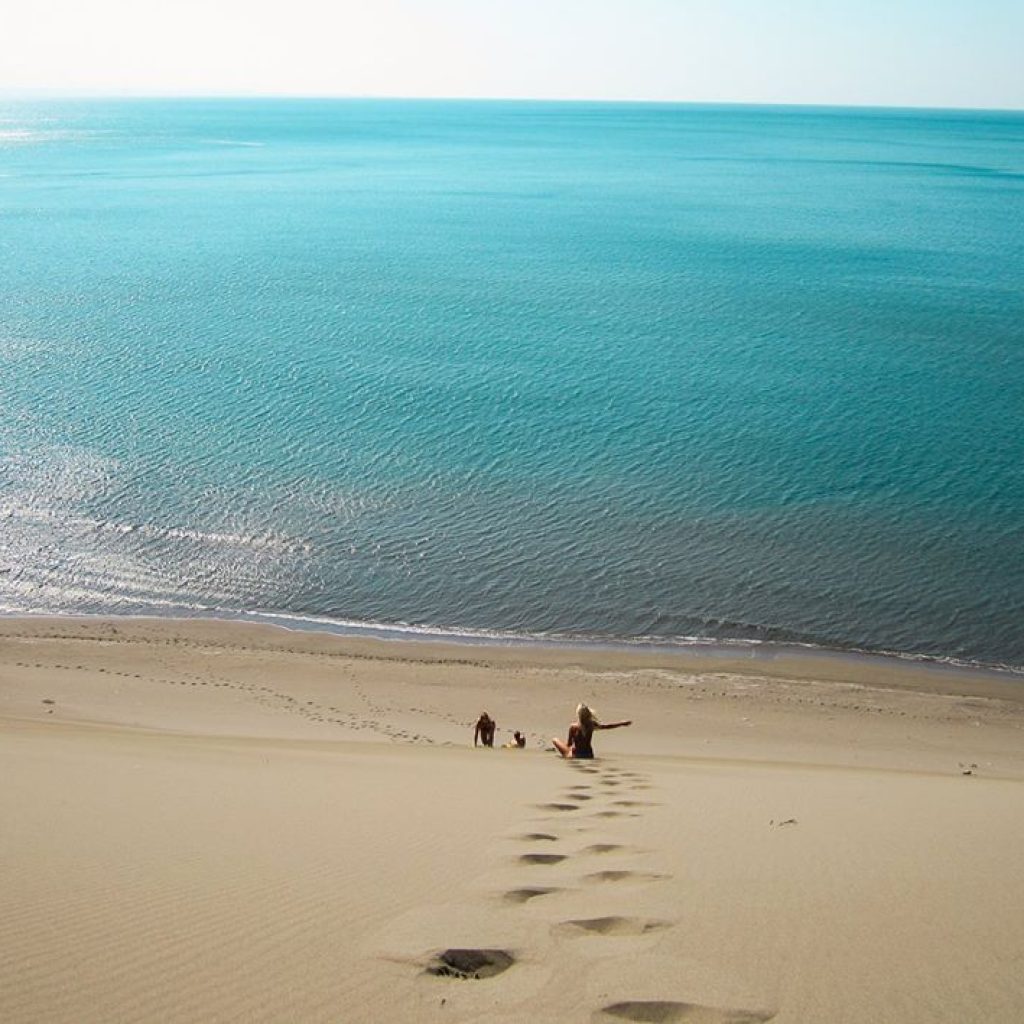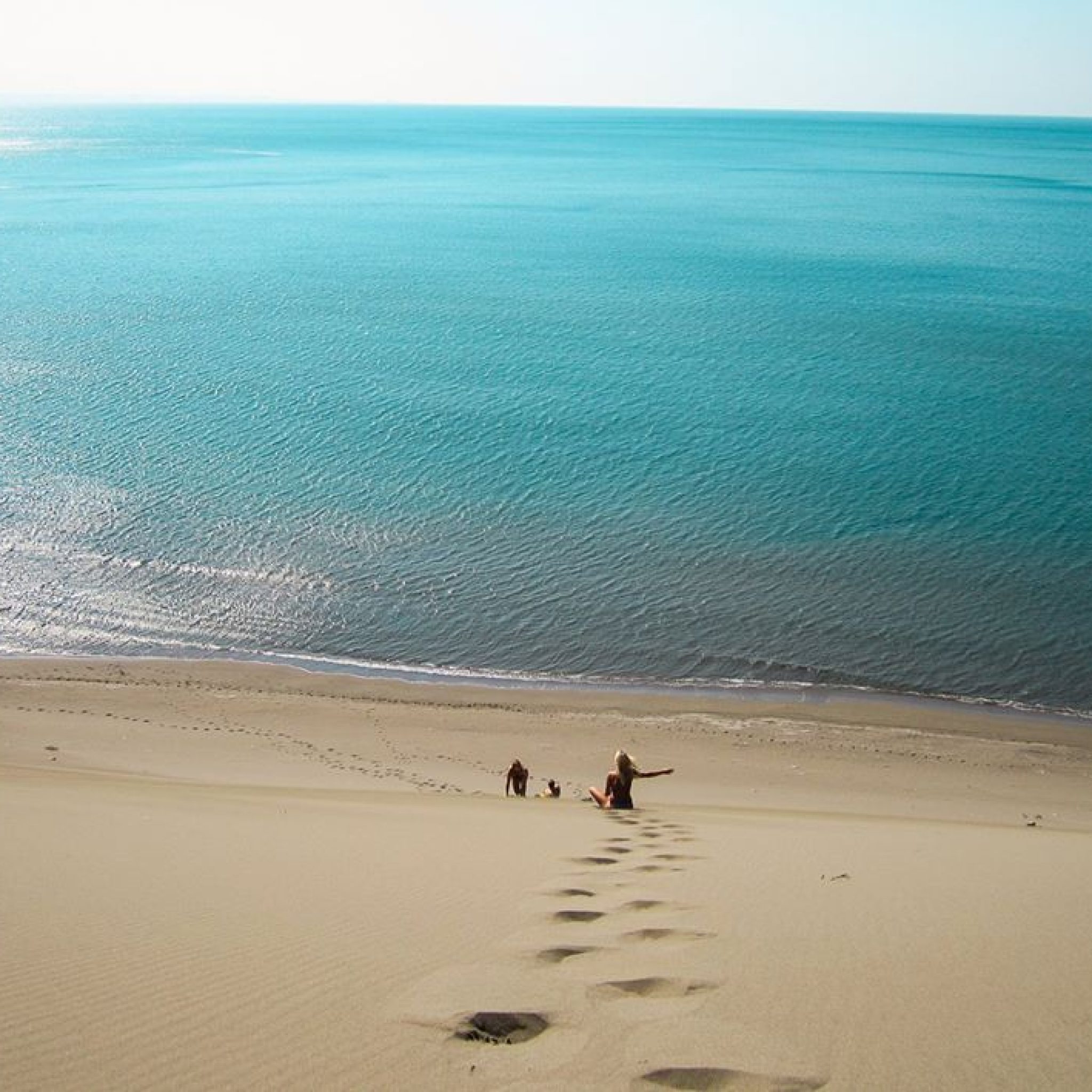 Perhaps the most interesting destination in Lezha is called Rana e Hedhun. Named in the Gheg dialect of Albanian, in English, its name literally means "poured" or "thrown sand," referring to the untouched sand dunes and structures along its coastline. Located only 3-4 kilometers from Shëngjin, this beach remains almost unexplored, sharing a rare and maybe forgotten Mediterranean landscape.
The slope of the Mountain of Rrenc descends onto the beach, where a few yards of sand elegantly melts into the sea. The dark color of the sand contrasts wonderfully with the sea's deep color of blue, giving the entire beach a very special appearance. It is quite difficult to imagine the cause of the type of sand structure found here. At times, it appears as if the sand has descended from the mountain while, in other moments, it seems that the sea has a more active role in shaping it. Either way, it is at once a simple and magnificent sight! The pine trees surrounding the beach make it a perfect spot for camping or picnics but also for intermittently enjoying the rays of the generous Albanian sun.
You should wear: swimming suit, very sport light dresses (short trousers and a t-shirt), strong sandals/sneakers for walking, safe and non-slippery.
You should take with you: sunlight protection cream, an extra pair of underneath, an extra pair of long trousers, and a t-shirt.
Filikuri Beach, Himara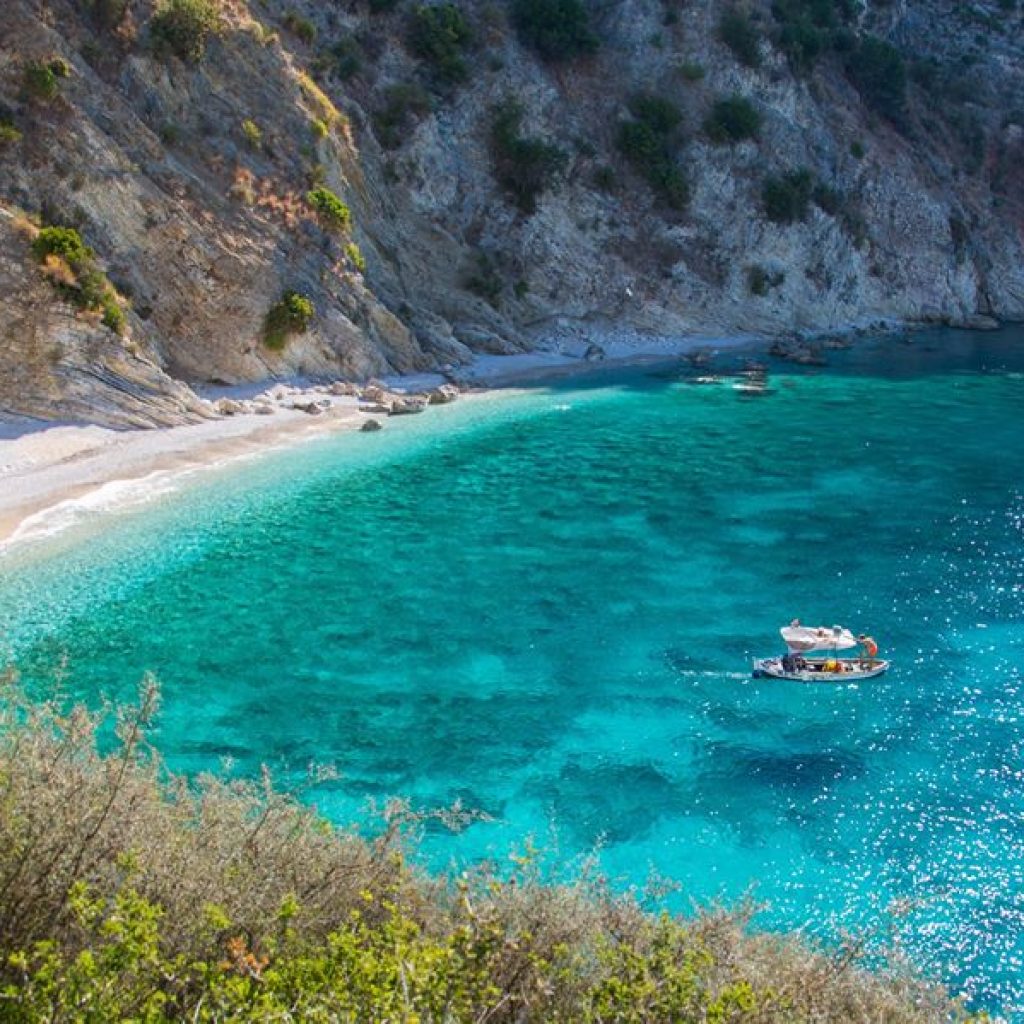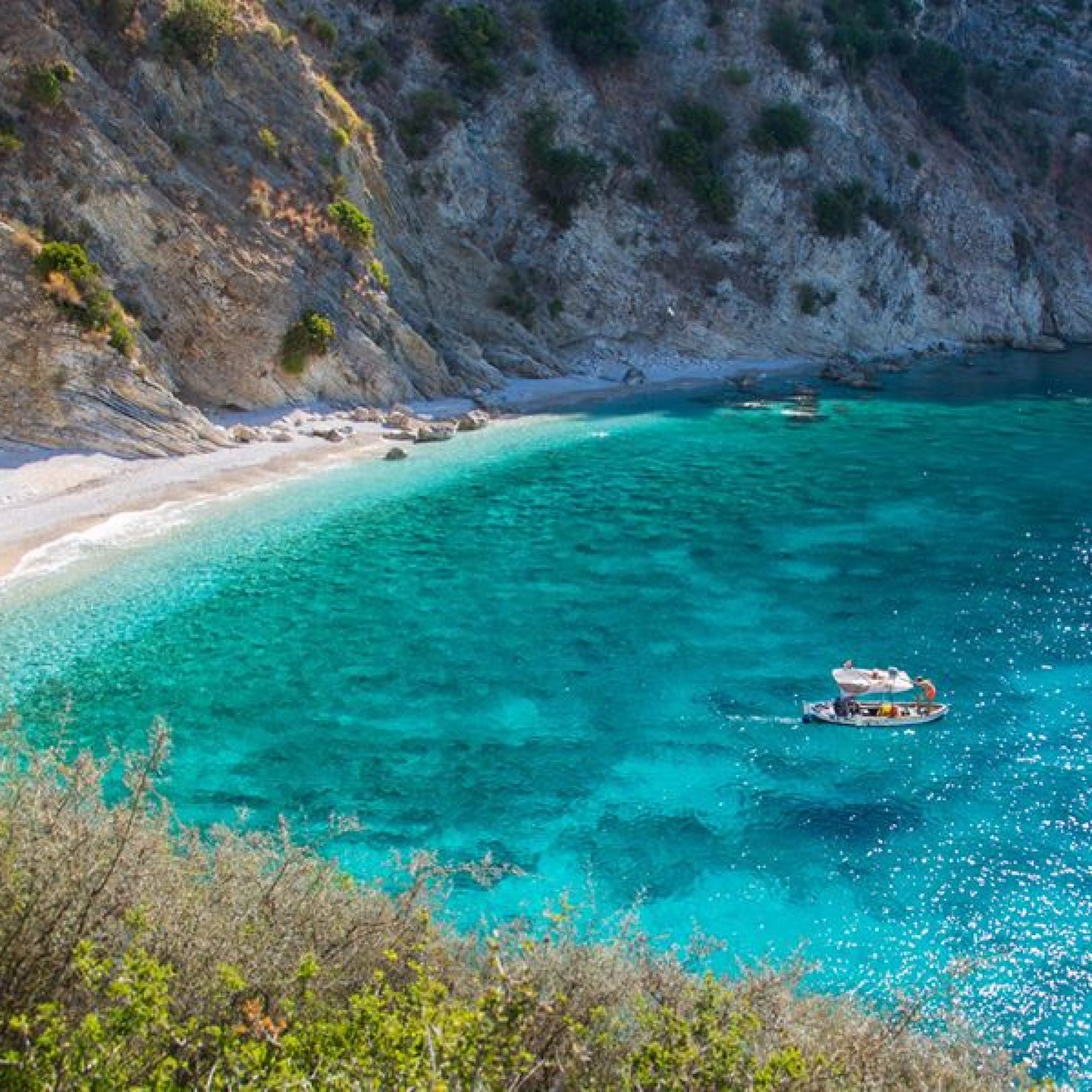 Filikuri beach is a small bay surrounded by high cliffs. The Filikuri beach is located between the beach of Potam and the beach of Llaman. The beach can be reached by boat or kayak, which you can pick from various places. If you plan to spend an entire day in Filikuri make sure to get sufficient food and plenty of water because there are no stores at the beach.
Ksamil Island, Ksamil, Sarande, Albania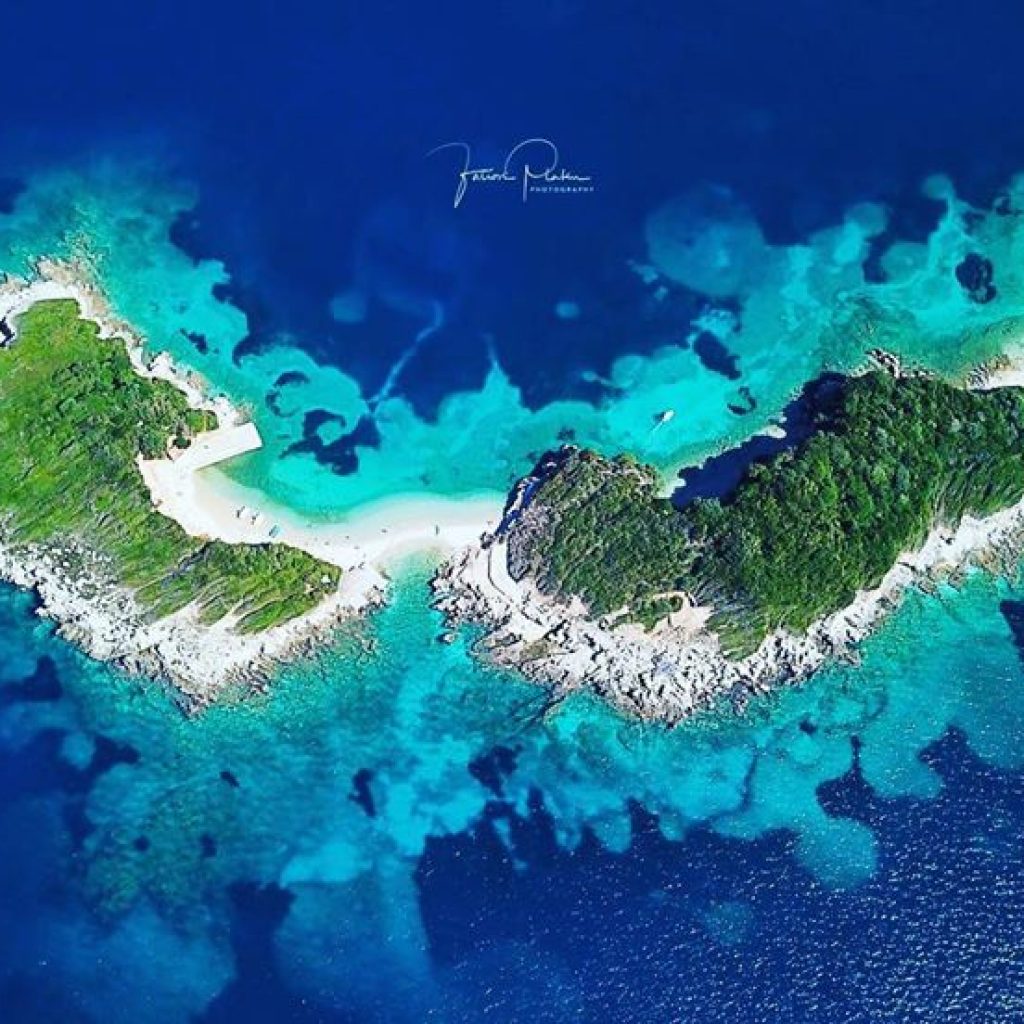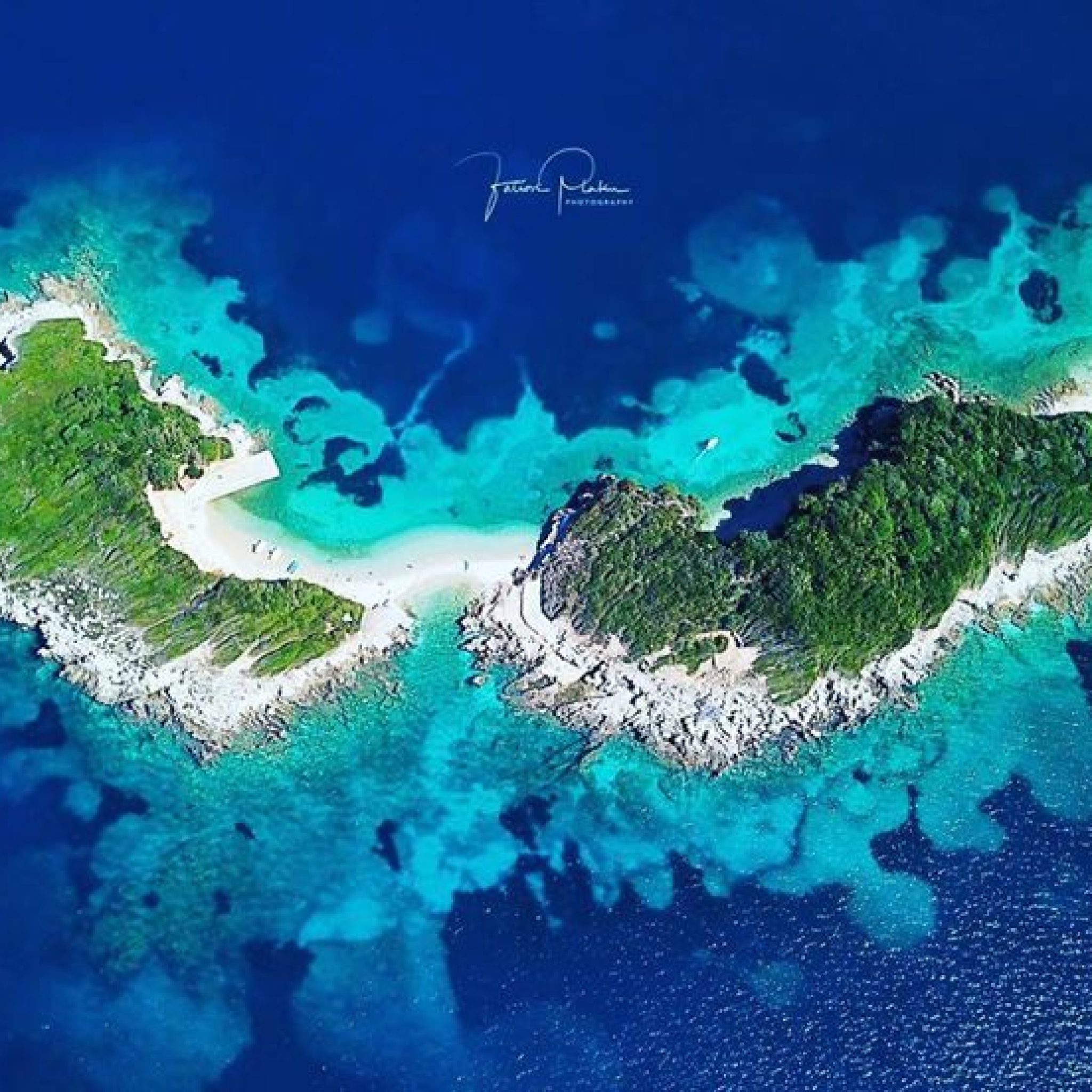 Ksamil is a small village in southern Albania. Locals have long gone here in the summer for sunbathing and swimming, but only in recent years, the foreign tourists have found their way here.
Ksamil is primarily known for its fine sandy beaches and crystal clear waters. These four islands are isolated, and you can get there by boat.
In the village live about 4000-5000 people and tourism is increasing every year. However, there are still plenty of isolated places left if you are looking for peace and quietness.
There are lots of comfortable little restaurants serving Albanian cuisine. The hotels aren't big resorts and there are mostly family-owned hotels.
The Twin Islands of Ksamil
There are a total of four spectacular islands in Ksamil. The most popular ones are the Twin Islands, which are connected to one another through a narrow sand belt. However, they have their own special beauty and charm and are all definitely worth visiting and easily reachable from the shore! The ideal tranquility and dense greenery of these islands resemble a tropical paradise which you won't want to neglect!
Here, you can go canoeing, diving, or book a boat trip. The delightful seafood dishes served in the numerous restaurants of Ksamil, and the tasty cocktails, which can be enjoyed under the sun, are some more extra reasons why you will fully enjoy your experience here.
How to get there
The trip to Ksamil is smooth and easy. The flights go to Corfu in Greece, located approximately 30 minutes away from Albania by boat. To land at Corfu airport when traveling to Ksamil is truly like any regular shuttle since it's just a short transfer. The boat stops in Saranda and from there you either take a taxi or bus. A taxi from Saranda to Ksamili costs about 10 Euros, and the bus costs 100 LEK (approx 0.70 €). The boat trip costs about 10 Euros.
Another option is to fly to Tirana and from there take a cab or bus. But this is more expensive and also takes a longer time.
You can find the cheapest flight tickets to Albania here.
Some tips and info about Ksamil
You can see the Greek island of Corfu from anywhere in Ksamil.
The waters in Ksamil are crystal clear and full of sea-life which is excellent or snorkeling.
There is wi-fi on the beach.
In the peak season, you can expect to pay a few hundred Lek for a sunbed or 500 Lek for two sunbeds and umbrella but this is well worth it if you're planning on staying for most of the day.
You can walk from Ksamil to Butrint in an hour. You'll walk through many olive groves and secluded beaches; few people do this which makes it even better.
You'll look to pay around €1 for a beer and €4-7 for a main dish.
Locals in the area speak good English, Greek and Italian.
Sazani Island, Vlore, Albania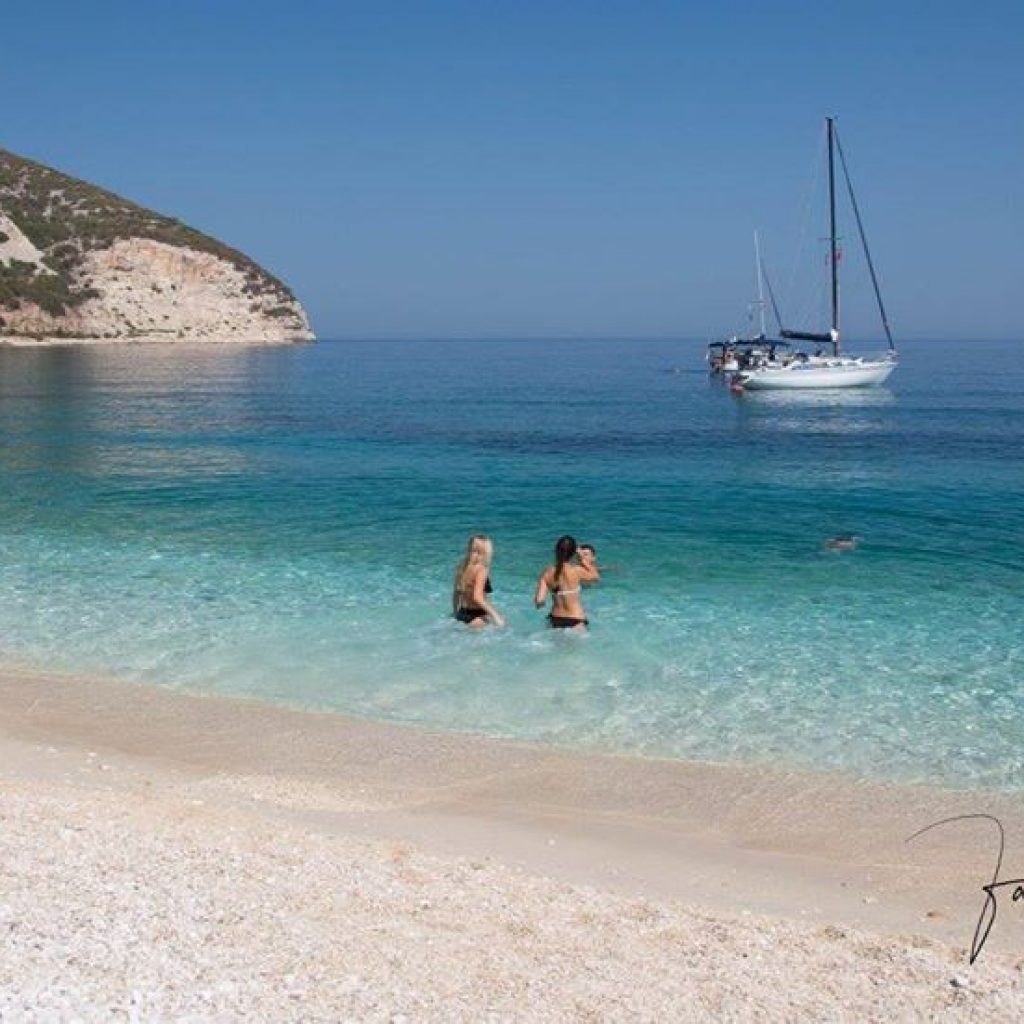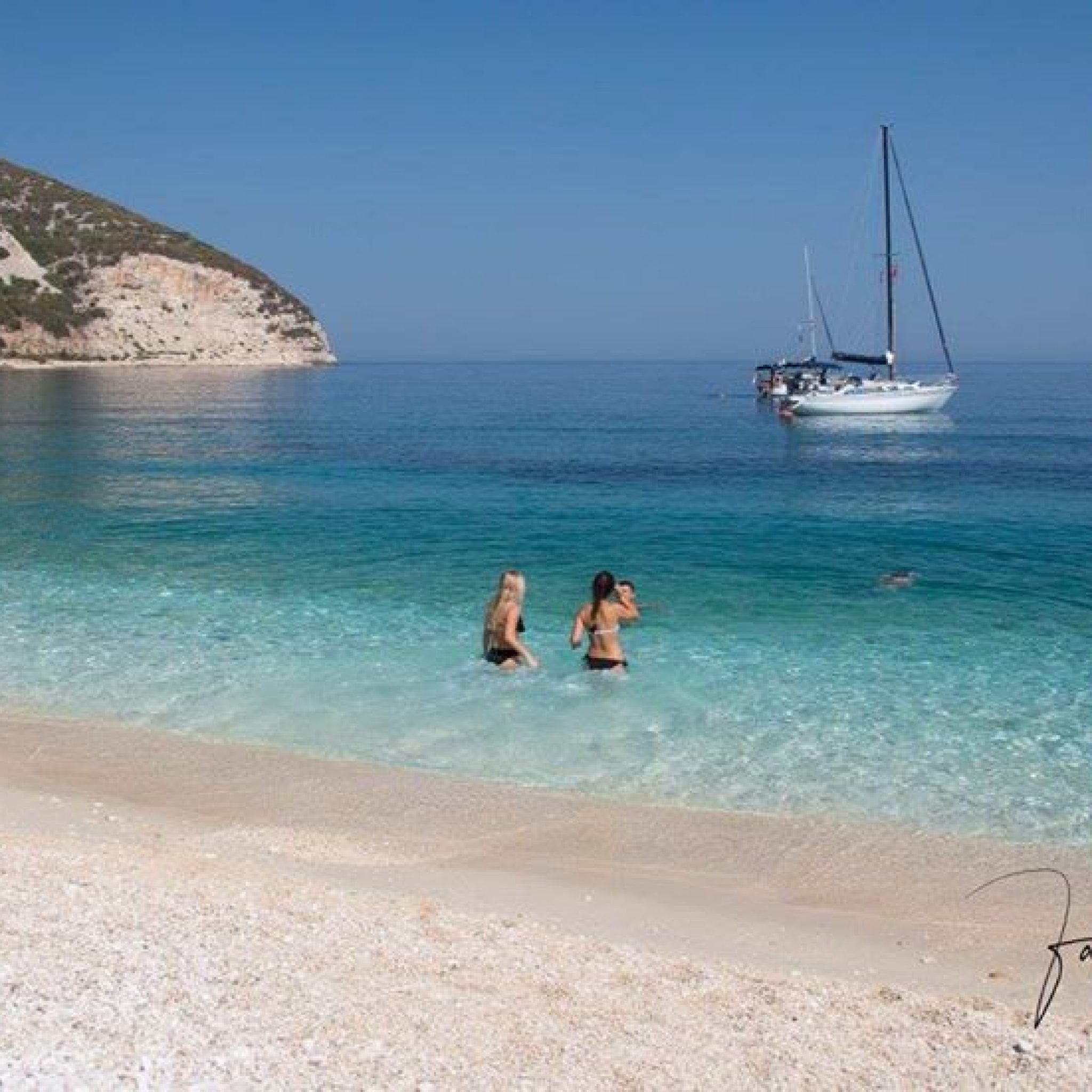 Sazan Island is Albania's largest island. It lies about 15 km off the shore at Vlora and features mostly rocky shores, besides for the magnificent Admiral Beach. In antiquity, this island was identified as Sason, and it has long been a great destination for divers and fishers.
The island, once a fortified and isolated enclave, actually has bunkers and tunnels designed to resist nuclear attacks. Something of a mystery even for many Albanians, the base once was occupied by as many as 3,000 military personnel. Sazan Island is located at Albania's most western point, a fortress once used by Italy's Fascist regime during the 1930s, to control the "Otranto Strait".
Gjipe Beach, Himare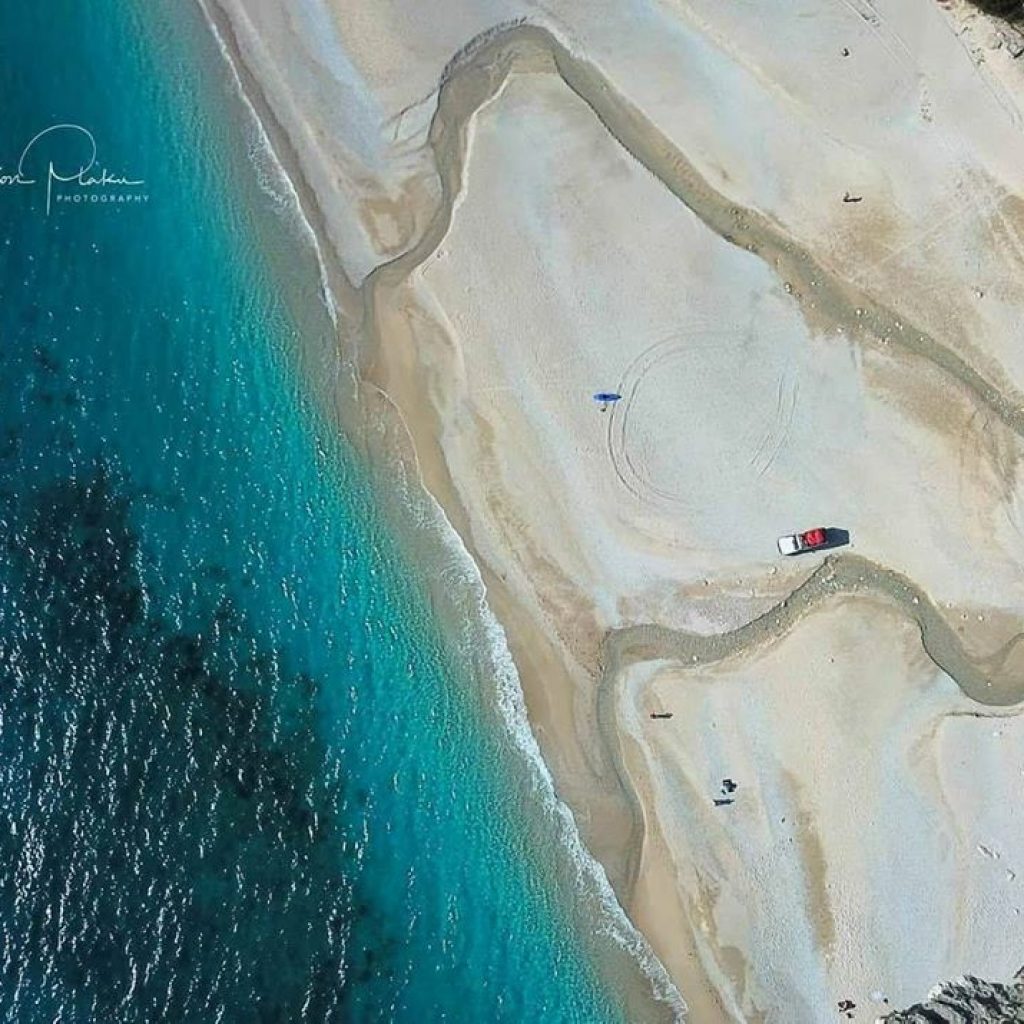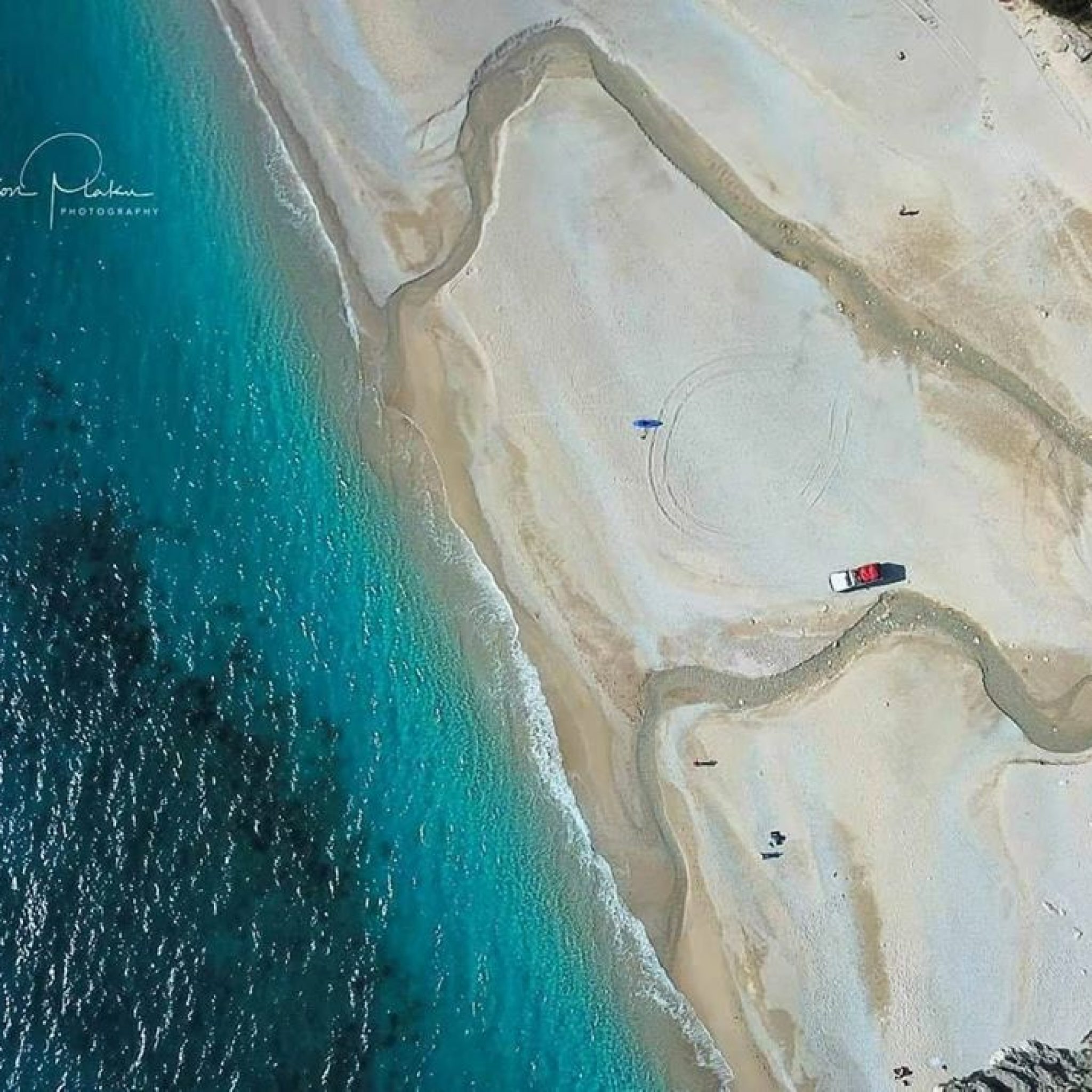 The virgin beach of Gjipe in Albania has nice and clean sand, tiny caves and a great coastline. You can get there through the sea or the road built lately in the Monastery of St. Theodore. High cliffs of a canyon surround the Gjipe beach. The canyon is not so deep but is overgrown with bushes and some rocks cover it but as you walk, it becomes deeper and narrower. It's quiet, only birds sing, a murmuring brook and cicadas, and you, of course. Even if you are planning to go for a "nice walk" to the beach, take ropes, cord and webbing.
Find out how to get to Gjipe.
All photo credit: Fation Plaku.