The village and the National Park of Theth have been on top of every traveller's bucket list when they visit Albania. The untouched nature of the Accursed Mountains that form the Albanian Alps, and the local hospitality invite you to spend several days in the destination.
While there and especially if you have driven all the way to Theth or used the local transportation, it makes sense to spend a few days more and consider one of the hiking day trips in the region.
Hiking Theth to Valbona trail is one of the best known hiking trails most people like to do when in Northern Albania.
Why Hike from Theth to Valbona
Because you don't want to miss the breathtaking views from Valbona Pass of both Theth Valley and Valbona National Park.
Another reason is to experience this century old hiking trail which used to connect valleys together through the selling goods and even keep the strong ties between clans through intermarriages.
How long does it take to hike from Theth to Valbona Pass
If you are considering to hike from Theth up to Valbona pass and return back to Theth, so not ending the tour to Valbona Valley, then depending on your physical strength it takes from 6 hours up to 8 hours to finish the hike.
If you like this option then you need to know that it will take 4 hours to reach the pass starting from 800 m up to 1800 m (Valbona pass) and another 3 hours to hike back to Theth village.
You have to calculate some free time for refreshments and food at a small coffee shop called Zef Rrgalla about 1 hour before you reach the pass.
Theth to Valbona hiking distance and difficulty
The distance in km from Theth National Park Information Centre to Valbona Pass is 6 km one way, so you need to cover between 12 – 14 km, depending where you start in Theth to finish the whole hike.
If you set to hike all the way from Theth village to Valbona Valley then you need to cover 12 km up to 19 km depending from where you start in Theth and where you finish in Valbona.
Know that you have to spend the night in Valbona if you do the whole hike.
The difficulty level of the hiking Theth to Valbona trail is considered moderate to challenging by the majority of people.
The reason why is so, has to do with people perception of the distance, not taking in consideration the altitude gain and the condition of the trail.
So there are many who have previously hiked in flat terrain from 12 – 20 km and think that hiking Theth to Valbona trail is of the same level of difficulty.
Actually what happens many times is that people tend to forget how hard it can be to gain altitude in a short period of time. Then you have to consider that some sections of the hiking Theth to Valbona trail are full of scree and loose soil making it harder to walk without slipping.
So depending on these element you have to evaluate your physical condition and experience with this kind of terrain before setting out to hike the trail.
Theth to Valbona Hiking Trail
If you start from one of the guesthouses near the Church of Theth or the Locked in Tower, the hiking Theth to Valbona trail which follows Nikgjonaj road will take you along the dried river bed all the way to Gjelaj quarter. There, you have to cross a shallow stream of water so be on the look out for a small wooden bridge.
Once you cross the stream called Prroni i Gjelajve look for hiking trail sign painted on a small rock in the middle of the trail (because it is not easily visible) in red and white.
If you don't see it remember that now the river bed will be on your right side so if you see a cross section please follow the one on your right side.
As you continue hiking, the trail merges with a 4×4 road track which then leads you again on your right side as you cross a steel bridge.
Next you will follow a gravel 4×4 road track (4 turns in total) until you reach the fifth sharp turn on your left leading you to a steep incline which is the hiking trail.
It is important to pace yourself from this section onward since especially during july-august it is really hot and the soil in this section is quite loose.
After reaching the water cistern you enter the forest and you will continue to hike through the forest until you reach a plateau from where the views of Theth valley are breathtaking.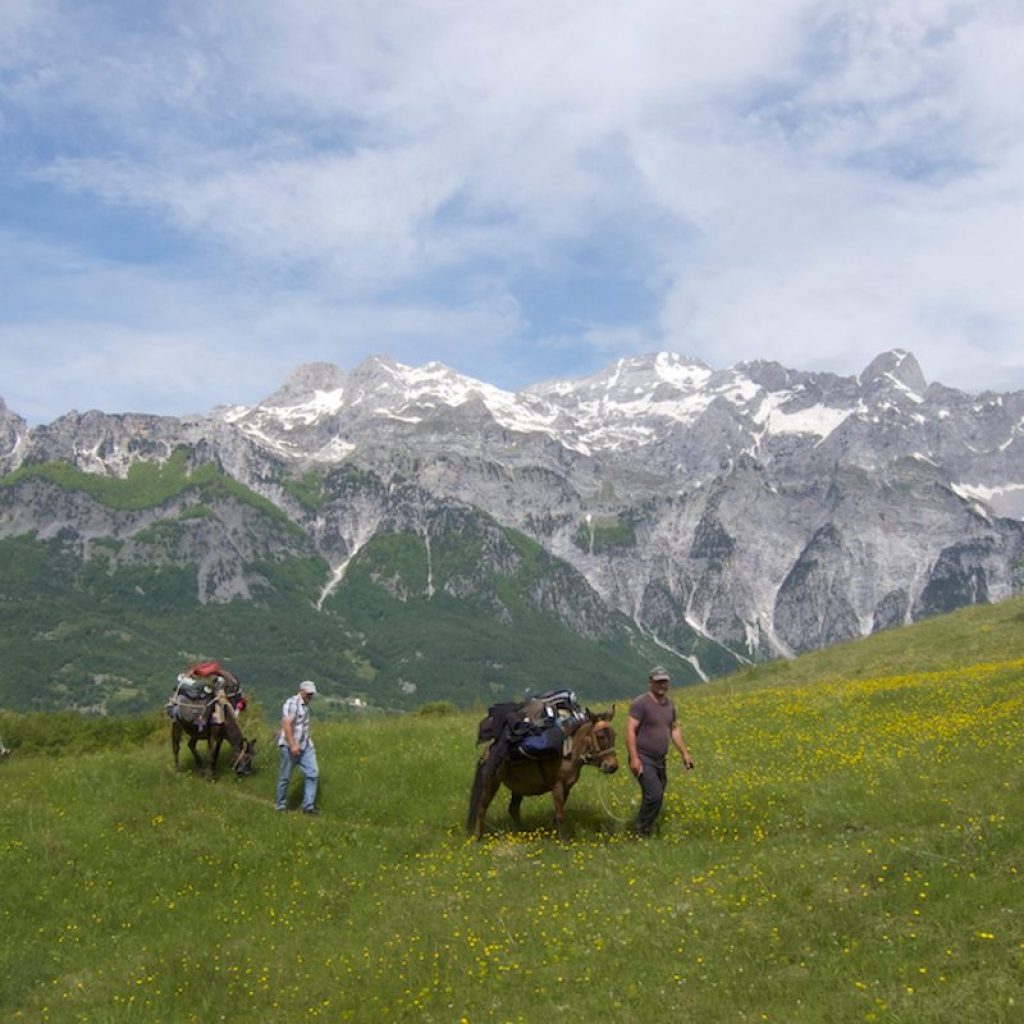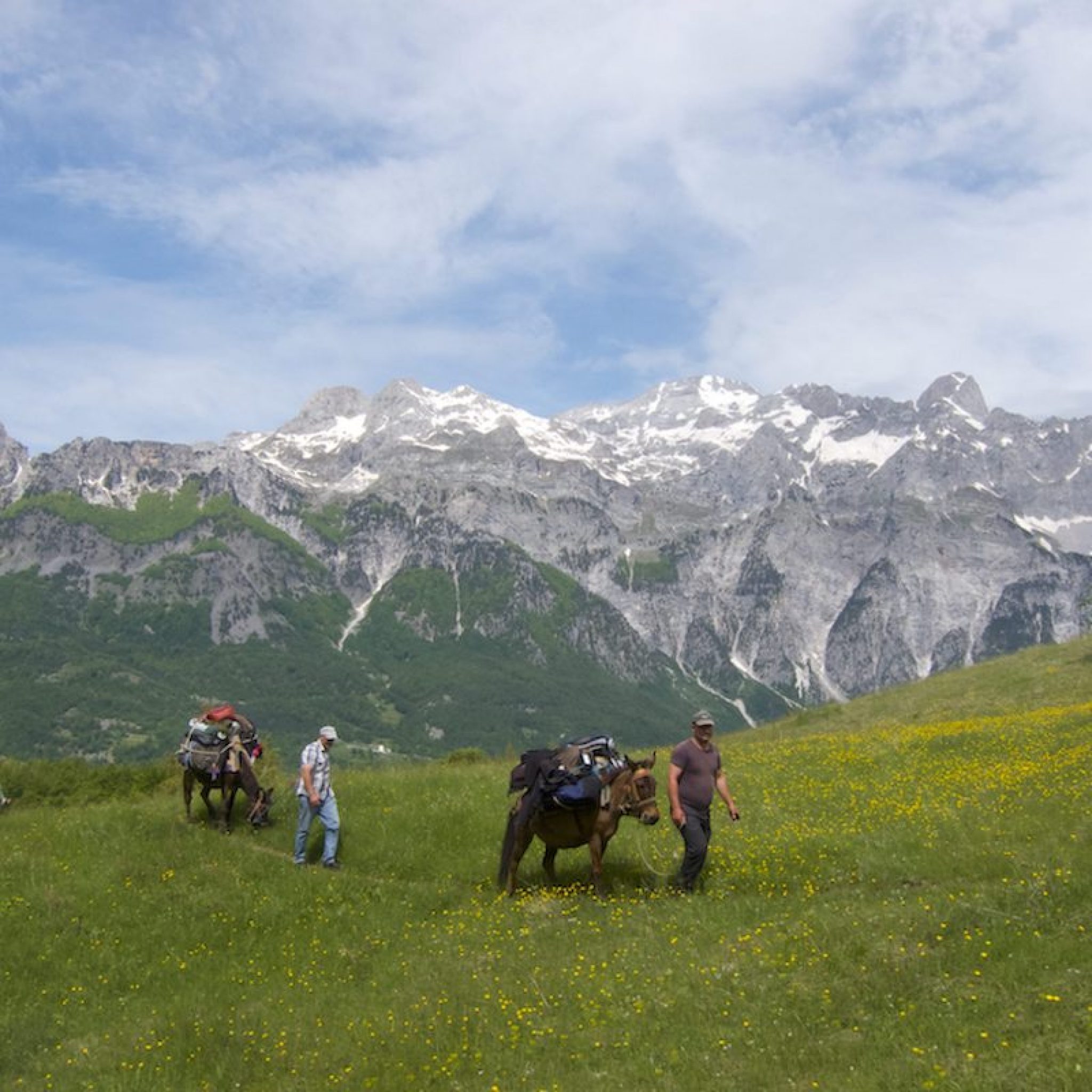 From here you need another 1.5 hours to reach the coffee shop Zef Rrgalla where you can take a break before continuing to Valbona Pass.
At Zef's shop you can find different kind of refreshments, beers, as well as food (mostly pies and few other things).
The last section of the trail up to Valbona pass from Zefi coffee shop takes about 1 hour and follows a steep incline through the forest which is sustained all the way to the pass.
Valbona pass is set at an altitude of 1800 meter and it can be quite windy and cold sometimes if you stay there for long.
As you reach the pass suddenly the view over Valbona valley opens up which in itself though very beautiful can be frightening for some.
From Valbona pass you will begin you descent as you follow the trail on your left side.
The first part of the trail is full of scree and exposed so you have to walk carefully leaning on your left side.
You will continue like this for about 2.5 km until you reach another coffee shop called Simoni caffe. Depending on your time you might stop there for a quick coffee before preparing for a steep descent as you reach the first inhabitable areas of the Valley called Gjelaj and then Rragam Villages.
It is important to remember that the trail turn right side after you pass a very big rock in the middle of the field. So you will pass this big rock and then you need to walk across a dried river bed and then turn right downward to Simoni coffee.
After passing the village of Rragam you will follow a 4×4 road track which traverses a dried river bed. You need about 45 minutes to reach the first two hotels of the valley such as Fusha e gjes Hotel and Hotel Margjeka.
But if you intend to walk further down the valley and book other hotels or guesthouses such as Hotel Rilindja or Villa Dini know that you might need to walk another 5 – 6 km more. So in total you might need to walk for 20 km before reaching your accommodation place.
Theth to Valbona Hike during May
The road from the city of Shkodër leading to Theth village is still covered in snow during early May especially, so it is quite difficult to drive through to the village. Although if it can be possible to reach the village by mid or end of May if you will be using a 4×4.
Due to previous accidents resulting in a loss of life we do not recommend hiking through Valbona pass during early May due to snow covering the pass. Proper equipment is as well highly advisable if you attempt to do so.
How to get from Shkodër to Theth
The best way to arrange your transfer from Shkodër to Theth is through your accommodation provider.
Scheduled minibuses leave from Shkoder to Theth only during the early morning from 7-8 am.
The reason is that until now there isn't a designated bus station in Shkodër reserved for buses or minibuses driving to the village of Theth.
Despite this, you can find a "furgon" or a minibus driving to Theth parked in the outskirts of Shkodra called Dobraç or Gryka e Rusit during the day but there is no guarantee they will depart at your desired time.
Even though, you might spend a few minutes in the restaurant and coffee shop called Malesia e Madhe where the owner of the restaurant might call a driver from Theth to come and pick you up.
But as mentioned before it is more advisable if you arrange your transfer with the owners of the guesthouses.
How it is so?
In order to understand it fully we have to go back a few years, when the road leading to Theth was just a gravel road full of potholes which would take more than 4 hours to drive through.
So because of these tough conditions and because there was a need from the locals to commute to Shkoder, some of them saw it as an opportunity to buy a used Mercedes Benz Van 207 as the perfect tool to transport other people to Theth.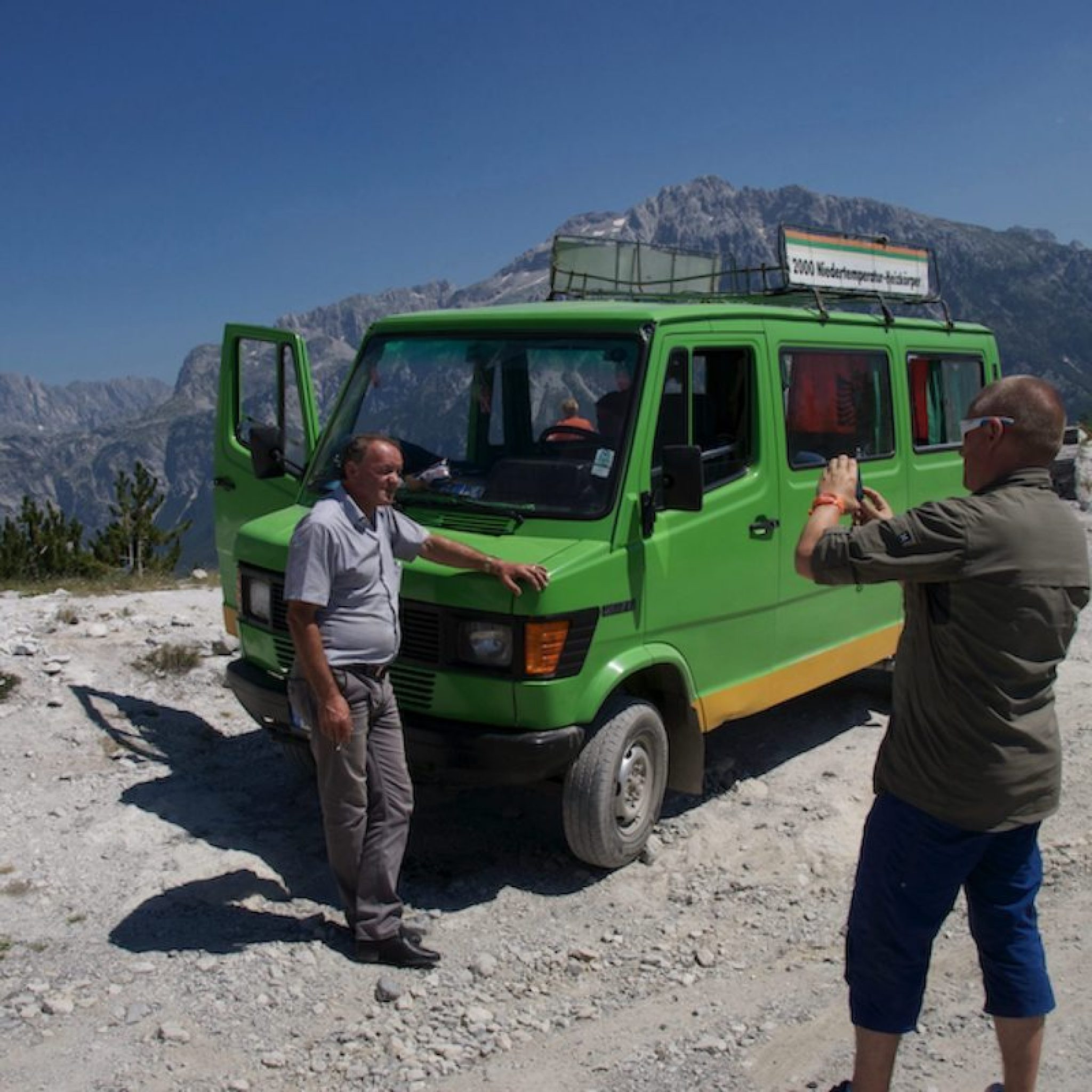 Now each of the drivers is as well the owner of the minibus and that's why it is easier if someone calls the driver for you on his cell phone and arrange your pick up.
As we mentioned most of these drivers are residents of Theth and some of them own as well guesthouses in Theth, so reserving a seat by directly calling them is the easier way.
Some of the drivers we recommend are:
Pashku +355693256415. He owns Vila Pisha together with his wife Vera who speaks english. Her cell phone number and address are: + 355 68 278 5057 and [email protected]
Zog Djegsina +355699485733 / +355682402945
Gjeto +355682473011 He is as well an excellent driver.
Frani 067 551 2825
Private transport from Shkodër to Theth
It is possible as well to arrange a 4×4 or private car to pick you up from your hotel or guesthouse in Shkodër and transport you to Theth. Please e-mail our agency to arrange your pick up at: [email protected].
The road to Theth
The road from Shkodër to Theth is about 75 km long and it takes approximately 3.30 minutes to drive through. Usually drivers make a stop for toilets and coffee either in the village of Bogë or at T'thore Pass from where the views over Shala valley are amazing.
The last 14 km are gravel road but the government, through a recent project set to finish in 2021, will build three tunnels and a new layer of asphalt which will make it possible for small cars to drive to Theth as well.
How to get from Podgorica to Theth
There is no direct bus line from Podgorica, Montenegro to the village of Theth in Albania. But, you can take the bus from Podgorica to Tirana leaving from Podgorica Bus Station and then stop near the city of Koplik, Albania.
The bus departs from Podgorica to Shkodër every day at 10:45 am from the main terminal starting from April 1st.
The distance from Podgorica to Koplik, Albania is 41 Km and from Koplik roundabout to Theth is another 58 km.
It takes 45 minutes to reach the border with Albania from Podgorica Bus Station. Prepare to spend about 30 minutes in the border for the passport control and then another 20 minutes to reach the junction near the city of Koplik where you get off the bus.
The address and phone number for Podgorica Bus Station are:
Address: 1 Trg Golootočkih Žrtava, Podgorica
Phone: +382 20 620 430 and the website where you can find more information is: https://kotortotirana.com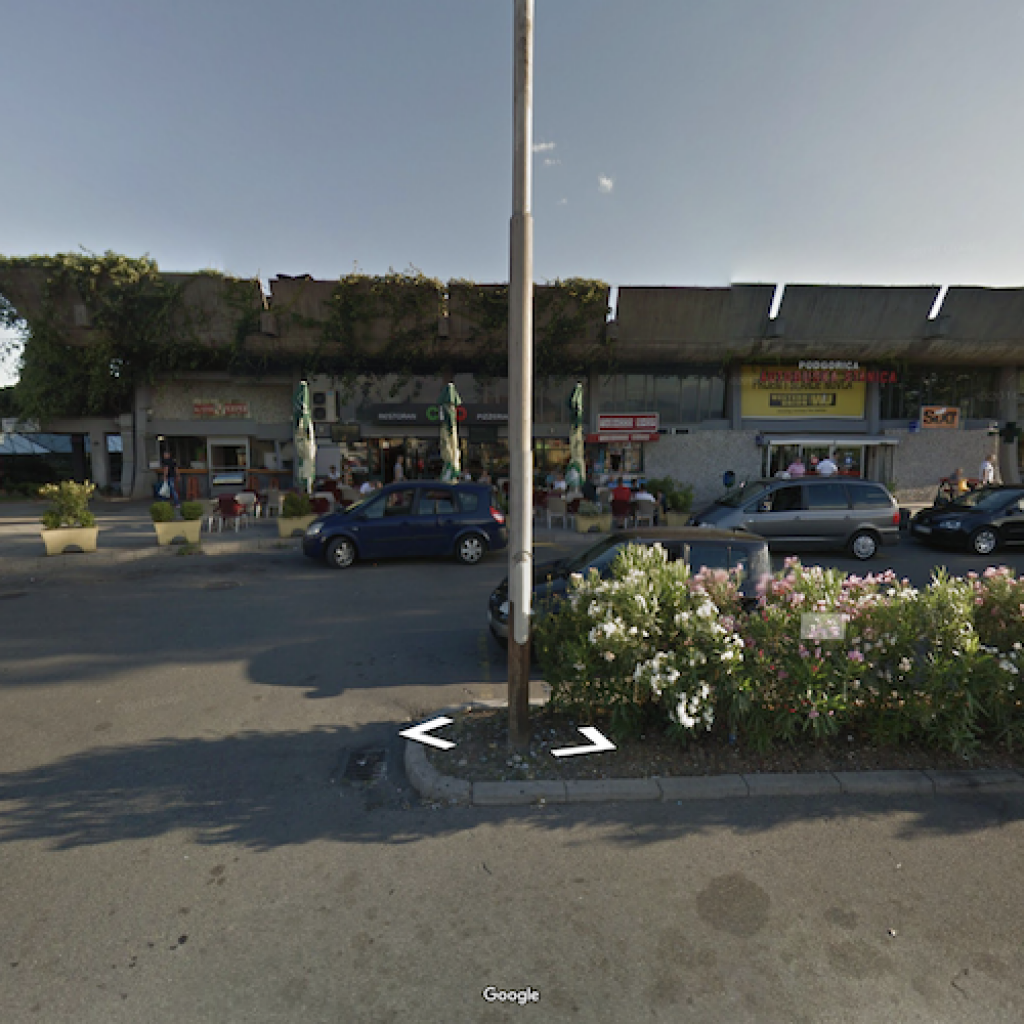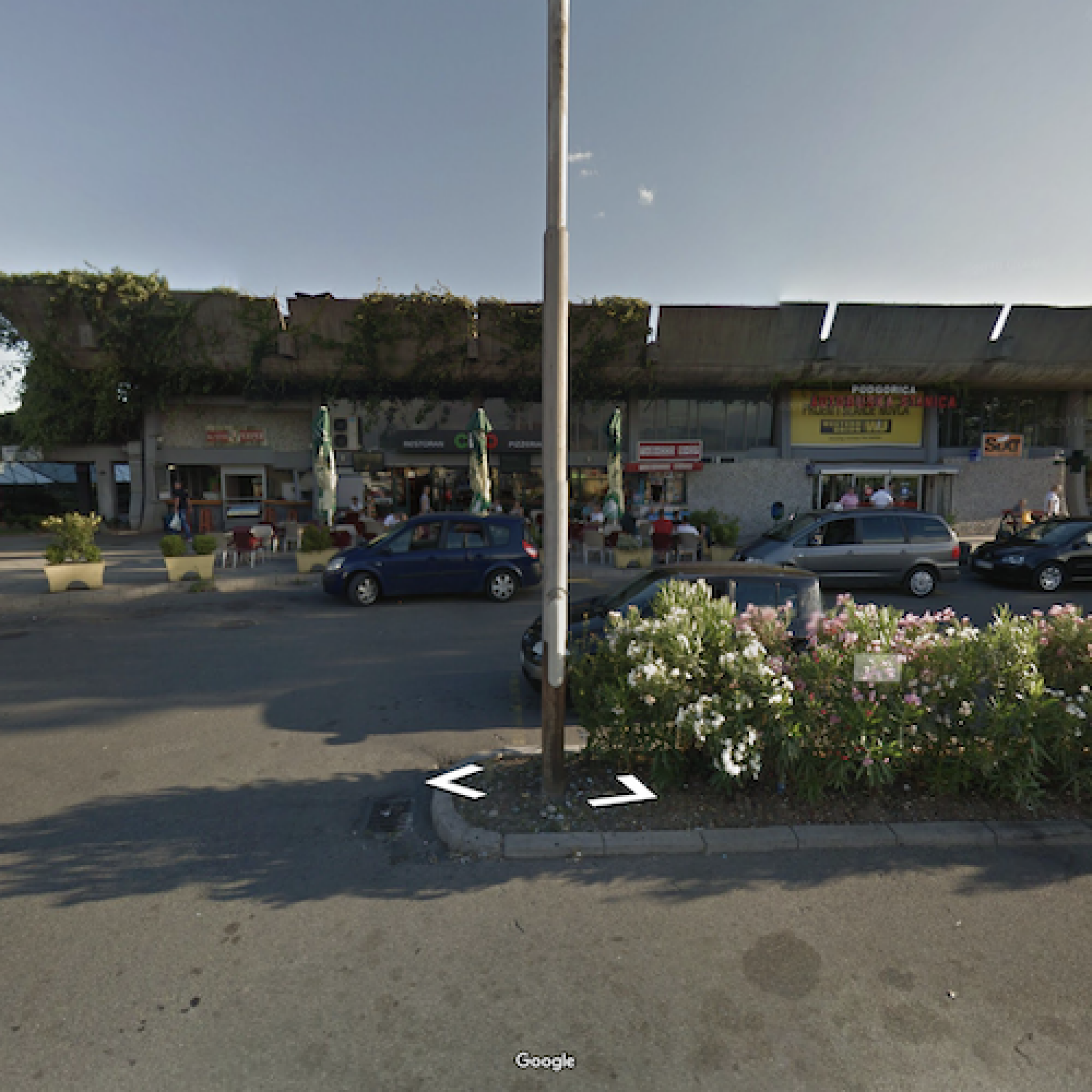 From Koplik:
Once you get off the bus near the city of Koplik, you might decide to hitchhike to Theth. There is no guarantee though that you might see a minibus driving to Theth anytime soon.
Private transport from Koplik to Theth
Private transportation is possible from Koplik and can be arranged through Sondor Travel by either calling us or e-mailing us at: [email protected]. We can arrange the transport for either 2-3 persons or more. Depending on the number of passengers we can give you a personalised quotation.
The distance from Koplik to Theth is 58 km and it takes usually 2 hours to reach the village of Theth.
Theth to Valbona Hiking Map
Nowadays it is becoming much easier to rely on our phones and electronic equipment to find all the information we need. That's why we are pasting below two links you can click to download the data and make it easier to guide yourself from Theth to Valbona.
One of the links is a gpx file which can be uploaded in your GPS device and shows the trail beginning from Gjecaj Guesthouse in Theth to Hotel Margjeka in Valbona.
The other link is a pdf file which shows you the altitude and the length of the trail.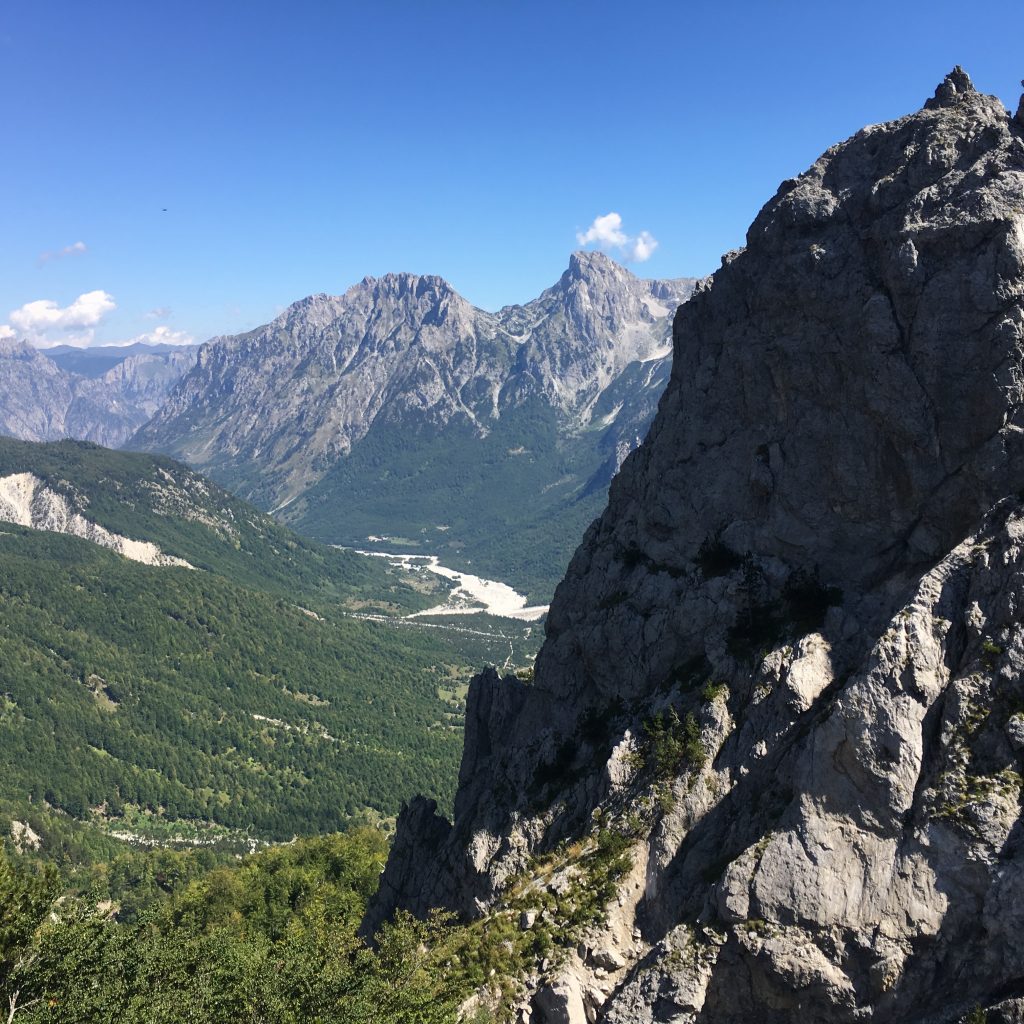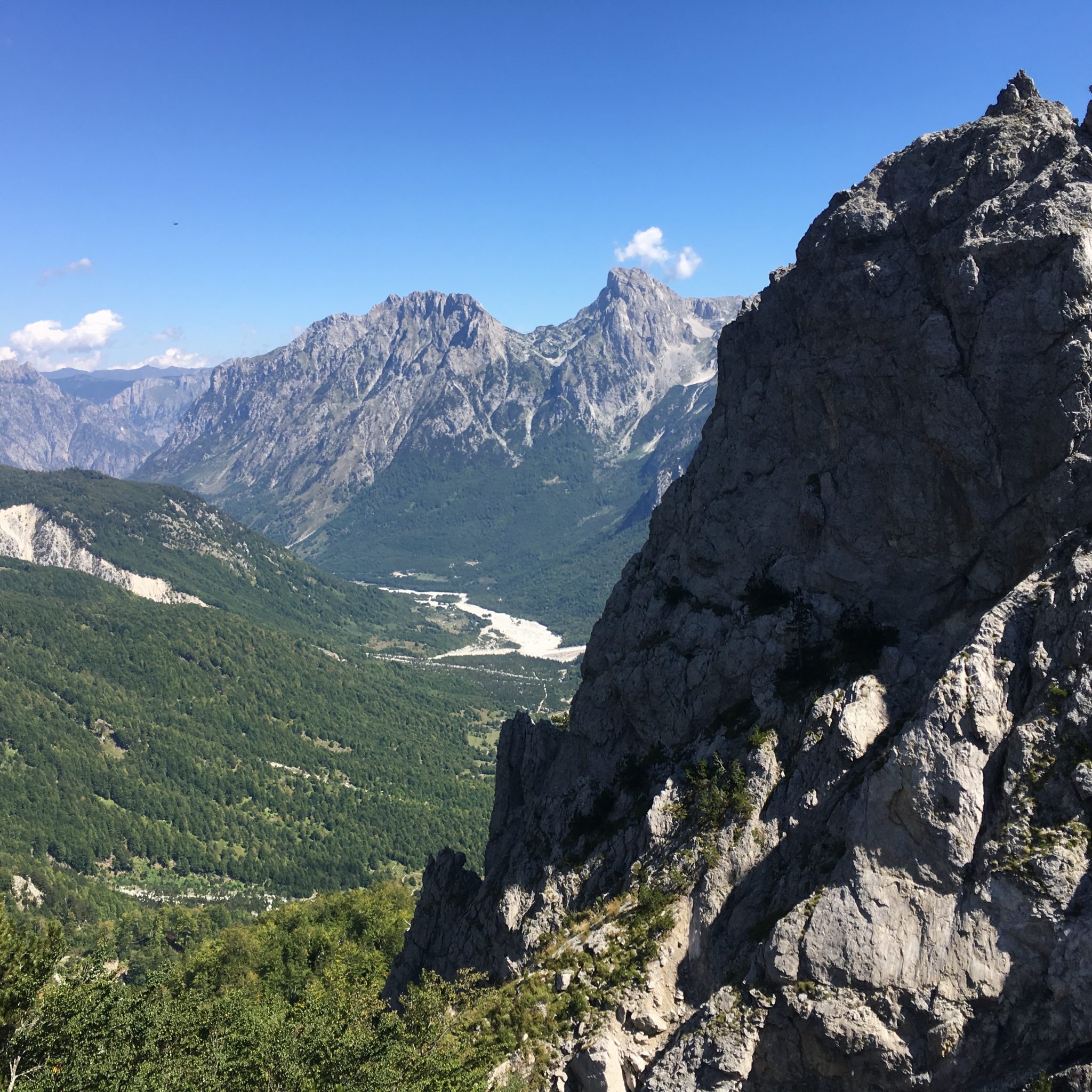 Considered one of the last wild mountain ranges in Europe laying between the border of Kosovo and Montenegro. The Albanian Alps nestled across 4 villages including the amazing Valbona National Park that is named after the beautiful river that cuts through the village Valbona River.
Moreover, the Albanian Alps offer a wilder experience at a low cost. Albania is underrated as a destination because not many people are curious about what it has to offer. But the country has to offer. Albania lies on the coast of the Adriatic & Ionian Sea. Bordering with Montenegro, Greece, Kosovo, and Macedonia. But what is mostly unheard is that the Alps themselves are nestled in this country.
The mountain ranges start in Northern Albania and offer spectacular views. In the Albanian language, the Alps are called the accursed mountains, the name is based on a legend of that area. However, there is nothing accursed about those mountains, the wilderness, the monumental landscape and the greatness of them is beyond description.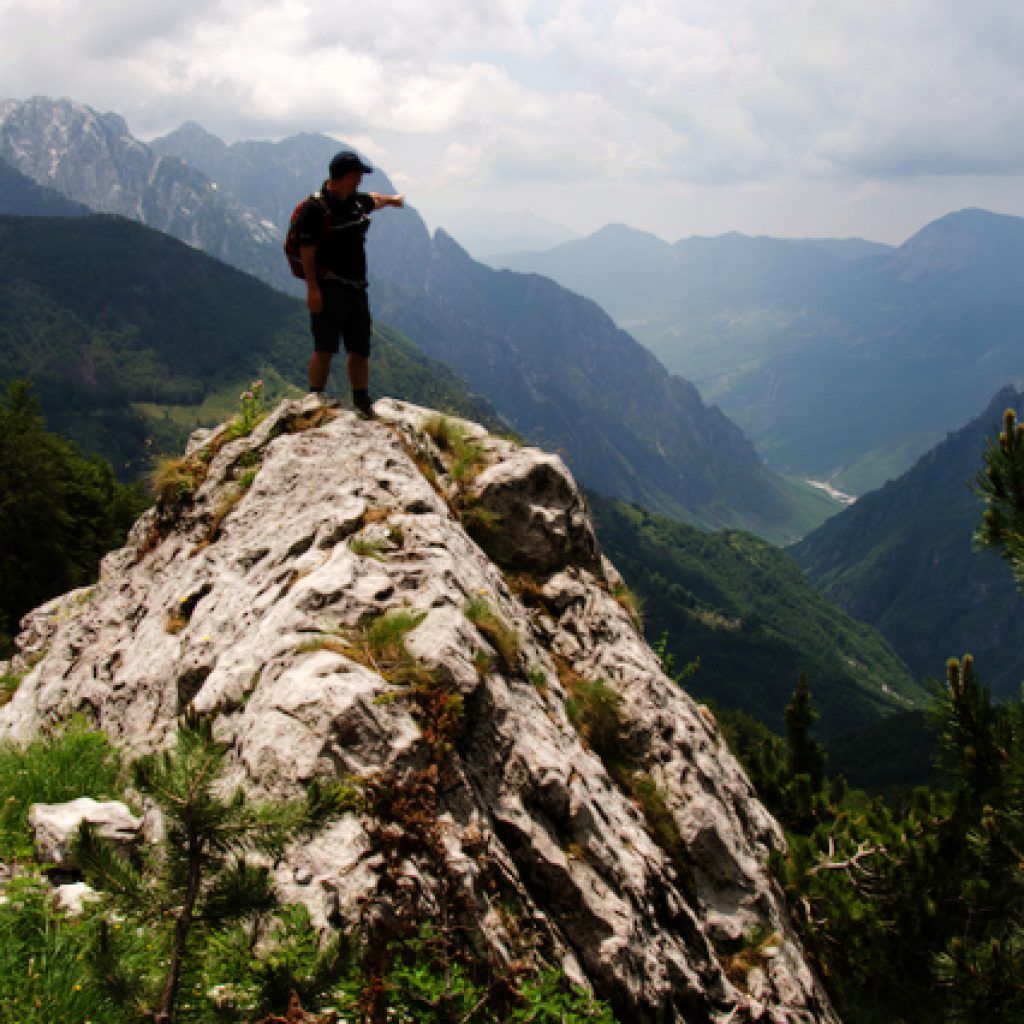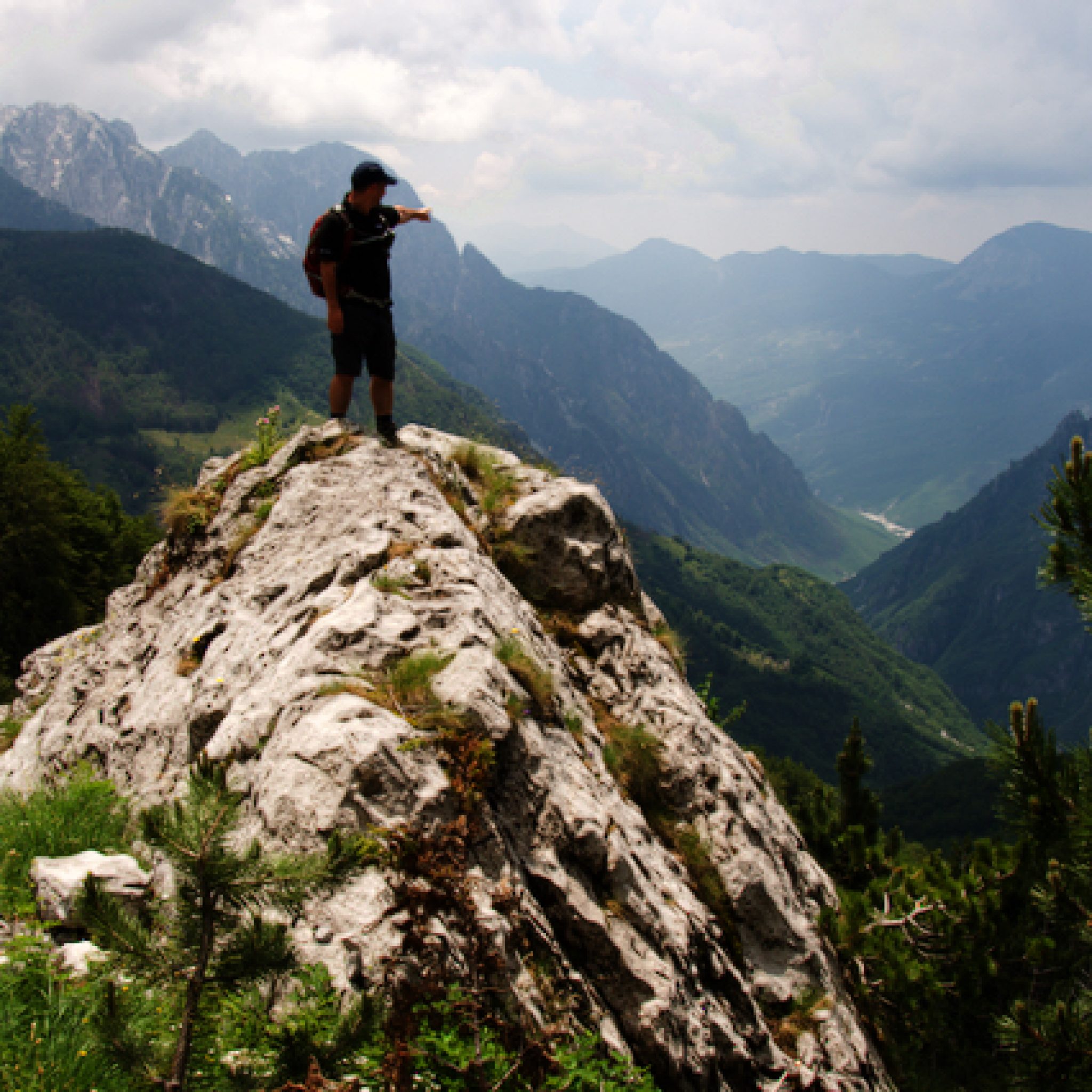 Valbona to Theth and the Valbona Valley National Park
Located in Northern Albania with spectacular views bordered by high mountains and laying by the banks of Valbona River. Valbona Valley National Park became a protected area by the end of 1996. The village nearby is surrounded by guesthouses where you can find accommodation and food. However, as the area is a bit difficult to reach as it's undiscovered yet. So you can book a tour with us and we will help you plan everything.
Lately, the people of the area or people from other places started protesting against building hydropower. The mountains and rivers of Albania are the last wild mountains in Europe. The slogan I am Valbona and Don't touch my Valbone and the court ordered the hydropower construction to stop. However, that remains to the future, what is going to happen in Valbona Valley. This journey will take you to the most beautiful trails that are still not discovered by the crowds, on your journey you will meet beautiful waterfalls and rivers.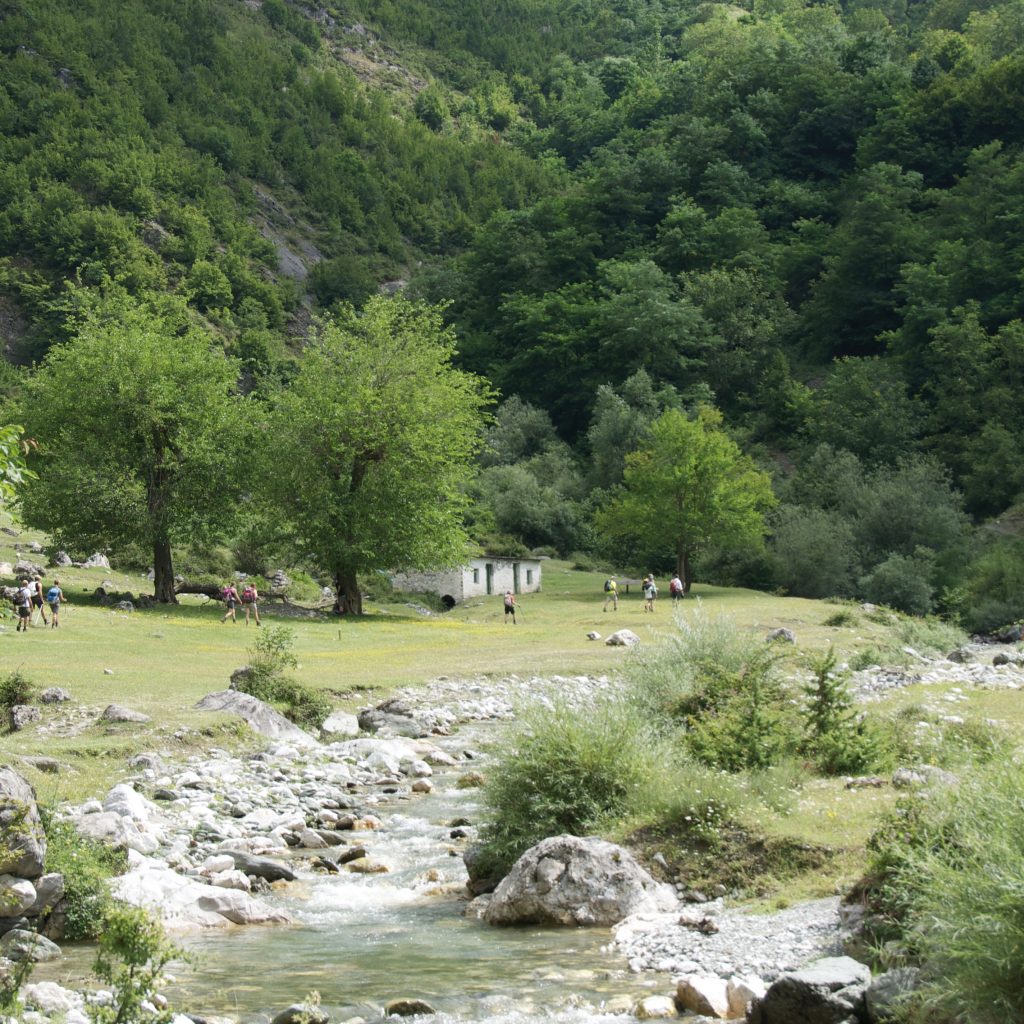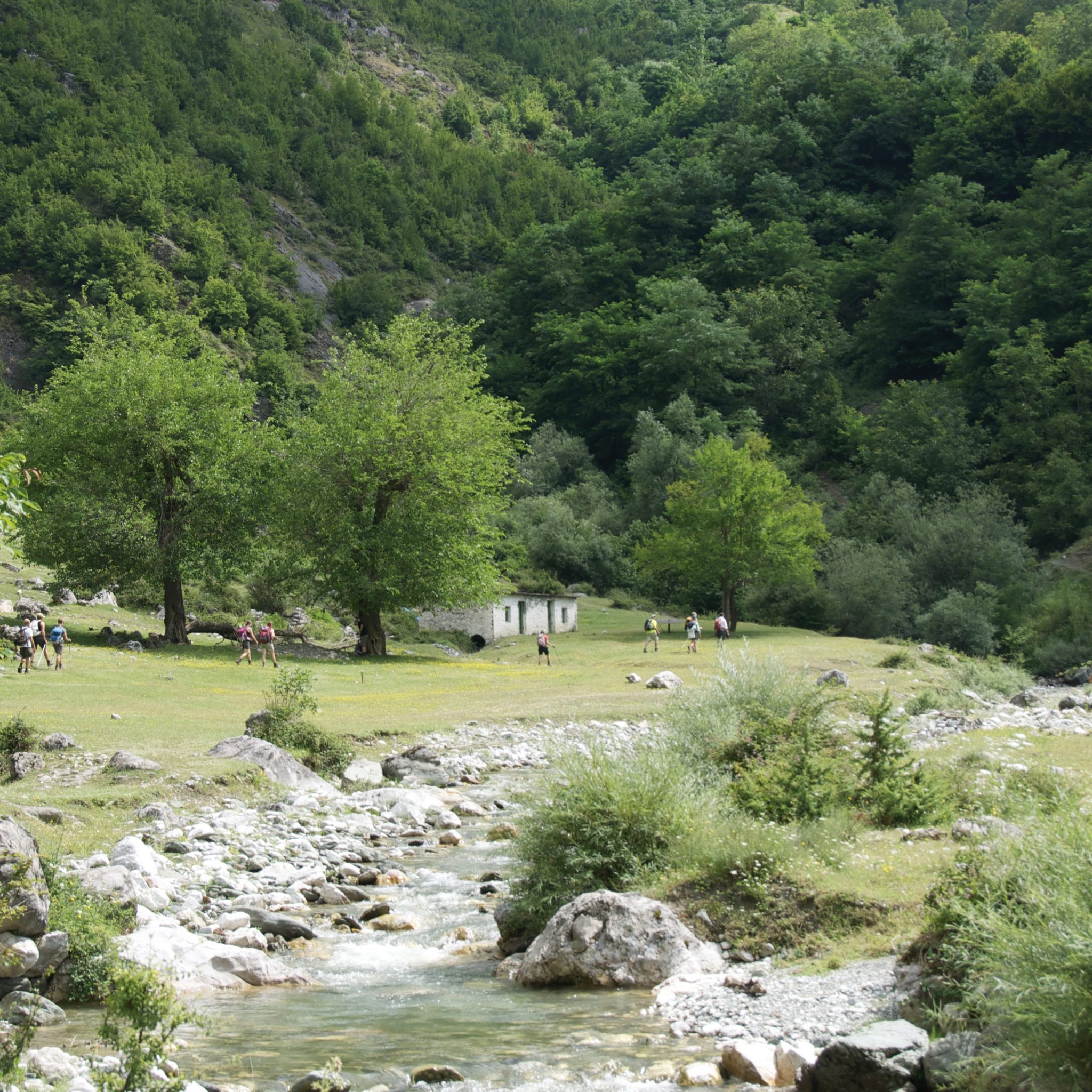 Off road tour from Shkodër to Theth
The most unique mountain village in Albania is very hard to reach as the road to there is mostly by foot or by a vehicle over high passes. The landscapes are magnificent and the hiking routes are great. Just in a few years Theth will be thriving and will be the next big thing in EUROPE. All the while Theth has more than mountains and trees to offer. But that remains to you to discover in one of our trips.
Click here for an off-road tour
https://sondortravel.com/tour-item/jeep-tour-in-theth/
Check also this Day Hike of Theth to Valbona or Valbona to Theth: https://sondortravel.com/tour-item/theth-to-valbona-day-hike/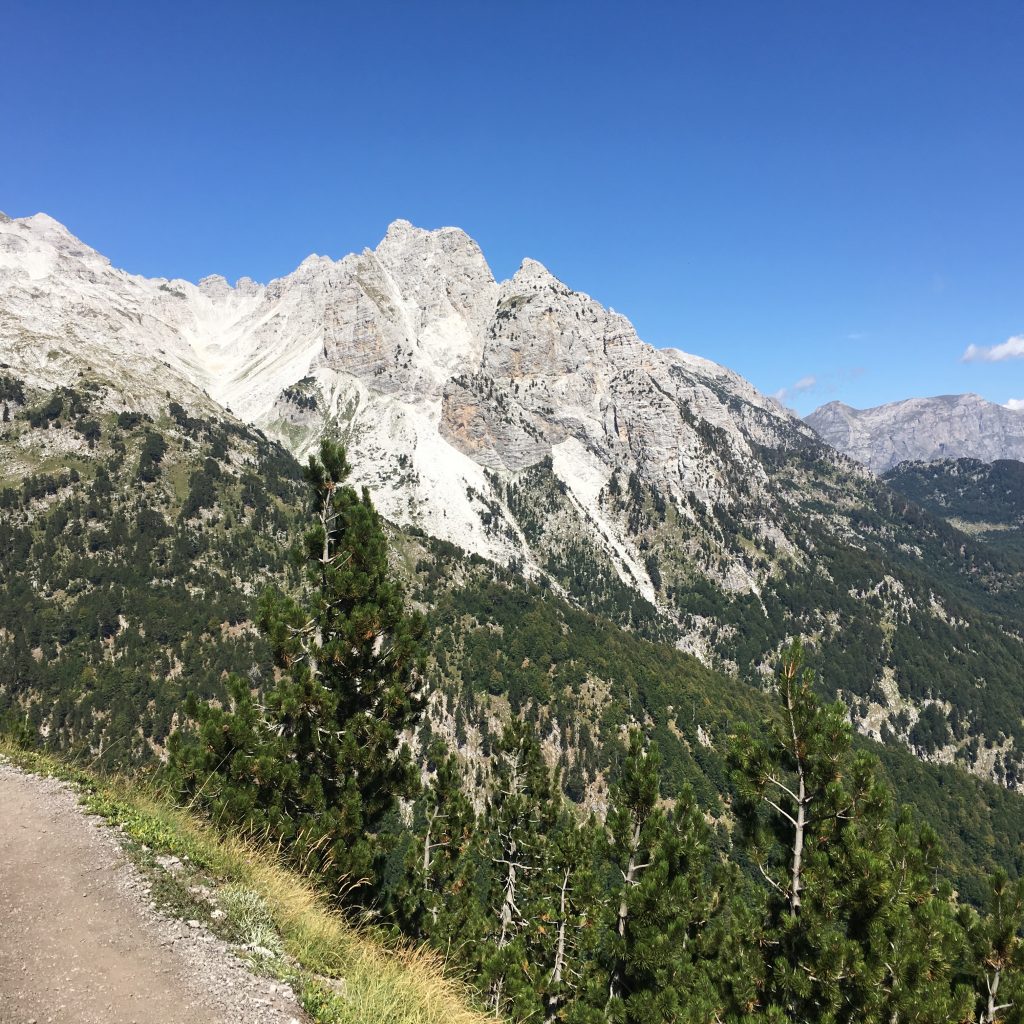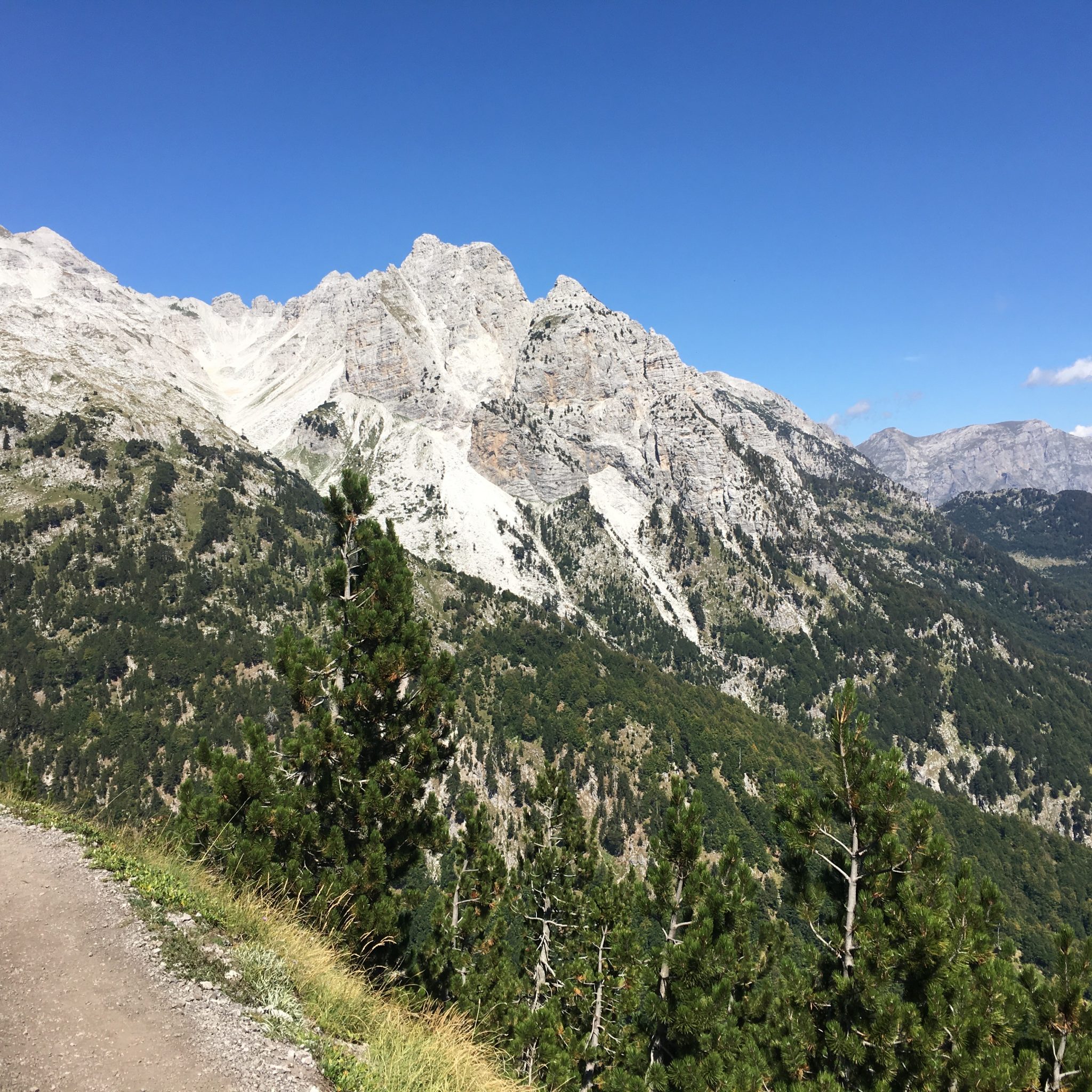 If you take a private trip with us your luggage will be transported by horse (soft bags only). We offer a guide to take you and show you the trail and of course if you need to sleep and enjoy the night, you can always count on us, as we have direct contact and work with some of the best local guest houses.