Albania, in spite of its size, is a country that has a lot to offer. There are many opportunities for hiking Albania tours and trekking tours and other possibilities. The views that accompany these trips you will not be able to see anywhere else. In this article, I'm glad to present some of them.
Rubik hiking Albania trail
In Mirdita, tourists can hike through the tourist and heritage areas of the Rubik area. The trail that offers this is called "Rubik 1". It is easy to follow it because it is marked on all its length and also includes all the necessary infrastructure.
This trail starts at InfoKulla and proceeds with Marub, Ancient Castle, Pictogram, Marianne Graf Point, Bulshize, Bujtina Biba, Church of the Redeem. The terrain offers great views and heritages, This trail is as historical as it is natural and it makes you want to visit it.
In his first hike, a tourist said about the trail that it has been one of the most interesting, safest, most picturesque trips to the Rubik area.
Places to stay when in Rubik.
Kopana voda, near Prizren
Prizren, the beautiful town of Kosovo, is a place of Ottoman Architecture and ancient mosques. Moreover, it also has beautiful churches and cobblestone streets. Under the ruling of the Ottoman Empire, Prizren was one of the most important centers of Kosovo. Nowadays, in Prizren, you can see the old bazaar, the League of Prizren, the Sinan Pasha Mosque, and the small picturesque Orthodox Church located in the center. Also, you can see other important sites.
Kopana voda is a perfect day trip hiking, also appropriate for everyone who wants to spend some more time in nature.
Kopana voda, in Serbian means, dug water. Based on what the local people say, it is called this because of the cold water streaming out of the ground.
How to get there
The starting point for this trail is in Novoselan, a small village inhabited by the Torbesh community.
You start from downtown towards Novoselan (Novosellë). The distance from Prizren to Novoselan is around 7 km (2 hours of walking or 20 minutes by car). Absolutely, the road from Prizren to Novoselan is really beautiful. No need for words because you can see the picture.
You can leave the car in Novoselan near the mosque and start the hike. There isn't any supermarket in this village, so I suggest buying food and drinks in the city of Prizren.
About the hike to Kopana Voda
You can leave the car in Novoselan and then start climbing uphill through an unpaved road. After walking around 2 km, you will have a water source and a beautiful view. After that, you can climb through a forest until you arrive at the mountain huts. Finally, in around 200 meters you will be at the main mountain hut.
300 meters away from this mountain hut you can visit the highest hill. There you will have a lot of panoramic views, like the Oshlak mountain, Sharr mountains range, Accursed mountains range, Pashtrik, and Koritnik mountain. There are 2-3 water sources along the trail, so take 1-2 liters of water.
Points of interest
Starting point: Novoselan, Prizren
Starting altitude: 1'028 m/alt
Highest altitude: 1'603 m/alt
Elevation gain: 591 m/alt
Check out the wikiloc map, you can download and follow it.
Do you like walking holidays? Check these tours.
Pashtrik peak hike – Hiking Albania and Kosovo
Pashtrik mountain, this mountain is located at the point where Albania meets Kosovo. Moreover, it is a legendary mountain as it was important during the last war in Kosovo in 1999. A lot of hostilities were made in this territory. Pashtrik is the "third" high mountain near Kukes (next to Gjallica and Koritnik ). The other two are higher, but the views from Pashtrik are more dramatic. The upper reaches of Pashtrik are rockier than those of the other two.
This mountain is one of the most beautiful free-standing mountains, and it can be seen from the city of Prizren, Gjakova in Kosovo, and Kukes in Albania. Definitely, you can climb this mountain in any season.
Pashtrik is more often climbed from the Kosovo side; there is a shrine on the summit. The last 150 elevation-meter to the summit area are marked with white dots and red circles, presumably owing to the activities of a Kosovo mountain club. For a climb from Albania, it is best to start from Kishaj, in Has district. This trail includes hiking Albania and Kosovo.
A quick description of the hike
Considered a moderate hike but a long trail. First, you will go through a forest that leads to the border between Albania and Kosovo. It is a moderate hike but a long trail. Firstly, you will go through a forest, until you get to the border between Albania and Kosovo. There you can soak up panoramic views of green forests and beautiful landscapes. After that, you will walk through another forest.
Then, you will follow a beautiful rocky path, until you reach a mountain hut. There you can have a rest before summiting. Only one hill is left after that mountain hut. People who have been there, think that it is the most difficult part! When you reach the summit, the views are amazing. You can see the city of Prizren and Kukes, also Gjallica and Koretnik mountains. Plus, a part of the Sharr Mountains range. It is great. At the top of the Pashtrik mountain, you will find Pashtrik shrine. It is too famous for that zone. The distance of this trail is 28.36 km.
This is a very dry mountain, therefore please take around 2-3 liters of water.
Points of interest
Starting point: Kushnin Has, Kosovo
Starting altitude: 488 m/alt
Highest altitude: 1'987 m/alt
Elevation gain: 1'499 m/alt
GPS and trail maps
The map and trail information is generated by www.wikiloc.org, based on GPS information, collected from the actual hike. Waypoints can be downloaded to a GPS device from Wikiloc. Also, if necessary, use GPSBabel to convert GPS data to different formats.
Google Earth: You may also view the trail in 3D by viewing it directly in Google Earth. You need to have Google Earth installed on your computer. Then, activate "wikiloc" in the "Gallery" menu in Google Earth.
Check out the wikiloc trail map, you can download and follow it.
Markaj (Koman Lake), Curraj i Epërm, Theth (Dukagjin) – Hiking Albania
Main transit path (red), connecting the Koman Lake and Theth through Curraj i Epërm.
The hiking Albania route of Curraj i Eperm and Theth is approximately 33 km long and the recommended time for the whole route is 3-4 days. The Qafa e Boshit pass is located 1900 meters above sea level. Also, it should be noted that there is usually a lack of water in the segment from Curraj i Poshtëm to Curraj i Epërm. The last place where it is possible to refill the bottles with water is in Qereç (read "Cherech"), close to the caves. There is no other possibility until you reach the Boshi pass (Qafa e Boshit), so don't even try hiking without refilling your bottles! Little streams of water might appear if the snow is melting.
Qereç – Dragobi (Valbonë) – Hiking Albania
The red trail going through a mountain range at 2096 m, into the valley of Valbone.
Qereç-Mulaj in Kukës is a town located in Albania about 72 m (or 115 km) north of Tirana, the country's capital place. There are several Unesco world heritage sites nearby. For example, the closest heritage site is Medieval Monuments in Kosovo in Serbia at a distance of 27 mi (or 43 km). Being here already, you might want to pay a visit to some of the following locations: Lekbibaj, Valbone, Fierze, Fierze, and Nicaj-Shale.
Let's get back to the trail.
In Dragobi, this hiking Albania trail connects to the main route to Valbonë. The segment from Qereç to Dragobi is extremely demanding and requires the use of GPS navigation and a supply of water from Qereç for at least 2 days! Definitely, not suitable for beginners. It takes at least 2 days because is 13 km long. The highest point is 2069 m (Qafa Ndrockes) and the lowest point is 553 m (Dragobi).
Check the map on Wikiloc.
Also, check the updated weather here.
Theth to Valbona hike – Hiking Albania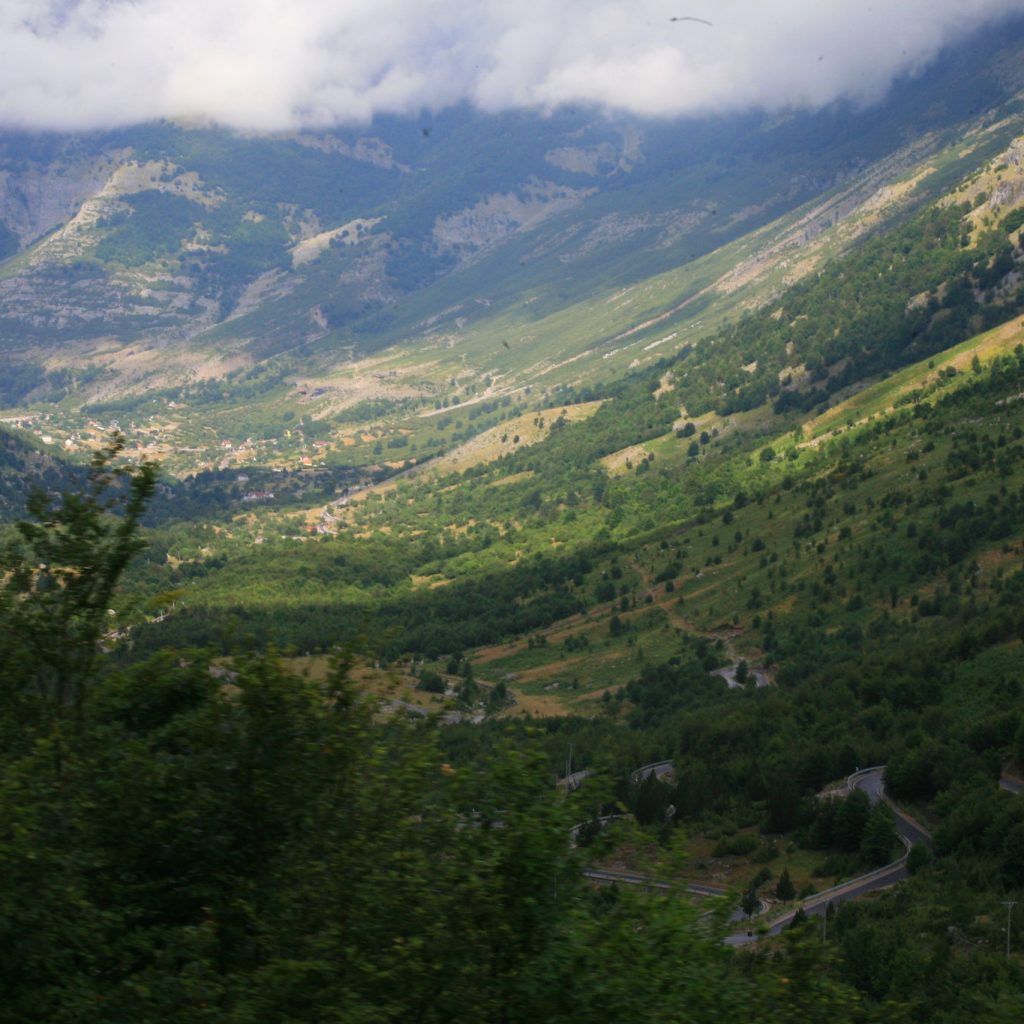 Firstly, I have to say that it's best to check the weather carefully as this hike might be dangerous in a thunderstorm, as you're hiking at the highest peaks in Albania. It's good to give yourself an extra day in case of poor weather.
In fact, this trail is well-trodden and clearly marked, leading straight out of Theth, over the pass, and down the gentle slope toward the Valbona Valley.
A quick description of the trail
From Theth the trail climbs uphill through shaded forests until you're almost at the saddle. Furthermore, a couple of small refreshment stops are a great spot for a break. Once at the pass, panoramic views sprawl out and it is finally time for a proper break. Then, you will see a rubbly path peeling off to the right, which leads to the actual summit and it is here you'll find the best views.
Though some hikers chose to skip this short detour, it's well worth a visit. The way down follows a gentler trajectory, zigzagging across loose scree and open meadows to the parched riverbed of the Valbona Valley. The descent winds downhill in direct sunlight and can become blindingly bright when traversing the glistening riverbed so a pair of polarized sunglasses are a good idea.
Soon enough, patches of brown brick begin to peak through the trees and the buzz of cars greets your ears and you know you've arrived in Valbona.
Hiking Time: 7 hours
Difficulty: Hard – Steep and Long Trail
For the most part, the terrain on the trek is rough but manageable. Most of the way you'll be walking on stone 'paths' that are relatively flat and even. Also, there are parts where you're clamoring over larger rocks and some downhill portions over shale that are very slippery and hard on the knees.
If you want to hike and enjoy Valbona check this tour.
Valbona to Çerem hiking trail – Hiking Albania
To get to Cerem, one can either hire a taxi or hike along the gravel road for 20 kilometers from Fusha e Gjes Hotel to Cerem. The mule track, the shortest way, used to connect the two villages, but it has been destroyed by erosion. There are no accommodation possibilities along this trail so you cannot separate the hike.
Cerem is a small village, largely abandoned, located approximately 17 kilometers northeast of Valbone. At the moment it is populated only during the summertime by shepherds. The village is empty during the wintertime due to poor weather conditions. The road which connects the village with Valbone and the city of Bajram Curri is blocked by snow during the winters.
Trail distance: 19.8 kilometers
Elevation min: 670 meters max: 1,156 meters
Cumulative height uphill: 541 meters, downhill: 382 meters
Difficulty level: Easy
Time: 7 hours
Markings: White Red White
A quick description of the hike
Just as I mentioned before, the hike starts at Fusha e Gjes Hotel. You can follow northwest along the main unpaved road which connects Rragam with Valbone. Then, approximately 1 km from the hotel, you can cross a bridge. A few km further on, you will find the Tourist Info Center of Valbone.
Most of the guesthouses and other facilities are located here. Take the main road and then, after approximately 7 km, bear left at the junction to Cerem village. By taking a right turn at this junction, the route takes you to Dragobi village and then to Bajram Curri city. You can take a left turn at the next junction and follow the gravel road. Then, after some km, you will cross a stream flowing over the road. You can follow the gravel road for 2 km and then cross the river and approach Cerem center.
Cerem is a good option for staying overnight or taking a break at one of its hospitable alpine huts.
Grunas canyon – Hiking Albania
Thethi is often referred to as the Chamonix of the Albanian Alps because it is said that it welcomes up to 10,000 visitors a year. While Thethi certainly is a top destination for climbers and alpinists, it is a good destination by itself. The hike to Grunas canyon leads past some of Thethi's architectural and scenic highlights, but it is not a leisurely stroll through the village either.
It takes approximately an hour to get to the waterfall from the center of Theth Village. But the hike is spectacular, taking you along a spectacular landscape of rivers, pastures, and mountain slopes.
This is not a stroll through the village of Thethi only, but a solid morning or afternoon hike. Cumulatively, more than 200 meters have to be ascended. Importantly, there are many houses offering refreshments, which obviates the need to carry a lot of supplies. Apart from this, a guidebook is currently available but only in German, and the waypoints need to be converted and entered manually. Here, they are ready to download here.
Zeza Canyon – Hiking Albania
The Ishmi River Canyon, or better known as Zeza canyon winds its way between Kruja and Gomnit mountains. There are two bridges over the Ishmi River: one at the entrance to the canyon, and one in the middle of it. They show the importance of the old trading route. In ancient times, parts of the track used to be paved with big cobblestones.
Zeza canyon is wild and dramatic because it zigzags between the mountains. You can visit it by following Endrit's trail. Also, you can climb the eastern wall of the canyon, cross to the other side, and returned back through the Zeza Canyon. This hike offers dramatic views towards Kruja mountain, and over the canyon, from close range. These give the hike a truly alpine feeling.
The hike generally follows existing trails, though they tend to be barely visible on the upper north end of Gomnit. When reaching the crest of the eastern wall, the drops to the east appear almost vertical. Just continue a few meters along the crest and a steep but very manageable path will lead down.
Hiking Via Dinarica White Trail – Hiking Albania
Via Dinarica is a mega trail that extends from Albania to Slovenia. The largest part of the trail slices diagonally from southeast to northwest. The Bosnia and Herzegovina section is perhaps the greatest of all. The mountains there offer superb hiking with dozens of challenging routes that start from as low as 200 m and ascend to the rugged karst peaks over 2,200 meters. White water rafting on the Neretva, Tara, or Una Rivers is an adventure you cannot forget.
The southern Blue Trail near Trebinje weaves in and out of the highlands between Herzegovina and Montenegro, always followed by the fresh smell of the Adriatic Sea. While, in the north, you can see the isolated valley of Blidinje Nature Park, where hikers, bikers, and skiers alike gather to admire the wonders of nature. Of course, it is truly Herzegovina's very own 'wild west.'
Don't miss this trail
Mother Nature does most of the work but there are a lot of companies and small businesses along the trail that are dedicated to providing top-quality nature experiences in some of the most beautiful environments in Europe. You'd be doing yourself a great injustice by missing out on what the Via Dinarica has to offer. Before the crowds arrive, explore the majestic wilderness of the Dinaric Alps whether it be hiking, biking, rafting, or skiing adventures. As nature lovers, you'll treasure it – we promise. As responsible travelers, you will be making a meaningful contribution to the protection and preservation of the highland cultures and what is certainly the last true wilderness frontier in Europe. Via Dinarica, it's more than just a trail.
White Trail – Hiking Albania adventure
Via Dinarica White Trail follows the natural flow of the highest peaks of the Dinaric Alps. Also, the White Trail includes all of the highest peaks in each respective country. Although there are a plethora of activities along this head trail, such as mountain biking and rafting, its main function is hiking.
This is the adventure of a lifetime, but get yourself prepared well in advance. Via Dinarica is more than a trail, and diversity is its second name.
Via Dinarica White Trail map.
Ready for Hiking Albania? Check these hiking tours.
Some more here!