Albanian Riviera Beaches – Drymades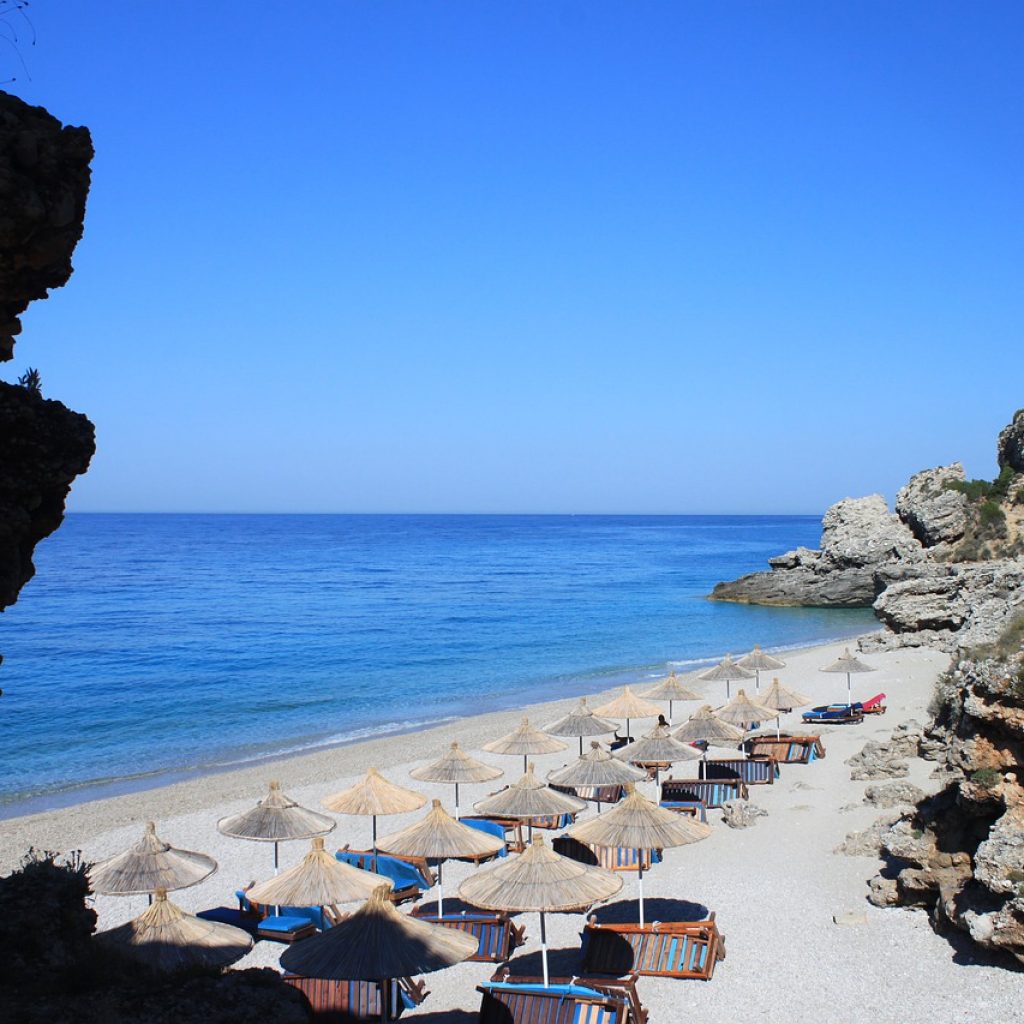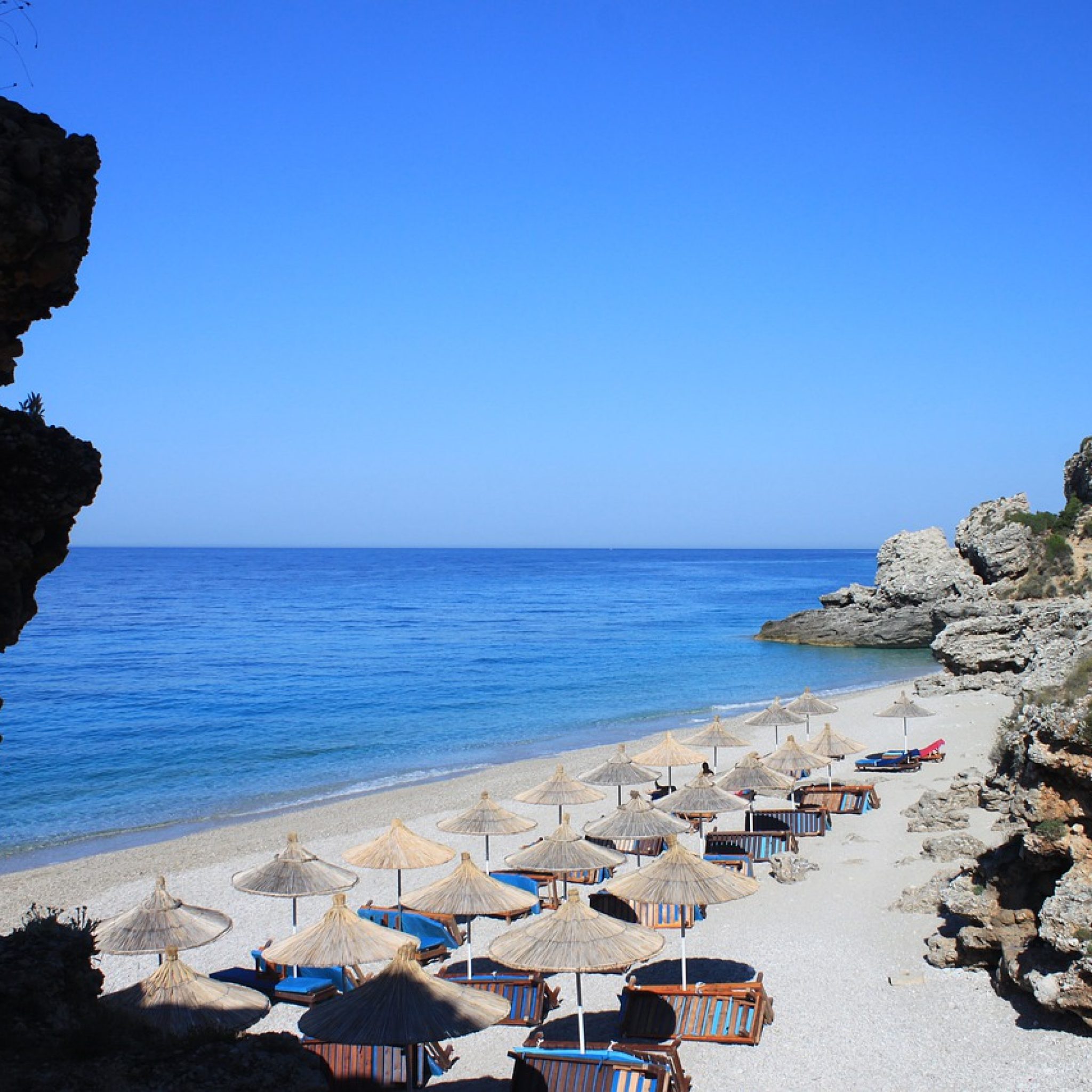 Drymades is one of the most stunning beaches of the Albanian Riviera. It is a small bay close to the village of Dhermi with a large rock that divides the sandy beach from the pebbly one. This place is one of the most relaxing and cozy in the area.
Himara
https://www.instagram.com/p/Bwy4oW5hf6v/
Himara is a small, sunny town located in southern Albania near Saranda. Even taking into account the surrounding villages, the population only comes to around 28,000 people. These villages, as well as the town itself, will offer you some of the best beaches along the Albanian Riviera.
Best Albanian Riviera Beaches – Gjipe Beach
https://www.instagram.com/p/BsaClUlnIta/
Distinguishing Gjipe Beach is its fine and clean sand, small caves, and its coastline. You can reach it by sea or road. The road is relatively new and runs by the Monastery of St. Theodore. Gjipe Beach is nestled down between the high cliffs of a canyon.
At first, the overgrown canyon is not very deep. As you walk, however, it becomes deeper and narrower. The canyon's trees, with their thick branches bathed in sunbeams, seem to be straight out of a fairytale. It's quiet, the only sounds you're likely to hear are birds singing, a murmuring brook, and cicadas. Even if you are only planning to go on a "nice walk" to the beach, it's best to take some light climbing gear.
Read here for detailed instructions on how to get to Gjipe.
Best Albanian Rivera Beaches – Livadhi Beach
https://www.instagram.com/p/BwHgNUklyvn/
Livadhi Beach is the longest beach in Himara and is located just north of the town. The beach is famous for its deep blue waters, coarse sand, and surrounding countryside. A large area surrounding the beach is filled with countless olive and orange trees. The coastline is around 1.2 km long, while the sandy beach itself is 60 meters long.
This peaceful beach is mostly visited by campers and families. There are long stretches of umbrellas and loungers, but also plenty of free space further down. The left side of Livadhi beach is called Apelistra and the right side is called Gonia. Gonia is taken from the Greek word for "angle" as the beach looks like an angle. There are a lot of restaurants serving seafood, Mediterranean cuisine, and cafes at the front of the beach and many hotels and apartments for rent surrounding it. Watersports, including jet skis, paddle boats, canoes, and boats are also available.
Check out this site if you're looking to stay in a hotel in Livadhi.
Best Albanian Rivera Beaches – Jale Beach
https://www.instagram.com/p/Boj3OjlnDpa/
Jale Beach is one of the most beautiful beaches along the Albanian Riviera. If you have never been to Jale, don't miss the chance to explore it this summer. A five km road starting in Vuno Village on the right side of the Vlora-Saranda national road takes you to Jale Beach. It runs among centennial olive trees and down to a small bay on the coast of the Ionian Sea. The sea in this area is in its cleanest and most stunning form. Along the beach, you can find several bars, restaurants, and even pubs. The blue water, the half-moon-shaped bay, the surrounding olive groves and beautiful sunsets are the key traits of Jale Beach.
For many years, Jale used to welcome the officers of the Albanian armed forces and their families during the summer season. The hotel where they used to stay is on a small hilltop and comes with a commanding view of the Ionian Sea. The communist regime, Enver Hoxha, originally built this as a summer residence for himself before offering it for use by his army. Now, Jale is the destination for all types of vacationers. Some come and anchor their yachts in the bay, others backpack in and sleep in tents in local camps.
Follow this link if you are interested in kayaking opportunities in Jale!
Best Albanian Riviera Beaches – Llamani Beach
https://www.instagram.com/p/BX-H41HlE-V/
A wonderful beach lies between the town of Himara and the village of Potam. The rocky hills surrounding Llamani Beach preserve it from the brunt of tourist activity. That said, the main attractions are the nearby islets where fresh seafood restaurants are located. You can easily reach them by hiring a boat.
Best Albanian Riviera Beaches – Filikuri Beach
https://www.instagram.com/p/BC2SiZHtPOm/
High cliffs surround Filikuri Beach and its small bay. It is located between the beach of Potam and the beach of Llaman. Although isolated, you can reach the beach by boat or kayak, which you can hire from different places. If you plan to spend an entire day in Filikuri, make sure to bring enough food and plenty of water with you because there are no shops on the beach.
Best Albanian Riviera Beaches – Dhermi Beach
https://www.instagram.com/p/BlOgf7dndW1/
Dhermi beach is one of the most famous along the Albanian Riviera. Most of the beach is a dazzling strip of white rock several kilometers long. Deep blue water laps this pristine shore. The beach is very quiet, but during the summer months, it gets quite busy. That said, the beach is long enough for those who want to find a quiet spot away from the crowds even in mid-August. For explorers, there are lots of coves and smaller bays further along the beach, including the famous Drymades Beach.
Best Albanian Rivera Beaches – Potam Beach
https://www.instagram.com/p/Bmlnwo8guAh/
Potam Beach is located to the south of Himara and is a very good alternative to the more remote beaches as it is close to the city center. It offers better and faster services for families, both for housing and food. There used to be a river (potam in greek) in this area which is how this beach got its name.
Best Albania Riviera Beaches – Porto Palermo Beach
https://www.instagram.com/p/Bn0X_daHrDW/
The Porto Palermo beach is near the castle of Porto Palermo. This small bay, with its white cliffs and pool-like sea, is very beautiful. Although beautiful in its own right, this beach is a 2-for-1 location as you also can visit this castle which the famous Ali Pasha built in the 19th century.
Best Albanian Riviera Beaches – Lukova
Lukova is one of the best Albanian Riviera Beaches, it is located after the village of Borsh. It is one of the prettiest beaches of the Riviera, a dazzling strip of white rocks and it has small restaurants that offer great food and turquoise waters.