Albanian Food Recipes
We decided to help everyone with a list of top foods in Albania. What should you try when in Albania? We have chosen the easiest Albanian food recipes for you to follow.
The not so traditional dishes but top foods in Albania
Pumpkin Soup
This soup is very easy and very tasty, and it is recommended for children of any age. If you want you can add meat broth. But this recipe we have prepared is one of the vegan Albanian food recipes.
The pumpkin soup may not sound very traditional, but it is one of the top foods in Albania.
Ingridients
300 gr pumpkin
½ Onion
3-4 pieces of garlic
Choriander, salt, pepper
2 tbs butter and 2 tbsp olive oil.
Preparation:
Peel and cut the pumpkin into small cubic pieces. Clean, and cut the onion and garlic into pieces. In a pot, add the butter, oil and veggies. Stirfry them in low heat for about 20 min.
After, add 1 glass of water, salt, pepper, coriander. Let it boil for at least 35 minutes, then put it in a blender so it becomes creamy and it is ready to serve it.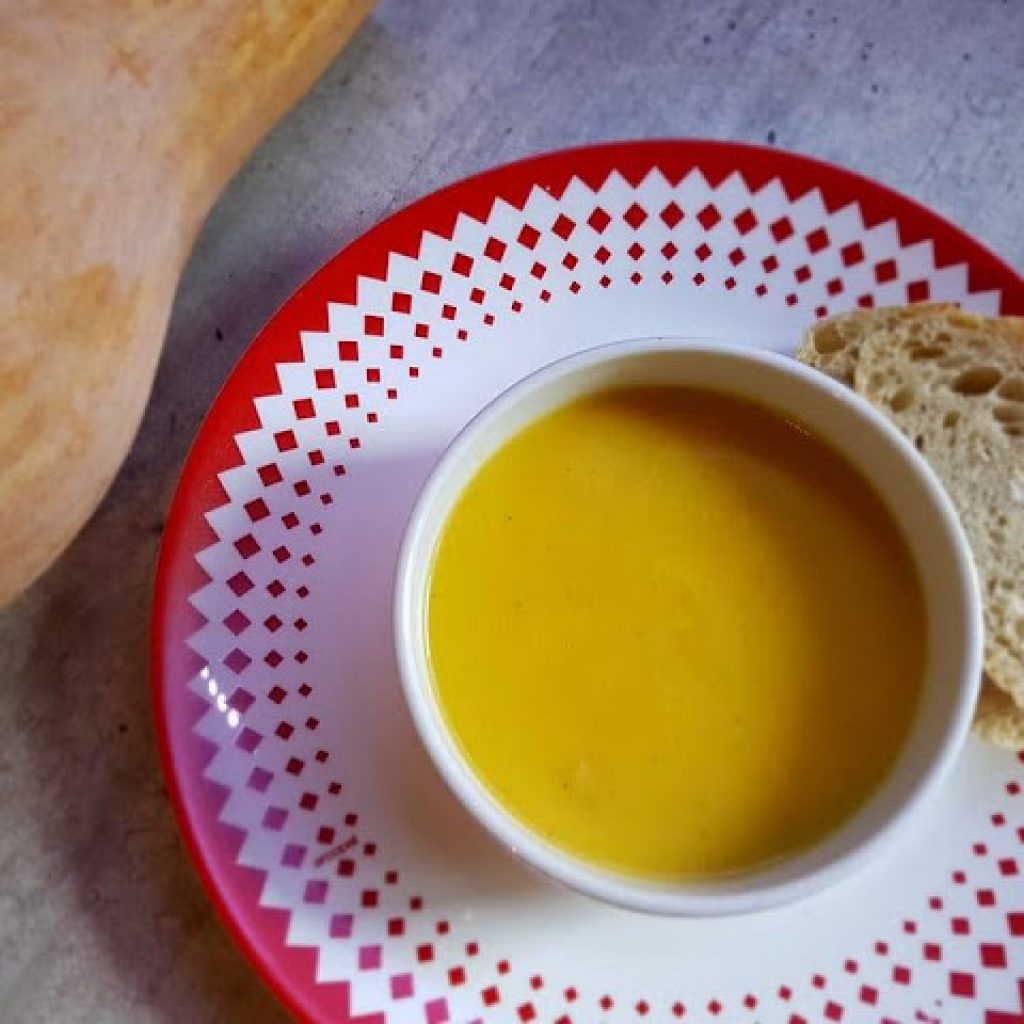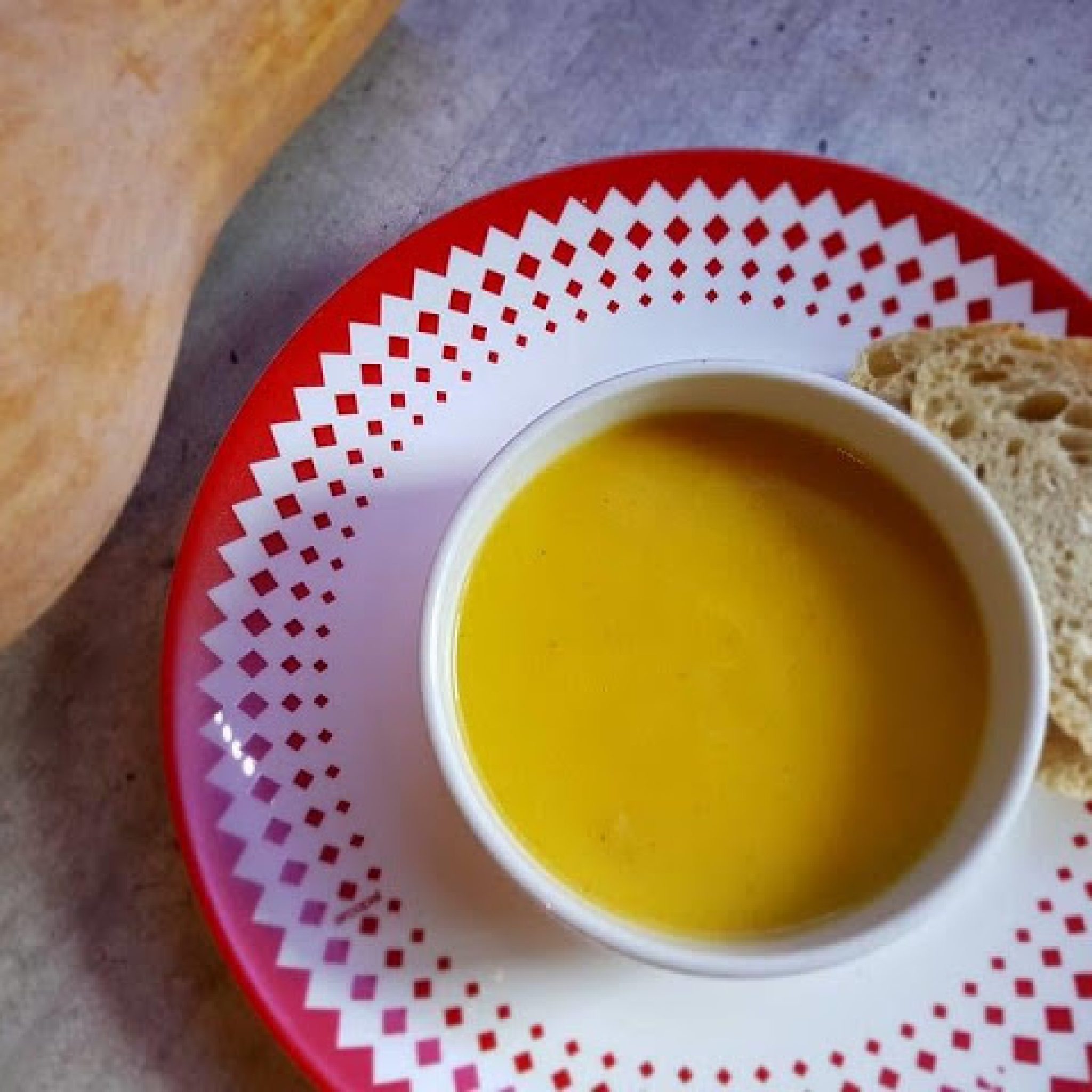 Roasted chicken and potatoes with thyme
This recipe is very much traditional, and it one of the top Albanian foods. Every Albanian family makes a roasted chicken and potatoes dish at least once a week. What makes it so special is thyme. This simple Albanian food recipe will be a feast for your taste-buds.  Thyme can be easily found at the supermarket.
Ingredients
1 whole chicken
1.2 kg potatoes
3-4 carrots
1 onion
1 tbs olive oil
Thyme, Pepper, Salt
Preparation
Cut the chicken into two pieces, and put it into a pot, with low heat so it can dry its liquids. Make sure the pot lid is closed so the process is slower and the taste remains in the chicken and its meat is slow-cooked.
Peel the potatoes, wash them, and cut them into 4 to 6 pieces depending on their size. Boil the potatoes in saltwater. (The potatoes should be boiled until the fork can get easily through them, but not as much as to be easily crushed.
Drain the potatoes from the water after they are ready, add them to the casserole, then add chopped onion, thyme, salt, pepper, olive oil and stir them so they mix. Afterward, add the chicken on top of the vegetables, last but not least add butter and ½ glass of water.
Cover the casserole with aluminum foil and put it in the oven. The heat must be 220°C, let it cook for 30 minutes, then remove the aluminum foil and let it cook for another 10 minutes.
After that the casserole is ready.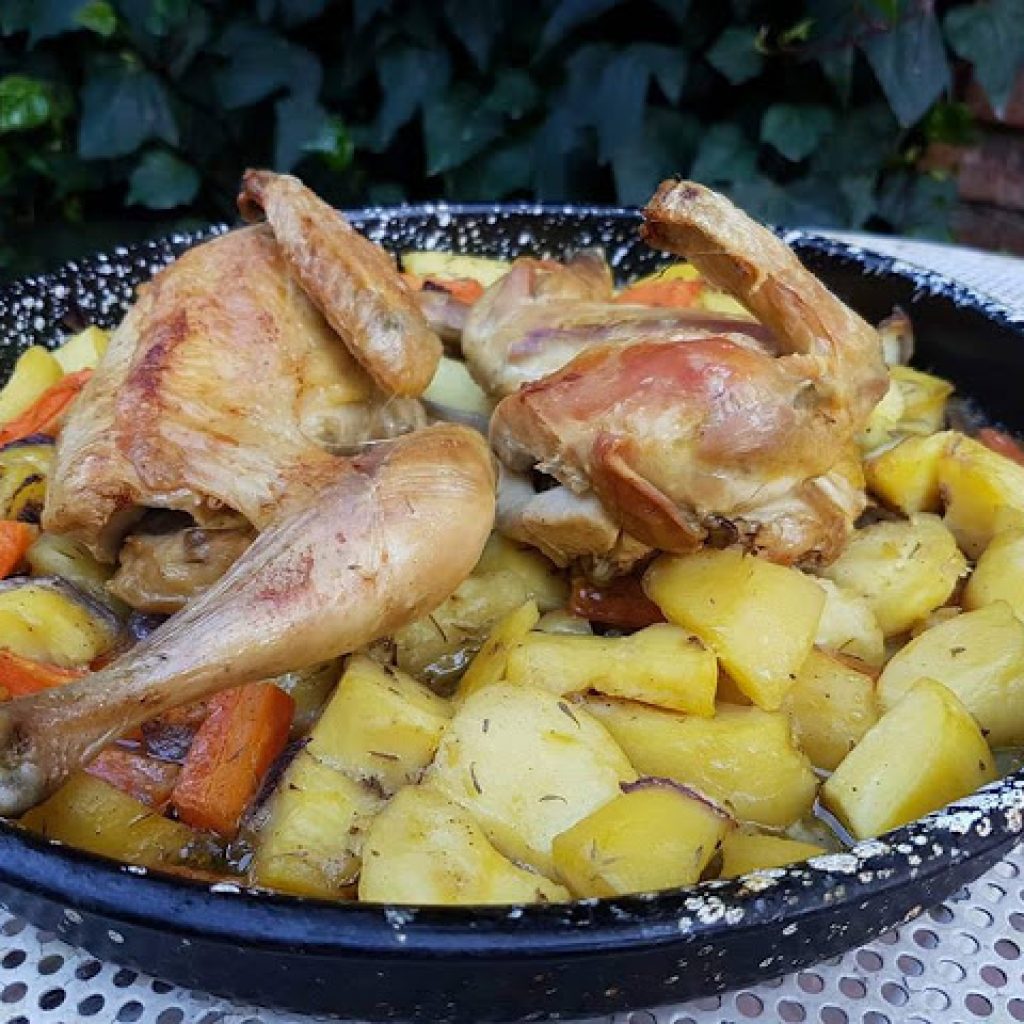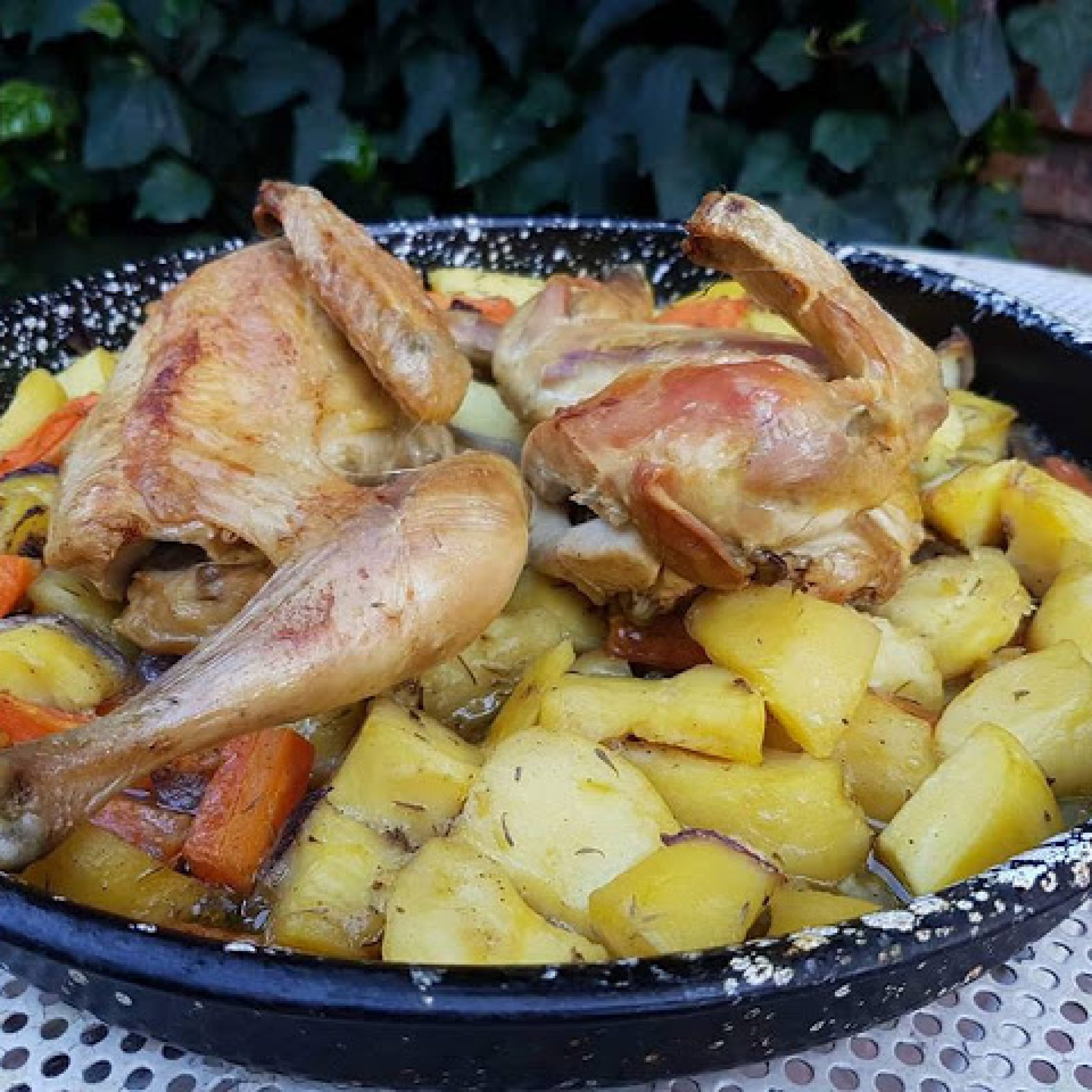 Follow Bonbon Taste for more recipes.
PASTICE
This is one of the most non-traditional top foods in Albania. It is one of our favorite foods and it has one of the easy Albanian food recipes.
Ingredients
6 (six) eggs
2 cups of milk
Pasta of your choosing (We usually use Fettucine)
Feta Cheese
Olive Oil
Salt
Pepper
Preparation:
While you preheat the oven to 350 degrees, start boiling your pasta. Cook it till it is al dente because it will continue to cook in the over so, you don't want the pasta to turn into mush.
While the pasta is cooking, begin making the mix in a separate pan. Mix together the eggs, milk, salt, pepper and oil. I purposefully left out how much feta cheese to use because everyone puts in their desired amount.
I used about a cup and a half of crumbled feta. Mix it in but make sure you leave the feta in chunky crumbled pieces.
Once the pasta is al dente, add it to your egg and feta mix. Keep mixing till all the pasta is coated and spread out evenly.
Now place it in the oven and let it cook for 45 minutes or till the top is golden brown. Your nose will be the first to let you know when it's done!
You can let it cool a little or you can eat it right away. Either way it will be delicious!
This is one of the Albanian food recipes that belongs to Albanian Food
You can read more about top foods in Albania and the best Albanian food recipes in the Albanian Food Blog
Top foods in Albania – Albanian Burek Recipes
Below we have listed the ultimate top foods in Albania, the ones that take the biggest part in the Albanian Cuisine, the traditional Albanian foods.
Byrek/Burek Recipe
What is a list of top foods in Albania without the most traditional Albanian Burek recipe? Everyone loves Albanian Burek, this is why we will show you different burek recipes from different Albanian people who are very passionate about cooking.
Byrek Misri/ Corn Burek
This is one of those stick to your bones and makes you feel good all over dishes. Think of it as American corn bread but packed with spinach, green onions and cheese. It's very easy to make and can last a few days so, make a large batch if you can.
Ingredients
4 cups spinach (either frozen or finely chopped fresh)
1 quart of milk or less (add the milk till you get a pudding type consistency)
2 eggs
3 cups of corn flour
Six green onions
6 oz of cream cheese (or feta cheese if you prefer)
1 cup butter room temperature
Salt to taste
Preparation:
First start by chopping green onions and preparing the spinach.
Then, in a large bowl slowly combine milk and corn flour. Mix vigorously while pouring to avoid clumping.
Now mix in the following ingredients: the eggs, spinach, onions.
Cut the butter into small cubes and throw them into the mix. Then crumble the cheese in as well. If you are making it with cream cheese use a small spoon and scoop in small pieces of cheese in. A little salt for taste and you are done and ready to bake!
Pour the mixture into an oiled pan and bake for one hour at 400 degrees uncovered.
The dish is done when it is a solid mixture and golden around the edges. Let it cook for about 15 minutes and then serve.
This can be served as a main dish or a side dish. Either way I know you will love it as much as I do! Enjoy!
This and more Albanian food recipes belongs to Albanian Cuisine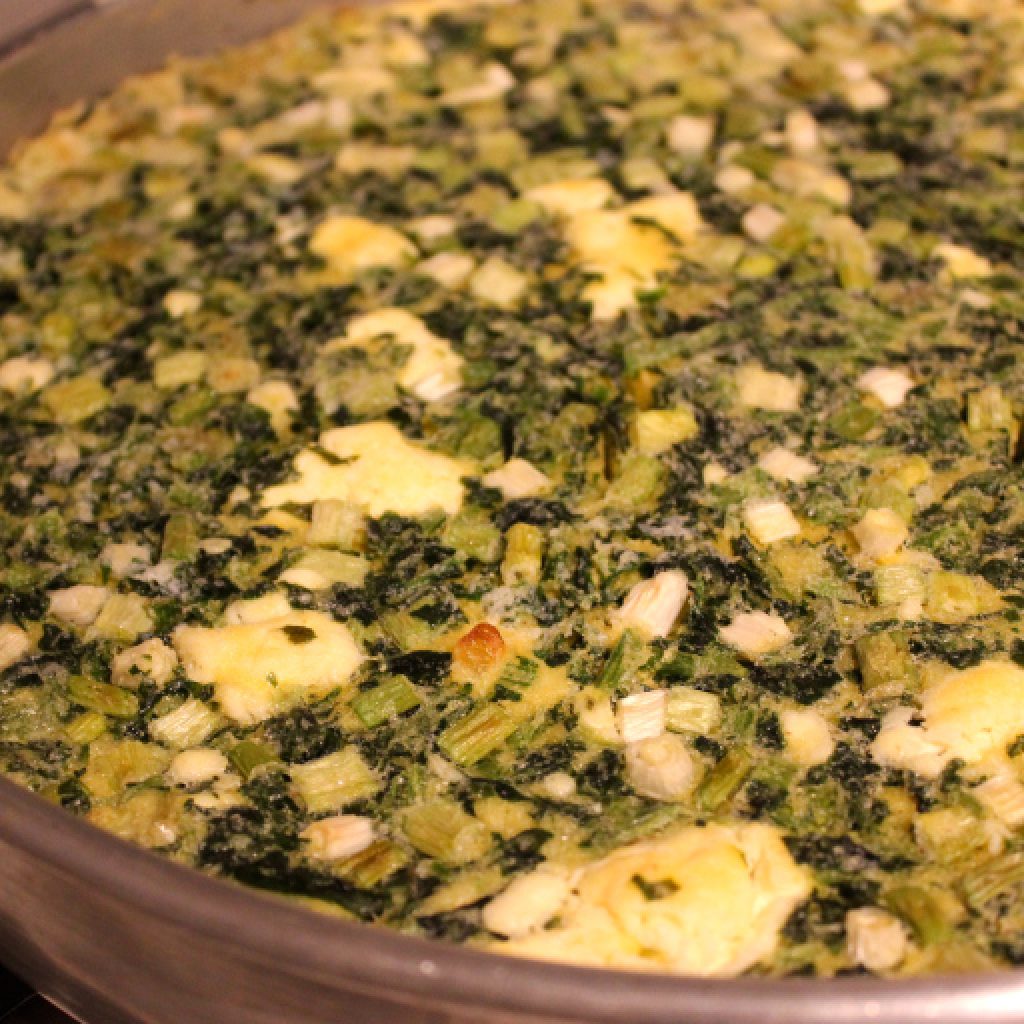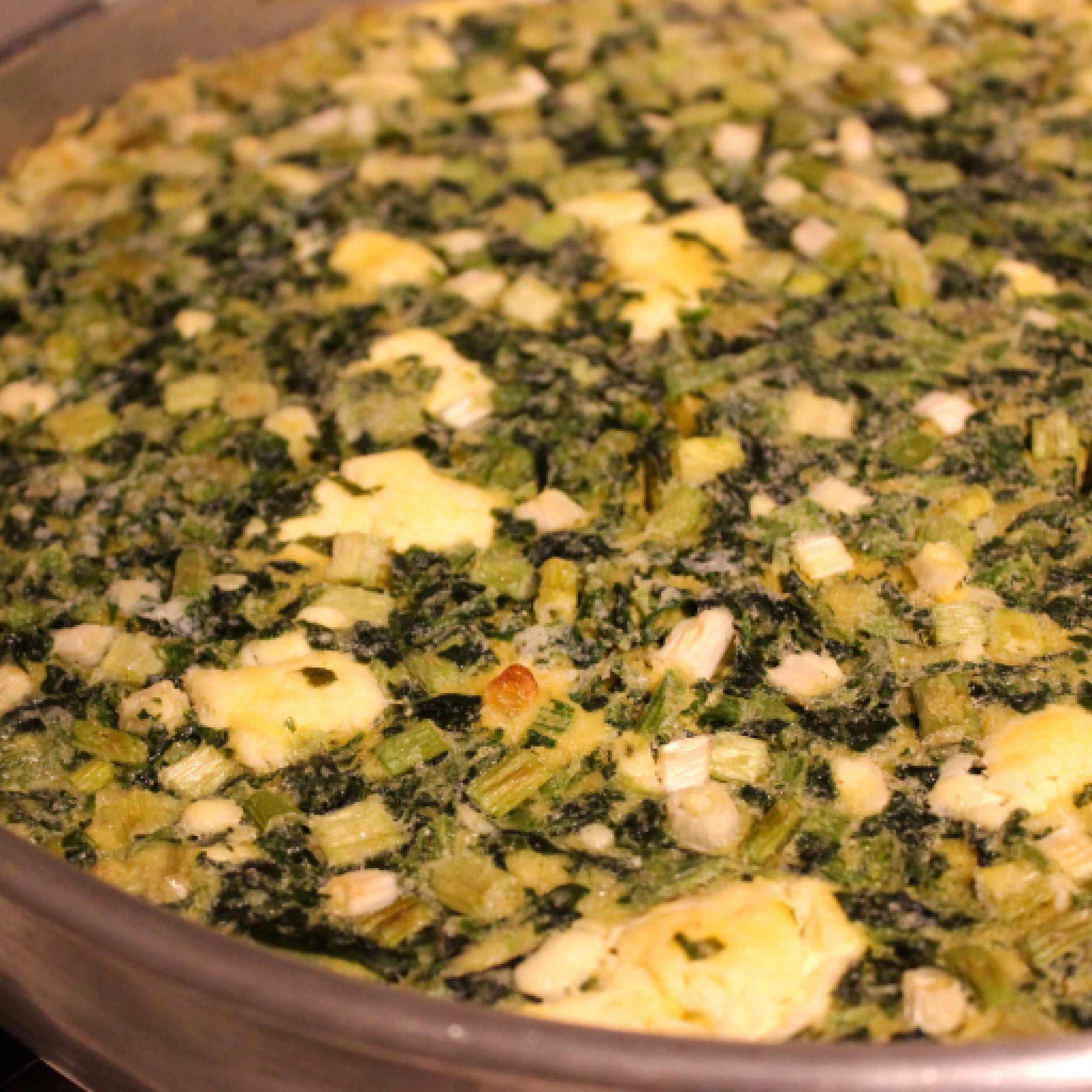 Another kind of Albanian Burek recipes is the one below.
Burek with Spinach
This spinach pie (Albanian Burek me Spinaq) is one of the most common pies which is similar to Albanian byrek and always tastes so good when made with homemade filo pastry! It can be eaten fresh and hot but will mostly be served when it is cooled and the water has soaked into the pastry. Great the next day for lunch.
Have you tried?
You can replace spinach with large amounts of fresh basil and parsley, finely chopped. Or, you can also use a tin of spinach puree with the same tasty outcomes!
Ingredients
2 homemade discs/ Filo Pastry
750gr spinach
2 eggs
25gr feta cheese
olive oil
220ml water
PREPARE THE FILLING
In a large mixing bowl, with your hands mix together the spinach, eggs and crumble in the cheese. By crunching your hands break up the spinach leaves ensuring all is covered with the egg and cheese. Set to one side.
FOR HOMEMADE FILO PASTY:
Place a filo pastry disc in a large baking tray and add filling on top.
Add the second disc on top and seal the edges by tucking them down.
Put a thin layer of oil over the top
FOR PREMADE FILO PASTRY:
Layer sheets of filo pastry on top of each other brushing a layer of olive oil after each one before the next one is place down. Once 6/8 sheet are laid add the filling on top.
Repeat the layering until a further 6/8 sheets are on top of the filling – olive oil brushed on each one.
Put a thin layer of oil over the top.
COOKING
Bake in the oven at 180 degrees for 1 hour or until golden brown.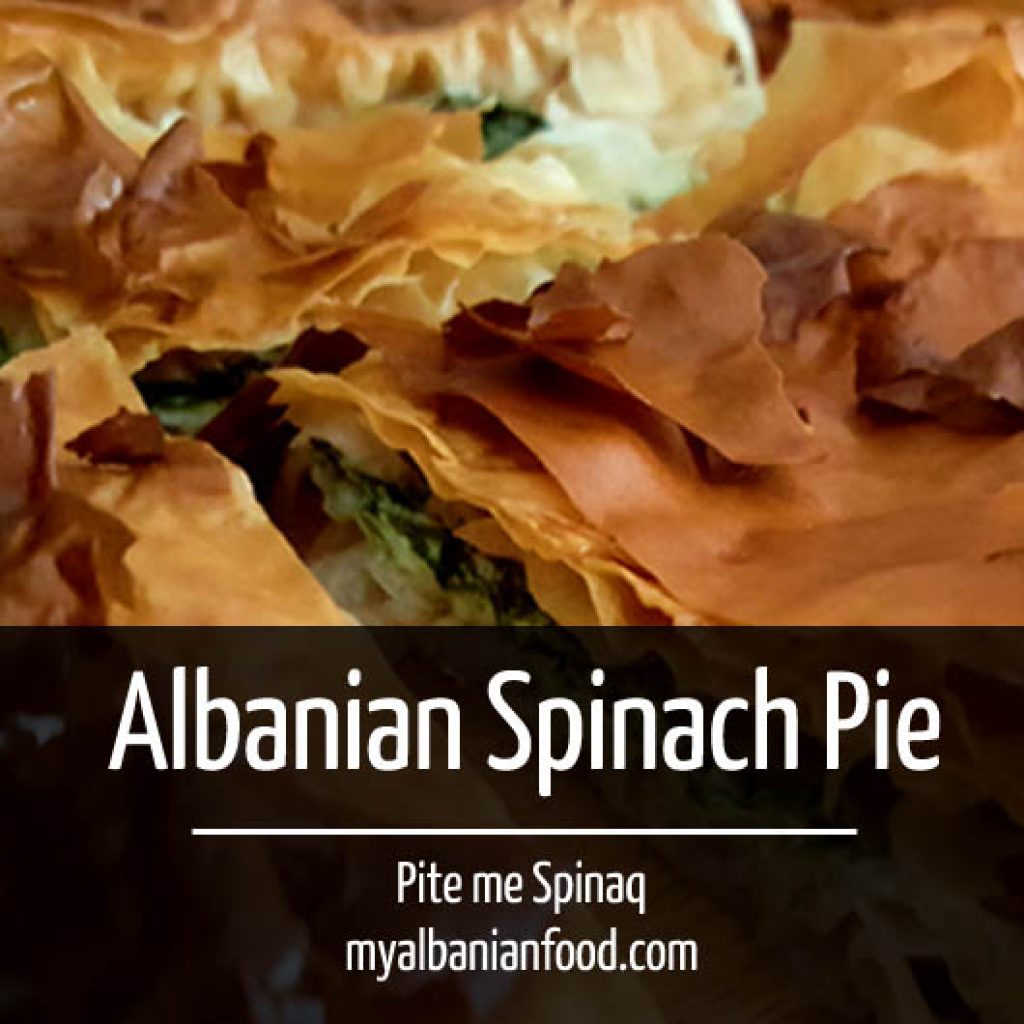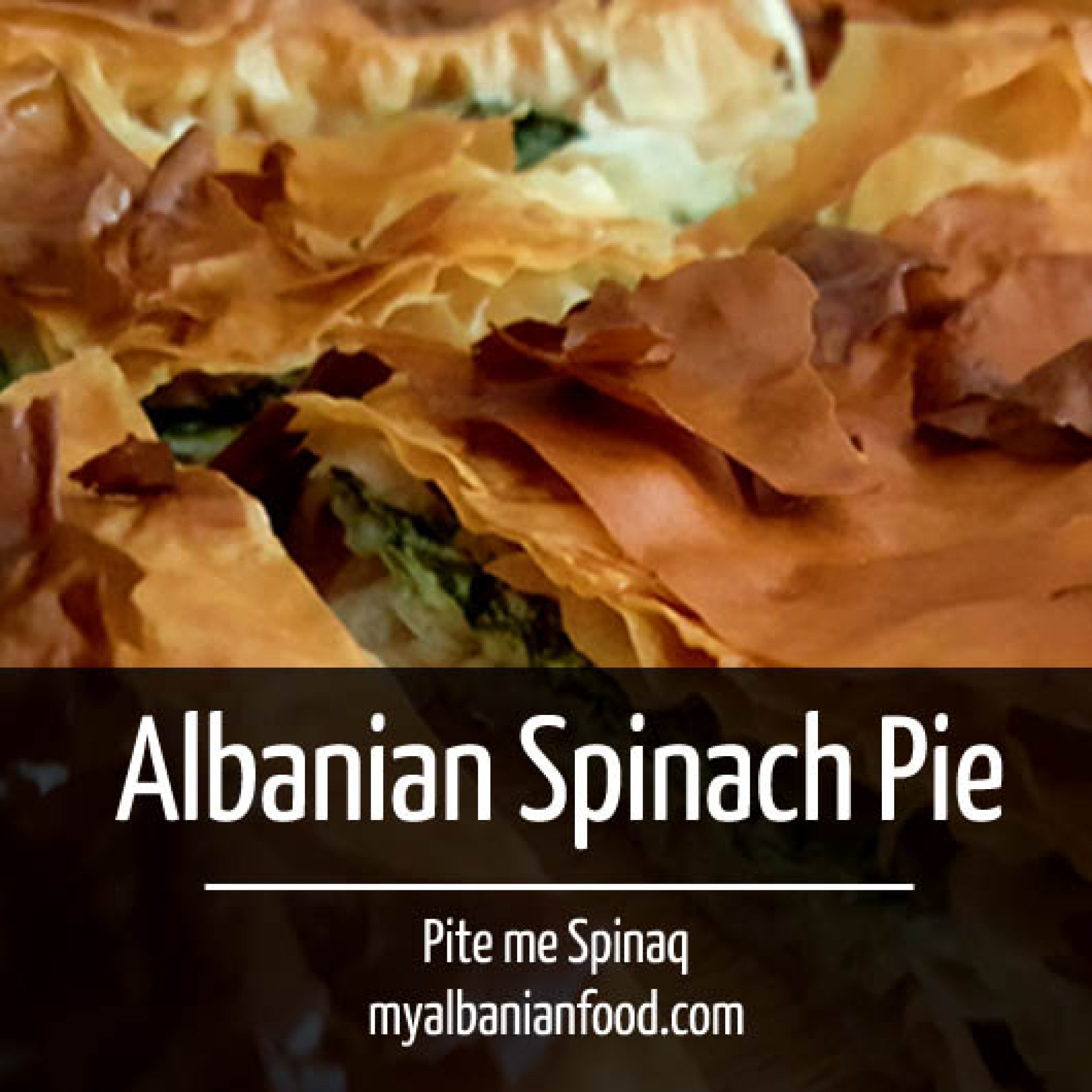 Once removed from the oven, pour half a cup of water over the top and half a cup of water around the edges. Cover the spinach pie with two tea towels and leave to stand for 1 hour before serving.
Read My Albanian Food Blog for more recipes on top foods in Albania.
ALBANIAN BYREK RECIPE
And when you ask yourself if there are more types of burek, we confirm that yes. Are there more Albanian food recipes about Burek? Yes.
Burek with cottage cheese
Ingredients
Flour1 1⁄2cups water, cold
1tablespoon oil
1tablespoon vinegar
1⁄2teaspoon salt
to taste butter, melted
22 cups dock or 2 cups sorrel, cut thin
to taste salt
1⁄2 – 1cup cottage cheese
2 -3 eggs
to taste butter, melted
Preparations:
Prepare the dough with flour, 1 and a half cups of cold water, 1 spoon of oil, 1 spoon of vinegar and half a teaspoon of salt, so that the dough may obtain average solidity.
Press and mix the dough well, then divide in two equally sized pieces. Then divide the pieces into 10-12 ball shaped pieces.
Spread the balls in well-shaped circles of the size of a plate. Place the circle-shaped dough on top of one another so as to obtain two large pies.
Cover each pie with melted butter and leave for about half an hour to 1 hour.
During this time wash a bowl of spinach, dock or sorrel, cut thin, add salt and leave in salt for about 15-20 minutes, then squash.
Mix the spinach, dock or sorrel with half to 1 cup yogurt and 2-3 eggs.
You can replace the yogurt with crumbled feta cheese. Cover the baking pan with melted butter.
Spread one of the dough pies to cover the entire pan and gently pull up the ends, then sprinkle melted butter on it and spread the spinach on it uniformly.
Spread the second dough pie on top of the spinach.
Cut the byrek in square slices, sprinkle with melted butter and place in a hot oven until cooked.
Byrek is served hot accompanied with yogurt.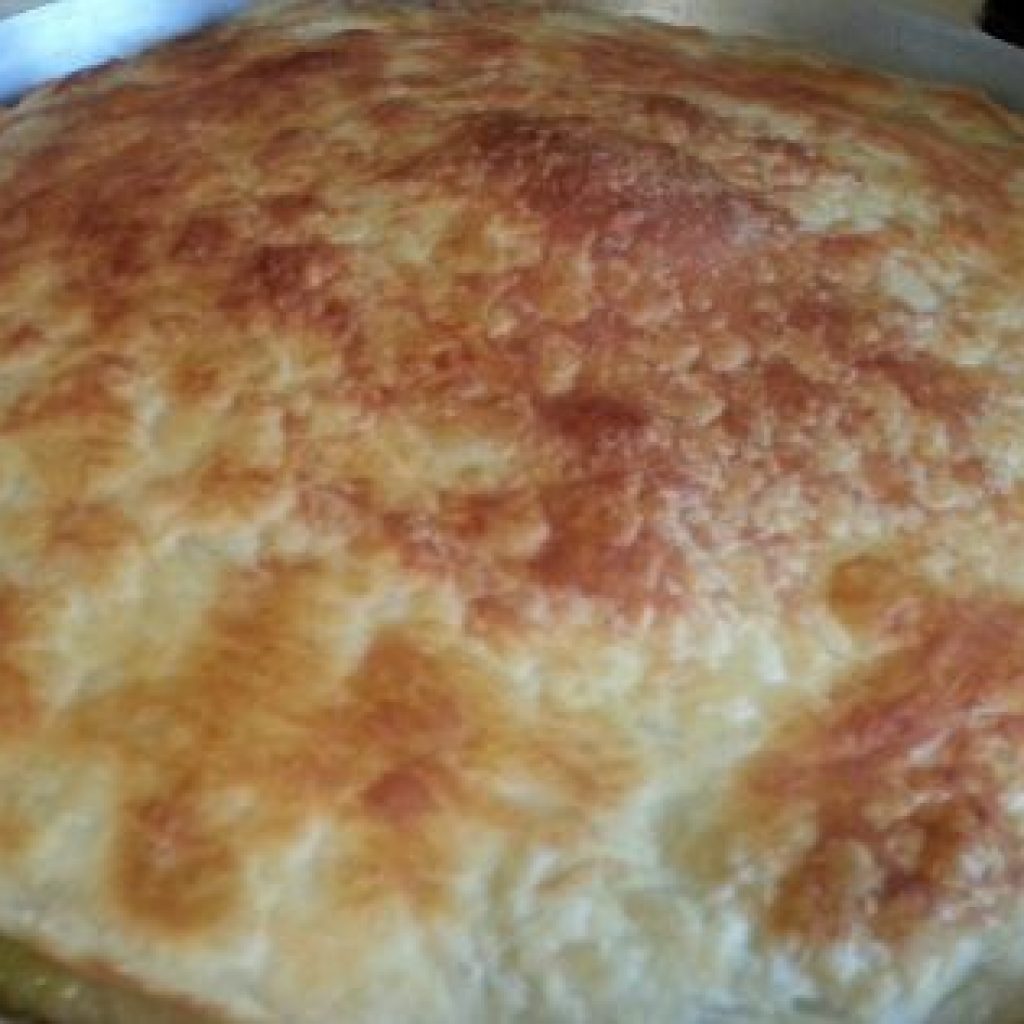 Burek with meat sauce
What would a list of top foods in Albania be without a Burek with meat sauce? And which list that includes the Albanian Food Recipes has that? Ours.
Ingredients
For the dough:
flour
salt
olive oil
water
butter
For the filling:
olive oil
onion
chuck roast or steak
tomatoes
Preparation:
To Make The Filling
In a large bowl, heat the olive oil over medium-high heat. Add the diced beef and fry for 5 minutes. Add the onions and cook, until the onions are soft.
Peel the tomatoes (instructions here) and blend in a blender or food processor with ½ cup water until smooth.
Add tomato puree to the meat mixture, cover, and simmer until most of the liquid is evaporated and the sauce is thickened. Season the meat sauce with salt and pepper to taste.
To Make The Dough
In a large bowl, mix together the flour, salt, olive oil, and water until the dough forms. Transfer to a lightly floured work surface and knead until the dough is smooth, elastic, soft, and doesn't stick to your fingers, about 10 minutes.
Divide the dough into 12 equal pieces and knead them into a ball shape. Cover with plastic wrap and let it rest for 10 minutes.
Working with one piece at a time (keep the rest covered), use a rolling pin to roll the dough into a paper-thin sheet in the shape of the pan you are going to use for baking. In my case, the baking pan has a rectangular shape. It is suggested to use a round shape because it is easier to roll the dough.
To Assemble
Preheat oven to 350 degrees Fahrenheit.
Grease a 10×15 inch jelly roll pan. Place one sheet of fillo into the prepared pan and gently pull up the ends. Brush the sheet with melted butter. Repeat with five more sheets.
Spread the filling on top of sheets to cover completely. Repeat layering and brushing with butter the remaining six fillo sheets. Fold the sides up (see picture).
Brush the top of the pie with the egg wash. Bake the byrek pie until golden brown in color, about 40 to 50 minutes. Serve it warm or at room temperature.
Also follow All Thats Jas for more delicious Albanian Food recipes.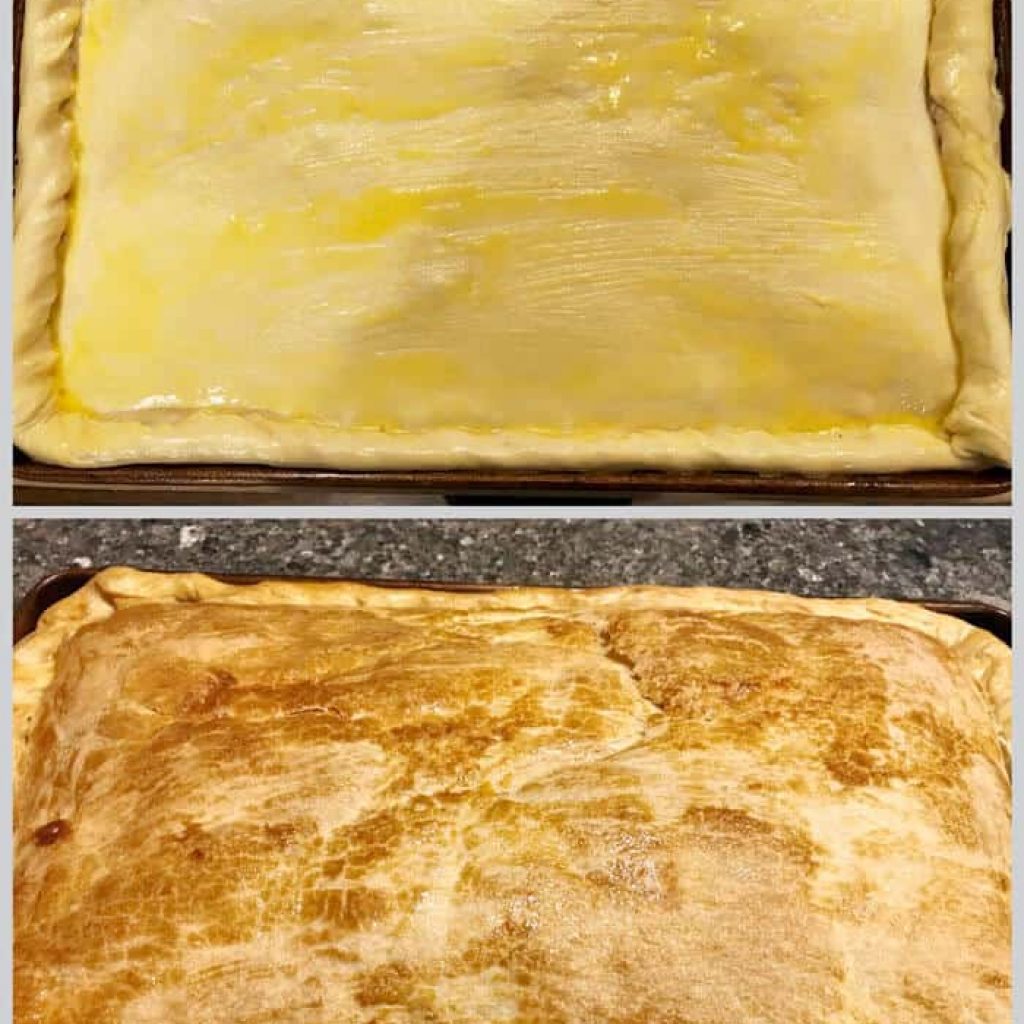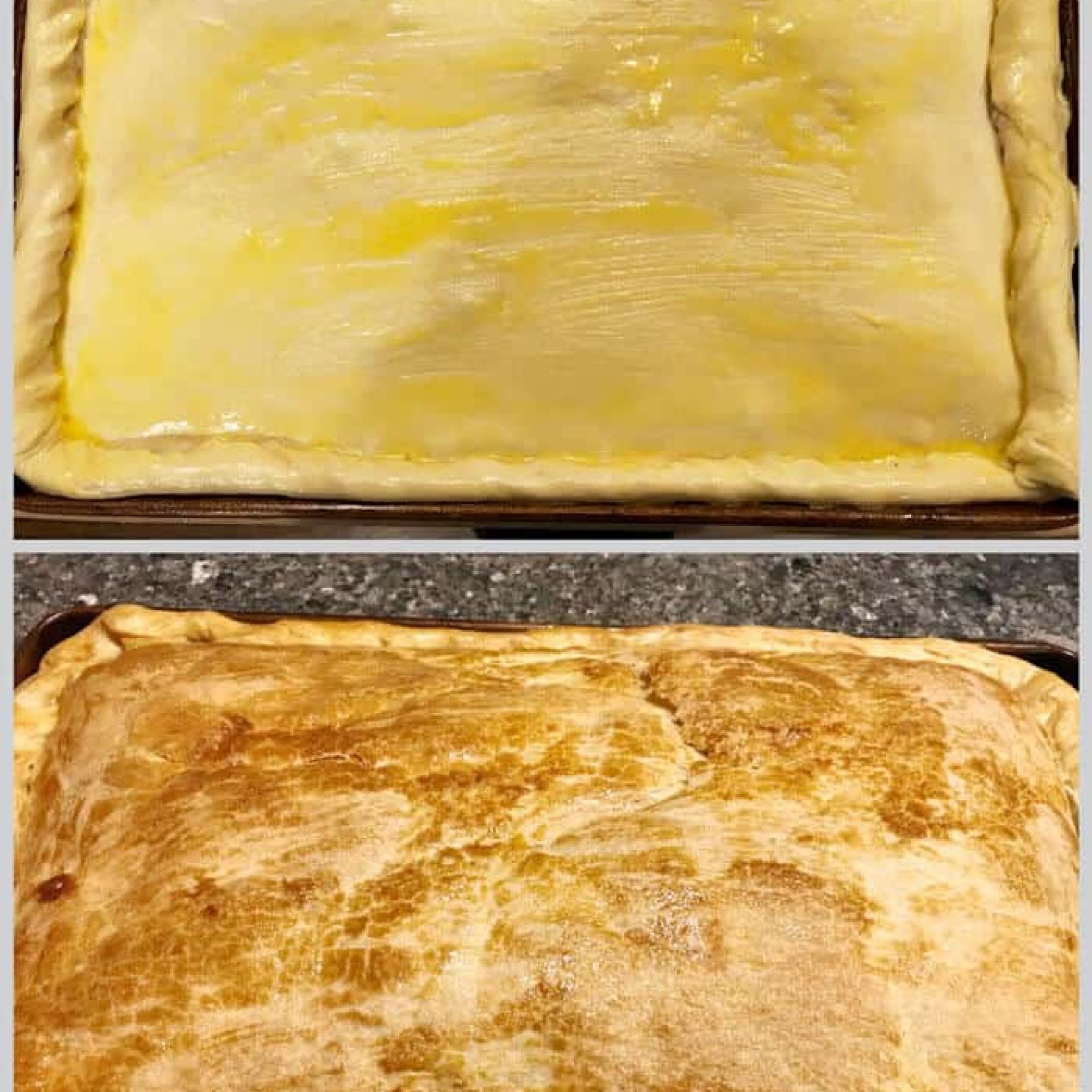 Top Foods in Albania – Traditional Albanian Dishes
Albanian tavë kosi
Tavë kosi originates from the central Albanian city of Elbasan and it is a simple Albanian Dish that is very delicious.
Ingredients
700 g lamb shoulder cut into 5cm chunks
2 tbsp butter
2 tbsp olive oil
2 cloves garlic finely sliced
2 tsp dried oregano plus extra
300 ml water
1 tsp salt
1 tbsp Freshly ground black pepper
¼ cup white rice
⅓ cup butter
⅓ cup plain flour
650 g greek yoghurt
4 eggs
Preparation:
Preheat the oven to 180°C.
Heat a large saucepan over medium, add the butter and olive oil and brown the lamb. Toss in the garlic and oregano, give it a few shakes and stir for a minute then pour in the water. Season with the salt and pepper, adding more if you wish.
Lower heat to a gentle simmer, cover with a lid and cook for 1 hour; stirring once or twice during cooking.
Stir the rice into the liquid, put the lid back on and cook for another 5 minutes. Turn off the heat.
Decant the lamb and juices into a deep baking dish (at least 8cm deep) with lid. Set aside.
In a separate small pan melt the butter over medium heat, add in the flour and whisk for 1-2 minutes as it foams and thickens. Turn off the heat and set aside.
Whisk together the yoghurt and eggs in a mixing bowl and season well with salt and black pepper. Whisk in the roux until emulsified, then pour it over the lamb evenly. Scatter over a little more oregano and bake in the oven for 40-50 minutes, or until golden.
Once done, let the tavë kosi rest for 10 minutes before serving.
Read HeneedsFood.com for more tasty Albanian Food recipes.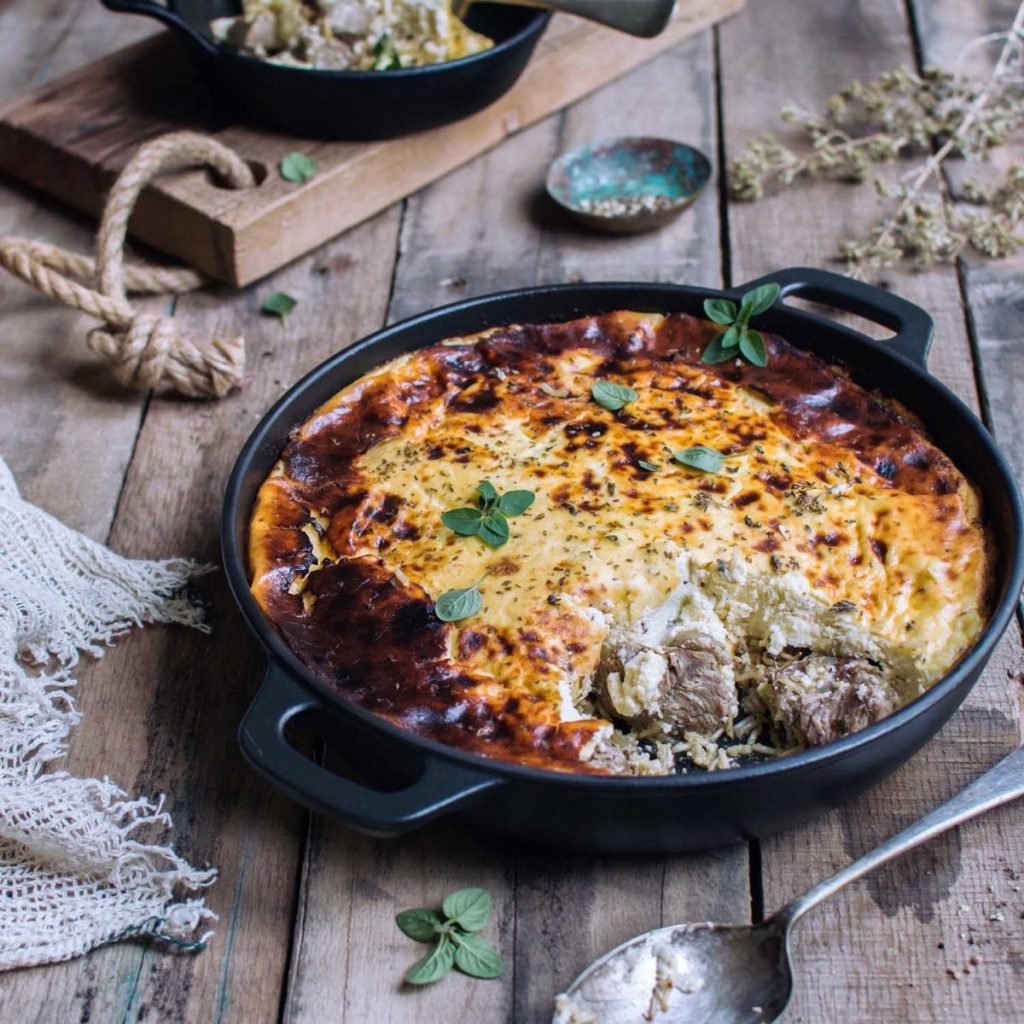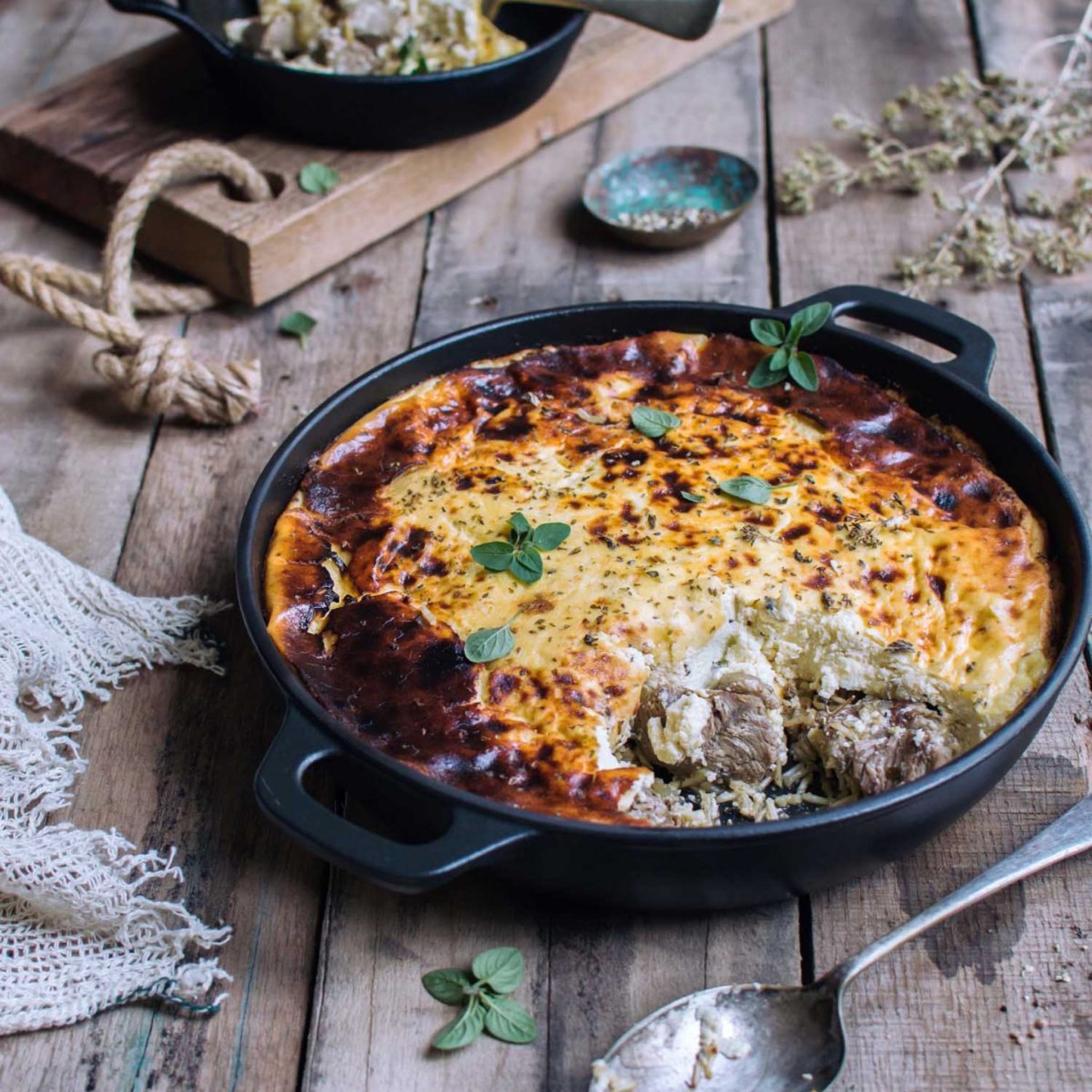 Fasule/ Albanian White Bean Soup
The holy Albanian food, the greatest and best. Fasule or Beans is one of the top foods in Albania. Albanians even got jokes for the beans.
Ingredients
1 1⁄2cups dry white beans, washed, picked over, soaked over night, and rinsed
4 cups water
1 medium chopped onion
1⁄4 cup butter
3 tablespoons tomato paste
sea salt, to taste
Preparation:
In a large pot add rinsed presoaked white beans and water. Bring to a full boil and cook for 10 minutes.
In a skillet on medium heat add butter and onion. Cook until tender. Add to the beans.
Add the tomato paste and chopped parsley. Mix well. Reduce heat to low (or a simmer) and cook covered 3 – 4 hours. Adding more water if needed. Add sea salt, to taste.
Enjoy especially after a day or two covered in the refrigerator! (Soups tend be better over a bit of time and this one benefits extensively).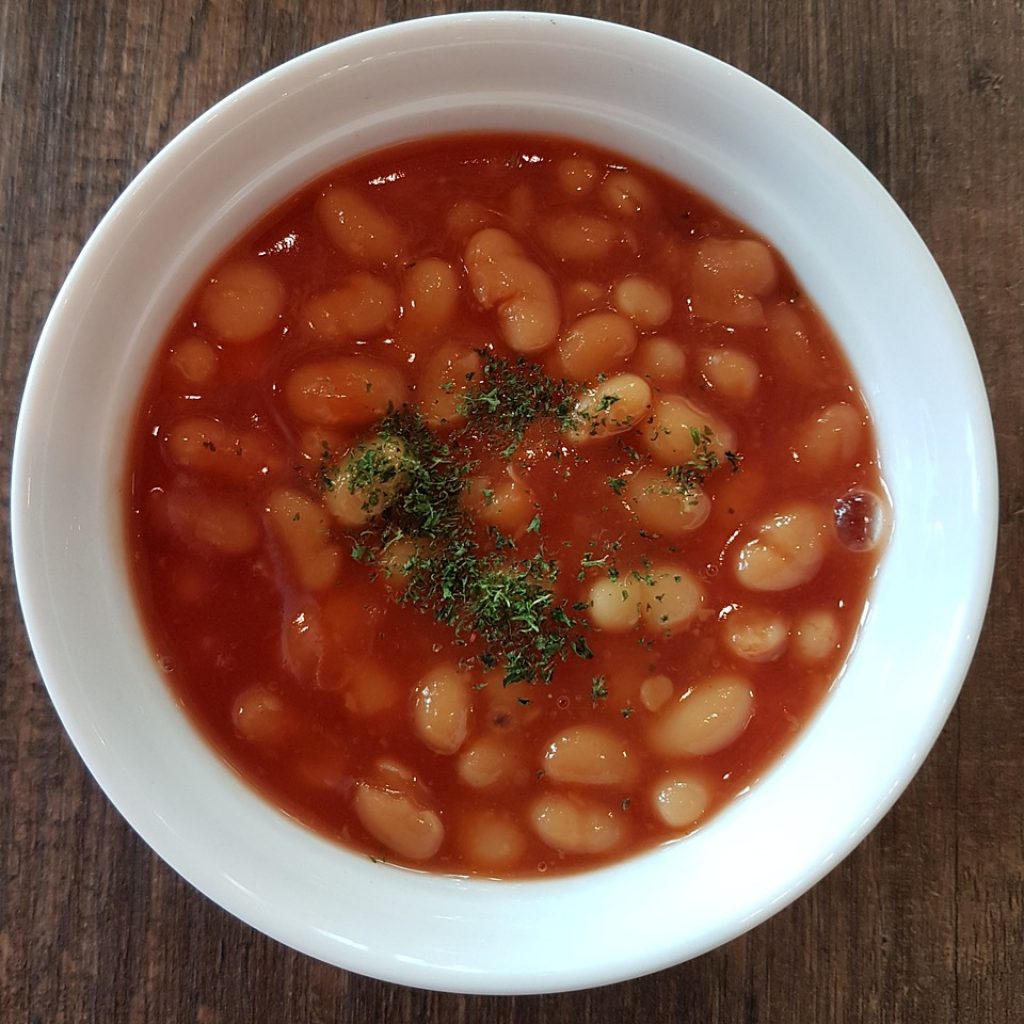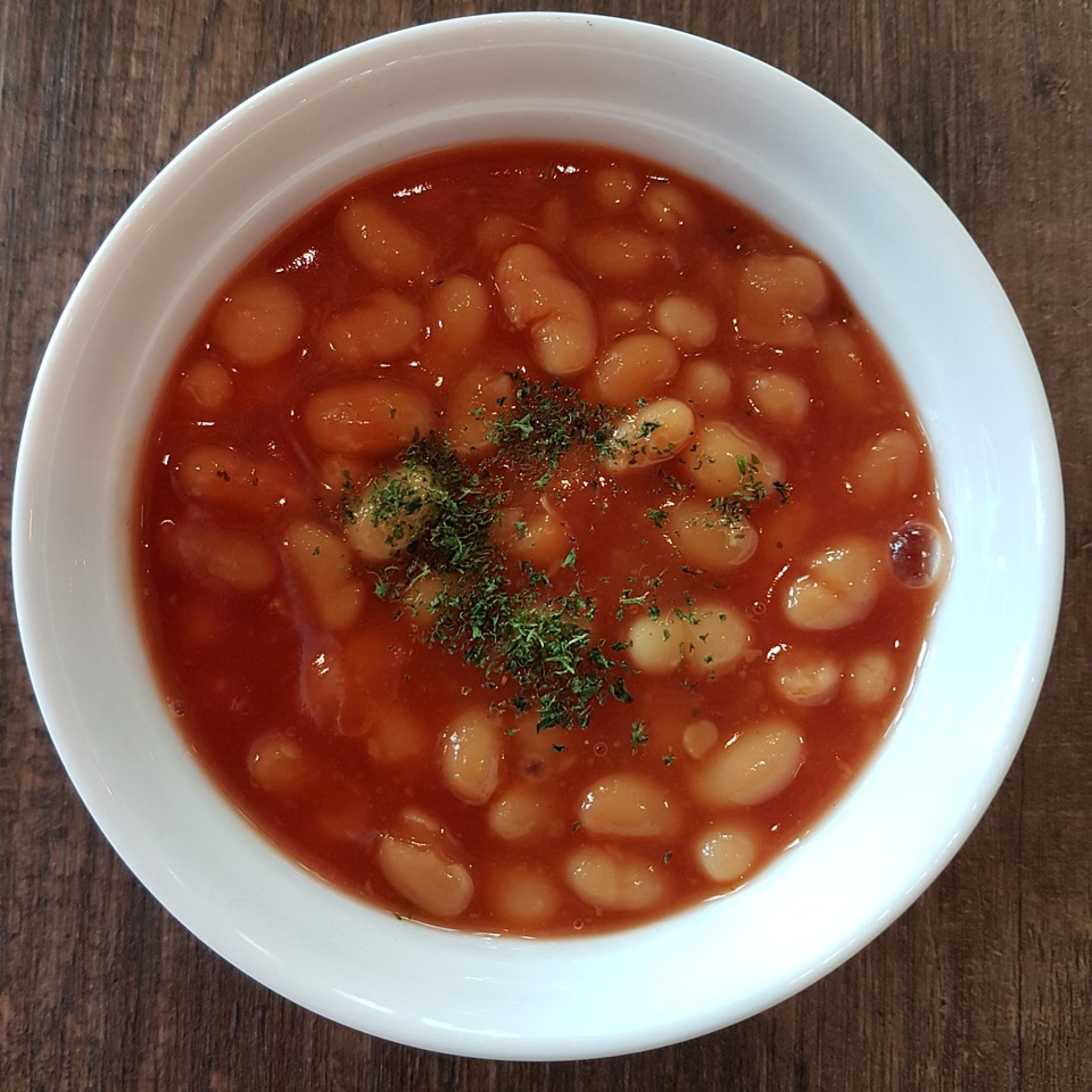 Pule me pilaf ne furre/Oven Baked chicken with rice
Another one of top foods in Albania is the oven baked chicken with rice.
Ingredients
3 lbs chicken divided in portions
2 cups white rice long-grain
1 onion finely chopped
2 tbsp butter unsalted
1 tbsp olive oil
1 ½ tbsp salt
1 tsp black pepper
4 cups hot water
1 pinch saffron
Preparation:
Preheat oven to 350° F (175° C).
Wash the chicken with cold water and cut in portions.
Rinse the rice thoroughly before use by using a strainer to remove the starch.
In a large deep skillet melt butter with olive oil. Season chicken with a pinch of salt and pepper and sauté until brown on all sides. Remove chicken and set aside.
In the same skillet add onion and sauté in medium-low heat until golden and soft in texture. Add the rice and cook and stir until lightly toasted.
Transfer chicken and rice mixture in a small baking dish. Pour hot water and spread the mixture and chicken evenly along the bottom of the baking dish. Season with salt, black pepper and pinch of saffron (saffron optional). Cover the baking dish tightly with aluminum foil and bake in preheated oven for 35 minutes.
Remove from oven and allow to rest for 10 minutes. Uncover and fluff with a fork to separate grain of rice.
Read Mimis Recipes for more top foods in Albania and the best Albanian Food Recipes.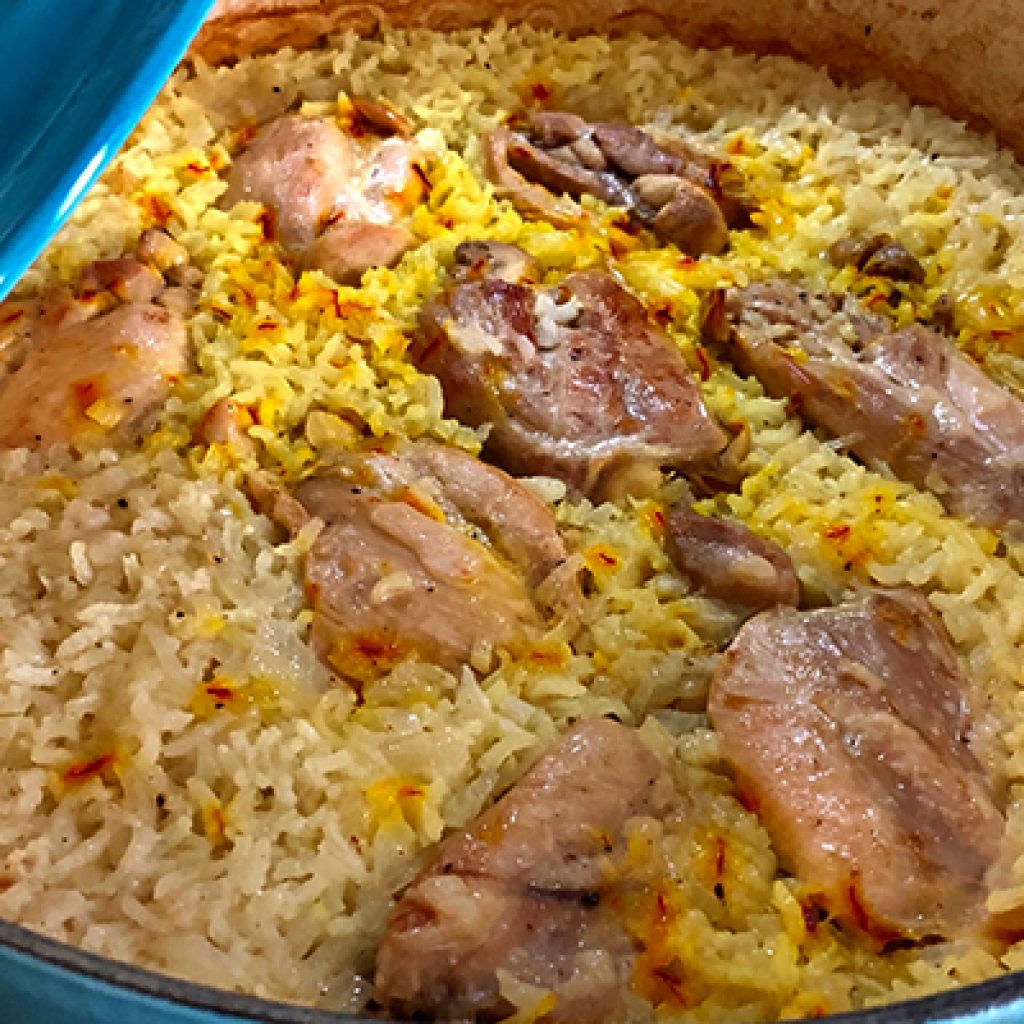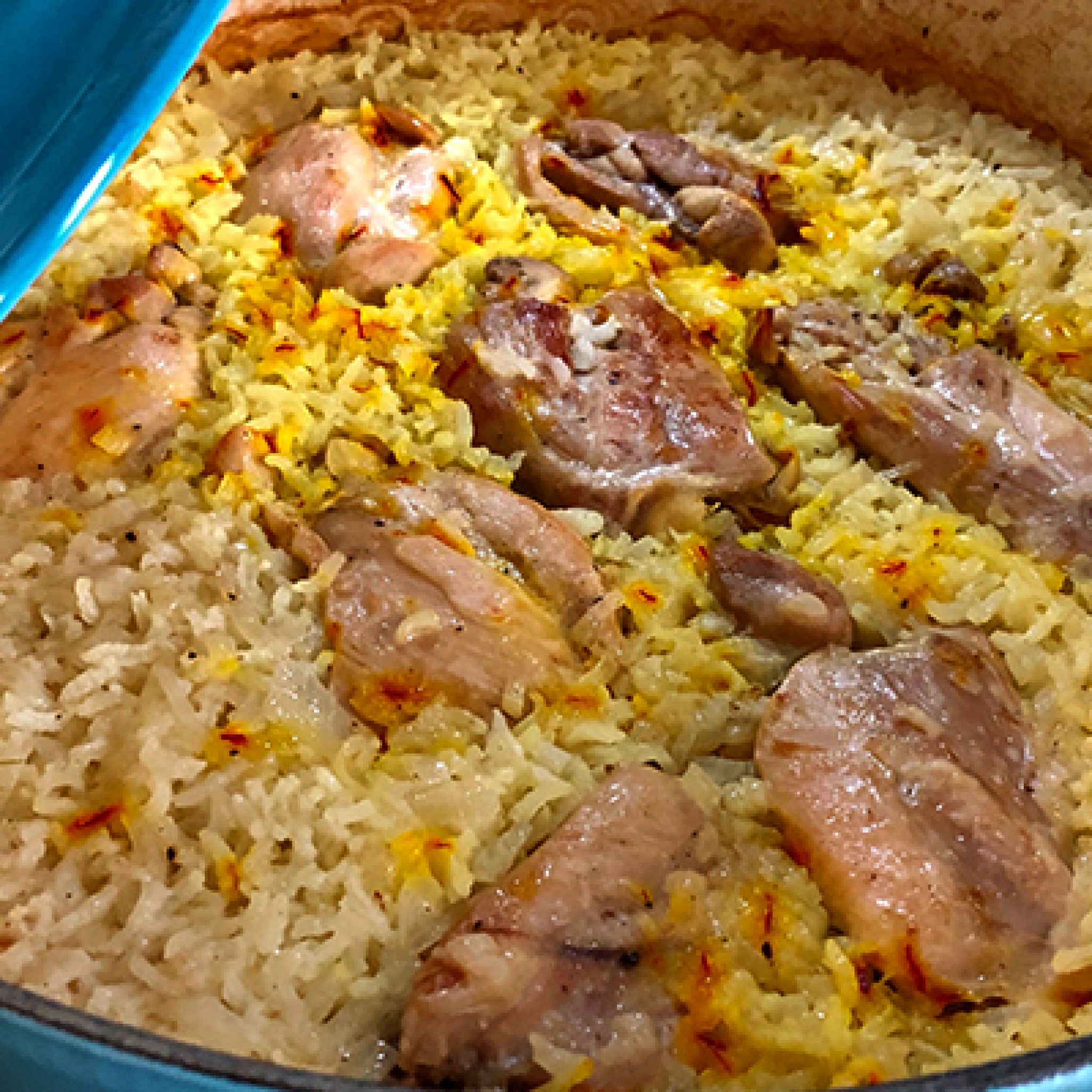 You can book a food tour and try these amazing Albanian food Recipes.