Bees and their keepers: Learn about the Albanian beekeeping tradition and practices and the wealth of bee forage in the country that Aristotle already emphasized. Taste different honey specialties, like mjalt mare or chestnut honey. Visit rural beekeepers and experience honey harvesting and other bee products such as propolis or royal jelly first-hand.
Albanian cuisine: Discover gastronomic treasures – 'petanik', a bean pie of Korça; 'qingj në hell', skewered lamb of the Labëria area and typical food 'me mjaltë' (with honey) like Shendetlie, a honey and nut cake. Take a cooking class along the way, enjoy picnics at the sea and on a mountain and experience Albania's indigenous wines and best raki at a winery.
Passionate people: Meet the people at the heart of the Honey Trail – beekeepers who share their love for the craft of beekeeping, organic farmers who offer an insight into their farming, local rangers who show you the wild flowers, herbs and trees that make the Albanian honey so special, or the chef who happily imparts the secrets of Albanian cuisine.
Highlights
Following the footsteps of Albania's long tradition of beekeeping, this Honey Trail takes us to the South of the country: We visit three important honey regions: Korça, Përmet and Palasë.
We discover the national parks of Butrint, Llogara and one of Europe's last wild rivers, the Vjosa.
We visit bees and their keepers, experience Albania's rich nature that provides such excellent conditions for beekeeping and delve into its ancient history at places like the UNESCO sites Gjirokastra and Butrint.
What's included
To read about the Honey Trail Tour Program, please click below:
Map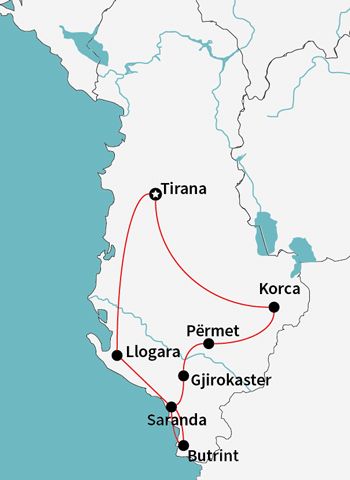 To read about the Honey Trail Tour Program, please click below:
Day1
To read about the Honey Trail Tour Program, please click below: