Just like many other countries in the Mediterranean and Balkan region, Albania has a great culinary tradition. This is because its position gives it a rare advantage as this country has only delicious influences from all sides (Turkey, Greece, and Italy). A couple of decades ago, Albanians preferred cooking foreign dishes. But lately, they have realized that Albanian traditional food is what tourists are looking for. Since then, countless amazing, traditional restaurants are opened to honor this tradition.
Albanians are devoted cooks, chefs, culinary experts. This means that they love food. Preparing a nice meal, enjoying fresh foods, being gracious hosts, and giving in to life's simple pleasures are important activities for every Albanian! I invite you to have a look at some of the places where you will enjoy the most scrumptious Albanian traditional food and feel a warm atmosphere.
Mullixhiu
As mentioned in every list of recommendations of places to eat in Tirana, this restaurant has stolen the hearts of locals and tourists. This is because of the professionality of the famous chef, Bledar Kola. Also, the beautiful wooden and rustic environment of this restaurant. And mostly the fresh menu with Albanian traditional food. It includes homemade pasta that we would eat during Communism.
Kola won the 3rd place in the World Gourmet Society Best Plate challenge in Monte Carlo with an Albanian plate. It was the one that every Albanian love but no other restaurant in town serves: trahana. Watch the art behind Kola's trahana here.
This is what Lonely Planet writes on Mullixhiu: "Around the corner from the chic cafes of the Blloku neighborhood, chef Bledar Kola's Albanian traditional food metamorphosis is hidden behind a row of grain mills and a wall of corn husks. The restaurant is one of the pioneers of Albania's slow-food movement and it's also a place of culinary theatre, with dishes served in treasure chests or atop teapots."
BOOK HERE
Address: Mullixhiu Restaurant is located at the entrance of Tirana Artificial Lake.
For the map click here.
Website: mullixhiu.al
Phone: +355696660444
Oda
Eat like an Ottoman in this traditional restaurant. In the Oda restaurant, they will bring you food while you will be sitting at low tables. You will be surrounded by shelves with dishes, strings of garlic/peppers and old photographs. It is best to allow the waiters to suggest a succession of appetizers and mains. The Albanian traditional food is fresh and delicious here. So, try the lakror në saç/oven-baked pie. Its taste is unforgettable. Also, it is better if you wash it all down with several glasses of their home-made raki. Find it down a little alley on the north side of the road between Rr. e Barrikadeve and Sheshi Avni Rushtemi. It opens at 11:00-23:00 and Sun 13:00-23:00.
The restaurant is part of an old, traditional house. As such, the decor reflects the country's folk traditions and customs. Oda opened its doors in 2005 and since then, it has been welcoming visitors from all over the world. This restaurant has earned quite a reputation for its delicious and Albanian traditional food. Not just locally but also internationally! The decorative objects and the general setups reflect the country's Ottoman influence as well as their changes before and after the '90s. The walls are embellished with traditional vessels. They come from the region of Middle Albania. Finally, the black-and-white photos provide a pleasant accompanying visual narrative.
Menu of an Albanian Traditional Food Meal
Each dish is uniquely made and presented. Two things that never change are the freshness of the products and the delicious flavor. You must try the appetizers that include fresh dairy products from Tirana's surroundings. In addition, the meat is always tender and cooked with the most traditional spices. Finally, the various casserole clay dishes with the aroma of fresh melted cheese and delicious meats will make you forget all about diets.
Here, you will have the chance to try some of the best traditional choices such as byrek (a flaky pie stuffed with a variety of savory fillings), fërgesë (a cheese and tomato mixture plus peppers), pllaqi (oven-baked beans with a variety of herb and spice), kulaç (delicious Albanian bread), fresh sheep's or goat's cheeses and much more.
Raki
A glass of raki, the traditional Albanian drink, perfectly complements the roasted meats, fresh cheeses and even the traditional desserts here. Certainly, there are plenty of beer and wine alternatives for those who prefer lighter beverages. But this is your chance to try raki as you will find some of the greatest variety of this strong, traditionally Albanian beverage in the capital. A glass of raki simply cannot be skipped as it completes the journey in another time and place. Some of the most popular varieties include grape, plum, mulberry, and quince.
Lonely Planet on Oda restaurant: "A mannequin in traditional Albanian dress will greet you with a stony smile as you enter this tourist favorite. The pantomime continues inside and the restaurant is stuffed with traditional crafts, and while its popularity with travelers means you won't feel like you've discovered a truly authentic slice of the country, the delicious menu makes it well worth a visit."
For the map click.
Phone: +355699668881; +35542249541
Ceni's
This restaurant proves that the best things come in small packages. Located near the Artificial Lake of Tirana, the restaurant has a mix of Italian and traditional Albanian cuisine. The meats and poultry are cooked in Albanian-style while the homemade pasta is made in Italian -style! These guys are great at dish-wine combining, probably the best you'll find in Tirana. Ultimately, this has become one of those places you simply cannot miss. Just read their rave reviews here.
Check these photos!
Address: Sami Frasheri St., Tirana, Albania
For the map click here.
Email: [email protected]
Website: cenisrestaurante.com
Phone: +355674066166
Bujtina e Gjelit
Foto: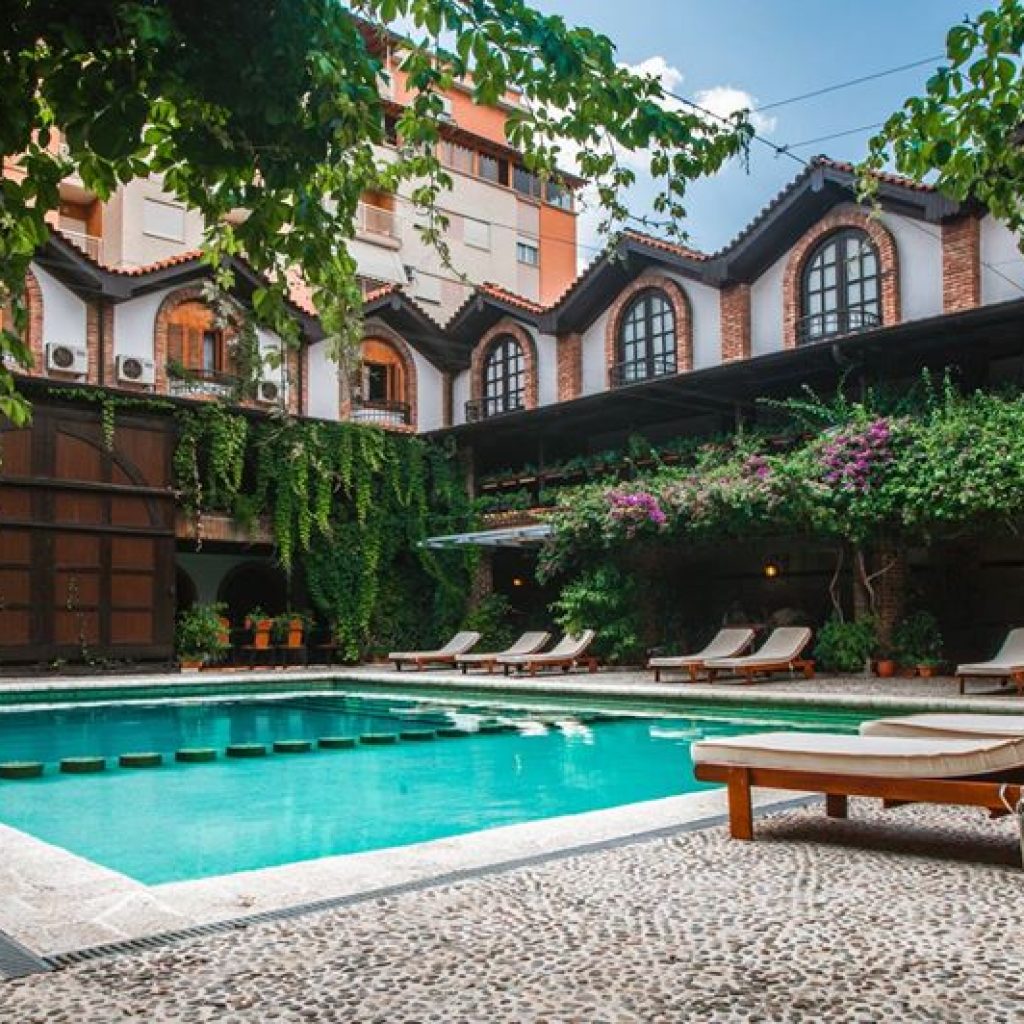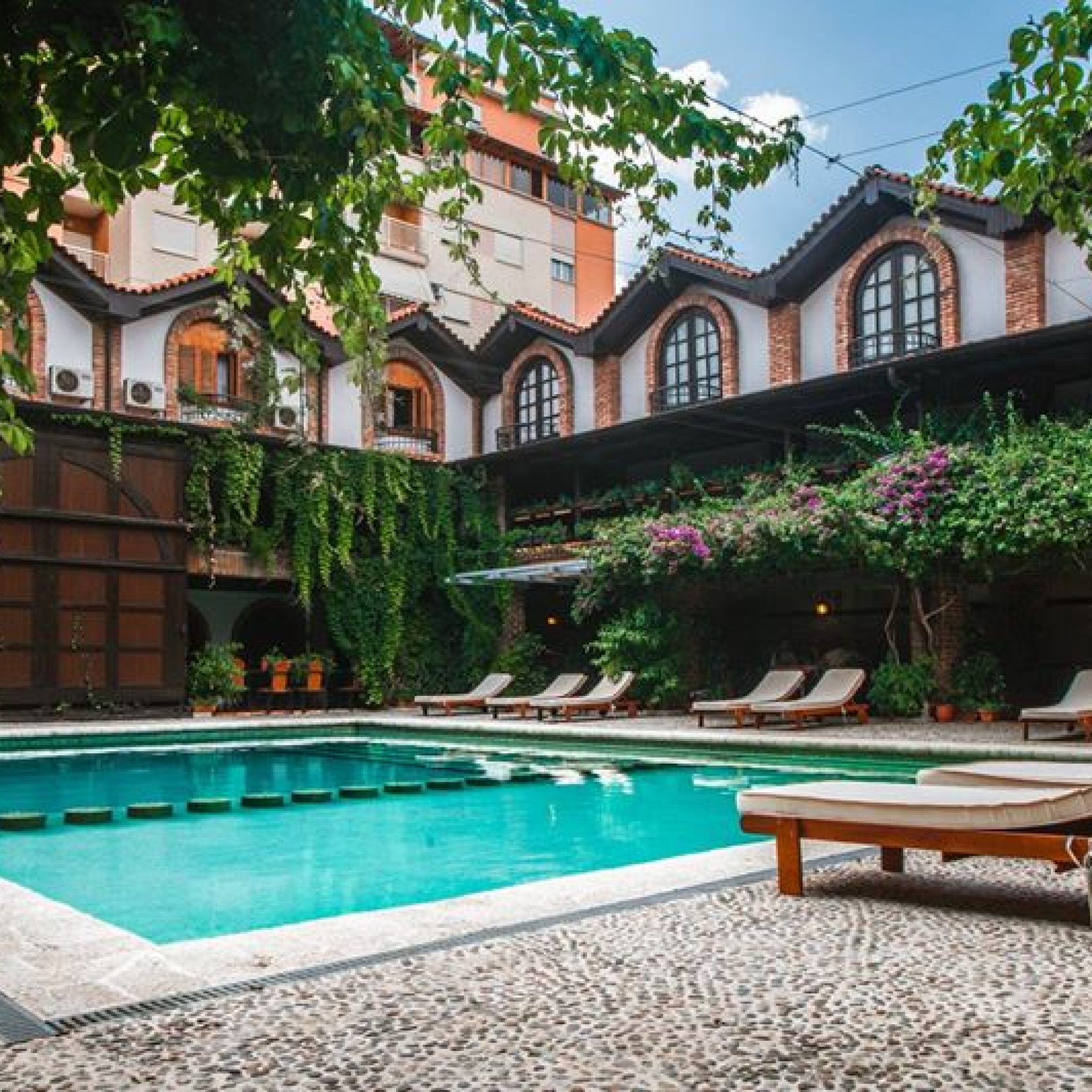 Opened in 1994, this hotel-restaurant-bar is located in the neighborhood of Don Bosko in Tirana. In case you need a good reason to visit this area, Bujtina e Gjelit (Guesthouse of the Rooster) is one! This bujtinë is built in traditional materials of iron, stone, and wood. The Albanian traditional food served in the restaurant comes from the "Gjeli Farm", so it is fresh and organic. Because of the ovens and traditional equipment, the menu has a tasty selection of meats: rotisserie piglet, oven-baked lamb, ember cooked sausages, byrek (traditional baked pie), which are only some of the specialties here.
About the hotel: Featuring free Wi-Fi and air-conditioned rooms, it offers also an outdoor pool. All rooms provide a view of the swimming pool. They also, consist of a TV with satellite channels and a mini-bar. Besides, each unit has a private bathroom with a shower or a bathtub. You will also find conference rooms and a blues and jazz club. A local bus stop is at a distance of 500 m. If you need to know, Tirana International Airport can be reached within a 15-minute drive from the Bujtina e Gjelit Hotel. Couples in particular like the location – they rated it 8.1 for a two-person trip.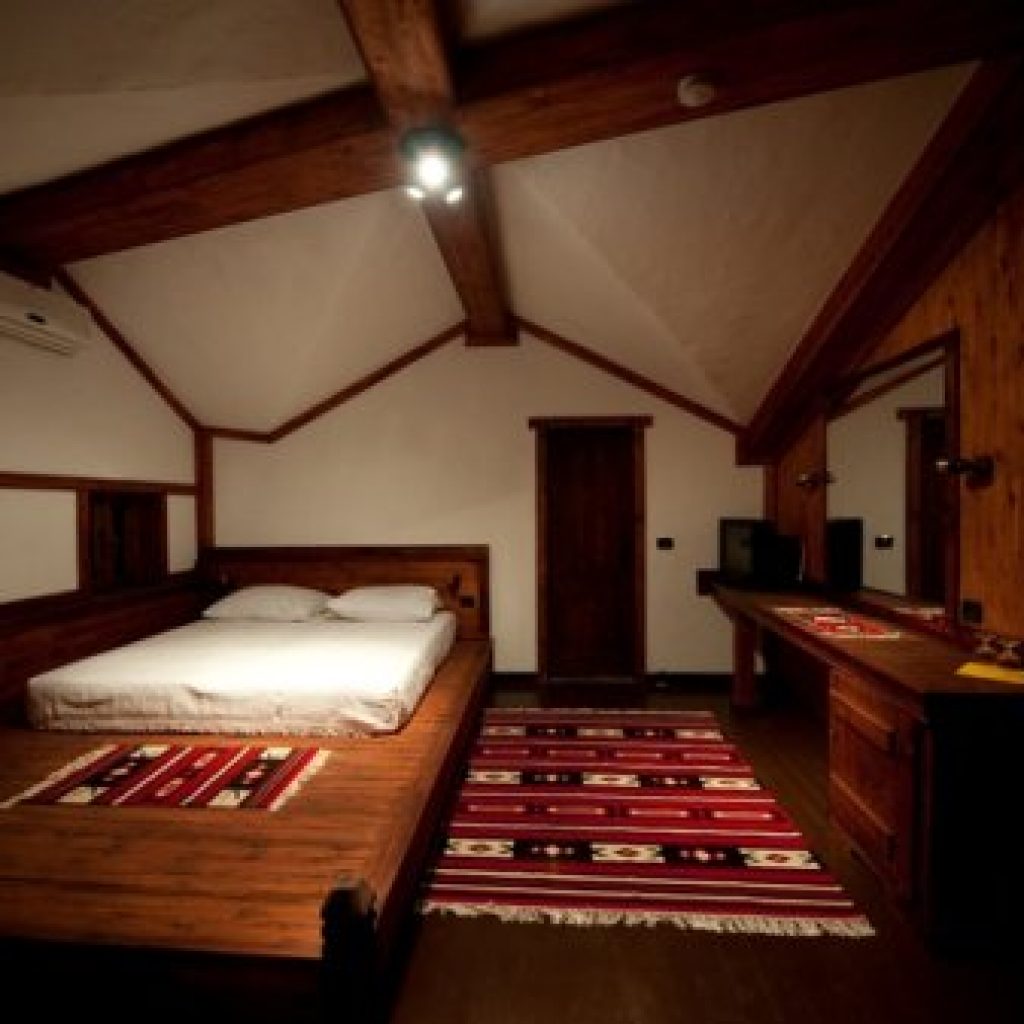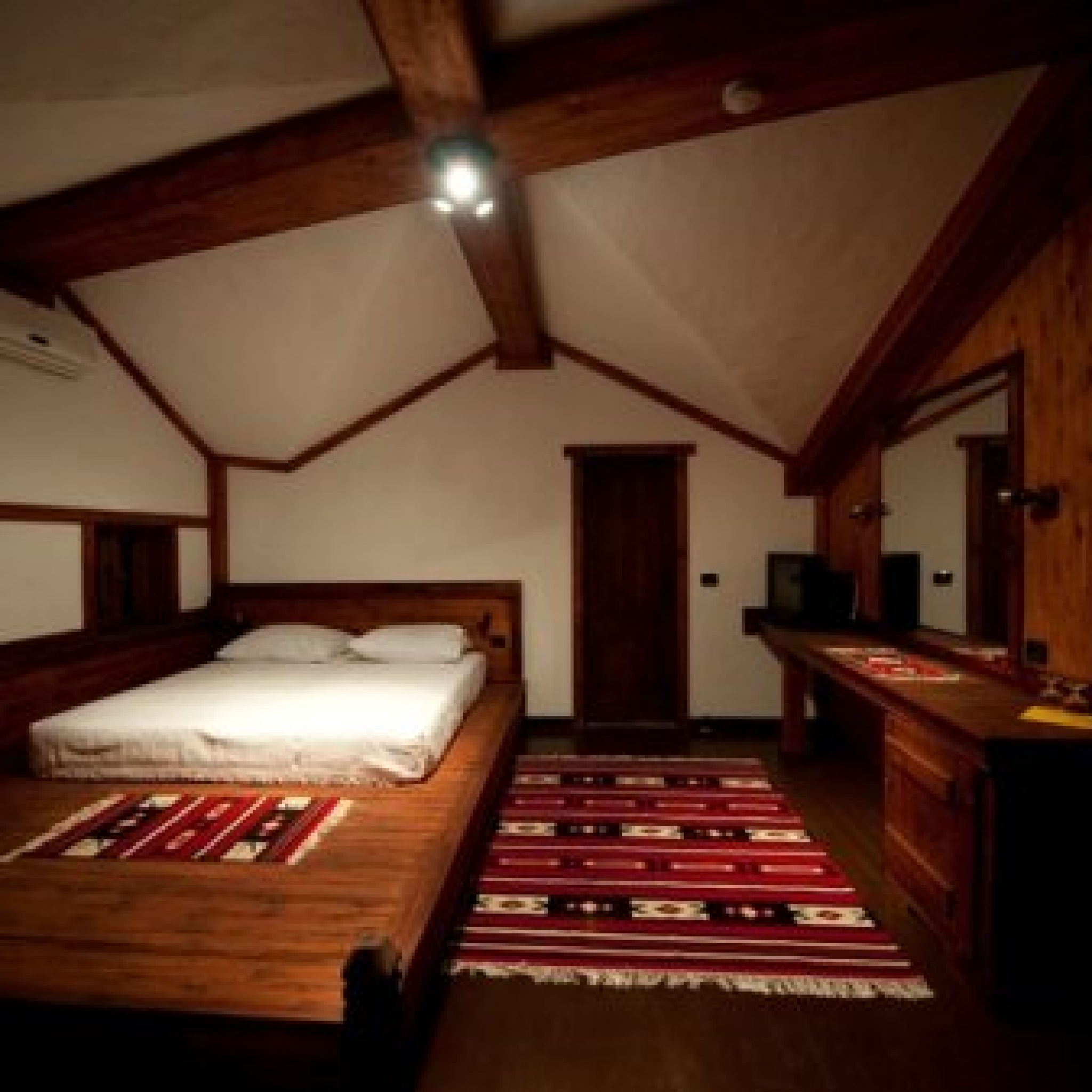 For the map click here.
Phone: +355 67 207 4403
UKA Farm
An accomplished entomologist and the former Albanian minister of agriculture, Rexhep Uka set up this farm on the leafy outskirts of Tirana as a showcase for small-scale sustainable agriculture in 1996, when the country was still transitioning from massive collective plots. In 2005, he planted it with grapevines unique to the region and began producing a range of wines made with organic grapes.
In addition to the Kallmet reds, which taste like earthier pinot noirs, there are whites made from ceruja grapes, with notes of honey and citrus. Uka's son Flori will gladly show visitors around the fields and cellars before presenting a tasting flight paired with homemade grilled lamb. So, reservations are a must. In fact, you need to know that it is located near the Mother Theresa International Airport. The long, cool vineyards and the modern dining area makes this a pretty great spot to relax and try Albanian traditional food after your plane lands before you make it to the city.
Lonely Planet on UKA Farm: "Uka Farm was founded in 1996 by former Minister of Agriculture Rexhep Uka, who started organic cultivation of agricultural products on a small plot of land. His son Flori, a trained winemaker and standout amateur chef, is now the driving force behind the restaurant. Guests can enjoy fresh, flavorful vegetables and locally sourced cheese, meat and quality homemade wine."
Address: Adem Jashari St., Laknas, Tiranë, Albania
For the map click here.
Phone: +355 67 203 9909
Ceren Ismet Shehu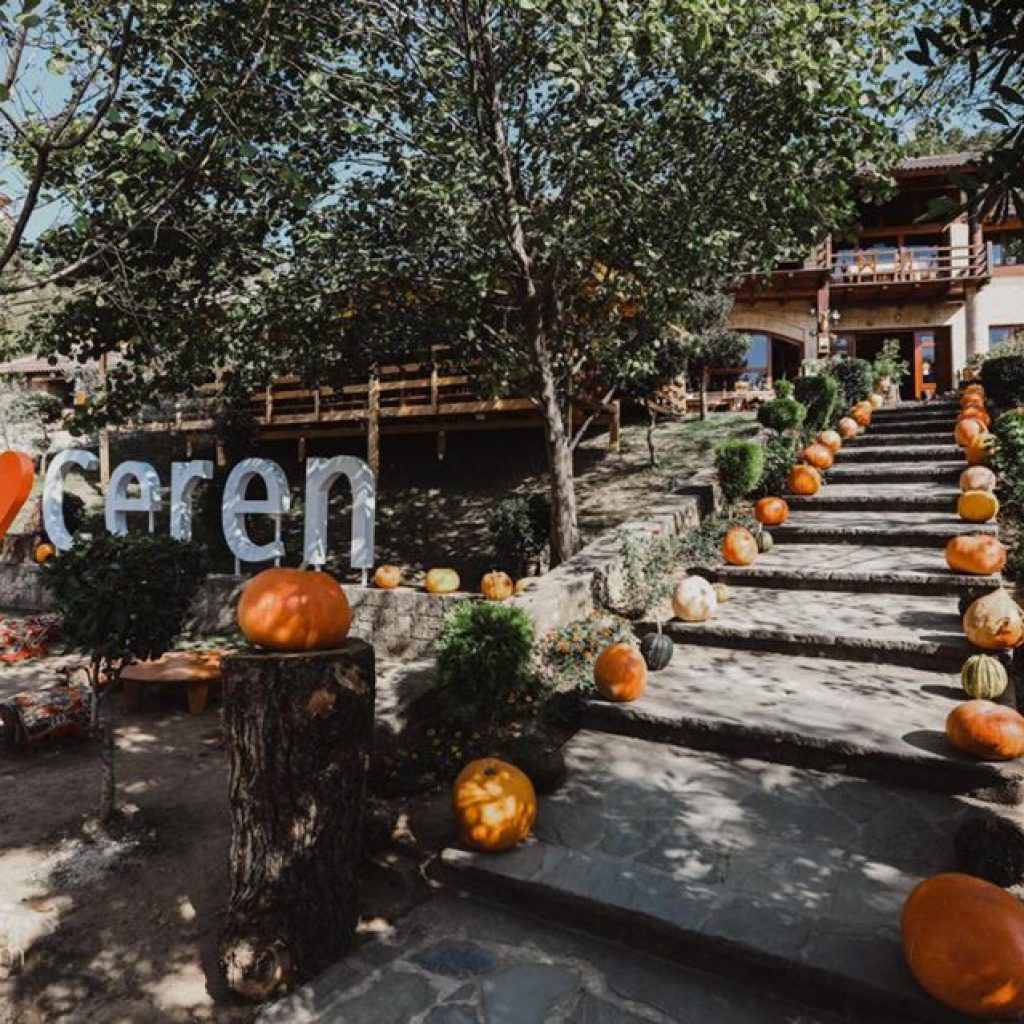 Outside of Tirana, in the small village of Surrel in the Dajti Mountain, this restaurant serves Albanian traditional food! Surrounded by turkeys and goats running around the beautiful hills of the village, this restaurant serves dishes not only in a traditional way, but in an antique way! Meat comes out in old iron skillets, raki in vintage vases, and everything smells like cherry pine. Moreover, the fresh air and the warm atmosphere are worthy of a long lunch or supper.
The traditional Albanian dishes here are prepared by one of the chefs of Queen Elizabeth II. Some of the best dishes that are being prepared in Ceren are flija e veriut (the northern pie prepared with delicious meat broth), pickled tomatoes, raw pumpkin salad, petka me hithra (homemade Albanian pasta), as well as fresh, homemade cheese. And finally, the nature around the restaurant will provide you relaxation and a unique experience.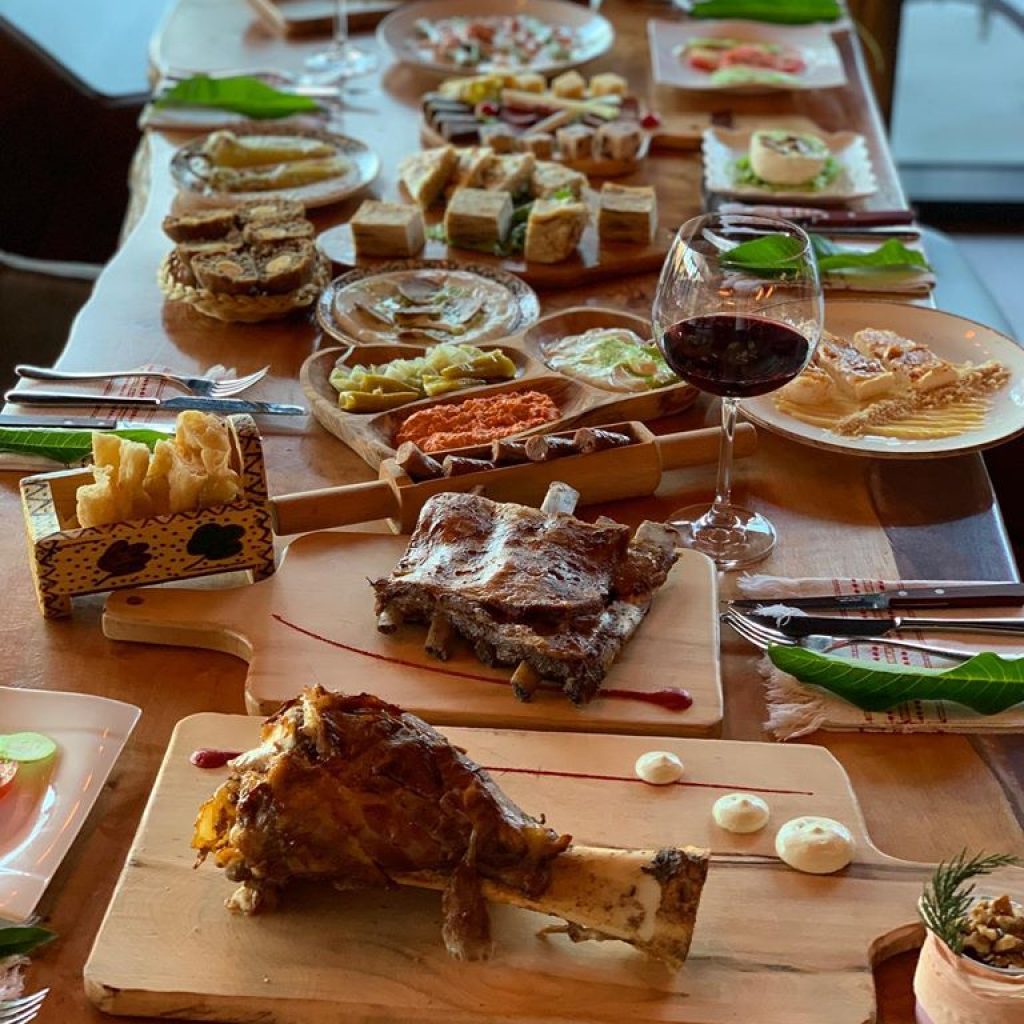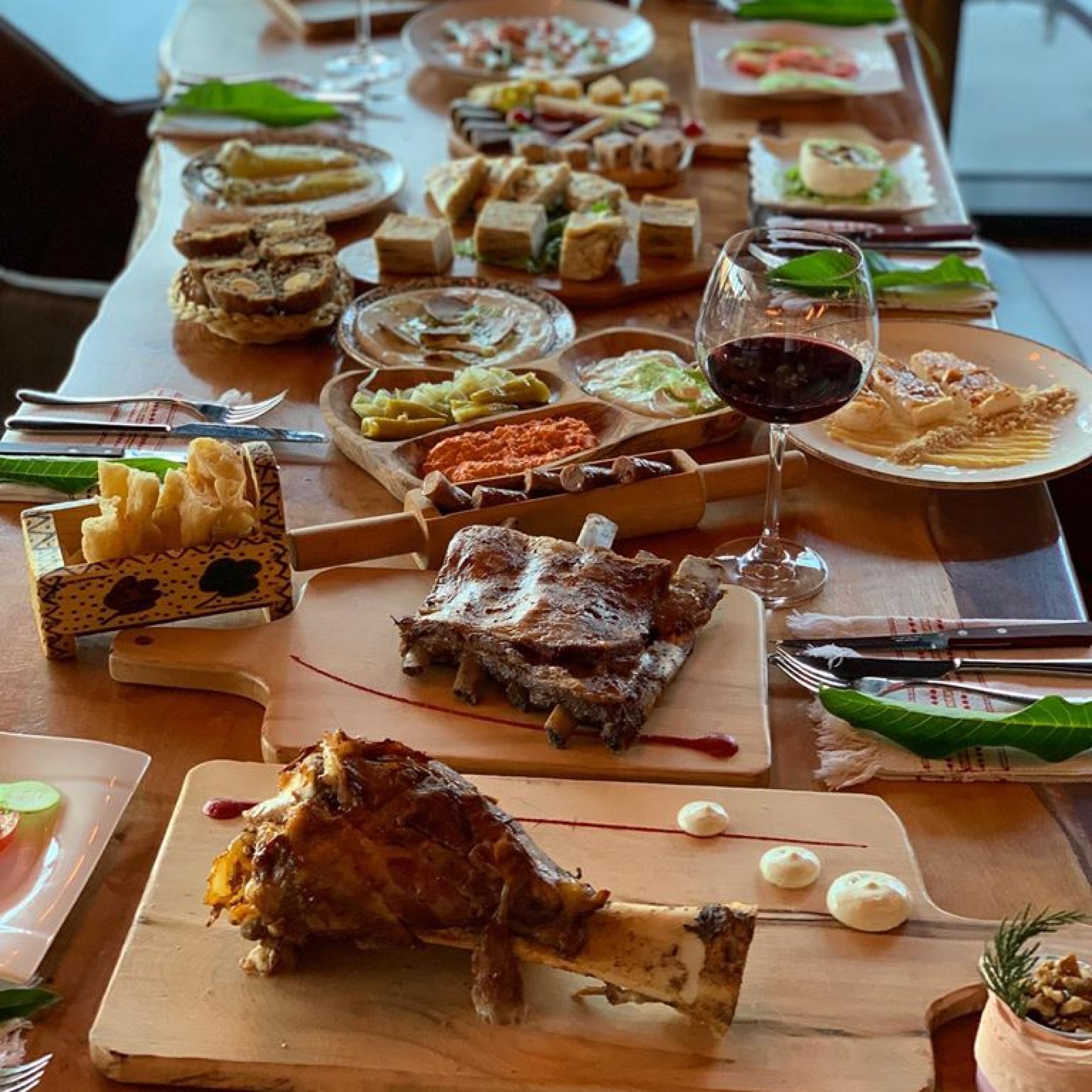 Address: Surrel, Tiranë, Albania
For the map click here.
Phone: +355 68 400 0449
Reka Restaurant
A local favorite since it first opened in 2002, this restaurant has been cooking the best Albanian traditional food and some of the most delicious dishes from the northern region of Dibra. But, the two legendary plates to try here are jufka (amazingly buttery, fluffy pasta) and the most delicious Albanian dessert sheqerpare. In Albanian sheqer means "sugar" so you can only imagine the sweetness level on this one!
Website: restorantreka.al
Address: Berzhit, Tirana, Albania
For the map click here.
Phone: +355 68 206 4700