I've always had a passion for snowshoeing in Albania. Here is a day-by-day run-through of one of my recent adventures through the border-zone between Albania, Kosovo and Montenegro.
Day 1. Tropojë village – Sylbicë Huts
In the early morning we set out to meet with our host Hailil for a quick cup of coffee before truly beginning our adventure. As we stepped outside, some of the more curious locals surrounded us. They wanted to know what brought us to their village. We explained that we were attempting to traverse the Alpine Pastures of Sylbicë, Doberdol, Çerem and Valbona.
Why? They kept asking. Why you would attempt that? After talking with them about our passion for the mountains, we won their approval.
This initiated an avalanche of "expert" opinions, everyone giving us their take on the snow conditions and how easy or hard our journey might be.
We started walking from the Aste Guesthouse toward Halil's Hut in the Sylbice alpine pastures. We expected to reach the hut at around 3:30 in the afternoon. In terms of elevation the village sits at an altitude of about 330 meters whereas the hut is situated at about 1650 meters. In all, the trip was about 15 kilometers long.
It was fairly easy for the four of us to gradually make our way up to the hut. The weather conditions were good and we were in good spirits, excited to begin. The history of the area we were hiking through was on our minds as well. During communism, this area wasn't even accessible to locals.
What made the day was Halil's hospitality during lunch. He served us some of his homemade sausages, pickles and a bottle of raki. I normally wouldn't drink alcohol this early in the day, but we couldn't refuse rakija locally made by our host.
Sylbicë Huts
The huts up in the alpine pastures are fairly basic, providing the minimum for sustaining the lives of the locals. This of course just added to our adventure as we hiked one of the most inaccessible areas in Albania during winter time.
Inside our hut we found mattresses, pillows and quilts, more than enough for the 4 of us.
We had plenty of time, so we tried to open up one of the huts that had a stove in it. The idea of lighting up a fire inside the hut was irresistible to us, so for about 1 hour we removed the snow from the entrance and tried to open the door. The door had been practically sealed by the ice and snow, but we managed it after some hard work. We quickly figured out that the stove pipe was blocked from going through the roof as it should have, so the smoke was dispersed inside the hut.
By the end of the evening we were tired, cold, and smelled like a smoked ham.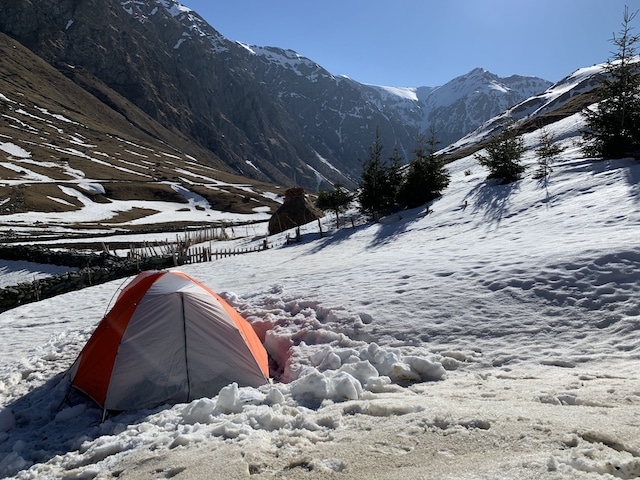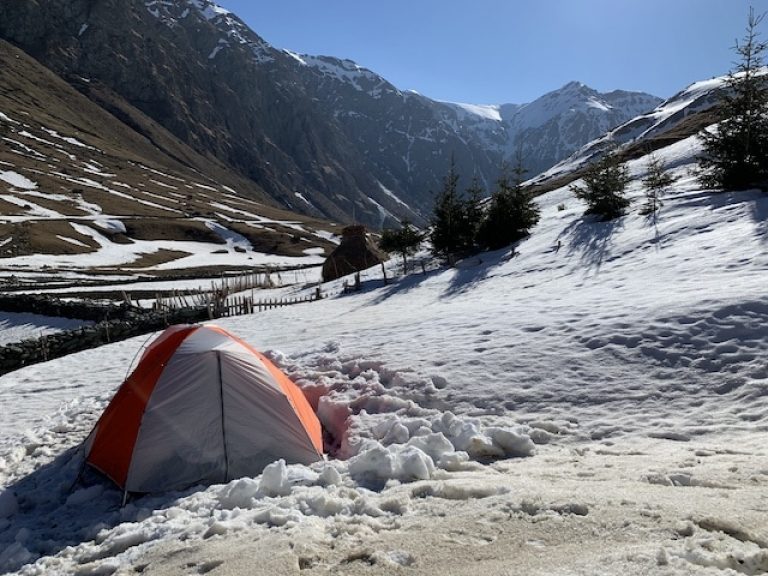 Day 2. Sylbicë Huts – Doberdol Huts
We started out on a sunny day hiking up the Sylbice alpine pastures. For the first part of our walk there wasn't enough snow so we had to carry our snowshoes. Thankfully, it wasn't long until we could finally strap on our snowshoes and continue walking up the slopes to Doberdol pass. Amazing scenery unveiled in front of us as the towering peaks and the sun reflecting off the snow created a magical experience.
At one point we could spot from afar a coyote which seemed surprised by our visit. We were able as well to see fresh wolf tracks moving through the border zone between Albania, Kosovo and Montenegro.
Next we snowshoed to the Gashi (a.k.a. Dashi) Lake only to find out that it was all covered in snow and ice. We had been joking that once we reached this glacial lake we could go for a swim in it.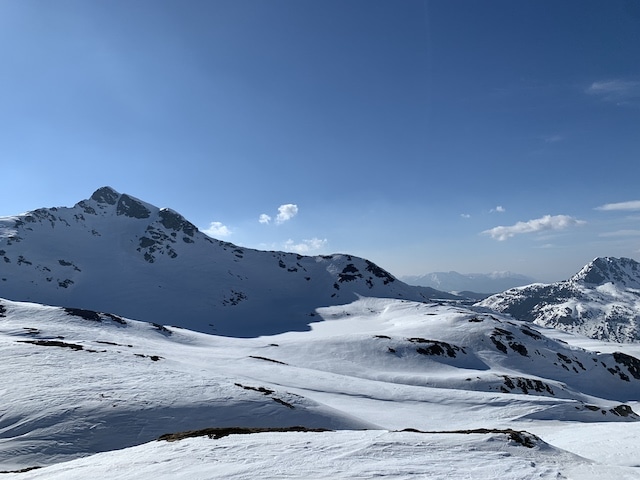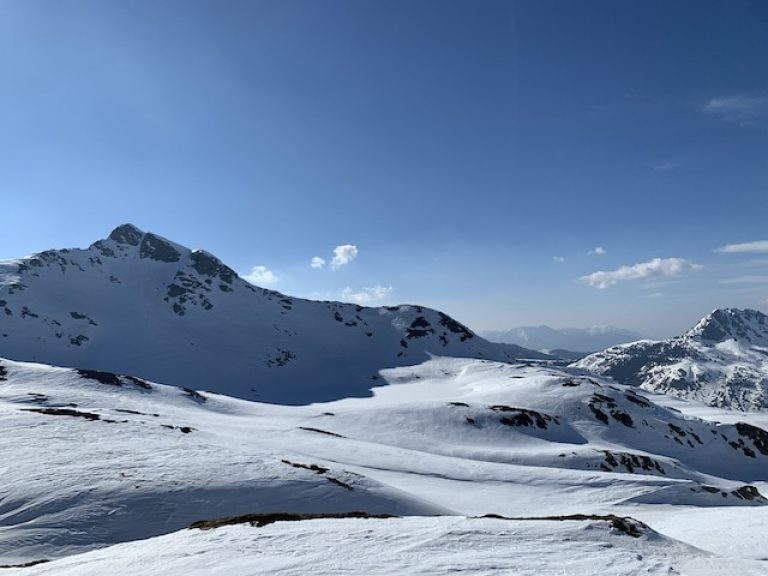 After leaving the lake we snowshoed down to the huts at Doberdol.
It took us about 6 hours to complete this 10 kilometer walk. We started at 1650 meters, ascended to 2200 meters, and finally ended at Doberdol at 1700 meters.
When we reached the hut, there was over one and a half meters of snow built up in front of the hut where we were supposed to stay. As tired as we were, we still managed to grab a shovel and open up a canal to access the door, only to find out that there was no stove inside the hut.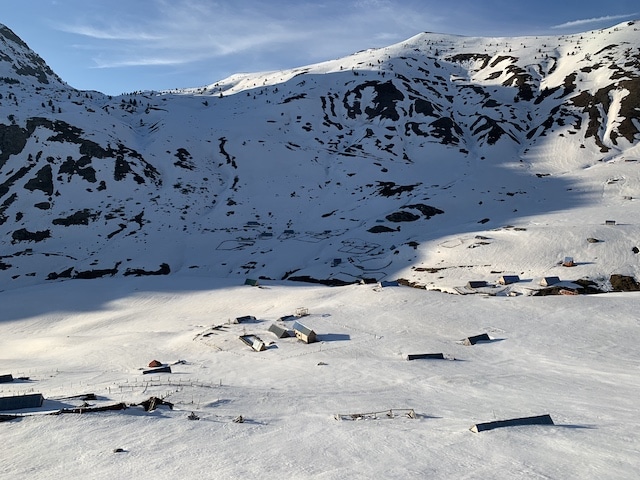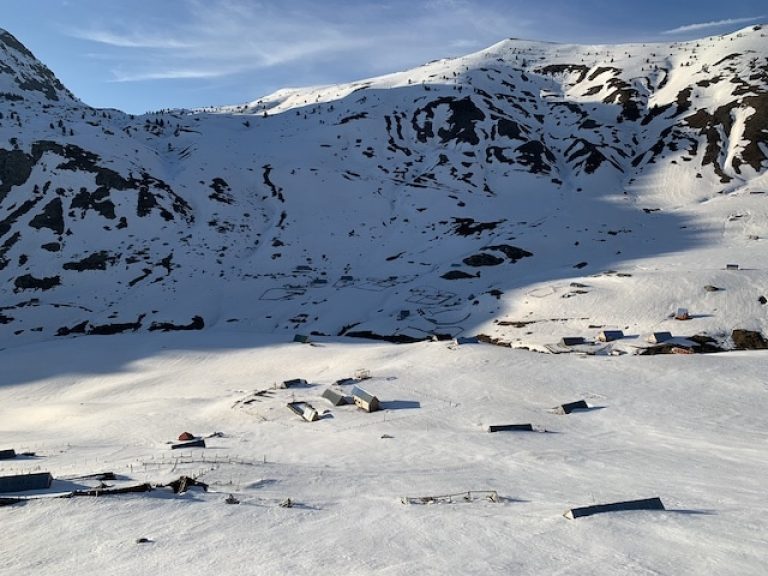 We improvised by lighting up a fire outside the neighboring hut. We brought some sausage and cooked them over the fire. If you'd have asked me then, I would have said it was the best dinner I'd ever eaten.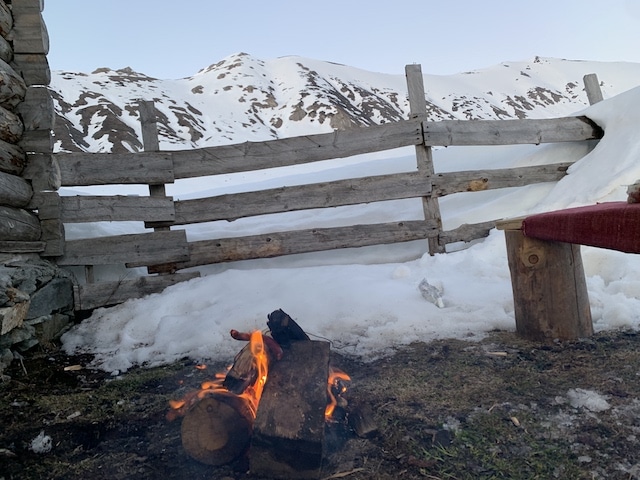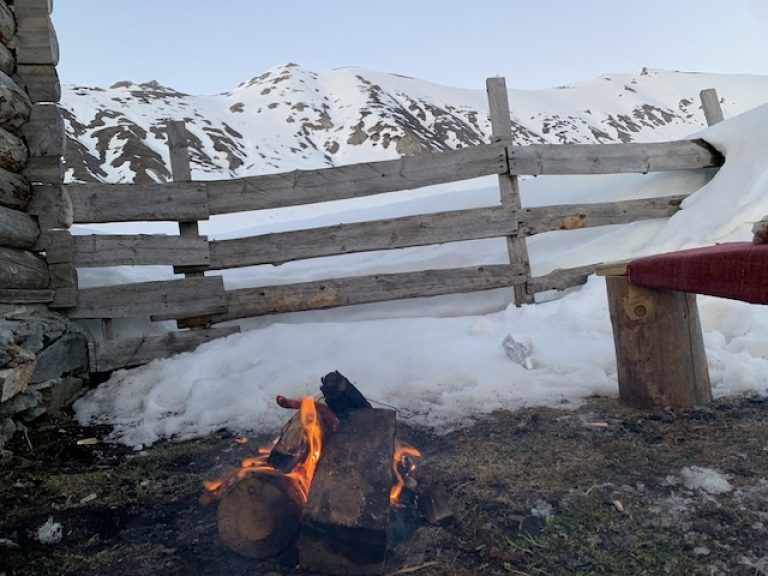 The night was going to be rough. We found mattresses inside the hut and used our sleeping bags to get warm. We found ourselves unprepared as our sleeping bags weren't warm enough. Because of this, we spent the night awake because of the cold and wind.
Day 3. Doberdol – Çerem Village
As we weren't getting good sleep anyway, we started early the next morning. In a short time, we climbed in elevation from 1700 to 2000 meters. The views of the Doberdol alpine pastures from that altitude were breathtaking. As we were admiring the views we decided that despite our hardship, we would repeat the experience next year by ski touring through the same region and exploring new routes.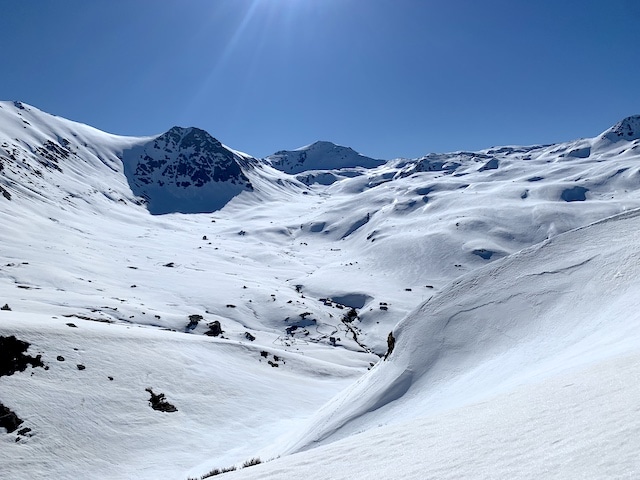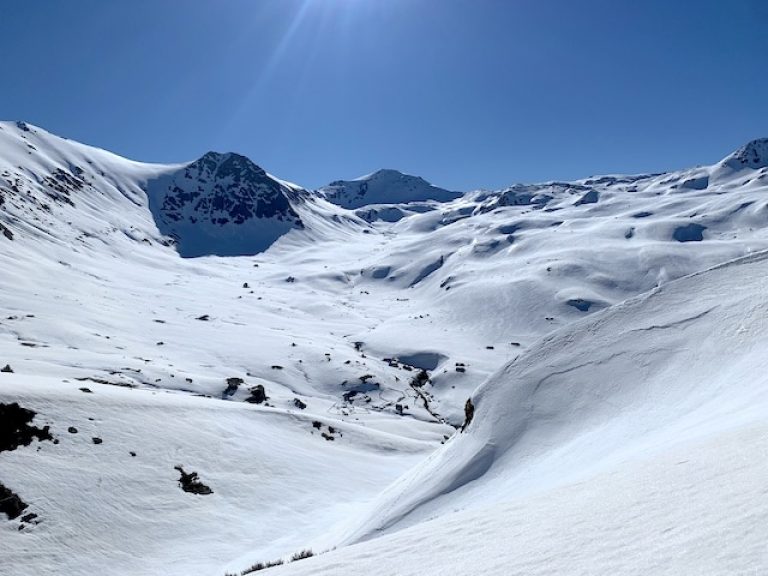 After reaching the elevation we could then snowshoe much quicker through the border zone of Albania and Montenegro.
Soon we found out that even though we wouldn't gain much in elevation, it was going to be a long day to Çerem village. What made it difficult was the trail through the forest in Montenegro we chose to take. The snow had covered the trail, so we had to navigate ourselves through steep slopes making it difficult on our ankles. Traversing through steep slopes and forest in this way puts a lot of strain on your ankles since the snowshoes are not aligned at a 90 degree angle.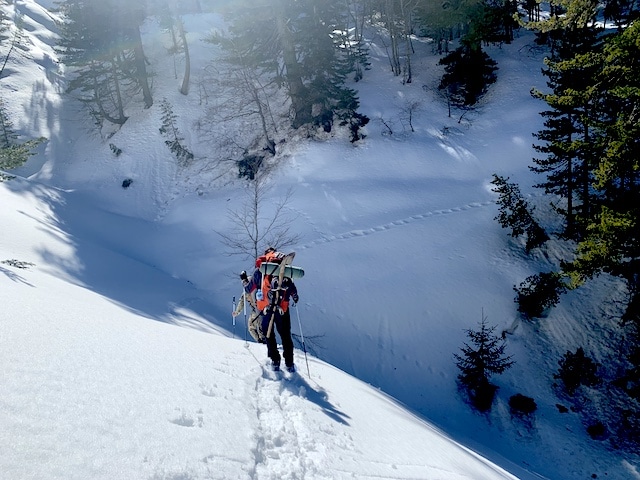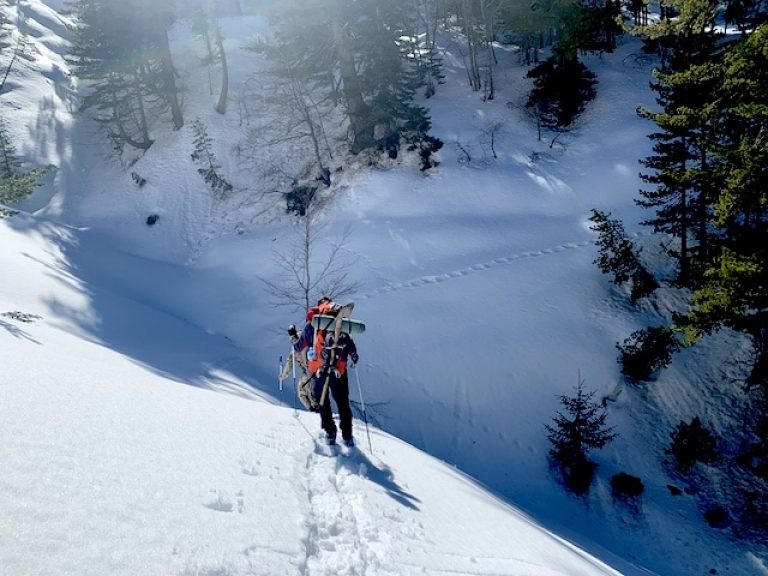 After reaching the gravel road we decided to remove the snowshoes, giving ourselves a bit of relief. Once we reached the village, we found out that we had to walk another 30 min to reach the car as our truck was stuck in the snow.
Wet and tired, we finally made it to the car. We happily removed our wet boots, 20 kilo rucksacks, and the shovel (which had been a pain to carry). With this, our adventure of snowshoeing in Albania came to an end.
After running the numbers, we found that we had hike for 8 hours through the Alpine areas of Albania and Montenegro, covering a total of 14 kilometers.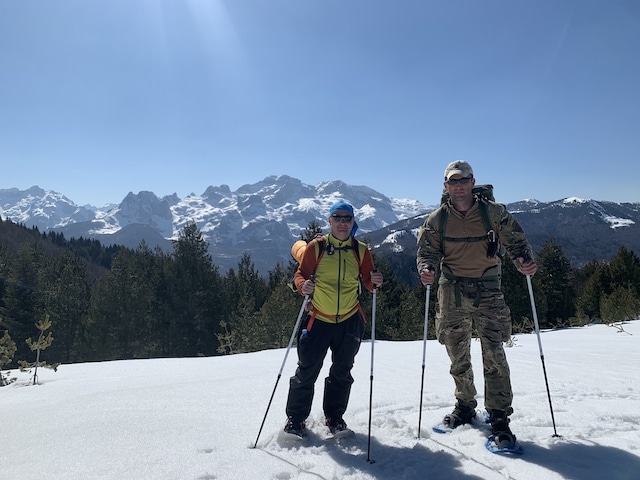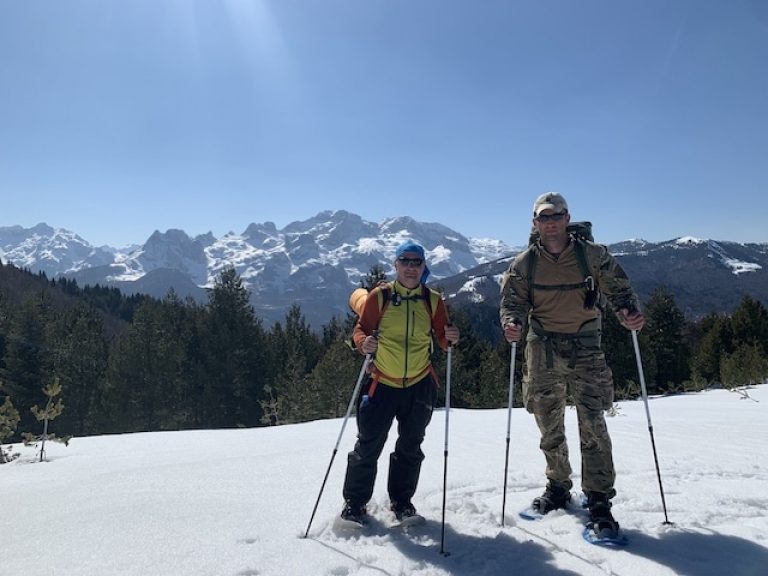 This experience of snowshoeing in Albania was tough, but it was also one of the most rewarding adventures I've ever been on. I look forward to returning to this beautiful area someday.