Koman Lake Alpin Ferry ticket towards Fierza. Book your ticket now!
Lake Koman is located in the southwest of the territory of the southwest of Dukagjin. The lake formed in 1978 when the Fierze hydroelectric dam bordering all three of the region's biggest districts was erected. The rivers providing water for the lake are the Drini i Zi, the Drini i Bardhe, and the Luma Rivers. It is a worldwide natural treasure when we regard the spiritual power and "life's battery recharge''.
Koman is an artificial lake that is created by two damns, one in Fierze and the other one in Koman. Koman lake creates one of the most beautiful landscapes in Europe. The ride rivals many river cruises in Europe. The boat tour which cruises through the mountains and cliffs in crystal water. The journey will last around 3 hours. You will get to see some of the most remote villages you can ever see. The people of the villages are very hospitable and it is in their nature welcoming you.
When to book  for the Koman Lake Alpin Ferry ticket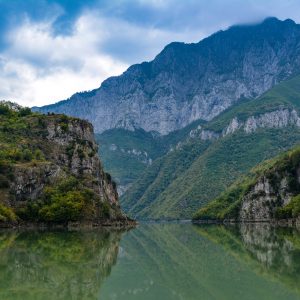 May to October is the best season of the year for visiting Koman Lake in Northern Albania, yet June is the best month for taking the boat trip through the lake. Around 17 years ago that regular ferry boats were used to connect the area with the city of Bajram Curri and further with the Gjakova area in Kosovo.
One of the best ways of taking one of the Lake Koman ferries is to spend a night in Shkoder and catching the 6 am bus that takes off from the main square  This bus ride is also quite the experience in its own right because apart from the tourists in the city, it also makes a few stops in the many villages on the way to bring all the children to school. It's quite a beautiful glimpse into local Albanian village life, which seems to have remained quite idyllic.