A day is not enough to admire every detail that the Albanian capital city offers its visitors. During your 24 hours in Tirana it's still possible to visit the landmarks of Tirana and enjoy its lively and vibrant atmosphere. So if you only have a short amount of time in the Albanian capital, here are some suggestions to give you a taste of Albania.
Morning (8 – 9 am, start of 24 hours in Tirana)
Start your tour with a coffee and muffin. For example, Mon Cheri may be the best choice for that. It offers excellent espresso and chocolate pastries. Sit at one of the red tables located outside the bar and sip your coffee while watching the street scenes of Tirana.
Then your first stop might be the National Historical Museum. Above all it will lay the foundations for you to understand this unique little country. The museum is located in the center of town. And is easy to recognize by its massive mosaic mural on the front facade. The Museum offers a good overview of Albania's history, from its medieval heroes to life under communist rule.
10 – 12 am
Right after you step out of the National Historical Museum, you will find yourself at the Skanderbeg Square. This is the heart of the city and a majestic square recently renewed. Here are the main buildings of Tirana: the Opera, National Library, Mosque, and Skanderbeg Statue.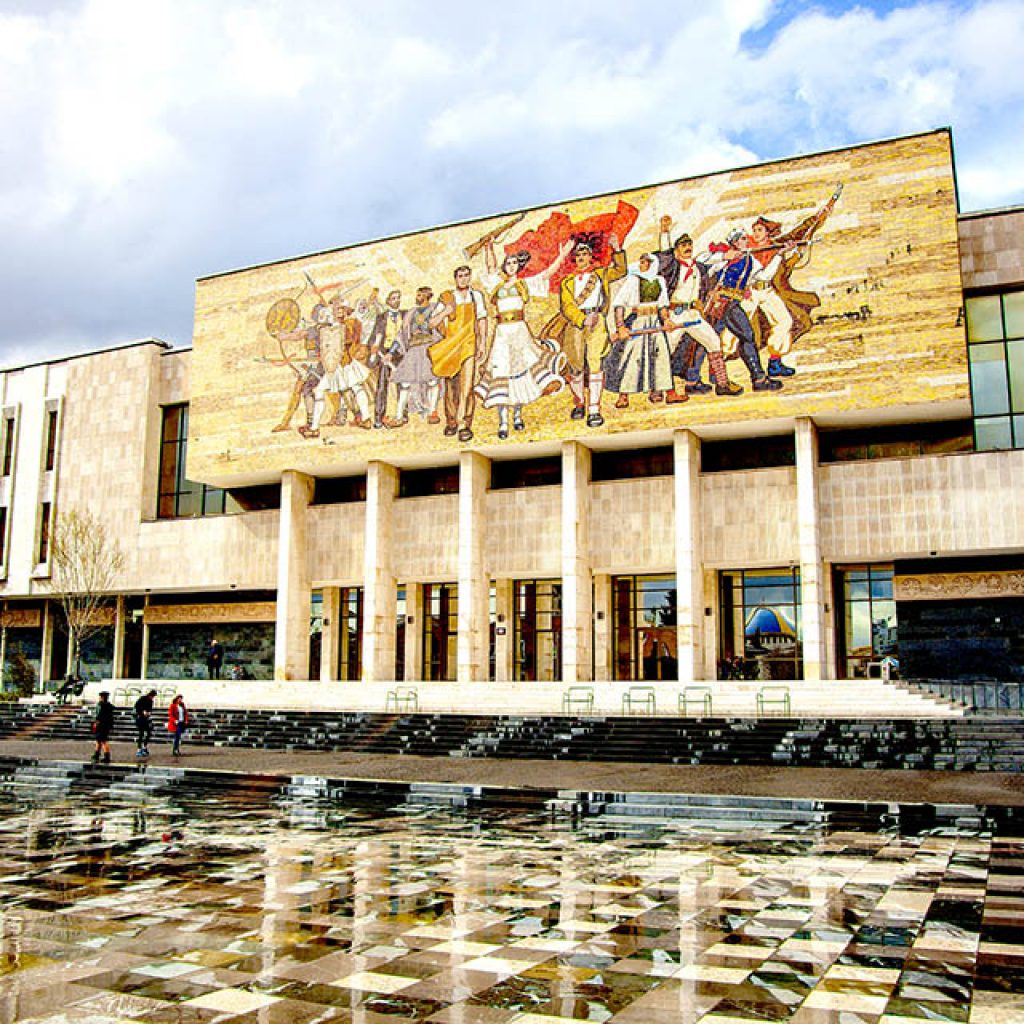 Lunch (1 pm)
For a quick lunch during your 24 hours in Tirana you could go straight to Pazari i Ri (New Bazaar). The new market of Tirana, a cool area that reminds you of La Boqueria in Barcelona. Here you'll not only find fresh fruits, vegetables, spices, raki, and typical souvenirs, but also excellent fish restaurants. You can sit here and order linguine with sea fruits and grilled fish. And enjoy the beautiful atmosphere of the district.
But I assume that you would better enjoy a traditional lunch. You can select from huge menus at many restaurants in the city and try byrek, fergesa e Tiranes or tave dheu. Albanian food is excellent. But you can also find typical Italian food, salads and meat dishes, fish and pizza.
3 pm
After lunch, there is nothing better than strolling through the Pedonalja. It is a nice pedestrian street lined with trees, cafés, theatres, and cinemas. During the warm summer days of Tirana, it is one of the most frequented areas of the town. The trees form a shadow. Therefore it is a great place to escape from the hot temperatures of the city. After that, you can grab a cab and reach the outskirts of Tirana to admire the majestic and creepy Bunk'Art. This is one of the most important museums of the town built inside an anti-nuclear bunker. The museum shows the modern history of Albania, from the Italian occupation until the Communist-era. Bunk'Art hosts also a beautiful theatre inside, which is sometimes used as a location for jazz concerts.
Afternoon (4 – 5 pm)
In the afternoon you can walk to Grand Park or take a cable car to Mountain Dajti. Grand Park is the main park and is the most popular at the weekend. I also suggest you visit Mount Dajti. It is 20 minutes from the city, or drive 13 minutes to get the cable car. From Mountain Dajti you can have a magnificent view over the whole Tirana.
Then come back to town and visit the abandoned Pyramid of Tirana, one of the greatest landmarks. The daughter and son-in-law of Enver Hoxha designed it as a mausoleum in his honor. Today, the pyramid is not in use and is covered with graffiti. But it remains a place frequented by Albanians who come here to relax, admire beautiful panoramas and play with children. Then stroll through the Lana River and reach Ura e Tabakeve. It is an ancient Ottoman-era bridge perfectly conserved in the city center of Tirana.
Dinner (6 pm)
For an authentic Albanian experience, we recommend eating dinner at Oda. Located near the center of town and down a side street is a restaurant situated in an old house. It feels like you are walking into someone's home. Then you will be seated in the small living room/ dining room. There are only three or four tables inside; giving it more of an intimate family feels. The food is hearty, home-cooked Albanian food.
7 pm – 9 pm
In the evening you can see an Opera, Ballet or Theatre. Or catch a movie at one of the several cinemas in Tirana. The theatres, opera, ballet, and cinemas are all located close to each other. So you can certainly catch one of them. If you follow these tips, at the end of your 24 hours in Tirana, you will have a great experience of the city. Enjoy!
Ps. If you want to know more about Tirana click here: http://www.visit-tirana.com/