Tirana is the capital of Albania and also the main economic and cultural center of the country. As such, it has a lot to offer. Walk around the Scanderbeg Square, visit the Clock Tower and Et'hem Bey Mosque dating from the city's Ottoman past. See the communist funded Opera and Ballet House on the site of the old Ottoman Bazaar. There is so much to explore, including the King's Palace, National Martyrs Boulevard, Enver Hoxha's Pyramid, and the neighborhood where the communist leaders lived (now open to the public!). We literally could go on and on.
However, like any city, and especially like any capital city, Tirana is big. If you're a professional power walker trying to get 30,000 steps a day, then you'll have no problem. For the rest of us, renting a bike in Tirana would be the perfect solution.
Tirana has an excellent community of safe and secure bike rentals! There are a lot of stops to rent a bike, especially close to Tirana Lake.
Click one of the links below and you can contact directly some of the best bike rental agencies in Tirana:
Gear Bike Albania
Address: Boulevard Lasgush Poradeci
You can add them on Facebook and sent a message for the bike you want to rent.
BIKI
Address: Rruga Teodor Keko
Directions here!
Evergreen
Address: St. Sami Frasheri
Phone number: 069 738 6949
Add them on Facebook!
Directions here!
Cycle Albania
This is a small agency with a big heart and passion for organizing exquisite Cycling Tours in Albania and around the Balkan countries. They make the plans, do the homework and you get the most beautiful two-wheeled adventure of your life through Europe's best-kept secret. They use high quality, expertly maintained adventure gear and equipment on all Cycle Albania Adventure tours. The equipment meets strict performance and durability standards. Each piece is meticulously cleaned and inspected during and between trips. From top-notch bikes to spotless vans and specially designed trailers, they provide top-of-the-line adventure gear from the leaders within the industry. Also, you can rent a bike there. They pride themselves on having the very best bicycles, maintained by expert staff and custom tweaked just for you.
Address: St.Bardhok Biba Pl.Trema
Phone number: 067 308 0000
Website: Cycle Albania
Bim Bim Bikes
This is a quick and easy online bike rental platform! Go on their website, choose your destination and the bike type that you would like and they offer what they have. These are the steps you will need to follow:
Find the perfect bike(s) for you. Compare bike rental locations, prices, bike types.
Book directly online
The bike will be waiting for you!
You will be able to fully enjoy your holiday and your ride! If you will have any problems, their passionate team will be happy to help you!
Website: BimBimBikes
Bike Holiday Rent-A-Bike
If you enjoy riding a Mountain Bike during your visit in Albania, their 29er's will be your best friend. Bike Holidays gives you the choice of a high-quality mountain bike with built-in high-quality components to make your ride enjoyable and safe. Personalize your bike with the equipment you can include simply by booking in advance. Fill out the form here.
Working Hours: Monday – Sunday: 08:00 – 19:00
Phone number: +355 69 3257025
Mobike
Mobike is another opportunity just a little bit different from renting a bike. They are quite new so we would like to tell you how to use the Mobike bikes in Tirana. Mobike bikes do not have a station. So they can be found everywhere by anyone who will lease it. Also, you cannot pay cash for them. Here's how you can rent them.
Initially, download the Mobike app on the App Store or Google Play; enter your mobile number and confirmation code to be sent briefly. Next, in the upper left-hand corner of the screen, fill out the remaining information, such as password, email address, sex, username and a photo if you want.
Now you are ready to move to the next step.
In the menu that appears to the left, press My Wallet and then Top Up. Here you will throw money into your account. Select the amount and then enter your credit or debit card details. Confirm and pay. After that, you have money in the wallet of the application and can rent bicycles.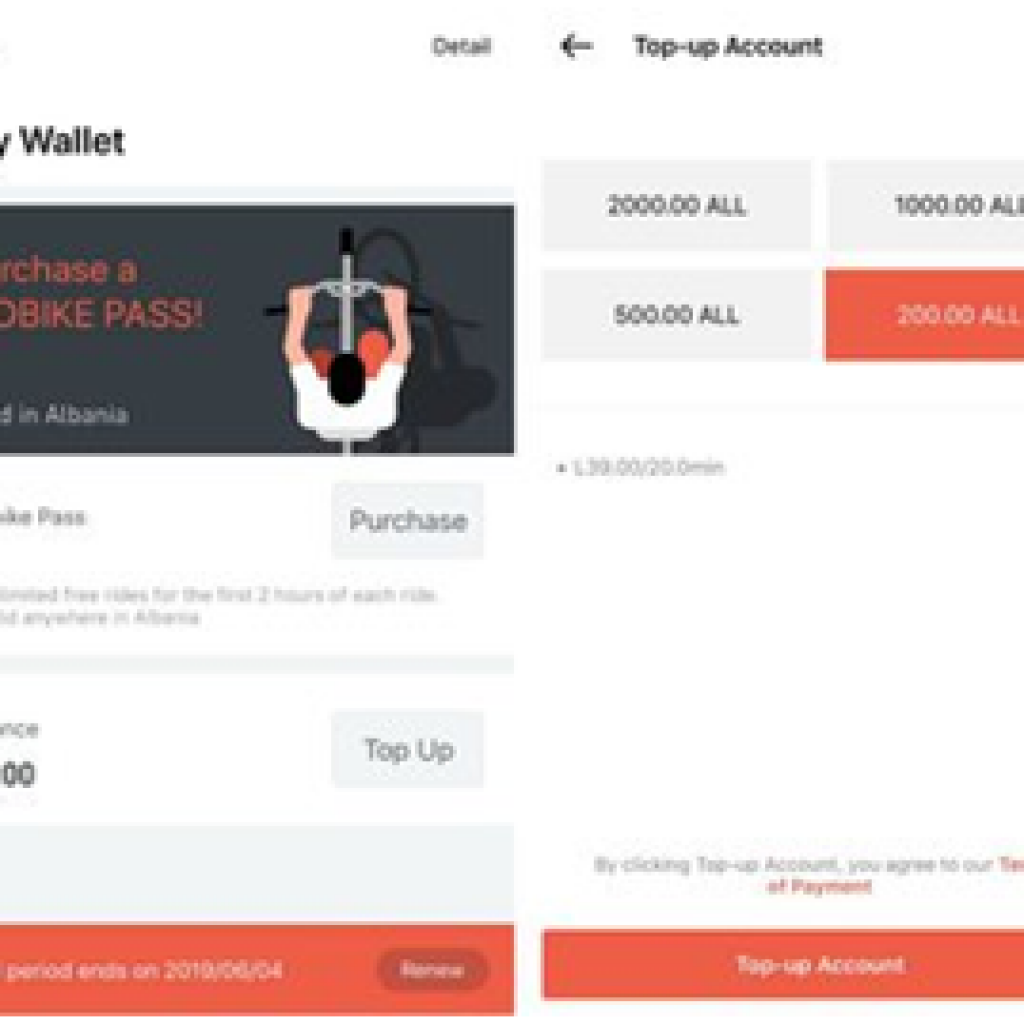 If you are a regular user, you can choose the other payment method, Mobike Pass, which serves as a subscription. In My Wallet, instead of Top Up, select Purchase. On the next page, you have some options like 30 days for 990 Lek. So you pay 990 ALL and you can use bicycles for two hours a day free of charge for the next 30 days. If you exceed two hours, you will be charged the normal price, which is 40 Lek for 20 minutes.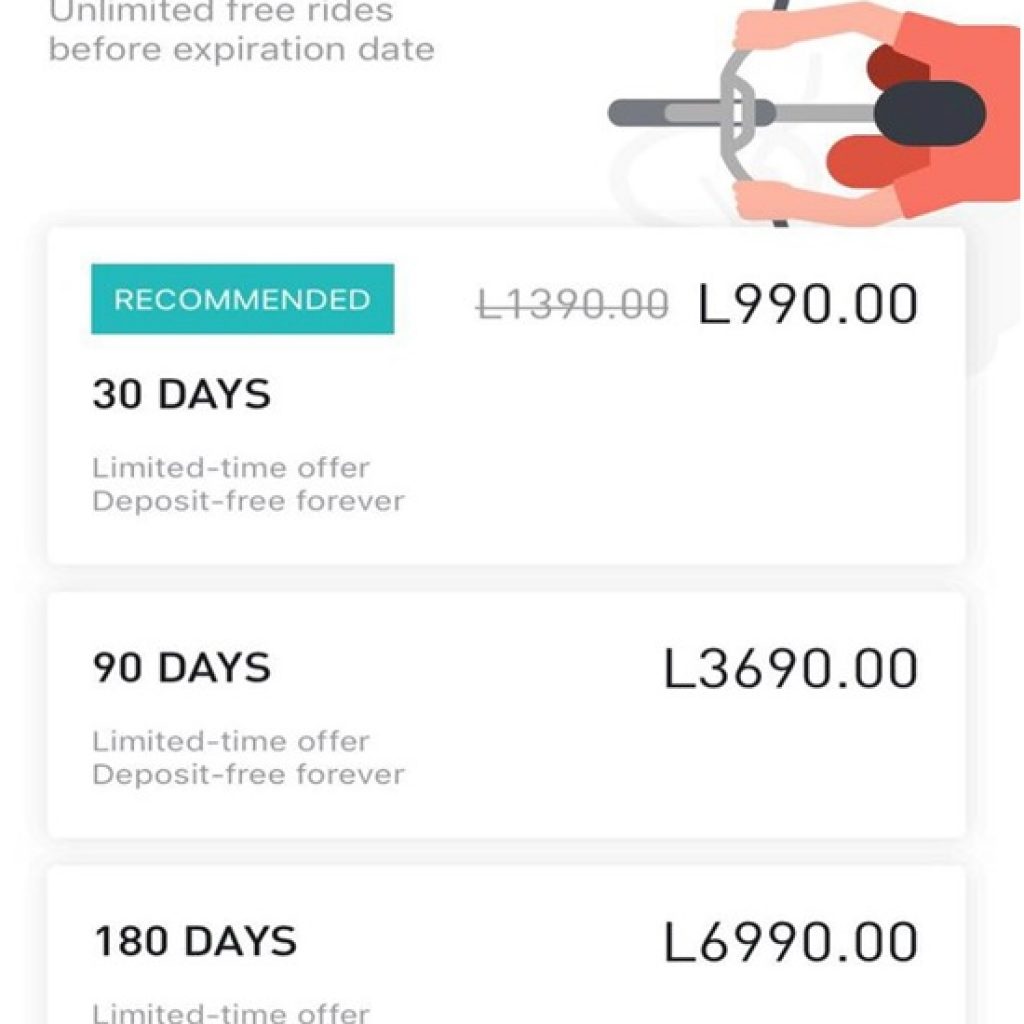 The first app's home page is a map of the area around your location and you can find bicycles near you. Press on the bike you want and reserve. The reservation is valid for 15 minutes. When you reach the bicycle, press Unlock at the bottom of the screen and scan the QR code in the center of the wheel. At this moment, bicycles are yours. Love, travel and do whatever you want, but treat it carefully.
When you finish your trip, park your bike in a safe place, which does not block traffic and makes it easy to find out from others. To lock the bike, press the lever on the back wheel until it reaches the other end. You will hear three high beeps that signal the connection. You will be billed from the moment you open the bicycle to the lock.
If you use it for (<) 20 minutes, you will pay 40 Lek. If you use it for 21 to 40 minutes you will pay 80 ALL. If you use it for 41 to 60 minutes you will pay 120 Lek. And so on. If you use a bicycle for 10 minutes, switch it on for 10 minutes and use it for another 10 minutes, you will be charged for two trips, i.e. 80 ALL.
If you are a bike lover try Dajti Mountain Downhill Bike Tour!