A Reason for Every Season
Our Top Best Selling Day Tours in Albania
Want to tour the real Thailand, but won't be satisfied with a standard, Thailand tour? It's time to make your tour unforgettable, by seeing Thailand's true colors through the eyes of a local during a private tour! Withlocals connects you with skilled and knowledgeable local people, who offer unforgettable private tours around Thailand to help you dive into the history and culture of their homeland. Join a private tour to discover a hidden temple not revealed to the average tourist, visit markets in Bangkok unknown to outsiders, experience city views not shown in guidebooks, or interact with natives on a level that transcends traditional tourism.
Whatever you choose to do, don't let your experience in such an exotic country be muddled by overcrowded tour buses, cliché dining options, and stereotypical activities. Instead, throw yourself into Thai culture, thought, and way of life by experiencing it with a local on an amazing Bangkok private tour! If you want to explore the real Thailand and have an unforgettable holiday, check these authentic local experiences.
We make it PERSONAL
We know that when you're traveling, you are who you are right at that moment in time. People don't have your past to hold against you, no yesterdays on the road. That is why we make sure that your TODAY with us becomes a tomorrow full of positivity.
We love FOOD
Just like you. That is why we chose the most special places to eat where you should taste the local traditional cuisine. Variety is a must, that's why we keep on creating menus that reflect the local atmosphere and quality of food making your experience a love traveling through your stomach.
We have EXPERIENCE
Since more than 20 years, we personally check our selection of accommodation facilities, restaurants, transportation and guides we work with. As an inbound tour operator we feel secure and appreciative on the network of partners we have.
We make it BETTER each time
We know that if our partners our happy then they will happily provide every tourist with an unforgettable experience. We add to every tour something special, something new, be it a delicacy or a new trail or an amazing human story.
We show you the PEOPLE
We believe that travel stretches your mind because of the myriad of new amazing landscapes, unknown smells and sounds, but above all because you will get to experience firsthand stories told by people who do differently, what you believe to be right and the only way of doing some things.
We speak YOUR LANGUAGE
We have a team who smoothly communicates with you for any question, at any time. Our professional guides will make sure to warm your heart in a language that will make your experience the sweetest memory. We speak: English, German, Italian, Albanian and Japanese.
The best of our
Day Trips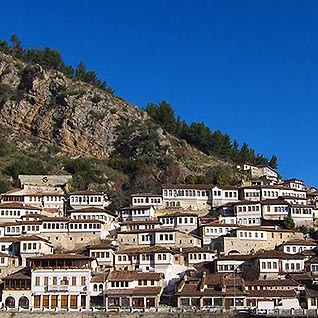 Visiting Berat city is a unique experience of your lifetime. Explore the city of thousand…